In the vast canvas of existence, there comes a few moments that seem to be destined, as if the universe conspires for it to happen – bringing two souls together. 💙
Ours was a story written in stars, an odyssey of sorts that began in the corridors of our college and unfolded against the backdrop of Manali. (Go read my Manali blog to learn the beginning of our story).
In those sun-kissed mountains, amidst the fascinating landscapes, the sunshine and the cold breeze, I discovered a truth that transcended friendship – a realization that she, my best friend, was the missing piece in my life's puzzle.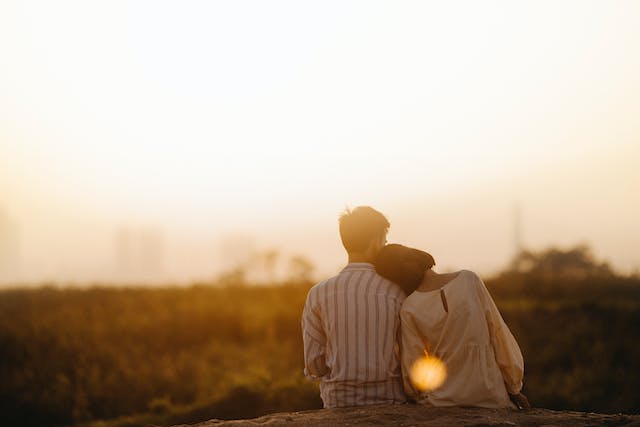 Little did I know that the threads of destiny were at work, intricately weaving together our paths, leading us on a journey of love and other magical things.
Fast forward to almost 6 years later, after numerous moments of laughter, tears and unwavering support, we are getting married this November!
To celebrate this milestone, we were planning a honeymoon vacation (read this) and decided to plan our honeymoon in Phuket and Krabi.
Join us as we delve into the intricacies of planning our dream honeymoon, navigating the sights, sounds, and experiences that await in these vibrant Thai destinations.
---
Chapter 1: Why Phuket & Krabi?
The decision to choose to spend our honeymoon in Phuket and Krabi wasn't arbitrary; it was a deliberate echo of our love's origins.
Manali, in some way or another, has become a great part of our story. It taught us to appreciate the beauty of nature and to believe in the universe and the tranquility that it brings to our connection.
In Krabi & Phuket, we sought to revive that intimate connection amidst similarly stunning landscapes.
Some of the great reasons to honeymoon in Phuket and Krabi are:
Breathtaking Scenery: From the towering limestone cliffs and clear azure waters of Krabi to the stunning beaches of Phuket, these destinations offer a breathtaking natural backdrop that is ideal for our love story. Places like Phi Phi Island & Railay Beach are a major draw for us. It was irresistible to not spend our honeymoon surrounded by such beauty.
Diverse Experiences: Another major reason for choosing these destinations to begin the next level on our journey was the diverse range of experiences these places provide its visitors. From adventurous activities like snorkeling, island-hopping and exploring underwater realms to culturally immersive experiences at the vibrant markets & historical sites.
Romantic Ambiance: The romantic ambiance of both Phuket as well as Krabi was another significant factor. The idea of strolling along the beaches, witnessing sunsets and indulging in intimate dinners by the sea was incredibly appealing to us. Just the mere though of it all exudes romance and serenity.
Cultural Richness: Thailand is an incredible country which is known to be a culturally rich destination. Exploring the local culture, trying out the most authentic Thai cuisine and immersing ourselves into their traditions and history was something that excited us both. From the colorful markets to the heritage sites, delving into the heart of the Thai culture was a really interesting factor for us.
Accessibility & Amenities: From luxury resorts to intimate villas, there is a diverse range of accommodations to suit various preferences in Krabi and Phuket. Moreover, the easy of getting around and the multitude of things to do add to the overall appeal of choosing them as our honeymoon destination. Plus the budget!
---
Chapter 2: The Road to Thailand
One of the major things one should do before going any further in your travel plans needs to be to choose your destination, the best time to visit, the cheapest month, best flights, etc.
Well, by the time we get married, the peak season to most of the destinations across the globe begin from just about that time!
We could have, you know, waited for the nearby international destinations to reach a shoulder season, but how to wait! We are both travel lovers! And we did not want to wait 3 to 4 months and then have our honeymoon travel. Just because!
So, we planned ahead, almost six months before the date of journey that we planned. We booked our flights and accommodation then and there.
For Flights: We looked on several websites like GoogleFlights, WeGo, etc. but found what suited us over at Skyscanner (my favorite flight search and booking platform, btw).

The best flights from India to Thailand is ThaiSmile or Thai AirAsia. But we got a decent booking with Indigo.

For Stays: We booked our stay & activities through a local, but trusted travel agent (Limra Vacations) and got a perfect deal.
*As per the currency and sim purchase goes, it is recommended by many that you shall carry some currency already exchanged from your home country and later exchange it within the city not at the airport, and as for the SIM is concerned, you can opt for one of the best eSIM providers, or get a local SIM card from a market near your hotel. It would save you a lot of money.
---
Chapter 3: Honeymoon in Phuket and Krabi Experiences & Attractions
So, the trip we got planned is of a total 6 Nights 7 Days and following are the major activities which you must try if planning a honeymoon in Phuket and Krabi:
FantaSea Show in Phuket
The FantaSea show is a spectacular cultural theme park offering enchanting and immersive entertainment experience. This show combines traditional Thai culture, myths and folklore with modern tech and fascinating special effects to create a mesmerizing and unforgettable evening for visitors.
It takes place at the FantaSea Park, which is a massive complex that boasts a variety of attractions, shopping and diving options. The major highlight of this park is the captivating blend of music, dance performances and the elaborate Thai costumes.
Phi Phi Island & Maya Bay Excursion
The first stop on the journey would be at Maya Bay – a secluded, but beautiful bay surrounded by stunning limestone cliffs and adorned with powdery white sands. It is world renowned as the backdrop to the movie The Beach.
After spending some time at this incredible, cinematic fame, we head to the major destination of the day: the Phi Phi Islands.
One of the most enthralling aspects of our Phi Phi Islands excursion was the opportunity to snorkel in the crystal-clear waters. Exploring vibrant coral reefs is like entering a different realm altogether. One could explore schools of colorful fish, vibrant corals and the sheer underwater biodiversity which makes the adventure truly mesmerizing and worth it.
As the day draws to its close, you can witness a breathtaking sunset while cruising back towards Phuket. The sky is said to be painted with a unique hue-combo of orange and pink, served as a perfect conclusion to this magnificent day.
James Bond Island
An escape to the infamous James Bond island is a must-do on your trip to Krabi.
This iconic island, officially called Khao Phing Kan, gained its moniker after its feature in the James Bond movie – "The Man with the Golden Gun".
With the dramatic limestone karsts jutting from the emerald waters of Phang Nga Bay, the James Bond Island is a sight to behold. The iconic needle rock formations stand tall and creates a picture-perfect setting that has drawn visitors from all corners of the world.
The allure of this island lies not only in the cinematic fame associated with it, but also in the natural grandeur that it offers. The crystal-clear waters, hidden caves and the verdant landscapes make it an adventure to visit and explore.
Popular things to do in Phuket:
Visit Old Phuket Town, explore historic streets and vibrant markets.
Visit the Big Buddha, a religiously significant landmark with stunning backdrop landscapes.
Visit Wat Chalong, explore the largest Buddhist temple in Phuket.
Explore Patong Beach, discover bustling beach nightlife, water sports and vibrant ambiance.
Popular things to do in Krabi:
Railay Beach, Explore stunning limestone cliffs, emerald waters, pristine beaches and water sports.
Four Islands Tour, enjoy island-hopping venture as you move from Tup Island, Chicken Island, Poda Island and Phra Nang Cave Beach.
Emerald Pool & Hot Springs, experience the natural hot springs and beautiful Emerald Pool at the Khao Phra Bang Khram Nature Reserve.
Tiger Cave Temple, iconic Buddhist temple with the giant golden Buddha.
---
Chapter 4: Conclusion
As we count down the days to our-long awaited union, our excitement for this romantic expedition or honeymoon in Phuket and Krabi intensifies.
Both these destinations promise of unforgettable memories and shared experiences that will undoubtedly etch those days into our memories for a lifetime.
We can't wait to embark on this adventure, celebrate love with the stunning Thai landscapes, return back and share with you all our experience with a sequel blog to this one.
Stay tuned, subscribe to our blog, follow us on Instagram @travelsole001 to make sure you do not miss anything as we document our journey and share the magic of our honeymoon in the Land of Smiles and beyond.