Known for its towering cliffs, crystal clear water, and pristine beaches, this marvelous island near Bali, Indonesia has always been on my list of places to explore.
Nusa Penida is a place of fascinating nature, adventure sports and the infamous T-rex Cliff which attracts thousands of visitors every year.
In this blog post, we discuss what is this island in Bali known for, how to get there, what to do and is Nusa Penida worth visiting.
---
Is Nusa Penida worth a visit?
With it's rugged cliffs, crystal-clear waters, pristine beaches, lively vibe and a peaceful experience, Nusa Penida is undoubtedly worth a visit. Whether you seek an untouched paradise, world-class adventure activity spots, breathtaking viewpoints or just the simple serenity of the secluded shores, you will find all that and more in the wonderous Nusa Penida.
With its unique blend of natural beauty and cultural charm, this place invites travelers to immerse themselves in a truly authentic & awestruck destination.
---
What is Nusa Penida known for?
Nusa Penida boasts about the most fascinating aspects of an island destination – the sea, beach life, sunsets, sunrises, Coladas and underwater adventures.
Penida is a lesser developed island when compared to other similar locations. It does not have many restaurants, cafes and stuff but the best thing about that is that it still attracts visitors.
And when you see people here you know that people travel not just for luxury or sipping margheritas in a restaurant with a view – they travel to explore the world as it is. To experience the nature that existed before anything or anyone. To realize we know nothing, we are nothing when compared to the magnificent universe around us.
When you experience Penida, you experience it's hills, cliffs, clear sea and so many happy faces. Following are the most popular places that make it so popular among travel lovers :-
Kelingking Beach
The most famous places in Nusa Penida island in Bali is the Kelingking Beach. You must have seen this place on Instagram reels or posts. The popular T rex cliff belongs to this beach.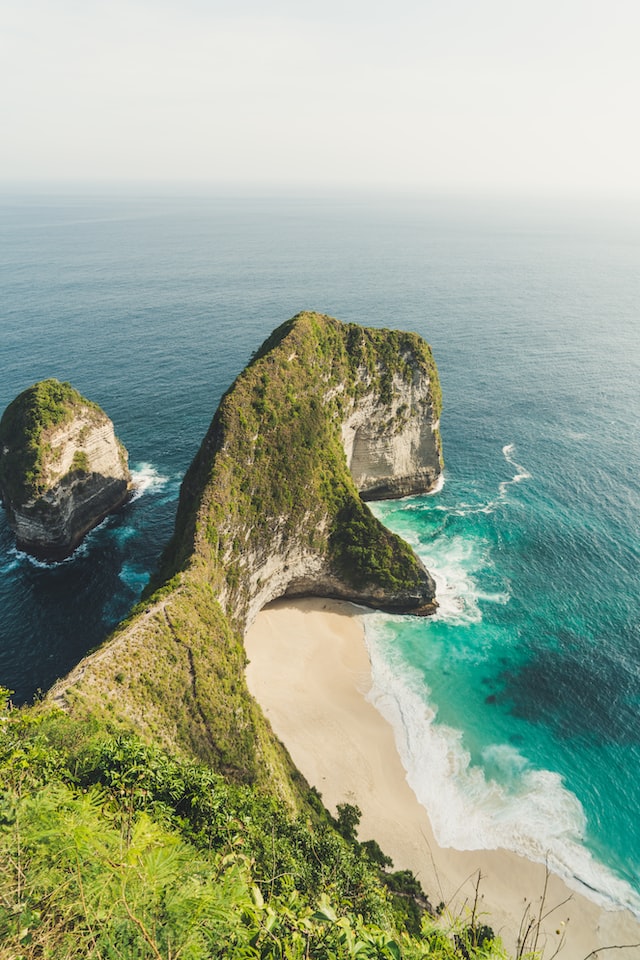 Kelingking translates into "pinkie" which means the pinky finger of our hands – the little one.
Many people say it is named so since sometimes the place looks like a giant's pinky finger. That makes me think….. is it Tiamut rising from within? (Eternals Reference)
You will find limestone formations, unique zigzag coastlines and a thrilling trek down towards the beach.
You can choose to walk half the way down the hike and find a spot with lesser tourists and a magical view right in front of you. Or you can get all the way down to really experience the place in all it's glory! The full hike will take you at least 40 minutes to cover – but it is worth it.
Note – Do not try and hike down towards the beach when it's sunset time. The waves get really high, roaring and dangerous as the sun hides within the ocean. Stay at the viewpoint and experience the magical sunset.
Reaching Kelingking viewpoint is one of the most interesting things to do in Nusa Penida and needs to be in your list while exploring the pretty island.
Diamond Beach
Diamond beach is referred as the "most beautiful beach in Penida" and why wouldn't it be. It feels like a place out of which postcards are made of. It seems otherworldly – 'cause that much beauty should not exist in the world we live in. But it does – and that should mean something, right?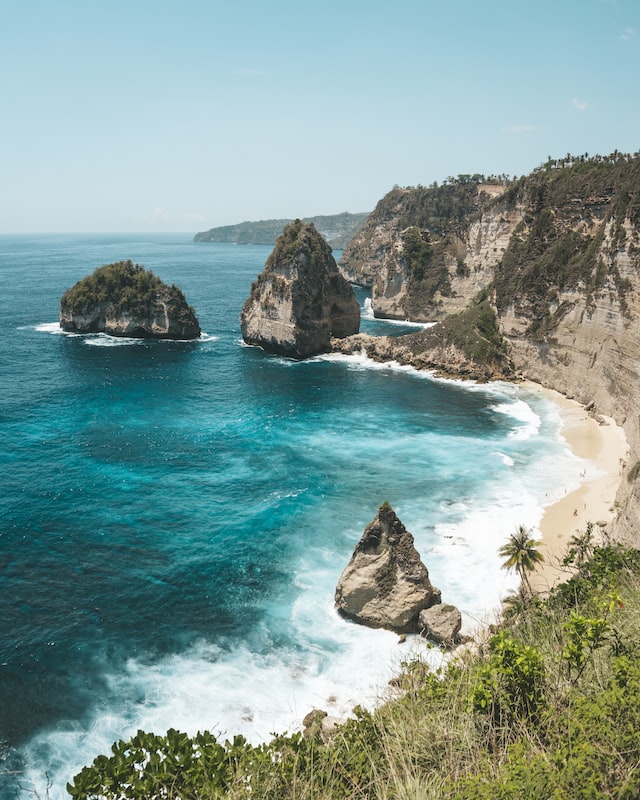 Most of the travellers stay busy hiking and viewing and exploring Kelingking, so Diamond beach remains to be a more peaceful, quiet and untouched place in the island.
You might have seen many photographs of people travelling with a preset of whites and blues, remember? Well it seems like those colors were first found here.
With the calming white and the glowing blue scenes that we see from the cliff while looking down at the beach, it seems unnatural, almost like a beautiful enchantment.
When it comes to answering is Nusa Penida worth visiting, the answer can just be the name of this beach – Diamond!
Nusa Lembongan
When we talk about beaches and waves and stuff, we need to mention a place that is an incredible surfing destination!!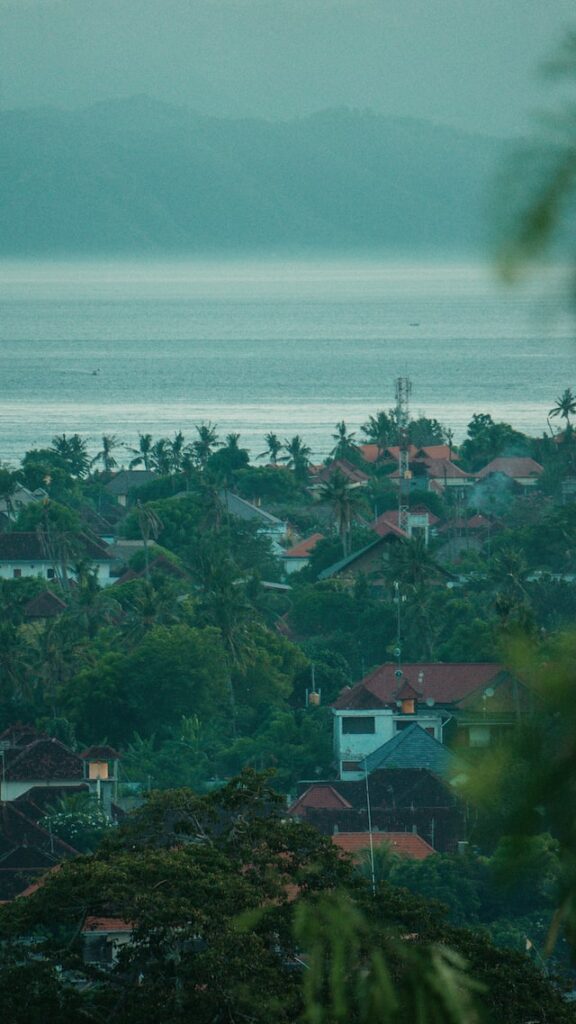 Nusa Lembongan is that place for you. Surfing is one of the most fantastic activities when it comes to playing with water. It fascinates me too much and is in my bucket list of things to do before Death says "it's time".
Other than being a location famous for surfing, Lembongan also has one of the most incredible underwater experiences in the form of Scuba Diving and snorkeling.
The best way to explore the underwater world is to get inside, right? And snorkeling and scuba diving puts you straight inside around those interesting and colorful creatures.
Nusa Lembongan is situated at a distance of about 11 kilometers from Penida and can be reached with a boat from Yellow Bridge. It costs approximately ₹650/- per person for a round trip.
When comparing Penida and Lembongan – Penida is where the adventure is, while Lembongan is where the luxury is.
Crystal Bay
Crystal bay is known as Penida's best snorkeling and diving spot! With rocky stretches, grey-white sand and stunning coral reefs, it becomes another interesting visit for things to do in Nusa Penida.
Crystal Bay is said to be the last place you need to visit before you head home from Nusa Penida. It's relaxing, wonderous and gives out a sense of calm after days of adventure exploring other places around.
The spot is infamous across the world as the only diving site where one can see the "mola-mola oceanic sunfish". These are the heaviest of the bony fishes and weighs over 2000 kilograms.
You get to experience these underwater species when you dive here in Crystal Bay during the months of July and October.
Other aquatic life you find inside the deep waters are dolphins, mantas and also reef sharks.
Broken Beach
Millions of years ago there happened a lot of erosions and eruptions when the earth changed it's way of existing a little – maybe so that newer life could be born. Although it must have been earth shattering when it happened – but millenniums later, these became the most incredible natural wonders to ever exist in the world.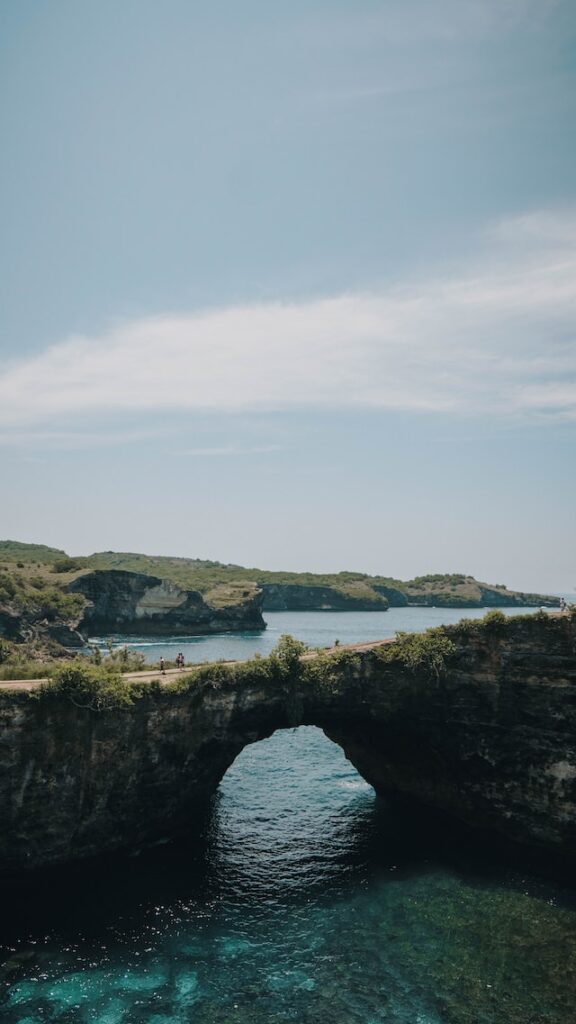 One such wonder came to be known as the Broken Beach.
A small body of water that is sheltered and has restricted entrance and is created by sea abrasion and collapsed limestone hill millions of years ago – is called a cove.
Broken Beach is another of the reasons to answer is Nusa Penida worth visiting.
Broken beach takes you to a marvelous high standing arch view with no means to get down near the water body. But people come here for the view and to imagine how it all must have happened.
You will find so many photo opportunities to take here with the surreal scenery of the arch.
Angel's Billabong
After the T-rex cliff in Kelingking, the next best thing and must visit places in Penida is none other than Angel's Billabong!
A natural infinity pool with super clean waters seemingly framed by large cliffs from opposite sides, the Angel's Billabong is a place of dreams. Dip into the pool with your soulmate and relax as you reminisce your memories in a beautiful place away from home.
If you have more time, you can also head east to find a large swing to have the most interesting views of a sunset in Nusa Penida.
---
How to get to Nusa Penida
Nusa Penida is one among the three major island bodies located near Bali. A Bali Itinerary can include these islands if you seek more adventures.
Although Bali in itself is a fascinating island country with so much to offer, but with fascination comes popularity and with popularity comes a lot of traffic. Which might make a person less likely to find "paradise" in the island paradise that Bali stands for.
Then comes into play these marvelous islands located near Bali – namely: Penida, Lembongan & Ceningan!
All can be reached from Bali and are located not too far away from each other. But since, this post is about Penida – we talk about how to reach Nusa Penida from Bali.
Jalan Hang Tuah at Sanur is the location where you can find ferries, speedboats, etc. to start your journey from Bali towards the island of Nusa Penida.
There are 2 major steps to take when travelling from Bali to Penida :-
Step 1: Reach Sanur
You need to first reach Sanur, situated at a distance of about 13 kilometers from Kuta Beach. Which you can reach within 30 minutes with cab, scooty or whatever mode of transport you choose.
Step 2: Book Transfer (Local Boats & Fast Boats)
Once you reach the coast of Sanur, the next step is to book suitable boats for transfer from Bali to Penida. There are two types to the boats – local ones and the fast ones.
Local boats are obviously cheaper (min. IDR 60,000 or INR 320) but takes about 60 to 90 minutes to reach the destination.
Fast boats cost you more (min. IDR 250,000 or INR 1330) and takes about 30 minutes to take you to your destination.
You can choose whatever suits your budget. Both the journeys are safe and worth an experience.
---
How to get around Nusa Penida
Once we reach a destination for an excursion purpose, the very next thing that comes to mind is – How do we get around? How do we get to those places we have craved and dreamt to be at? Well here is the answer –
Hire Scooter/Bike for Rent
Just like any other island location, you can easily get to hire a scooter/bike here for very less and explore the entirety of the island on your two wheels. It is easy, fun and really memorable to ride through the beautiful sceneries that the place offers.
Scooter rentals will cost you about IDR70,000 or INR370 per day.
Since 2018, due to the rise in number of travelers or tourists coming to the island, the Government has also made sure to make proper roads and connectivity between spots so you will find better roads, incredible routes and so many interesting spots.
Book a Cab
Another option is to rent a cab that could take you through a tour of the entire island covering all the major spots from Kelingking to Manta Point and more.
Hiring a cab in Penida costs you approximately IDR 350,000 that converts to INR 1860 per day – which is indeed a great price.
Book a Tour
Another option to visit the island from Bali is to book a tour. You can book tours for an individual island tour or even an island hopping one from Bali itself. Or you can get fascinating tours booked straight from your mobile phones through Viator! (see below👇)
---
Is Nusa Penida worth visiting?
If you're looking for a place to get away from the hustle and bustle of Bali, Nusa Penida is the perfect spot. The island is still relatively undeveloped, so you can enjoy its natural beauty without the crowds. Nusa Penida is a great place to relax, unwind, and enjoy the simple things in life.
The island is known for its stunning cliffs, crystal-clear blue waters, and unique rock formations. Visitors to Nusa Penida can enjoy plenty of activities such as hiking, snorkelling, and swimming. The island is also home to a number of temples and other historical sites.
So why visit Nusa Penida? The answer is simple: to experience one of the most beautiful and unique places on Earth. Whether you're looking for a relaxing beach vacation or an adventurous island getaway, Nusa Penida is sure to please.
There are a number of reasons to visit Nusa Penida. The island is a great place to relax and escape the hustle and bustle of Bali. It's also a great spot for snorkelling and diving, with colourful coral reefs and abundant marine life.
And for those who love to hike, there are a number of short trails that offer stunning views of the island and its surrounds.
---
To Wrap Things Up
Nusa Penida is certainly worth visiting for its natural beauty, interesting history, and friendly locals. While the island does have its share of problems, such as a lack of infrastructure and environmental degradation, these are offset by its many charms.
If you're looking for an off-the-beaten-path destination that has something for everyone, Nusa Penida is it. So go ahead and add it to your travel list.
Comment down below your favorite island destinations! Share this post with your friends and family!
That's All Folks!