"You. Me. A Lifetime of Adventures 💙 "
My exams were over and it was the time for winter holidays. I and my family had been thinking to go somewhere to chill for a few days but we didn't have a place in mind yet.
Then a few days later, it just came to me that we should go visit Manali. We've been there before, but I was really tiny at that time so didn't remember much.
It was just a random thought which came on a random day in my head to go see Manali.
Little did I knew it was going to be a very important destination in my life's journey as well.
I realized I am in love when I was in Manali, in love with my best friend. The thing about falling for your bestie is that it could be as amazing as the most beautiful places in the world and as terrifying as the door to hell – all at the same time. I'll tell you and maybe you can relate to this tale.
Lucknow to Chandigarh to Manali Itinerary – A Messy Start
So, a little backdrop coming through: we actually planned our route to Manali which included a night stay at Chandigarh. We booked our hotels from OyoRooms.
An important tip that y'all might know: to see through all the reviews over there for the hotel and not just trust the pictures! That's like the most basic thing one should do while booking any hotel room online. We learned it the hard way.
As we reached Chandigarh, we found out our hotel was in a really messed up area with not so peaceful environment that we were looking for.
The hotel was inside sort of an alleyway. The rooms were massively dirty, with some smoked cigarettes sitting around at every corner and even on the bed. The room smelled like liquor, and that too not a good one.
It was like a nightmare, like the demons in my head crawled up all over the place and vanished!
Our first step of the journey, and we got a messed up stay. But we still gathered our hope as we had to stay for one night only and leave for Manali the next day early in the morning.
Day 1 – Exploring Chandigarh
Chandigarh is a really well connected city whether you come from anywhere.
We arrived early in the morning from Lucknow to Chandigarh. Mostly while travelling to a destination via train, we prefer choosing a ride that takes one full night journey through the cities to finally reach the destination in the morning.
We went straight towards our hotel, and after spending some time registering the horror of the place, went out to explore!
But before our exploration began, we needed to fill up the tank, we needed – food!
Chandigarh is pretty famous for a lot of things, one of them being the street food joints in the city.
We stopped at one of them to have the infamous Chhola Kulcha (Chikpeas with a type of leavened Indian bread).
Zakir Hussain Rose Garden
The first and foremost site we went to in Chandigarh was the Rose Garden.
The Rose Garden is a botanical garden dedicated to various types and species of roses.
The Garden is named after India's former president, Mr. Zakir Hussain, and was created in 1967.
It is filled with many different and colorful roses. You can see and click pictures of the various species of roses.
Who knew roses come in so many different colors. It's an amazing garden and it filled our trip with so many colors and instantly changed our mood.
You can find a pole with so many wind chimes on it decorated like a tree, which sounds really peaceful when the wind moves them and they come to contact with each other.
Amazing Fact #1: A three-day festival known as the Festival of Garden or the Rose Festival takes place at this garden. It happens in the month of February every year and is a delight for travelers or a flower enthusiast.
Nek Chand's Rock Garden
Next stop for our tour was the infamous Rock Garden; spread over 12 acres of wooded land situated near the capitol complex.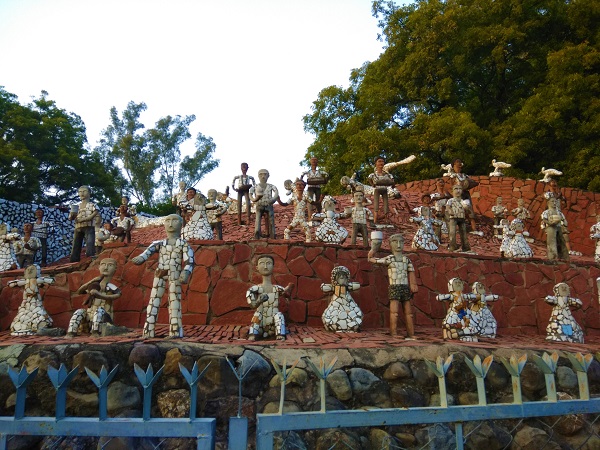 The major and the main reason people visit this place is because it is a large park of sculptures made with recycled industrial and domestic waste which includes ceramic objects, bangles, bottles and electrical waste, etc.
Padam Shree Nek Chand is the creator of this wonderful artistic garden.
Except for the unique waste-turned-art it consists of, the rock garden also has a wonderful and mesmerizing artificial waterfall, great to click some amazing photographs.
Sukhna Lake And Sadar Bazaar
After spending an amazing and memorable time at the rock garden we went to the Sukhna Lake.
The main feature of this lake is that it is man-made. One can also opt for a few water sports while in the area like boating, yachting, water skiing, etc.
We spent some time over there and had our dinner. We found a transport agent office and talked to him about going to Manali. We bought there package which was not at all a bad deal. We got Innova with the driver and it was planned that we leave for Manali the next morning, early.
We went to sadar bazaar later in the evening and shopped for some winter clothes over there.
It is a cheap market where one can get almost anything for winters.
We came back to our hotel to sleep and dream about our next stop and unknowingly – a place I'll always remember.
Not just for the captivating sights and the vibe of the Himalayas, but also for what I felt in the environment or the stuff that nature tried and told me on the last day of our trip.
Day 2 – Road to Manali | Chandigarh to Manali Itinerary
They say the journey is as important and worthwhile as the destination and whenever I travel to a different place I always feel this to be so true.
The journey to reach the destination is sometimes the best part. And our journey to Manali was indeed a memorable one.
It had the beautiful Himalayan mountains, the wondrous Beas river flowing along, and family – all these things make up for an amazing adventure.
We left early from our hotel towards Manali. The journey from Chandigarh to Manali takes approximately eight hours to reach. And with photography spots and other stops, it would have gotten dark when we reach there.
Before our final destination arrived, we stopped at the Trishla Shawl Factory. Now, Shawls are a specialty at the region. People from all over come and buy these shawls. We entered the Shawl Factory to see how it all is done, the machines, the men, everything.
Later, we reached our hotel in Manali- The Snow View Hotel which was situated at the Mall Road, a well-known area with a lot of tourists, hotels, shops, restaurants, etc.
Day 3 – Exploring Manali Itinerary and Finding Love
The next day, we woke up early in the morning, had our breakfast and left for the Manali sightseeing. On this journey, we felt Manali, the cold breeze, the sun rising and setting behind the mountains covered with clouds, the flowing river. It was magical.
We headed straight to explore the Himalayan town of Manali.
Solang Valley
We left for Solang Valley, a place covered with snow where one can go and feel the snow deeply. The road to the valley was mesmerizing in itself with the greenery to the snow-capped mountains, etc.
Be it summers or winters, this place remains one of the most gorgeous and adventurous place to visit when in Manali.
On the road to Solang Valley, we saw many small shops where one can get the jackets, shoes and gloves which would help you walk on snow easily. You'd wear it on your clothes, and return it when you get back from the adventure.
You can indulge in many adventure sports over there like paragliding, quad biking, skiing, etc.
It will always really be a wonderful experience for both: the adventure seekers as well as the calm nature admirers.
To tell you the truth, it was more icy than snowy at the time we went there, so the climb upwards was really, really slippery.
I came down and hit my back and my head so many times at the hard and slippery icy ground while trying to explore more. Always be careful.
But it didn't feel like a big thing at the time because the view, it was just like a fairy tale coming true.
Snow was all around me with the cold breeze. At one time though, it went so damn cold that my legs were jammed, so I decided to sit there for a while and rub my feet and tell them "come on you can do this".
It was hurting a lot but it was all worth it.
Something like that happened to me once more, many years ago, as a kid.
You can read about it here on the "Why Manali is an Emotion to me" blog post.
Hadimba Devi Temple in Manali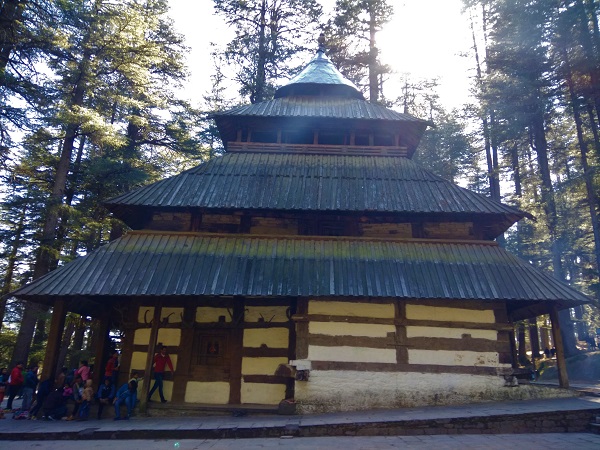 The next place we went to after the Solang Valley and after giving the snow-gear back, was a famous temple called Hidimba Devi Temple or simply Hadimba Temple. It was a temple situated between lots and lots of alpine trees.
The temple's design included a four storied wooden structure with a tower peaking up to 24 meters high.
The three tiers of its square roofs are covered with timber tiles and the conical apex is embellished with a metal cladding.
The mud walls are covered with stone work. The wooden doorway is ornamented with very elaborate carvings that depict goddesses, animals, foliate designs, dancers, scenes from Lord Krishna's life and Navagrahas.
It is an ancient cave temple which is dedicated to the wife of Bhima, one of the Pandava brothers from the Indian epic, Mahabharata.
In Conversation with the Universe | How I Found Out I am in love with my bestie?
After the chilling day of exploring Manali, we all headed back to our stay for some rest.
Suddenly I felt like heading to the rooftop balcony of the hotel to see what views the scenery provides me.
It was a large balcony like a rooftop cafe' has in many cities in Europe.
The view was magnificent – the sun was slowly setting while hiding behind the clouds, the white mountain peaks were setting up to look like a perfect blend of peace and wonder-ness and the sky was poured with pretty.
It was a random thought to just go there towards the balcony which came in my mind all of a sudden.
It was almost as if I had to go over there, and sit down at one of the chairs near the edge of the beautiful balcony filled with roses and what-nots.
It was as if the universe brought me there.
All it took for the entire universe to make me realize I am in love – hopelessly, irretrievably – in love with my best friend, was a cold breeze and the fairy tale like background.
I looked at all the wonder and suddenly they told me… the wind, the sun, the moon, the mountains, the clouds in the sky, the river, everything… reminded me… not of something, but of someone.
So I felt the view and thought about everything I could remember from the first day we met, to the day I was here in Manali and I felt it… it wasn't just friendship, it was love all along. Since the very first moment we met. The spark. The vibe. The Magic.
And that's exactly what she is – a divine gift from the universe. A light so bright, it calmed my darkness.
I cannot find the words to describe what that feeling was, it was like I was in a movie or a novel or somewhere out of this world… where there was no one else.. just me, just her.. and Manali. I didn't tell her though, at least not for the next couple of months. I was terrified. What happened later? We went on a trip to the God's Own Country!
---
The last meal we had for dinner in Manali on the trip was the infamous Makke di Roti te Sarso da Sag from Sher-e-Punjab restaurant. It was delicious and a must try for everyone.
Day 4 – Part of the Journey is the End!
This was our last day in Manali. I did not want to go, at all, neither did any person of my family. But what can we do, as a great man once said- part of the journey is the end. So we packed our bags, called the driver and left the place early in the morning.
On the way back towards Chandigarh to catch our train back home, we visited the Manikaran Gurudwara for a precious experience.
It is also known as Sri Guru Nanak Dev Ji Gurudwara. It is a place of pilgrimage for the Sikhs who come there to pay homage to Guruji and to seek spiritual rejuvenation.
Another interesting thing in this Gurudwara is the natural hot water springs one can find at the entry of the Gurudwara. The river flowing here carried hot boiling water which is used for the preparation of Langar for the devotees visiting.
After this peaceful visit, we headed on our journey back home.
We reached Chandigarh late in the evening; the driver dropped us at the railway station. It was still some time left for the train to arrive, so we kept our luggage in the dormitory and went to have dinner nearby. Our train was late and came after midnight.
Then we bid adieu to this beautiful journey we had in Chandigarh and Manali.
That's All Folks!