We travel to relax, to venture into paths unknown, to find peace and have fun. And all we demand from the experience is to have that peace of mind throughout the journey, all through the different steps on the way, isn't it?
Hence, comes forward the most outstanding travel resources or travel essentials that one shall utilize for making the journey easier and relaxing for oneself as well as the others.
Sleep Apnea is a serious sleep disorder where your breathing keeps rapidly stopping and starting. It can be caused by a number of different reasons: obesity, large tonsils, hormonal changes, etc.
What helps the travelers with any level of sleep apnea to travel longer routes and enjoy longer journeys is a Travel CPAP Machine, and today, we discuss the 7 best travel cpap machines out there to use for traveling longer routes.
---
What is Sleep Apnea?
Sleep Apnea is a pretty serious sleep condition, as I said earlier. And it needs to be discussed more so people can learn about it and understand if they have it.
Imagine that you're taking a deep breath and then suddenly, you stop breathing for a few tiny moments. Scary, right?
Well, that happens when something is blocking the air from going into your nose or mouth, especially when you are asleep. It basically is like a hiccup in your breathing. This results in loud snoring noises, feeling tired even after a full night's sleep and so much more.
Symptoms of Sleep Apnea:
Loud Snoring
Breathing Pauses
Choking or Gasping
Restless Sleep
Excessive Sleepiness during Daytime
Morning Headaches
Difficulty in Concentrating
Dry Mouth or Sore Throat
Irritability due to restless nights
Causes of Sleep Apnea:
Obesity
Thick Neck
Smoking
Alcohol Consumption
Nasal Congestion
Medical Conditions like Diabetes, High BP and heart disorders.
Treatment options for Sleep Apnea:
Weight management or Excercising
Avoiding Alcohol or any form of sedatives
Avoid Smoking
Changing sleeping positions
CPAP Therapy (Continuous Positive Airway Pressure)
---
What is a Travel CPAP Machine?
CPAP (or Continuous Positive Airway Pressure) machines are the most popular and highly recommended treatment for people suffering from any level of sleep apnea.
These machines are medical devices and often mentioned by sleep doctors for patients that seek a good night's sleep.
There are three major elements that a CPAP machine does to make sure the sleep apnea in you is treated positively:
It delivers a continuous and steady flow of pressurized air through a hose and mask or sometimes with nasal pillows. It helps keeping the airway open and stopped from any blockage during the sleep.
Further, the continuous flow of the air pressure from a CPAP machine prevents the airway collapse which causes sleep apnea in people.
Lastly, CPAP therapy or machines helps individuals maintain a regular breathing pattern throughout the night, which leads to better sleep quality and decrease in the health issues related to sleep apnea.
The CPAP machines come in various shapes and sizes, including regular home-based or general CPAP machines and travel CPAP machines.
The major difference between the two is that the travel CPAPs can be carried easily anywhere around the world due to their portability, and they even have additional features to regular CPAPs like: multiple power options and built-in rechargeable batteries.
Also, the best travel CPAP machines are more affordable than regular CPAPs doing rounds in the market.
---
7 Best Travel CPAP Machines 2023
Designed for individuals with sleep apnea, the ResMed AirMini is considered to be the most popular and compact travel CPAP machine. The key features of this machine are:
Lightweight & Portable: One of the smallest and highly portable travel CPAP machine to exist in the world.
Multiple Power Sources: You can use multiple power sources to charge up your ResMed AirMini: AC power source, DC power source or the in-built rechargeable battery.
Smooth Connectivity: The AirMini offers smooth Bluetooth connectivity and a smartphone app called MyAir which allows users to track their progress and adjust settings as applicable.
Auto Mode for Adjusting Pressure: It has a fixed pressure mode as well as an auto-adjusting mode wherein you get a personalized air pressure depending on your breathing patterns.
Waterless Humidification System: AirMini uses a waterless humidification system called HumidX which helps prevent dryness and discomfort.
Breas Z2 Auto CPAP Machine
Second in line at the best travel CPAP list is the Breas Z2 Auto CPAP Machine. A compact and portable device, this CPAP is a really attractive option for travel lovers suffering from sleep issues. Here are its major features:
Portability: It is designed for travelers and is an easy to carry, lightweight CPAP machine which can be carried in your luggage without any problem.
Auto-Adjusting Pressure: The Z2 Auto is one of the finest when it comes to finding a CPAP machine which can adjust pressure of the air as per your breathing patterns.
Integrated Battery: One feature that stands out in the Z2 Auto is the integrated battery setup which allows users to use the machine without worrying about an external battery.
Humidification: The Breas Z2 Auto is compatible with the Heat Moisture Exchange or HME tech and provides humidity without the use of any water-based humidifier.
Quiet Operation: The Z2 Auto is known to be one of the quietest travel CPAPs out there. It ensures that you get a noise-free good night's sleep.
Transcend Micro Auto-CPAP Machine
Weighing not over 0.5lbs (0.23 kg) and with about 4 inches of width, the Transcend Micro Auto CPAP machine is the most portable and the best travel CPAP for camping and other outdoor venturing scenarios. Find its most interesting features below:
World's Lightest and Smallest: Unbeatable in the weight and size of the machines around the world, the Transcend Micro Auto-CPAP is a top-choice for travelers with sleep apnea who consider portability as the highest priority when grabbing essential travel products.
Travel-Friendly: Designed to be travel friendly, this lightweight CPAP meets the FAA regulations, allowing users to utilize the machine in-flight.
Compatibility: The machine is very compatible with several Transcend CPAP masks and provides a comforting and relaxing ambiance to the wearer.
Battery: The Transcend Micro Auto-CPAP comes with a rechargeable battery pack which allows users to use this device even in locations with little or no power outlets.
Ramp Feature: It's ramp feature allows the users to have a lower pressure when they begin the therapy. They can gradually increase the pressure once comfortable.
One of the most advanced and highly regraded CPAP machines, the ResMed AirSense 10 AutoSet is a very popular choice among sleep apnea individuals and it's features tell you why: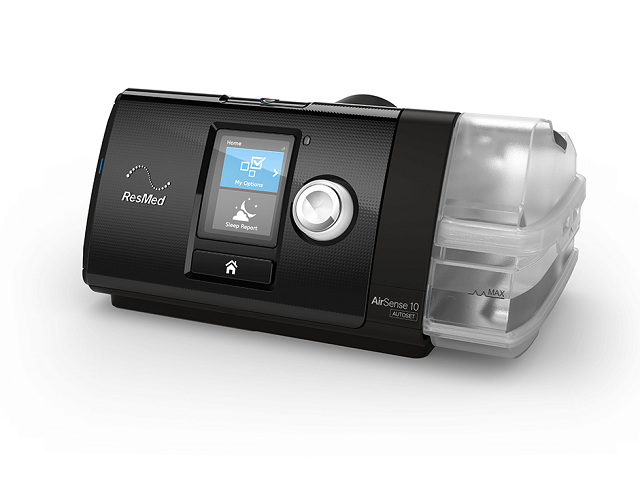 AutoSet Technology: As the name suggests, the AutoSet feature in the AirSense is the most prominent in comparison to others in the similar range.
Expiratory Pressure Relief (EPR): The EPR feature in the AirSense 10 allows the machine to make breathing out easier by reducing the air pressure during exhalation.
SmartStart & SmartStop: This feature is considered to be one of the most outstanding features in a travel CPAP. Herein your CPAP is automatically started or stopped whenever you wear or remove the mask, respectively.
AirView Remote Monitoring: This particular feature allows you to monitor your therapy remotely, which makes it easy to adjust your settings as per the results for a better treatment.
Compact and Travel-Friendly: While comparably less compact than the AirMini, the RedMed AirSense 10 still proves to be a portable and one of the best travel CPAP.
APEX Medical XT Auto CPAP Travel Machine
Considered to be among the cheapest travel CPAP machines out there, the APEX Medical XT Auto is one of the best machines used by traveling sleep apnea sufferers. Here are the major features of this product: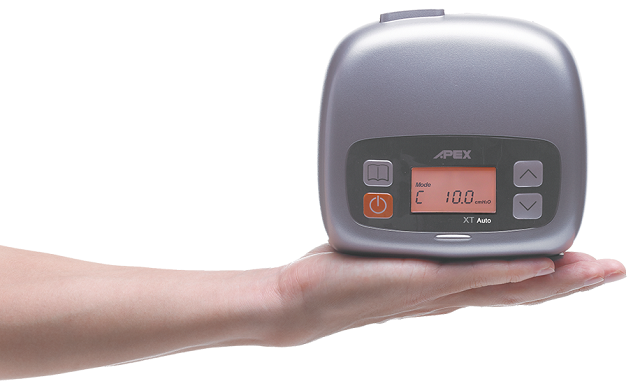 Affordable: The APEX Medical XT Auto is said to be the least expensive Auto travel CPAP and is considered to be the best travel CPAP for budget travelers suffering from sleep apnea.
Data Tracking: The data tracking technology in this model allows the users to monitor their therapy progress and adjust settings accordingly.
User-Friendly: The interface of the Apex XT Auto is one of the most easiest to understand and hence, user friendly.
Humidification: To prevent dryness & irritation in the airway, this feature in the APEX XT Auto CPAP machine acts as one of the most prominent features.
Travel Friendly: The compatibility of the model with varied power sources and the compact, portable design makes it suitable for use during long travels.
Philips Respironics DreamStation Go
The Philips DreamStation Go is another great travel CPAP machine designed with the most essential features including travel-friendliness and compactness. Here are the key features:
Highly Portable: The Philips Respironics DreamStation Go is a highly portable & well-suited travel CPAP machine which makes it easy to carry anywhere across the globe.
Travel-Ready Accessories: One of the most interesting features of the Philips DreamStation Go is that it offers a variety of travel accessories, such as a travel case and a portable humidifier.
FAA-Approved: The DreamStation Go meets all the FAA requirements for in-flight use and you can use it on flights for a relaxing sleep whenever needed.
Noise Level: The DreamStation Go is designed in such a manner that the noise level in the machine is comparably lower than others in the similar category.
Multiple Power Options: Like others mentioned in today's list of the best travel CPAP machines, this one also has multiple power options and includes an in-built rechargeable batteries.
DeVilbiss IntelliPAP 2 AutoAdjust Travel CPAP
The auto-adjustable pressure system and portability of the Devilbiss IntelliPAP 2 AutoAdjust Travel CPAP is one of the more underrated machines used by traveling sleep apnea individuals. Here are it's other features:
Compact and Lightweight: Like other travel CPAPs mentioned in the blog, the DeVilbiss also is a very compact, easily packable and lightweight machine.
Quiet Operation: Another great feature of this travel CPAP is its low noise levels. Which provide the user a very relaxing, quiet sleeping atmosphere.
Data Recording: This device can record therapy data like: usage hours, AHI or Apnea-Hypopnea Index and leak rates.
SmartFlex Technology: The SmartFlex in the DeVilbiss allows for easy pressure relief during exhalation. This makes it more comfortable to breathe out for the wearer when breathing out.
Remote Monitoring: The DeVilbiss has a SmartLink App which allows the healthcare providers to remotely monitor therapy data, that can be beneficial for adjusting settings as per your needs.
---
How to Choose the most suitable Travel CPAP for you?
When choosing amongst the best travel CPAP machines, one should consider the following aspects before selecting one: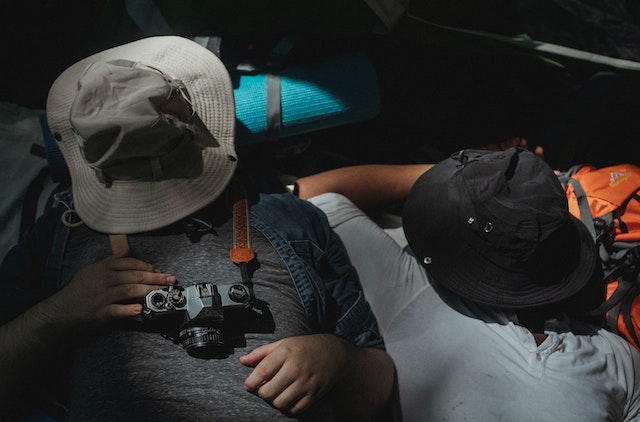 Portability: Look for a portable model that you can carry along in your travel ventures. Consider the weight and size of the machine.
Battery: Consider whether you need a machine with built-in rechargeable batteries or one which allows you to use external ones.
Compliance with Airline Regulations: Make sure your chosen device is FAA-approved and can be used on airplanes.
Noise Level: To ensure a restful and nice night's sleep, consider getting a machine with lower noise level. It helps you and your mates sleep better.
Humidification: Another important thing to consider when getting your best travel CPAP machines is whether they offer integrated humidification systems to prevent dryness and discomfort.
Mask Compatibility: Travel CPAP machines need a travel CPAP mask which you car wear on long journeys to get a restful sleep. Consider that these two items go along with each other.
Auto-Adjusting Pressure: Some CPAP machines offer auto-adjusting pressure feature wherein the pressure is adjusted as per your breathing patterns.
Warranty and Support: Warranty and Support is one of the topmost priority option to consider when buying yourself the most suitable CPAP machine.
Cost: Consider your budget when buying a cpap for your travel ventures. But keep in mind the other aspects and do not just go ahead with the purchase when the cost is low. Always check the necessary features.
---
FAQs
Is it worth getting a travel CPAP machine?
If you are a frequent traveler, who needs to move fast between longer routes and need to have a relaxing sleep on your journey, a travel CPAP machine can be a wonderful purchase for you.
How much does a travel CPAP machine cost?
Although, the cost of a travel CPAP machine varies on factors such as the brand, model and features included. Still, the price range always remains between $300 to $1500 or more.
What is the difference between a travel CPAP and a regular CPAP?
The major differences between a travel CPAP & a regular CPAP machine include the following elements:
1. Travel CPAPs are lightweight and portable while regular CPAPs are generally larger in size.
2. A general CPAP needs a continuous power source to run, while travel CPAPs are often equipped with multiple power options
3. A travel CPAP is much less noisy when compared to a general CPAP machine.
4. Regular CPAPs are not designed for airline use, so they all might not comply with the airline regulations just as the travel CPAPs do.
5. Travel CPAPs are priced competitively and provide affordability, while general CPAPs are mostly on the expensive side.
Can I use a travel CPAP everyday?
Of course, you can use a travel CPAP machine on a daily basis. These machines are designed to be compact and portable, which makes them suitable for both everyday use at home as well as for travel.
---
Conclusion
At the end, I would say that choosing the best travel CPAP machines is an important thing for individuals with sleep apnea who like to be on the go most of the year.
We explored the 7 best options available in the market, discussed several tips to consider when buying the machine and answered some of the frequently asked queries online regarding the CPAP buying process.
We hope this little guide has been informative and that you learned something new about the world of travel and its resources through us today. If you found it useful, please consider sharing it with others who might benefit and leave your comments down below.
That's All Folks!