One of the best vacation spots for nature enthusiasts, Michigan City is a place brimming with exciting adventures and incredible attractions that cater to a wide range of interests.
A fun place to visit for nature lovers & history buffs, this place has something special in store for everyone who happens to venture here.
Today, on this blog post, we discover all the best things to do in Michigan city for couples, friends, family, art lovers, nature enthusiasts and more.
Let's delve into this picturesque town, where every visit promises an unforgettable memory and a genuine Midwestern welcome.
Let's Begin!
---
Things to do in Michigan City with family
Explore the Washington Park Zoo
One of the most popular things to do with family in the city is to visit the Washington Park Zoo.
With a wide variety of over 90 species of animals, fun experiences and an observatory tower to explore the area from a bird's eye perspective, the Washington Park Zoo is a favorite among little kids and even adults who haven't yet lost the kid inside them.
You can learn about conservation efforts to save the wildlife and the animals heading towards endangerment or extinction, participate in special events, meet exotic animals doing their business in large dedicated areas.
Friendship Botanic Gardens
Offering a serene environment with hundreds of different species of flora, a lush green environment, themed gardens, picturesque trails and all other things that make for a fun picnic with family, the Friendship Botanic Gardens is next in line for the most relaxing places to visit or things to do in Michigan City.
Enjoy a nature trail as you walk around with your family, take pictures to cherish those memories later, relax over the grass, have a picnic with packed food and just experience the tranquility of nature when you are with your partner and kids, and do not have to worry about the stresses of life.
Visit Michigan City East Pierhead Lighthouse
The Michigan City East Pierhead Lighthouse is one among the most popular spots as well as a symbol for the city. It offers a dose of maritime history once you set food around it.
You can take a leisurely stroll around the pretty lighthouse, admire the Lake Michigan's beautiful shoreline, take amazing pictures and enjoy with family. Also, the pier is a very interesting spot to witness the sunsets and the magic of the universe.
This only public operating lighthouse in Indiana has an elevated walkway called 'the catwalk' which was used by the keepers of the lighthouse back in the day for over 29 years to access the lighthouse tower.
Travel back in time at Barker Mansion
Mansions have always been one among the most exciting architectural gems for me. Maybe from all the horror film franchisees or the haunted books and stuff. But it is something about mansions, the historic ones in particular, which grabs my mind in the most fun way.
The Barker Mansion in the Michigan City is no less than a mansion straight-outta some excellent novel and offers visitors a tour back in time to witness the lives of the prominent families of the city.
You can indulge in a private guided tour for you and your family to learn about the history of the mansion as well as the city in general and how it all came to be like what we see today.
Arcelor Mittal Children's Garden
Another among the most fun things to do in Michigan city for family is to visit the Arcelor Mittal Children's Garden.
Actually located within the Friendship Botanic Gardens, this place has plenty things to offer the young explorers.
From enchanted play areas with treehouse inspired structures and secret paths to explore to sensory gardens where kids can touch, smell and see the world of wonderous plants up close, this exciting place can let you relax as your kids go and have a blast for hours.
---
Things to do in Michigan City for Couples
Relax at the Central Beach
Ever wondered why most of the best honeymoon destinations in the world are somewhere around the oceans, in one way or another?
Well, I guess because beaches make for one of the most romantic backdrops for couples from different corners of the world.
The Central Beach in Michigan City gives out a serene setting for the romantics where you can share fun moments of watching the sunsetting into the Lake Michigan, enjoy a leisurely swim together, try out the best seafood at one of the shacks or just relax and soak in the sun as you discuss the world around you.
Stroll together along a Michigan City Public Park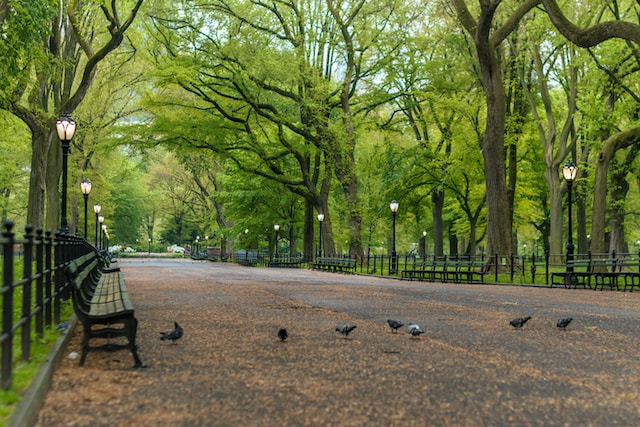 As you might have understood now, Michigan City is full of many picturesque public parks. Stroll together inside and around a Michigan City Public Park for a fun, relaxing and romantic moment with your loved one.
Have a picnic, sit on the bench with each other, play around, take pictures, laugh with each other, at each other, whatever makes both your hearts skip a beat.
'Cause life is hard and these are the moments that we must cherish whenever possible with our loved ones.
Attend a Play at Dunes Summer Theater
If you and your partner love any form of art or enjoy sitting together to watch something great happen in front of you, while being surrounded by many others, you must not miss the Dunes Summer Theater.
This local theater group offers a wide selection of theatrical performances live set in a cozy and intimate setting.
Watching a play in front of you with your loved one's arm wrapped around yours, is a very romantic thing to experience. And the entire ambiance of the place is filled with love, joy and other magical things.
Immerse yourself into the Lubeznik Center for the Arts
Other than the beaches and the parks, another thing that this city is known for is its artworks and the artistic scene.
A very interesting thing to do for couples in Michigan City could be to witness a collection of contemporary art exhibits and appreciate the local and national artists at the Lubeznik Center for the Arts.
As the American author Chuck Klosterman once quoted, "Art and love are the same thing: It's the process of seeing yourself in things that are not you."
Charter a Sunset Sailboat Cruise on Lake Michigan
Another amongst the best things to do in Michigan City for couples is to charter a sailboat for a sunset cruise over the Lake Michigan.
This experience is just unlike any other and fills your hearts with excitement, love and happiness. It is a must-do if you want to make your romantic getaway unforgettable and want to witness one of the world's most romantic cruise sunsets.
A private sunset sailboat cruise will cost you approximately $500 dollars, you can check this one out if you like.
---
For the Adventure Enthusiasts
Indiana Dunes National Park
India Dunes National Park is a very popular spot when looking at the best things to do in Michigan City and it has all the reasons to be on that spot.
The scenic route to get to Indiana Dunes from the city center is a marvelous drive offering picturesque views. Cyclists have a lot of fun on these roads.
You can indulge in various activities in the park be it any season of the year, these activities include:
Kayaking
Paddleboarding
Canoeing
Hiking
Fishing
Cross-Country Skiing & Snowboarding
Take the Heron Rookery Trail
A natural gem offering wonderful outdoor attractions in Michigan city, the Heron Rookery Trail is located inside the Indiana Dunes and is an excellent spot for birdwatchers and natural enthusiasts.
You can find an exciting number of never-seen-before birds with different colors and voices. The name of the trail comes from the magnificent birds called Herons.
The Herons are said to gather in colonies or rookeries to build their nests and raise the youngsters, and since this place is considered as their natural habitat, thus the name: Heron Rookery.
This exciting trail offers an enchanting hike through the heart of the dunes, revealing some breathtaking landscapes and the opportunity to witness the local wildlife and the majestic herons.
Explore the Trail Creek
If you like waters more than the hilly spots, the Trail Creek in the heart of the Michigan City is just the right spot for you.
A hidden gem with not much crowd, this wonderful waterway winds through the city, offering unique blend of natural beauty and recreational opportunities to the visitors.
One of the best ways to experience the trail creek is to hire a kayak or canoe and paddle your way along the serene waters while immersing yourself in the surrounding calming ambiance.
Other than the boating experiences, you can also indulge in birdwatching, strolling through the trails, relaxing near the waters or capturing great sunsets.
---
Go Shopping
Explore the Farmer's Market
The best things to do in Michigan City cannot be done if we do not explore the Farmer's Market.
One of the most interesting places for food lovers and market explorers, the Farmer's Market offers plenty of attractions and unique culinary experiences which attract many people from all around the city.
You can find fresh produce, artisanal good and unique souvenirs as well to take home along with you for friends and family members,
The lively chatter of the vendors and shoppers, the enticing aroma of freshly cooked food and the vibrant displays of the local produce forms the most outstanding market scenes in front of you right at the moment you step inside.
Check out the Lighthouse Place Premium Outlets
The Lighthouse Place Premium Outlets is the ultimate destination for shopaholics and people seeking a retail therapy when visiting the Michigan City.
This shopping haven offers a wide array of designer clothes with popular brand-name stores offering discounted prices.
Located at the heart of the city, this outdoor shopping center perfectly mimics the charm of any coastal town or village having cobblestone streets and delightful storefronts.
The unbeatable prices and offers ranging from 25% to 75% off on many incredible deals, make this place an interesting destination for upgrading your wardrobe and find gifts for your loved ones back home.
Good News Vintage for finding antiques and unusual items
When exploring the best things to do in Michigan City Indiana, be sure to make a stop at the Good News Vintage.
Another standout feature of this place is its friendly and knowledgeable staff. You can get help for finding the most perfect vintage piece as per your requirements and they even offer insights into the history of the items in the store.
Just as you step into the Good News Vintage, you are transported into a bygone era. The store's carefully curated collection of vintage items ranging from clothes, antiques & collectibles span out decades and allow you to embark on this fascinating time travel and come out with the most exciting things to take home.
---
Have a Hearty Meal
Dune Billies Beach Cafe
When it comes to experiencing the best things to do in Michigan city to fulfill your hunger, visit the Dune Billies Beach Cafe.
Offering the most amazing local flavors along with a beachside atmosphere, the Dune Billies Beach Cafe is one of the most fun places to eat in the city.
What to Expect: Fresh Seafood, Beachfront Dining, Premium Cocktail Selection.
Panini Panini
Wish to taste the most authentic local cuisine with a Mediterranean twist? Look no further than Panini Panini in the Michigan City.
This cozy restaurant offers a warm ambiance and diverse menu making it a favorite among the locals as well as the travelers.
What to Expect: Local Ingredients, Mediterranean Influence, Diverse Menu
William B's Steakhouse
If you seek a gourmet dining experience, William B's Steakhouse shall be your go-to choice.
This upscale steakhouse is popular amongst the locals for its exquisite cuts of meat, fine wines and ambiance which exudes sophistication and elegance.
What to Expect: Prime Steaks, Impeccable Service, Private Dining
---
Sip a Drink
Shady Creek Winery
Once a hidden gem for wine enthusiasts, the Shade Creek Winery is slowly gaining a lot traction for being one of the finest wineries in the Michigan City.
Offering a delightful combination of locally crafted wines as well as a picturesque vineyard backdrop, this Winery is a must-experience things to do in Michigan City.
What to Expect: Local Wines, Tasting Rooms, Scenic Vineyard
Shoreline Brewery
The best place for any beer enthusiast in the city, the Shoreline Brewery offers a diverse range of craft beers and pub-style fare in the most welcoming and friendly ambiance.
Whether you are more into the hoppy IPAs, rich stouts or crisp lagers, the Shoreline will provide you a brew that suits your taste on their extensive beer menu.
What to Expect: Craft Beer Delights, Gourmet Pub Fare, Cozy Ambiance
Zorn Brew Works
A haven for craft beer enthusiasts, the Zorn Brew Works is a microbrewery dedicated to the art of brewing and offers a warm and inviting atmosphere for the visitors.
With their rotating selection of beers and fine taprooms, the place is excellent to discover newer flavors for your craft beers.
What to Expect: Careful Craft Beer Selection, Tasting Rooms, Knowledgeable Staff
---
Is Michigan City worth a visit?
Located in the beautiful state of Indiana, Michigan City is a place full of fun adventures, unique experiences, fantastic beaches and lots of greenery. One of the most popular summer vacation destinations in the country, this place is definitely worth a visit.
Whether you are a nature lover, a beach person, an adventure enthusiast or just a travel lover, this place has so much to offer you. From the pristine Lake Michigan beaches to the nearby Indiana Dunes National Park and the Lighthouse adding lot more character to the city's coastline, there is just so many things to do in Michigan City for couples, family or even for a solo venturer.
Conclusion
All in all, the Michigan City offers a rich tapestry of experiences for all kinds of travelers. From the sun-soaked beaches to the captivating parks to the historic mansion and the allure of its lighthouse, this city presents a diverse range of activities & sights to explore.
Whether you seek outdoor adventures, cultural enrichment or a serene escape, there are plenty things to do in Michigan City which will be all worth your visit, your time and money.
Enjoyed the blog post? Consider sharing it with your buddies and family and plan ahead for your trip.
We'd love to hear your thoughts so do not forget to comment down below.
That's All Folks!