It's the memories we gather that truly make us wealthy.
Traveling or exploring the world around us does not have to be a stressful experience, or one which ends up draining your bank accounts. With so many fascinating apps, websites and guidebooks for a travel lover to harness, wandering through different regions or countries has never been smoother.
Budget Travel Resources are many. Although it might take some of your time to get everyone of them jotted down and to go through the most useful ones when you are on your trip planning stage.
That's where TravelSole's Travel Resources comes in!
In this informative article, we have jotted down for you all the best travel resources, websites, apps and more for each element of your travel journey: from finding cheap flight deals and best accommodations options to budget-friendly activities and basic travel tips to keep in mind for the particular destination.
So let's dive in, shall we!
---
Flights: Soaring to Savings
First and foremost, flights or your mode of transport to another land has to be up top on your priority list for travel planning.
When it comes to finding and comparing best deals, the digital transformation has been a blessing for us, providing us with an array of tools and websites to make us come closer to our dream destination.
Following are my favorite and really popular budget travel resources when it comes to booking flights:
You know the first thing I do when planning a travel? I go to this site called Skyscanner!
A versatile search engine which scans for multiple airlines and travel agencies to find you the most pocket-friendly flights to the desired destinations.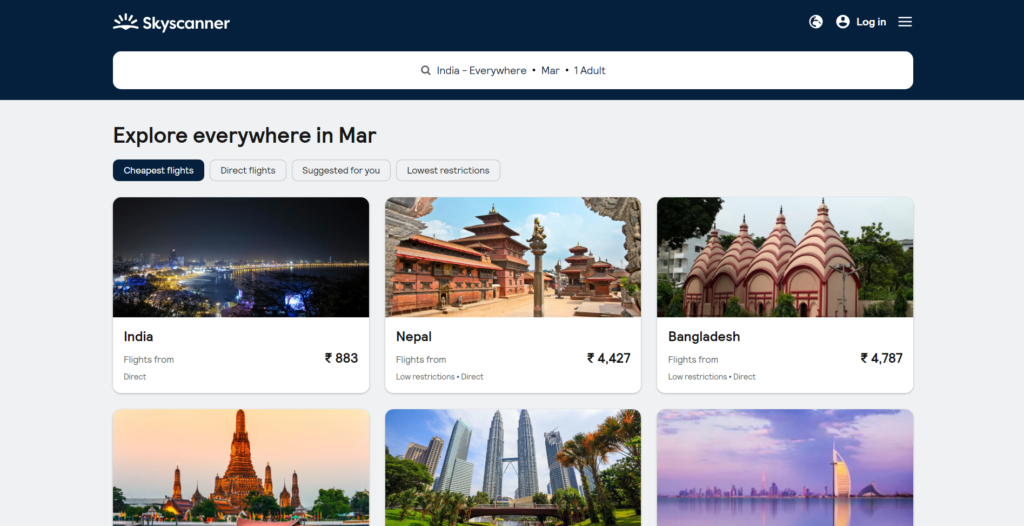 The most fascinating thing about Skyscanner is the feature which gives us an option to search the best flights and cheap destinations from your country to around the world. You can easily choose any destination that suits your budget.
Also, the "cheapest month" feature is an absolute delight as you can then flex-up your dates of journey.
It is one among the must-have budget travel resources for every traveller.
Next among the best travel resources for flight bookings is Google Flights!
Google and its products have always been all for the user. And this user-friendly platform empowers you to compare prices, track rapid fare changes and explore the best dates to catch flights for a destination.
You can even see the map option on the right to see which destination around the world is the most perfect fit for your budget during the given time.
Enter your source destination into the "Where from" column, and you will find a list of destinations both local and international in an order of cheapest to not-so-cheap places across the globe.
Google Flights and Skyscanner, when clubbed together can actually get you the best results for booking the best flight deal.
Third on the list of the premier budget travel resources for flight bookings is Kiwi.com.
It's pioneering "Virtual Interlining" feature lets users create unique itineraries by connecting flights from different airlines to different destinations. It offers unparalleled flexibility and cost savings – the two things a traveler during the planning stage looks for the most.
Unlike the different competitors, what sets apart Kiwi.com is the comprehensive protection against flight disruptions that it covers with the flight deals. It offers a peace of mind to the passengers.
With extensive search options and a commitment to customer satisfaction, Kiwi.com is hands down one of the most popular international travel resources up in the online world right now.
Hopper: The Price Predictor
Hopper isn't just an app – it is your personal crystal ball that predicts the best flight deals wherever, whenever.
It stands out as one of the best budget travel resources for flight bookings all thanks to its advanced predictive technology.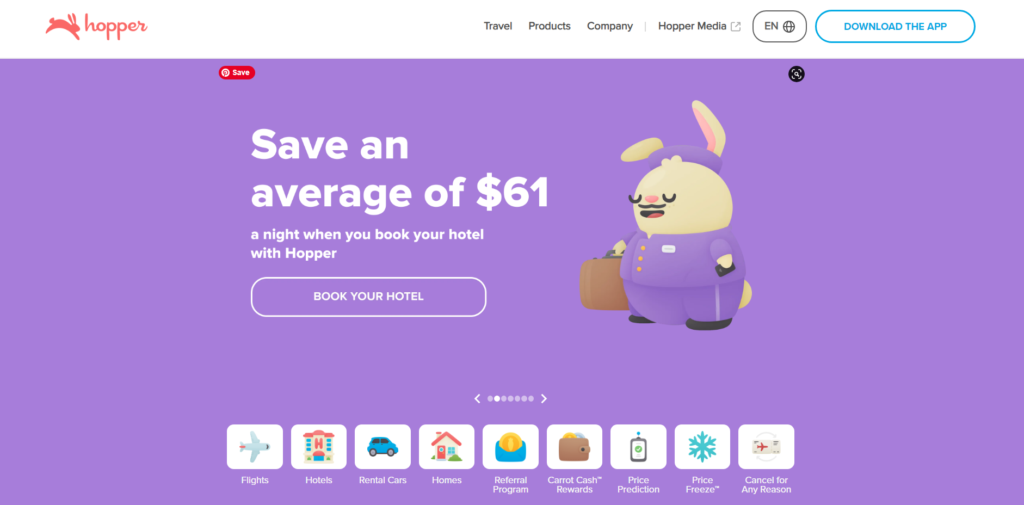 It analyzes historical data and recent trends to forecast flight rates accurately and enables users to book at the most accurate time.
The interface that Hopper provides, simplifies the booking process overall and with real-time alert and push notifications – you cannot go wrong when comparing, researching or even booking the most fascinating deals as per your budget.
---
Accommodations: Your Home Away from Home
Now that we are done with the flights, comes the next element of travel: Hotel Bookings!
Where you lay your head at the end of your day of travel, can greatly influence your experience. Following are the most preferred budget travel resources for hotel bookings:
Booking.com boasts a wide variety of accommodation options: from hotels to apartments, often accompanied by fantastic features like flexible cancellation policies and "pay at the hotel" options.
The platform is a treasure trove for travelers like you and me and acts as a top-notch choice for hassle-free and rewarding hotel reservations.
One among the most fantastic budget travel resources, Booking.com offers an extensive global reach, user-friendly interface and an unparalleled selection. You have hotels, resorts, etc. for every budget – from luxury resorts to budget accommodations.
The transparent pricing and real-time availability along with the guest reviews makes for an outstanding place for guests to book their stays when travelling to a new city or country for exploration purposes.
If you tend to join the Genius loyalty program that the platform offers, you get discounts and perks as a frequent user
If you are looking for a quality stay without compromising on your set budget, Booking.com is your go-to destination.
Hostelworld is more of a new-world sort of accommodation style where one can have shared experiences with other like minded travelers.
You can explore an array of hostels and budget-friendly lodgings all around the world while embarking on unforgettable journeys while forging new friendships.
Hostelworld is a premier travel resource for hotel bookings and the platform's intuitive interface enables seamless browsing and booking. One can also go through authentic user reviews and ratings while choosing the best choice of stay.
The commitment that the platform has over affordability is evident through the competitive pricing and exclusive deals one can have.
AirBnB is another great addition to the budget travel resources when it comes to having a memorable experience while staying at the most unique accommodations directly from hosts.
The prices are mostly lower than traditional hotels, but it also sometimes depends on the destination you chose and the experiences the host promises to provide.
With immersive tourism spreading its wings in today's scenario, the local communities are ready to host you and share their culture, traditions and stories with the travelers. And AirBnB is the best way to do that – without breaking your bank.
The most unique and interesting approach to fascinating, shared and budget-friendly accommodation is none other than Couchsurfing.
Unlike traditional hotels, Couchsurfing offers travelers the opportunity to stay with the locals and get a really immersive and authentic cultural experience that goes beyond all sorts of typical tourist accommodations.
It not only saves you money but it develops genuine connections and insights into a destination. The community-driven platform encourages meaningful interactions, traveling like a local and a deeper understanding of the host culture.
The best thing about this travel resource is that it is not just a free place to stay – but also an opportunity to connect with locals, to foster cultural exchange and experience your destination from a local's perspective.
---
Activities: Budget Travel Resources for Adventures
After flights and hotel bookings, the next big thing we need to plan before heading to the destination is the activities we would do there. Delve with the following into the thrifty world of activities and experiences:
My topmost choice whenever I want to plan traveling to a new destination is always to look at Viator.com before going anywhere else.
It is undoubtedly the most outstanding travel experiences and activities choosing platform in the entirety of the internet – at least for me.
Viator acts as a gateway to discounted deals on tours, activities and unforgettable experiences where you can book in advance and secure exclusive deals on fun activities and thrilling adventures.
Also, the activities when broken down into so many different options, tends to be more under your set budget.
Another great discovery when it comes to finding the most outstanding array of tours and activities on your travel experiences is GetYourGuide!
What truly sets GetYourGuide apart from it's competitors is its seamless integration of additional activities and tours – which very effortlessly enhance your itineraries and fills them up with a set of memorable experiences.
This one-stop-shop approach creates a holistic travel venture which minimizes stress and maximizes enjoyment.
Often accompanied by user reviews, guest photos and the options to book skip-the-line tickets. Explore the world while making informed choices that align with your own budget.
Going through the reviews, feedbacks and stories of other travelers who have already been to your planned destinations, hotels or activity spots, etc. is one of the most important thing to do when planning a trip anywhere.
TripAdvisor acts as just the right platform for this. With an extensive array of deals, traveler feedbacks and a feature where you can actually create your own budget-friendly adventure itinerary, it is just the most fascinating budget travel resources out their in the online world.
Additionally, TripAdvisor's interactive map feature enables one to pinpoint accommodations or locations accurately. The platform's price comparison tool ensures competitive rates and enhances cost-effectiveness.
Groupon: Local Deals for Global Explorers
Into more local experiences and authentic cultural immersions? GroupOn is made for you!
One of the most fascinating website for local experiences, GroupOn offers discounted deals on all kinds of activities from dining experiences to local attractions in a chosen destination.
The platform allows users to explore and book these experiences seamlessly, making it an ideal choice for discovering hidden gems across the globe and opening up to new adventures in different destinations.
---
Bonus Travel Resources
Hey, some of the "bonus" travel apps and websites for the #SoleMates is here:
---
Budget Travel Tips: Navigating the Financial Landscape
To master the art of traveling in a budget, it is essential to known about the variety of travel resources that are provided all across the web, curated just for travel lovers.
But along with these apps, one should also keep in mind these budget travel tips and strategies which could help you get better memories in a much lesser cost :
Embrace Flexibility: Adjust Your Travel Dates
Flexibility is one of the most essential elements when you want to save money on flights and hotel bookings as well. When you have flexible dates, you have the edge to tweak your travel dates to your advantage for significant savings.
Harness the Power of Comparison
The power of comparison is a strong one and with the above given platforms, you get to harness it's power by ensuring you get the best deals out of the lot. A little extra research can yield substantial savings.
Travel Off-Peak for Substantial Savings
Travel is a world that drives on seasonal basis. And if you are a seasoned traveler, you know that budget and off-season travel ventures go hand in hand. The flights are less costlier, hotels provide unbeatable deals and there's no crowd blocking your views in any spot around your destination.
Uncover Alternative Airports
Sometimes, the major airports of a city can be a lot costly when compared to the secondary airports around the destination. You shall expand your horizons by considering these airports. Explore slightly different routes that lead to your destination and get substantial savings on your flight seats.
In my travel blog post about Travel Hacks, I mentioned this point – Travel Light = Travel Right. Packing smartly results in avoiding extra baggage fees and offers economical options without unnecessary frills.
---
Conclusion: Embark on Budget-Friendly Journeys of a Lifetime
Towards the end, embarking on a budget travel venture is not just about saving money, but more about how you can smartly save on greens while not compromising on the journey, the experiences, forging connections and creating lasting memories.
With the arsenal that is budget travel resources mentioned on this article, you are now equipped to traverse the entire globe without breaking the bank.
So, what are you waiting for? Dust off your passport, embrace the spirit of adventure, go wild and see forth on a journey that proves that travel is for everyone!
Share this blog with everyone!
Comment down below your own tips and tricks for saving money while travelling.
That's All Folks!