Photography is something that has become quite like an essential part of our lives now. We love to take photos of almost everything.
And traveling to a place cannot be a complete experience if you don't have some amazing photos to share with friends and fam, once you get back home.
That is where a camera for travel comes in!
Today, on this blog post, we discuss:
---
Is it worth buying a camera for travel?
Yes, it is definitely worth buying a camera for travel. It allows you to capture high-quality photos and videos that you can preserve for later viewing, upload on your socials for everyone to see and capture your memories in a detailed, more artistic way.
---
Camera vs Phone for travel photography
Let's discuss what differentiates a camera vs a phone when it comes to some high-quality travel photography:
| Feature | Camera | Smartphone |
| --- | --- | --- |
| Image Quality | Larger sensors and lenses make for a superior quality. | Smaller sensors and lenses make for comparably inferior quality. |
| Manual Control | Manual settings for exposure, focus and more. | Limited manual settings. |
| Low Light Performance | Amazing low-light performance due to larger apertures. | Struggles to capture low-light due to limited aperture. |
| Portability | Mostly bulky, needs a camera bag to carry along during adventures. | Lightweight, always in your pocket. |
| Battery Life | Longer battery life, ideal for longer, extended shoots. | Camera can be one of the most battery draining application in a phone. |
| Price Range | Higher costs, with additional lens expenses. | Costs range from budget-friendly to higher end, depending on what you consider the best. |
| Durability | Often tends to be more rugged and weather-sealed. | Generally less durable. |
While some might argue that there are too many smartphones that have become increasingly capable as far as photography is concerned, but a standalone camera often gives you a much better quality, manual control, versatility and a fun, learning edge for different shooting styles.
However, it is worth noting that a smartphone can still be a great choice for travel photography, as it offers convenience, quick accessibility and the ability to capture spontaneous moments with ease.
iPhone Camera good enough?
When we talk about smartphone photography, whether you are on side android or iOS, you just know that iPhones are unbeatable!
Apple just seems to find a way to keep improving its camera technology and offering high-quality images and a seamless user-experience.
The latest iPhone models often feature an advanced camera system with multiple lenses, excellent low-light performances and a computational photography capabilities that could produce impressive results.
While, they may not beat the image quality and manual control of a professional camera, iPhones are more than capable of capturing the most beautiful travel photos, especially when you're a casual photographer.
They are very convenient, always at hand, and come with absolutely brilliant and user-friendly apps and editing tools to enhance your images.
For many travel lovers, an iPhone is the perfect choice for documenting their adventures and sharing them with the world.
---
Is it worth getting a point and shoot camera?
Yes, it is worth getting a point and shoot camera as it provides simplicity, portability and convenience for casual photographers on their travel ventures. It is a great choice to make if you enjoy user-friendliness, accessibility, automatic settings, quick start-ups and compact designs with good image quality and fun features.
When you do not have the budget for a professional DSLR and still want a better alternative to your smartphone, that is when a point and shoot comes in.
This compact digital camera is designed for simplicity and easy of use. They are comparably smaller, more lightweight and very convenient for travelers to carry along on their journey capturing moments and monuments that pass by.
Some of the major characteristics of a point-and-shoot camera are:
Automatic Settings – Point-and-shoot cameras often feature automatic settings for different kinds of shooting conditions. This lets one capture photos without needing to adjust complex camera settings.
Fixed Lenses – Unlike the more professional (and expensive) cameras, a point-and-shoot has a fixed lens, which is built into the camera. This simplifies the shooting process, but limits your creative options.
Portability – With the compactness and portability that a point-and-shoot offers, it is a very convenient choice for travelers who do not want the added weight or extra baggage for carrying larger camera systems and their gear.
Affordability – Point-and-shoots are generally more affordable than the more advanced camera out their. This makes them very accessible to a wide range of travel lovers.
Versatility – While they may not be as versatile as the more advanced cameras, the modern point-and-shoot cameras offer a variety of shooting modes and features like: zoom capabilities, good image quality and some manual control options as well.
---
Best budget camera for traveling (under Rs.1,50,000)
Choosing the best budget camera for traveling depends on your own specific requirements, budget and preferences, here are the few great options to consider in various categories:
Compact Point-and-Shoot Camera:
| Panasonic Lumix DC-FZ10002 | Canon PowerShot SX70 HS |
| --- | --- |
| 20MP Digital Camera offering powerful zoom capabilities, excellent image quality and advanced features, making it a perfect choice for travel lovers. | 20MP Digital Camera with powerful 65x zoom lens and 4K recording, ideal for capturing distant subjects with a range of advanced features in a compact design. |
DSLR or Digital Single Lens Reflex Camera:
| Canon EOS 1500D | Nikon D7500 |
| --- | --- |
| An entry-level 24.1MP DSLR known for its affordability and ease of use, making it a good choice for beginners in travel photography. | A versatile 20.9MP DSLR known for its excellent image quality and advanced features, making it a perfect and popular choice among travel photography enthusiasts. |
Mirrorless Camera:
| Nikon Z50 Mirrorless | Sony Alpha ILCE-7M3K |
| --- | --- |
| 20.9MP compact and versatile mirrorless camera with 4k video capabilities and a user-friendly interface, making it ideal for travel and photography enthusiasts. | 24.2MP high-quality mirrorless camera popular for its exceptional full-frame sensor, excellent low-light ventures and impressive image stabilization. |
Bridge Camera (Superzoom):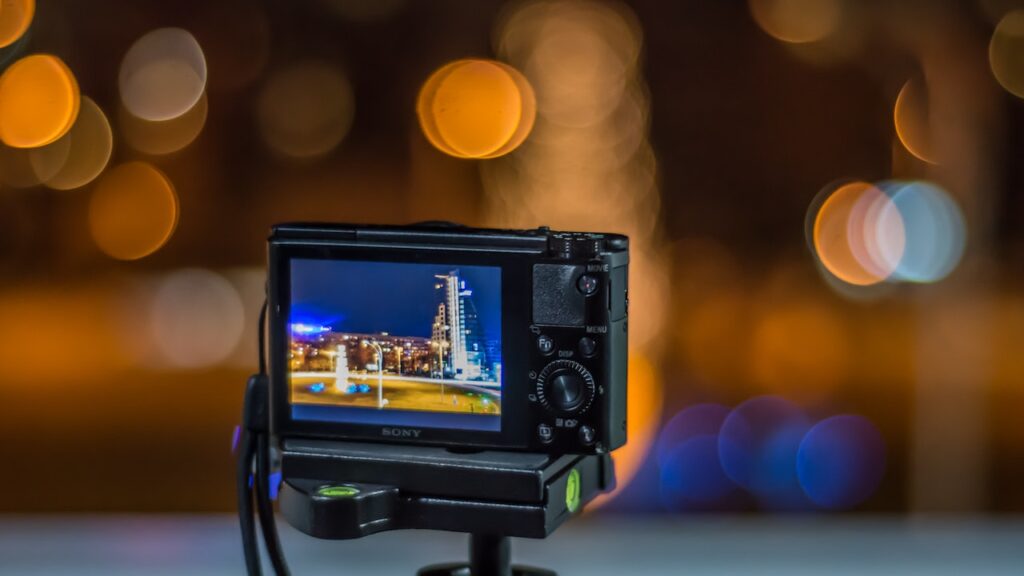 | Nikon Coolpix P1000 | Kodak Pixpro Astro Zoom |
| --- | --- |
| 16MP powerful bridge camera with an incredible 125x optical zoom, ideal for capturing distant subjects in absolutely stunning details. | 16MP with extensive optical zoom range of 52x, ideal for capturing distant subjects. It provides a budget-friendly option for travel photographers. |
Action Camera:
GoPro HERO11
Most popular action camera out there with 5.3K Ultra-HD Video and 1080p live streaming options. It offers the best durability and image stabilization for capturing adventures and extreme sports.
Instant Camera:
Fujifilm Instax Mini 12 Instant Camera
Compact and user-friendly camera that produces credit-card-sized instant prints, making it a perfect choice for capturing some aesthetic memories on the go. It has a simple operation and retro charm which makes it a popular choice for spontaneous photography.
360-view Camera:
Harbor 360 Degree Camera
Specialized 360-degree camera designed to capture a complete spherical view of its surroundings, ideal for fascinating and immersive panoramic photos and videos. It provides a unique perspective and is commonly used for virtual reality content and adds a li'l creativity in photography.
Note: Remember to consider factors like size, weight and features of your preference that matter most to you, such as zoom range, image quality and video capabilities. Budget cameras offer excellent value and performance too for travelers wanting to capture their adventures without having to break the bank.
---
Pros and cons of carrying a camera for travel
To answer the question "is it worth buying a camera for travel" one needs to learn about the pros and cons that come with getting or carrying a camera on your next travel adventure.
Although, it totally depends on your photography preferences, skills and budget, etc. it is essential to understand the good and the bad of carrying a camera for traveling:
Pros of Carrying a Camera for Travel:
High Quality Photographs: Cameras offer better quality, especially in challenging light conditions.
Manual Control: Cameras allow you to adjust all the settings like aperture, shutter speed and ISO as per your requirements.
Versatility: With interchangeable lenses and various accessories, cameras enable you to adapt to different shooting conditions, from landscapes to portraits.
Zoom Capability: Cameras often provide stunning zoom capabilities with optical zoom lenses.
Better Low-Light Performance: Cameras often perform better in low-light conditions by reducing noise and producing more clearer images.
Cons of Carrying a Camera for Travel:
Bulky: Cameras with their external accessories can add weight and bulk to your travel gear.
Cost: High-quality cameras and lenses can be really expensive, and there may be additional costs involved for accessories and maintenance.
Learning Curve: A camera requires one to have some photography knowledge and practice before heading to adventures.
Security Concerns: Cameras may attract unwanted attention while traveling, which might lead to few security concerns to be associated with them.
Limited Connectivity: Sharing and editing photos on the go is not quite possible with a proper camera, compared to the more instant connectivity that a smartphone has.
---
Conclusion
In the world today, where smartphones have been developing increasingly powerful cameras, the question "is it worth buying a camera for travel" is a pertinent one. And the answer to that ultimately depends on your own personal preferences, budget and photography goals.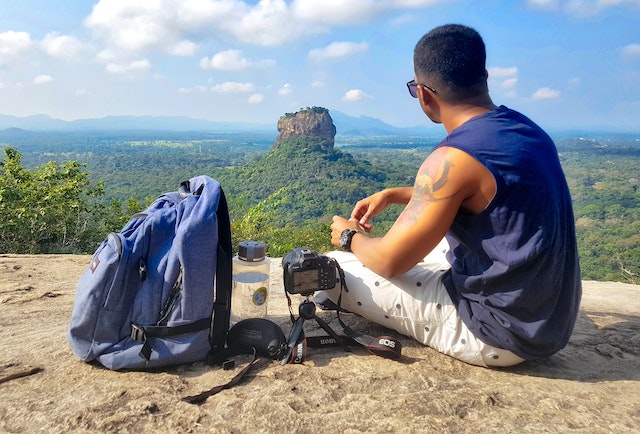 Whichever choice you make, remember that the essence of travel photography lies not solely in the tools you use, or how expensive of an equipment you have, but more in the moments that you capture and the memories that you make.
So, whether you choose your own smartphone or a camera, immerse yourself in the beauty of this world and cherish every travel venture as brilliantly as possible.
Found this blog post valuable? Share it with your fellow travelers and photography enthusiasts. Spread the word and inspire others to make the best choice for their travel photography needs.
That's All Folks!