"Look deep into nature and you will understand everything better"

Albert Einstein
This post contains affiliate links which means if you happen to buy the mentioned products through the links I might get a little commission without any extra cost to you. Thanks!
Camping is one of the most popular outdoor activities in the world. While many people go camping for the fun and adventure, others enjoy it simply because they love being outdoors. The good news is that camping can be done almost anywhere, as long as you have a few essentials with you.
Related – Travel essentials you must have
In this article, we will discuss some of the essential items to bring along when going on a camping trip.
---
Why Camping is Awesome
Imagine being under the endless night sky full of millions and billions of stars and constellations, at a place away from the hustle – bustle of the town, with your friends, family or maybe just with the nature. Get that imagination? That is exactly why Camping is Awesome.
Camping is an outdoor activity where people spend the night in a tent or other temporary structure. Camping is often done in remote locations with little to no facilities. Campers usually carry equipment like tents, barbecue grill, and food to help them camp out for the night.
Related – Planning a road trip for beginners
Camping can be a great way to get away from it all and enjoy nature. It also has many health benefits such as improved mental health, increased physical activity, and reduced stress levels. It's also a great way to teach children how to be responsible for themselves while still having fun.
Here are some of the best camping tips I have come across so far:
Pack less clothes than you think you need
Bring insect repellent or buy before camping
Bring sunscreen
Always carry a tool box and med kit for emergencies
Plan for bad weather conditions
Never forget lights
---
Best Camping Essentials to Pack – Must Have Camping Equipment list
Let's get into it without further ado and list down for y'all the best camping equipment checklist for an adventure of a lifetime.
Most Essential Camping Equipment
Tent – Shelter in the outdoors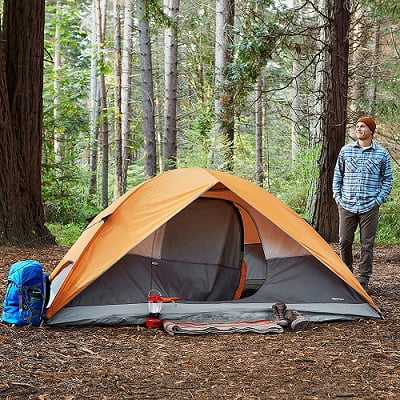 Tents come in different shapes and sizes. The shape will determine the amount of space you need for your tent. A single person tent is more compact and lightweight, while a double person tent is more spacious. The most important thing to keep in mind when deciding on a perfect tent for your adventure is two things – firstly, it should be waterproof and secondly, easy to set up.
To buy with the tent – Tent footprint (groundsheet) and rain cover
Recommended – AmazonBasics Tent for Camping
Ropes can be used for many different functions while camping outdoors. It can help you setup your tent, it could tie up your luggage together, it could help you pull heavy objects and it could be used for drying up clothes. A rope for camping is a pretty handy item on the list and can be really useful in your adventures.
Recommended – Add-gear 550lb Mil-Spec Paracord
Sleeping Bags – For a comfy night
Next essential item on the camping gear list is the sleeping bags. A Sleeping bag gives you warmth and saves you from nature's harshness. It is a must-buy if you plan to have a camping trip in the future. Also, it helps in keeping the nocturnal insects away from your body.
Recommended – Coleman Sun Ridge Sleeping Bag
Tip#1 – You may also opt for sleeping pads if bags aren't comfortable for you. Also, you can carry a blanket and pillows along to keep you extra warm and comfy.
Light Sources – Let there be light
When the sun goes down and the moon is the only light, you would need a proper light source around you and inside the tent to stay safe, right? A headlamp, camping lantern, string lights, lighter (for fire) and torches are some of the options which you can carry along in your trip. You might come across areas where fires are banned, a portable light source will then be your backup.
Recommended – Solar Operated Collapsible LED
Portable Charger + Batteries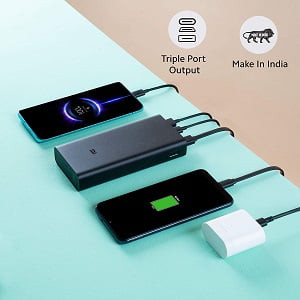 Although camping amongst the nature is chosen many-a-times by people to cutoff from the world they know and live amidst the nature and wildlife terrains, but no one can live without their precious electronics in today's time. So, a set of extra batteries and a portable charger is another best camping equipment essential for the trip.
Recommended – Mi Power Bank 3i 20000mAh
First Aid Kit – Always be prepared
A first aid kit or med kit is one of the most essential item to carry in all your ventures outside, be it trekking and camping in the great outdoors, or just a normal trip through the world. A med kit is important as you camp around and amidst the nature. As the legendary Scar once sang "Be Prepared".
Recommended – Gikvni 2 Layers Portable Emergency Medical Kit
Tip#2 – Must carry items in a first aid kit: Adhesive bandages, antiseptic creams, masks, hand sanitizer, sterile wipes, pain meds, eye drops, scissors, tweezers, gauze, duct tape, etc.
Survival Tool Kit – Mix fun with safety
The fist rule of nature is "survival of the fittest", right? So whenever you plan out a venture into the wild and raw camping trip along the natural landscapes, always carry with you a survival camping kit. It can keep you safe and also be utilized for stuff whenever necessary.
A survival camping tools kit must have the following items: a pocket knife, flashlights, wire saw, fire starter, bottle opener, can opener, axe, etc.
Recommended – eDUST Metallic 14in1 Survival Kit
Maps and Compass – Know your way
The vibe and fascinating nature of the wild can be quite distracting at times, which would result in people getting lost somewhere around while hiking or trekking along the outdoors. A map or a compass should be kept along all times to know you way and your location. It takes a while until you get a hold of how to use it. Both of them are among the most essential and best camping equipment to carry along.
Recommended – SYGA Flip Compass
You may also need –
Camp Chairs and/or tables
Sunscreen
Insect & Mosquito Repellent
Axe for cutting wood
Battery Fans (for summer)
Ice Box
Hammock
Waterproof phone case
Binoculars
---
Best Cooking Gear for Camping Trips
Now the next step into the packing plan for the best camping equipment list of essentials, comes the food items and the cooking gear. Listed down are the most popular items to calm your belly down and enjoy the exquisite landscape views.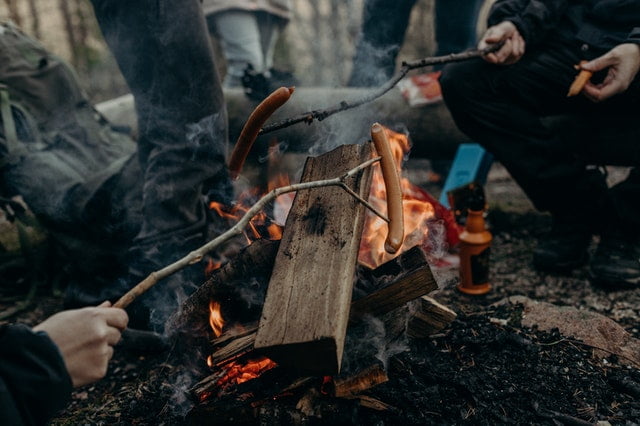 Food Items for a Camping Trip –
Durable fruits – Apples, Bananas, Oranges, etc.
Dry Fruits
Box Cereal
Chips & Nachos
Chocolates
Mouth Fresheners
Bread
Rice
Powdered Milk
Tea/Coffee pouches
Canned food items
Baked beans
Juice Boxes
Maggi
Ready to Eat(s)
Products to help you eat/cook on the campsite –
For the precooked and packaged food items you are bringing along for the first day or night at your campsite, you will need to have containers or small utensils to enjoy feasting with a marvelous view. Plastic containers would be the best choice.
These may include – bowls, plates, cups, spoon, folks, etc.
Camp stoves are basically the best bet to cook while on a camping trip. These are portable stoves utilized for boiling water, cooking, etc. It is recommended to use single or double burner camping stoves – they are less heavy, portable and compact.
Recommended – KOFY Portable Butane Gas Burner/Stove (this one comes with 1pc butane gas cartridge)
Tip#3 – Always carry more than 1pc of butane gas along with the stove for a camping trip where you need to cook.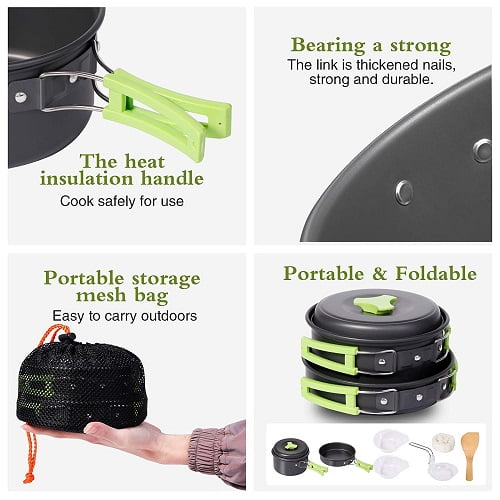 Dinnerware or kitchen utensils shall be brought along for cooking in the wild. Cast iron dinnerware are the most durable ones and are among the favorite lot of the campers around the world.
Recommended – REHTRAD 8 Pcs Camping Cooking Set (Camping Utensils with Carry Bag,Camping Bowl Pot Pan Set)
Collapsible water container
Water is precious when you're out in the wild. A collapsible water container can be used to keep water around and also for making boiled stuff for food like 2 minute noodles, pasta, etc. and beverages like tea, coffee, etc.
Recommended – GLIVE Collapsible ABS Plastic Water Container (5.5L storage)
You may also need –
Coffee Maker
Cheese Grater
Masalas (Spices)
Oregano
Tomato Sauce/Ketchup
Peanut Butter
Eggs
Tin/Can openers
Sponge
---
Best Camping Equipment Packing Checklist – Clothes and Stuff
Now to answer the most important question regarding the camping gear essentials list, "What to wear on a camping trip?" and "What clothes to carry on a camping trip". Here's the recommended list –
Raincoats/rain jackets
Waterproof jackets
Short/long sleeve shirts
Pants and shorts
Sun Hat
Swimsuit (depends)
Hiking boots/Trekking Shoes
Woolen socks
Sun protection
Sun glasses
Slippers
Travel Towel (quick dry)
Personal Toiletries (toothbrush, toothpaste, paper soap, tissue paper, toilet paper, hair brush/comb, small mirror, etc.)
Other important items one could carry on a camping trip –
Recyclable trashcan/ trash bags
Camera
Tripod
UNO cards
Ludo/Other board game(s)
Shampoo
Conditioner
Diapers (if travelling with little children)
Important Links for Best Camping Equipment
---
Conclusion + Camping Accessories Checklist
There you have it, a point wise list of the most essential and the best camping equipment that you will need on your next trip amongst the nature.
Here is an infographic made with love for you guys. You can download and save it for later.
Comment down below if you have any other suggestions or items that we could include in the list and follow us on the socials to interact!
That's All Folks!