Toddlers or kids are these cute little humans that warm your heart and make you feel happy, playful and so many things at once. But that is until you really get to spend some quality time with these creatures.
Traveling with a baby can be a hassle – with the long cries, instant food reversing, hourly diaper changing and so much more!
You might be a travel freak or enthusiasts travelling month after month to different places – from mountain tops to the beaches, from dried out desserts to dense rainforests – but then you welcome a little human in your life and it might seem that everything will not be the same.
But that ain't true! There are ways that help you travel smoothly with a baby or a toddler with you. All you gotta do is keep a few things in mind when planning a holiday!
Today's blog post talks about these specific things and provide you with the ultimate guide for traveling with a baby. Find the best age, best destinations and various tips for travelling with a baby.
---
The best age to travel with baby
When it comes to travelling with an infant or a baby, one of the most important things to know is the right age for the same.
As per many sources throughout the internet, the right or the most perfect age bracket to travel with little babies is from 3 to 9 months. That means postpone all your travel plans – be it visiting friends or families or just a rather refreshing journey – to until your li'l one is at least 3 months old.
Travelling before the baby has turned 0.3 years old or when they are an age where they can run and more likely want to run – those are the most messy journeys to get into.
Avoid them as much as you could.
---
Traveling with a baby essentials
Now, travel has its own basic essentials that you shall always carry when you travel – either domestically or on an international trip.
Btw, check this article I wrote a few years back about post-covid and travel essentials one must have during those times.
Today, we list down the most essential items to pack along the journey when you have your baby as a travel companion –
Diapers
Well, the obvious ones first. At least 2 to 3 full bags of Diapers (or two) are the most obvious and important stuff among the essential items for baby travel.
You need to carry diapers keeping in mind your journey's duration. Baby's can booboo as per their choice and every 2 to 3 hours they might feel irritable due to the amount of pee stored inside a diaper. So keep than in mind and you're fine.
Blankets
The next big thing to carry along is a set of blankets. Blankets can be used for so much when it comes to baby comfort.
You can use them for comforting the baby, covering them from sunlight or other flashy lights and lay them down.
Disposable Bags
Disposable Bags comes handy for the storing stuff like dirty diapers, dirty clothes, hankies, etc. You can store these items in a disposable bag while transporting and then throw the bag away when you see a dustbin.
Disposable bags are the best things to help you store just about anything randomly. Babies do make a mess – they might pee in between changing diapers, even drop their bombs all over a blanket or something. When that happens, all these dirty items can be stored in the bag.
First Aid Kit
A first-aid kit is an essential for all kinds of travelling venture – be it with a little one or not. But when you have a baby travelling with you – that is when it becomes an important thing to carry.
It must have things like wipes, tissues, lotions, baby cream, pain relievers, ointments. Also carry general medicines for common ailments like diarrhea, cold and cough, etc.
A Baby Bag
When traveling with a little baby, you shall treat him/her with respect and carry their own luggage along. After all, this travel is one for the baby as well, right!
A baby bag is needed to store all the baby-stuff all at a single place. From diapers, to wipes to disposable bags, spare milk bottles and more – a solid baby bag looks great, feels cute and is a fantastic way to carry baby essentials.
---
Tips for travelling with a baby
Now that you know the most essential items to carry when you are travelling with a baby – this is the time to know about the most important tips for the same –
No longer journeys
When you decide to travel and get back into your exploration shoes after having a baby, make sure to choose a destination that is not too far away from home.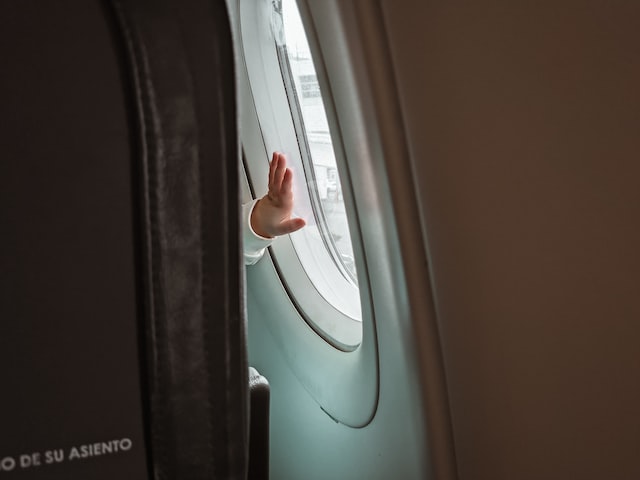 You can plan a weekend getaway nearby and book faster transport so you don't get to deal with the baby getting upset – more than once – at least, maybe.
Book the right seats
The next important thing or tip for traveling with a baby is to book the right seats.
When traveling with a train, book a window seat – so you and your baby have something to watch from within the train.
When traveling on a flight, make sure to book an aisle seat – so you can be free to walk, use the washroom when needed and carry the baby freely.
Find the best accommodation
Traveling after months of carrying a baby and a few more months after that might seem like a dream come true for many ladies across the world.
But what you must not forget is that your dream travel venture might not be that plausible when you have your baby with you on the journey.
You shall book a stay that suits the baby – a place which is not a long walk/trek away – a place that is somewhere in the middle of the town with all essentials nearby.
You can either choose a hotel which is baby friendly or a home stay that is private and free to make your own.
Carry a night light
Babies have a funny sleep cycle – much like what we develop after 20 years of our lives – the night owl thingy, you know.
So when that happens and your baby keeps waking up hour after hour for feeding or something else, you need not wake everyone up by switching on the lights. Carry a night light with you so you can keep watch on your child and feed and love them when need be.
Book a seat for your baby!
Yeah! I am not kidding.
Okay, I know babies can travel free for a few years and they do not need any seat for traveling purposes. But when you have an extra seat for your baby, you have more space – more freedom and more ways to calm the baby down.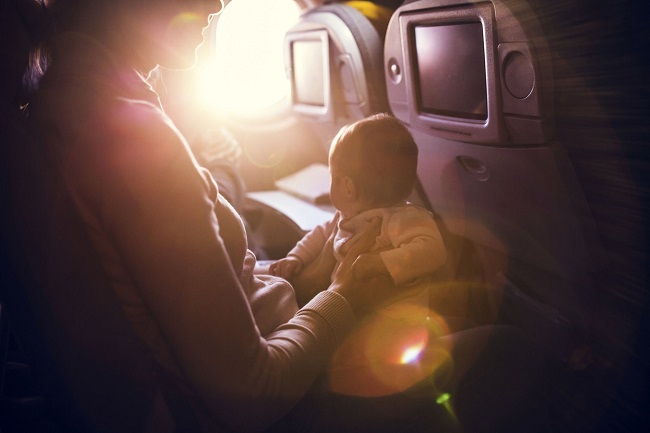 I would suggest to book two opposite aisle side seats so your baby can get more space to throw their arms and legs along, have slightly changing views from time to time and just make the journey more easy.
Most importantly, Stay Calm
The most important thing to note when you travel with a little baby is to stay calm. You cannot lose it – even though the baby would sometimes make it all seem like hell for you!!
Traveling with a baby is considered to be a hefty task – but that is mostly due to the parents' concern about the other passenger's discomfort.
But you need to understand that it's a baby – and babies cry! That is like in their system. And you have to deal with it – 'cause it's yours.
It is easier said than done, I know – but the calmer you are, the calmer your baby can also be.
---
5 best places to travel with a baby in India
Dharamshala
The winter capital of Himachal Pradesh, Dharamshala is a marvelous place to visit and explore. And the best part about it is that you can travel their with your baby.
Dharamshala is a place to relax, chill, endure the magical landscape or maybe even try out few of those adventurous activities.
Dharamshala has mostly the similar landscape qualities like other major places across the state, but what sets it apart is it's Tibetan character – which you experience when you visit here.
The place is filled with wonderful monasteries, the sounds of the Tibetan realm, prayer flags fluttering around and monks dressed in their bright saffron attires. And just like the culture, the city also seems to be a place of quiet – as peace and calmness bestows upon it.
Manali
Manali, a place really close to my heart, is another Indian city that is a great place for travelling with a baby – just make sure you have stuff to cover the baby with since it is gonna be cold.
Manali has always had different things to offer to different people. The live musical shows in a café, trekking opportunities, skiing, quad biking, camping and so much more.
The city is blessed with enthusiastic tourists, children and also little babies crawled up in shawls and covered in tiny blankets in their mother's lap exploring the world of souvenirs, snow & magic.
Udaipur
Udaipur or the white city of India is one of the most safest and peaceful place to travel with a baby. It gives out a sense of calm that new parents need especially after first three months of dealing with a little de… hu-man!
A city with a giant palace, beautiful man-made lakes, too many photo-ops and a peaceful vibe – is all that you might crave when getting to travel after months of loosing sleep over your baby.
You can boat around the large waterbodies, explore the castle and it's history, spend some time walking in the park, have a marvelous experience of viewing the entire city from a bird's eye perspective with a cable car ride – and so much more.
Goa
Goa is a fun place to be – in all it's senses and in all it's meanings. Goa stands for fun, enjoyment, and partying. And most Indians love taking their babies along with them to these places. It is important to list it down as one of the best places to travel with a baby.
Although, you need to keep in mind that your companion is a baby, and he might not like loud music, people bouncing all over the place and the smell of alcoholic drinks, even.
So maybe, you shall travel towards the more quieter places across the city where the baby is calm and you can have your fun as well – South Goa!
Khajuraho
Another interesting destination among the best places to travel with a baby has to be the place of history, nature and interesting details – Khajuraho.
Even if you keep the plethora of uniquely designed temples of Khajuraho aside, the place still has plenty to see and explore.
From amazing waterfalls and caves to Ghariyal Sanctuary and Panna Tiger Reserve – the place is filled with natural jungles and it's stories.
---
5 best places to travel with a baby across the world
Bali
Bali is a place that defines everything one would desire from travel – the mountains, beaches, jungles, artistic villages, adventurous activities and volcanoes!!
Bali is on the top of the list when it comes to the best places for travelling abroad with a baby. Explore the lush jungles, rice fields, tropical beach sites, coral reefs and colorful towns which seems to have a happy soul within.
Balinese people love children, and you can get help with the baby whenever need be. Also, it is one of the safest places to travel to so that adds another plus for the destination.
London
London – the place that everyone knows about. I mean our films (Bollywood) has made sure to showcase this city in most of it's early movies, songs or sometimes – even in their titles.
We know London is a place of rich history, world class museums, red-double-decker buses, the infamous red phone booths and the cosmopolitan vibes. And the place has so much to do, so much to see and so much to explore that a single visit cannot be enough.
London with a baby is a great experience since everything is easily available, the streets are stroller-friendly and it is one of the most amazing walkable cities in the world.
Singapore
Singapore is another of the best places for travelling abroad with a baby. It has so many fun things to do like visiting adventure parks, strolling through the city, family fun time and more.
It is a baby-friendly and safe place to travel and has been listed countless times in the list of best places to travel with family.
It's fun, clean, safe and easier to get around the streets and places across Singapore which make it one of the best places to travel with baby.
Cape Town
The Mother City of South Africa or Cape Town is the most popular place to travel in the country.
Cape Town ranks among the most beautiful places in the world and has so much to offer when it comes to exploring and having fun. That too – with a baby companion with you.
From Table Mountain to Robben Island and fascinating coastal dives to interesting vineyards, Cape Town has plenty of iconic sights to explore which make it a fun place for traveling with a baby.
New Zealand
New Zealand is a small island nation with less population but more popular sites and things to do for travel enthusiasts and exploration lovers.
The picturesque landscape the island offers along with being the backdrop for the legendary Lord of the Rings movie series – the country is a really fun place to travel – be it alone, with family or with your little one.
Cascading waterfalls, magical fjords, steamy water springs, untamed wildlife, dazzling glaciers and glorious beaches makes for a special trip to remember with family and is considered to be a safe destination for traveling with a baby.
---
To wrap things up
In conclusion, traveling with a baby can be a challenging but rewarding experience. It is important to be prepared and to have a good support system in place.
There are a number of things to consider when traveling with a baby, but it is possible to have a safe and enjoyable trip. If you have any questions, suggestions or comments, please share and comment below.
That's All Folks!