The 2022 FIFA World Cup is just round the corner and this November, people from different places across the world will gather around in Qatar – one among the richest country in the world!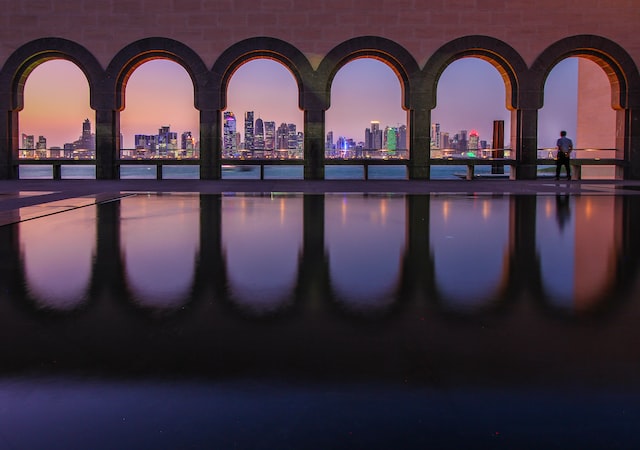 On this blog post, we discuss about the numerous great things to do in Qatar ahead of the highly anticipated World Cup!
Qatar is an extraordinary country with lots of things to do. The capital city Doha, is one of the most liberal cities in this region. Visitors can enjoy its historic souks, museums, traditional food and drinks or even go shopping at its malls.
---
5 Reasons Why You Should Visit Qatar
2022 FIFA World Cup
The number 1 reason why you should drop all things and book flights to Qatar is the 2022 FIFA World Cup that is being hosted their this year from November!
FIFA or Football in general is a sport that has made the entire world fall in love with it's energy, the way it makes you feel and the incredible legendary players it has given to the us!
Every 4 years pass and FIFA is announced and with that – people start to anticipate and wait for the matches to start, the commentaries to begin and the players to run!
For travel enthusiasts, it is a great experience to find out which country hosts the biggest football tournament in the world whenever it happens to be. This time it is hosted by Qatar – the land of pearls, fantastic beaches, incredible skyscrapers and enormous wealth!
Doha
The most popular city in Qatar, Doha is another great reason why people must visit Qatar at least once in their lifetimes.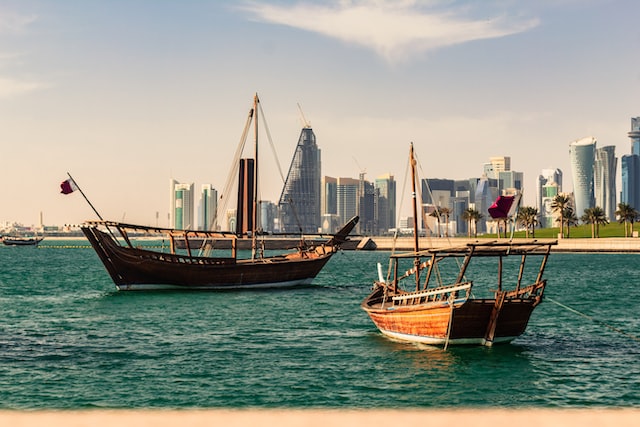 Every city, every region and every village has something unique to offer – all it takes is for you to look closely.
Doha is insanely popular for the number of uniquely designed mosques and modern buildings it hosts. Not only that – it also has plenty to do and explore for the travel lovers like us.
Qatar feels pride for its culture, art and history and showcases it at everywhere one can look – from art galleries to museums and mosques, etc.
If you are more into the nature than the monumental stuff, Doha has some fascinating beaches for you as well!
Desert Safaris
Ahh, how can we not mention this! Being a country in the Middle-East – Qatar is based on a land full of sand dunes, camels and desert safaris!
It creates a unique experience in an otherworldly place when you storm out into an offroad adventure on a 4×4 quad bike through the zigzag ways of the desert.
You can chose from whether you wanna ride through the desert on a camel or on a desert-adapted vehicle – both experiences are mind blowing in their own ways.
Enjoy the magic of the desert and imagine yourself riding through it with the Arabian Nights tunes playing in the back of your head!
Banana Island
Banana Island is a man-made island at a distance of around 20 minute-boat ride from Doha in Qatar. It is basically a resort which can be visited and explored by travellers. You may also stay there to make for a perfect honeymoon destination.
It is a crescent shaped island which features an 800m long beach where one could relax, chill and just enjoy life as we see it.
You can relax while having a magical view of the Doha skyline on one end and the endless Arabian Sea at the other!
Pearls
Other than the places, vibe and experience that Qatar has to offer the most incredible thing about the place that attracts millions of people wanting to visit it – is it's Pearls!
Qatar has been stated time and again to be the greatest pearl traders in Asia. The Pearl – an island represents the rich culture and history that the country holds dedicated to it's pearls.
The Pearl-Qatar is a very popular island resort where one can stay, explore, eat, shop, and experience the luxury that resides in the very air of the country.
Qatar has been renowned for its pearling banks with its seabed and warm shallow waters, conditions ideal for the development of pearl-bearing clams and the making of the best pearls saw as anyplace on the planet.
---
Things to Do in Qatar (More so in & around Doha)
Doha, as everyone knows – is the most popular city in the entirety of Qatar and is also the capital.
Doha is a perfect mix of modern architecture and ancient cultures. It has everything one needs from a Middle-Eastern travel venture – from historic monuments, art galleries to beaches, luxurious islands and sand dunes!
Let us find out the most exciting things to do in Qatar ahead of the 2022 FIFA World Cup –
1. Visit Souq Waqif
Souq Waqif is a shopping market where you can find thousands of tourists and locals as well – looking for traditional garments, jewels, spices, handicrafts and so much more.
It is the most popular shopping venue in the country and is built over Doha's century-old trading market.
While Doha is seen to be a city with modern architecture, luxurious resorts and ancient museums of history, culture and arts – the Souq Waqif is different.
It is more of a traditional land that seems to be a remnant of the city's past! With mud-daubed buildings, ancient shop structures and traditional vibe – the market is a unique explore when you visit Qatar.
2. Explore the Museum of Islamic Arts
Museum of Islamic Arts is located as an offshore monument is Doha and is surrounded by the Doha Bay.
The collection of artefacts that exists in the MIA or Museum of Islamic Arts in Qatar celebrates the legacy of the world of Islam and it's contribution to the global worldwide heritage.
You will find coins, glasses, jewels, woodwork, textiles, ceramics and metalwork, etc. It features the art of Islamic culture from over 1400 years.
History and Art enthusiasts tend to fall in love with the place at the first visit as they see, read, experience and vibe with the ancient arts from different countries like Spain, Egypt, Iran, Turkey, India and Central Asia.
3. Go Dune Bashing
Dunes of Middle East are incredibly famous and are considered one among the best things to do in Qatar due to the adventure, uniqueness and fantastic nature of the experience.
Imagine riding through a dessert filled with hills made up of sand, camels walking into a straight line and to catch maybe even a few mirages.
Dune Bashing is basically a sport where ride quad bikes straight into the the sand dunes – basically bashing into them!
The 4×4 or Quad Bikes are dessert friendly and does not let you get harmed – and the experience in itself is like nothing else.
4. Delve into the Mangroves of Al-Thakira
Other than the sand dunes desert safari, museums, mosques and architectural stuff – another one on the list of great things to do in Qatar is to visit and explore the Al Thakira Mangroves Forest!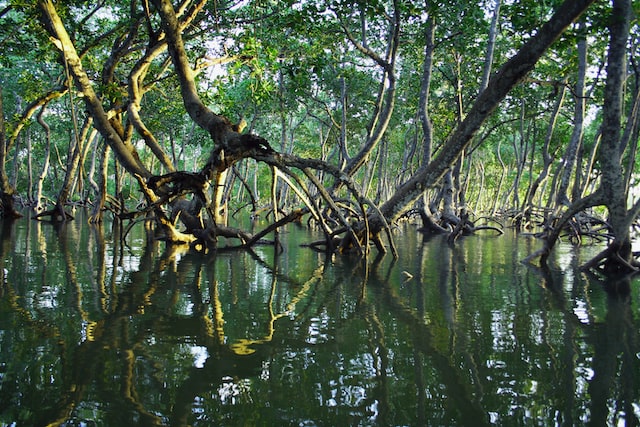 It is like an abode or wonderland filled with pencil roots and salt-induced large mangrove tree branches.
Al-Thakira is the most ancient forest in the country – and offers so much to explore as you move into the wild.
The biological system draws in transient birds like herons and flamingos. Various sorts of fish and scavengers are noticeable consistently.
You explore the mangrove forest while doing a kayaking experience as you move deeper into the sturdy mangroves which can survive in the ecosystem that does not let major plants live freely in Qatar.
5. Do not miss experience of The Pearl
It is a fantastic & beautiful man-made island which is spread over a massive four million sqm of land – filled with luxurious residential towers, villas, hotels and restaurants, five-star culinary experiences and incredible sights to make you feel calm and at peace.
You can enjoy the luxurious living in The Pearl-Qatar Island Resort along with having infamous aromatic coffee of Qatar, dine out in front of the Arabian Sea with the backdrop of the night sky of modern Qatar.
Some exciting places to visit in The Pearl are –
Qanat Quartier (Qatar's very own Little Venice) | Pastel-colored buildings, wonderous – romantic canals.
Piano Stairs | Walk up and down the stairs to create a musical piece that belongs to you!
Visit Various Food Stops, Restaurants and Cafes | The Pearl is a foodies' heaven.
Water Taxi Experience | Explore the entire place with a Water Taxi – operating from Porto Arabia.
6. Walk Along the Doha Corniche
You might have seen it on the Qatar brochures, travel packages, Instagram and so many other places. Well, the place is called Doha Corniche!
There is this seven kilometers long stretch which is a magical experience for couples to walk on – especially during the evenings. It is situated near the Doha Bay and encircles it.
The night sky brings with it mystical city lights along with a serene vibe to the entire city and the walk seems like something straight out of a romantic novel!
The Doha Corniche Walk is one of the best things to do in Qatar and most interesting places to visit in Qatar ahead of the 2022 FIFA World Cup.
7. Visit the Katara Cultural Village
Interested in arts of Qatar more than any other thing around? This village is just for you!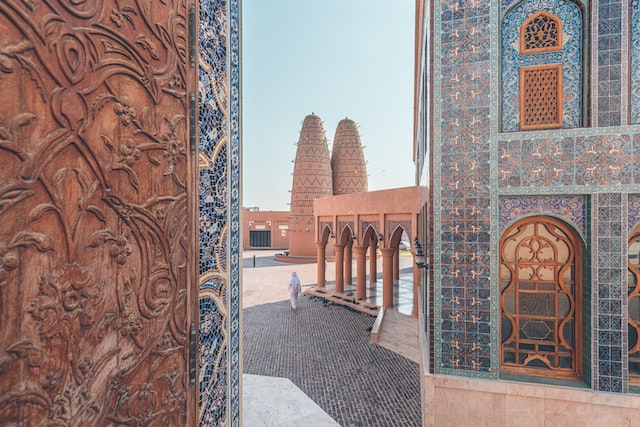 Visit Katara Cultural Village which is a gem of arts and culture and ancient traditions of Qatar. You will learn, understand and know more about the country here than any place else.
The village invites visitors to sit, stroll around and experience different kinds of activities that all showcase the culture of Middle East – the Arabs – the Islamic Culture and so much more.
Interested things to do in Katara –
Visit Katara Mosque – Designed by the first female architect specializing in mosques, Zeynep Fadilloglu
View the Greek Style Amphitheatre – Explore stellar views of the Arabian Sea and Cultural Village
Explore the Ultra-Luxe High Street – 21 High Street is the luxurious street of Katara Village with luxury cars, French departmental store and food eateries.
8. Explore the Al Zubarah Fort
The Zubarah archeological site gives a significant knowledge into metropolitan life, spatial association, and the social and financial history of the Persian Gulf before the disclosure of oil and gas in the twentieth 100 years.
One of the most famous forts in Middle East – the Al Zubarah Fort was built in 1938 by Sheikh Abdullah bin Jassim Al Thani and remains to be a highly visited and heritage site in the country of Qatar since decades.
A UNESCO World Heritage Site, the Al Zubarah Fort houses residential palaces, courtyard houses, small huts for fishermen, a harbor, a beautiful canal and religious mosques.
9. Jump Out Of a Plane (Skydiving in Qatar)
Skydiving is a sport that for me, surpasses all the adrenaline rushes that comes from so many different kinds of adventure activities – combined into one!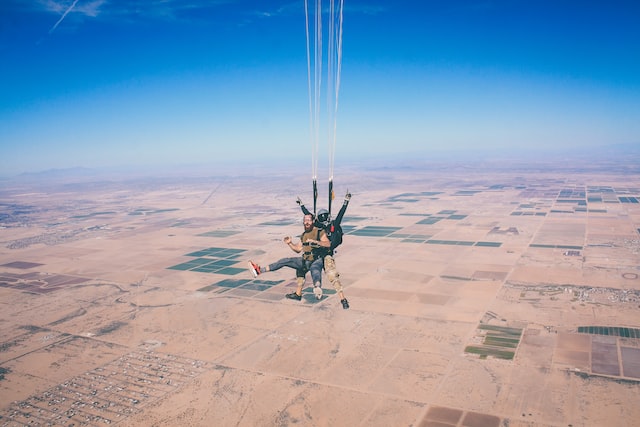 I mean it's scary – that's what it is. At least before you do it, maybe. That's what enthusiasts who have tried it tell me. I haven't. I am not sure if I actually would. Maybe I will. Sometime in the future. Or maybe, I'll chicken out!
Imagine jumping off a plane 100s of meters above from the ground – to fall straight towards it. The rush of the air picking you up verses the science behind gravity trying to pull you down and your mind, heart and soul – trying to make sense of it all.
If you are in Qatar this November for the 2022 FIFA World Cup – take some extra time for this particular great thing to do in Qatar – if not any of the others! Go – As Kabir from ZNMD says – "Let it go, Imran. Just let it all go!"
---
Conclusion
So that was our list of 9 most amazing things to do in Qatar while you head towards the 2022 host of the FIFA World Cup!!
Qatar or the Middle East in their entirety is a fascinating place which needs to be visited, explored and walked across by everyone – at least once.
Do not forget to share this blog post with your friends and family – interested in FIFA, Football, Qatar, or Travel in general!
BTW, who are you supporting this FIFA? Tell me in the comment box below.
That's All Folks!