Lucknow, the capital city of Uttar Pradesh, or the city of Nawabs is a historic city rich in culture and architecture. There are plenty of things to do in Lucknow, but sometimes you just need to get away for a weekend. If you're looking for some ideas, let us discuss what are some great weekend getaways from Lucknow!
Weekend Resorts Near Lucknow
Sometimes people want an escape from the real world into a world of travel or relaxation or adventure or stories. While most people tend to travel far out of their hometowns and cities into outer spaces, some prefer to just relax for the weekend in an astonishing resort around town. For those people, here are the top 5 best weekend resorts near Lucknow –
Hotel Casa Aishbagh
Located in the Aishbagh area of Lucknow, just about 12 minutes of ride to the Bara Imambara, stands this outstanding property called Hotel Casa.
With the colorful designed indoors, perfect garden to casually stroll around and a relaxing vibe – the Casa Aishbagh has mostly positive reviews and is applauded for it's value for money and calming staff behavior. Another great thing about the hotel is that it has a private parking space – and unlike many kinds of stays offer (a small area in a messy narrow passage to keep a few vehicles in), it gives you a proper spacing parking area.
Some of the most popular locations around town can easily be reached from here like – Imambada, Hazratganj, etc. Also the transit locations like the Charbagh railway station, Lucknow Airport, Bus stand, etc. are all close by and the hotel itself also provides you with transit options.
The Heritage Hotel, Lucknow
The Heritage Hotel is situated near the Charbagh Railway Station of Lucknow and is one of the most amazing weekend getaways from Lucknow.
You will get your relaxation dose in this perfect property full of greenery and trees and everything peaceful. One of the most interesting things about this hotel/resort is that being in a busy locale, once you go inside and check in to your rooms – everything transforms into a peaceful little adventure.
The insides of the hotel feels like a royal setting with a unique set of huts for sitting in the park. The property offers free parking, restaurant, a kid's play area, and pick up and drop transfers.
Scorpio Club and Resorts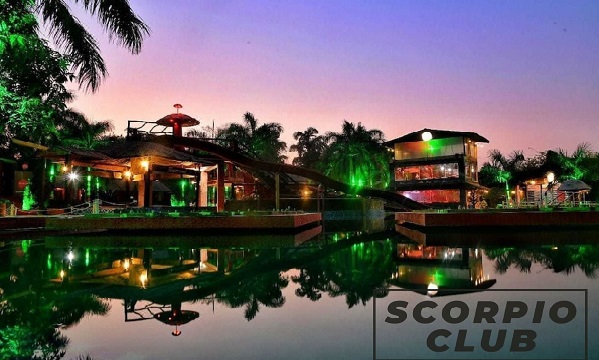 Scorpio Club and Resort is arguably the most amazing resort in Lucknow. Our school trip even once took us there. Many school trips are planned mostly to this particular resort due to the unique swimming pool area and the large garden area lased with outdoor games opportunities.
The Scorpio Club is a country club with a dining facility, small but grand looking cottages, outstanding swimming pool and also a night club.
The club does not one bit feel like Lucknow, it has a totally different vibe and environment which makes you feel like you've travelled to a land far, far away.
---
Places to visit near Lucknow within 100 km (or more)
Nawabganj Bird Sanctuary, Kanpur Road
Distance from Lucknow – 44 km
Time – 1 hour 10 minutes
Type of trip – Excursion
Entry Tickets – INR 30 (for Indians), INR 300 (for foreigners)
Nawabganj Bird Sanctuary or the Shahid Chandra Shekhar Azad Bird Sanctuary is one of the most beautiful bird viewing places around Lucknow.
The uniqueness and beauty of this weekend getaways from Lucknow comes from the wide variety of colorful migratory birds from parts of Eastern Europe. This bird sanctuary hosts about 250 species of these birds.
People gather in loads, specially on weekends from Lucknow and from Kanpur as well to stroll through the green gardens and look at the birdies and take photographs – all in all, to spend time relaxing among the nature. Other species of animals you want to look for within the sanctuary are a variety of snakes and a small park full of spotted and barking deer.
Kanpur Zoo
Distance from Lucknow – 91 km
Time – 2 hours 16 minutes
Type of trip – Excursion/Day Trip
Entry Tickets – INR 30 (for Indians). INR 150 (for foreigners)
The Kanpur Zoo is stretched in an area of approximately 76 hectare and is a completely man made forest. Established in 1974, the Allen Forest Zoo in Kanpur hosts many species of animals ranging from varieties of primates, unique migratory birds and a large chunk of wild beasts including white tigers, rhinoceros, leopards, hyena, black bear, hippos, lion etc..
Another unique feature of this zoological park is that the animals are not mostly kept in a small cage like situation – but they used what is called a moated enclosure for inhabiting the animals. That basically means making a large area for free movement of the animal and for expressing their biological and physiological expressions as well. It makes them feel at home.
The animal habitats are made in such a way that no other animal enclosures can be seen from one which makes it a positive healthy living for the animals as they do not feel any pressure of other wild beasts roaming their area. This zoo is said to be the largest zoological park in North India.
Naimisharanya
Distance from Lucknow – 72 km
Time – 1 hour 40 minutes
Type of trip – Excursion
Believed to be a place of highly religious significance with the legend that Lord Vishnu's chakra fell over this land which resulted in creating a Kund or pond, Naimisharyna Chakra Tirth is worth a visit if you are looking for a peaceful weekend getaways from Lucknow nearby.
A holy dip in the water can cleanse your soul, mind and body with all the negativeness associated with you in one go. The pond is a legendary pond with many different legends and belief of people who come here to indulge in religious tourism.
Another legend, believed by many, about the Chakra Tirth is that Lord Brahma told the supreme sages of the time that he will be summoning his chakra (wheel) and wherever it would be formed will be the most peaceful place for the sages to meditate and spend their lives in. With the help of Surya Dev's light, Lord Brahma was able to build a large holy chakra that came out of the earth at the place in Naimisharanya.
Dewa Sharif
Distance from Lucknow – 35 km
Time – 1 hour 04 minutes
Type of trip – Excursion
This is the birth place of Haji Waris Ali Shah who shared the message of universal love for humanity. Dewa Sharif is the spot where the legendary Haji Waris became one with the universe and a beautiful monument was constructed dedicated to the man, the legend and the message he brought upon us.
His devoted followers, both Hindu and Muslim together constructed the elegant Deva Sharif monument and still visit the place with utmost peace and happiness and feeling of devotion.
Although there is no particular best time to visit your deity, but still if you happen to be visiting during the months of Kartik i.e. October-November, you can also indulge and experience what is referred as the unique and colorful Dewa Mela. This mela (fair) includes many cultural performances like kavi sammelan, mushaira, musical conferences, and sporting events like hockey, volleyball, badminton etc. The fair has something for everyone.
Ayodhya
Distance from Lucknow – 135 km
Time – 2 hours 40 minutes
Type of trip – Excursion/Day Trip
Ayodhya, one of the best weekend getaways from Lucknow, stands to be one of the most heart warming, peaceful and immensely religious place for many – specially Hindus. If you know anything about the Hindu Epic, Ramayana, you know about Ayodhya.
Ayodhya is Ram Nagri – or the Birthplace of Lord Rama. This is where the legend begins. This is where Lord Rama was born, where he met and married Goddess Sita, where he, Sita and Lakshman began their journey into the years of exile and legendary adventures. Ayodhya has plenty of things to do and places to visit. Some of these are – Shri Ram Mandir, Hanuman Garhi, Ram ki Paidi, Tulsi Udyan, etc.
---
Places to visit near Lucknow within 200 km (or more)
Allahabad/Prayagaraj
Distance from Lucknow – 201 km
Time – 4 hours 30 minutes
Type of trip – Weekend Getaway
Prayagraj or Allahabad is a land of scholars, peace along the Ganges and unique architectures. It is one of the most popular weekend getaways from Lucknow for many people wanting to have a holy dip in the Ganges.
Widely famous for its Kumbh Mela, Prayagraj gathers plenty tourists both before and after the mega fair begins and end. With the beautiful site of Sangam – the place where three holy rivers namely, Ganga, Yamuna and Saraswati meet and form a confluence, extensive and uniquely constructed museums and other monuments is what makes the land attractive to different kinds of travellers.
Dudhwa National Park
Distance from Lucknow – 221 km
Time – 5 hours 04 minutes
Type of trip – Weekend Getaway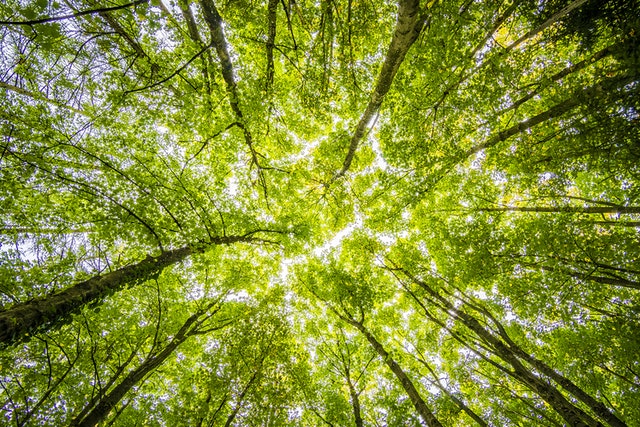 Who doesn't love wildlife safaris? And living on the nature's lap at one of the most interesting resort lands in Northern India, makes the excitement go up-a-notch. Dudhwa National Park is spread over an area of 430 sq.kms and is home for approximately 38 varied animal species ranging from smaller to larger beasts spread over the land.
As of the latest reports, there are about 107 tigers living in the entirety of Dudhwa. Wildlife safaris during early mornings or evenings are the best to catch glimpses of these wild and nocturnal animals.
This site will help you looking for stay options and charges for Dudhwa – best wildlife weekend getaways from Lucknow.
Gorakhpur
Distance from Lucknow – 269 km
Time – 5 hours 14 minutes
Type of trip – Weekend Getaway
Gorakhpur is the religious center for different religions namely – Buddhists, Hindus, Jain and Sikh. Most famous places in the city often referred as Java of India (due to the high number of sugar mills which exist here) are – Gorakhnath Temple, Vishnu Temple, Ramgarh Tal, Railway Museum and Nauka Vihar.
The birthplace of the legendary hermit Gorakhnath, the city of Gorakhpur is worth a visit and stands to be a popular weekend getaways from Lucknow.
Other than the temples, Gorakhpur also has plenty amazing things to do for kids and youngsters visiting here like – The City Mall, Neer Nikunj Water Park, Prani Udyan, etc to make the little ones enjoy the trip as much as the elders.
Chitrakoot
Distance from Lucknow – 229 km
Time – 5 hours 34 minutes
Type of trip – Weekend Getaway
Making its way in everyone's list of the best weekend getaways from Lucknow in around 200 km and more, Chitrakoot is famous for being "the hills of many wonders". With its saturated greenery, ancient temples and wonderful waterfalls, it stands to be one of the best places you can visit from Lucknow.
Having a deeper significance in the minds of believers of the Hindu epic Ramayana, Chitrakoot also becomes a place of worship and religious importance for many. You can explore holy sites like Ram Ghat, Jhanki Kund, Hanuman Dhara, etc.
Hanuman Dhara is the most beautiful spot in town where you can walk the steps or take a ride in the rope-way to reach above the cliffs for a wondrous view of the city and surroundings.
Rajavat Waterfall, Unchadeeh
Distance from Lucknow – 268 km
Time – 6 hours 41 minutes
Type of trip – Weekend Getaway
You might not have heard about this place, but it is one of the most interesting places to be listed down in our list of the best weekend getaways in Uttar Pradesh.
Rajavat Waterfall is a beautiful falls which is a treat for adventure lovers in the state. People think Uttar Pradesh is all about religious tourism and does not have anything to do for the adventure tourism market – well, it does and all it takes to find that is to really look.
It is an awesome place for camping and spending time with friends and family away from the hustle bustle of the city life.
PS – Want to know more about such hidden places in the state of UP? Comment down below so I can plan up another blog post on the topic!
---
Places to visit near Lucknow within 300 km (or more)
Kushinagar
Distance from Lucknow – 325 km
Time – 6 hours 03 minutes
Type of trip – Weekend Getaway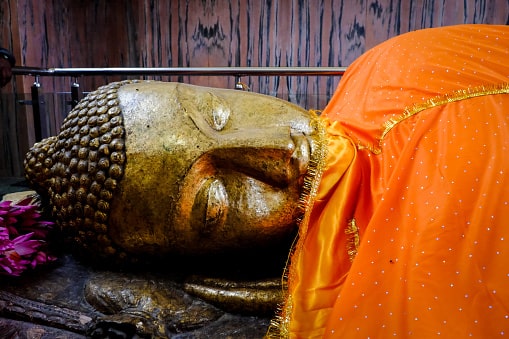 Kushinagar is a place of worship and incredible religious significance for the Buddhism followers since it is known to be the place where Lord Buddha attained Nirvana or Salvation.
Kushinagar is one of the best places one can achieve a peaceful escape from daily lives. It has plenty of different and outstanding architectural temples from different countries like Sri Lanka, Japan, Thailand, Nepal, etc.
Some of the best places to visit (which are all basically standing one next to each other) are – Parinirvana Stupa, Buddhist Museum, Japanese Temple, Myanmar Stupa, Golden Temple, Lihn Son Vietnam Temple and the Chinese Temple.
Varanasi
Distance from Lucknow – 313 km
Time – 5 hours 31 minutes
Type of trip – Weekend Getaway
Varanasi or Banaras or Kashi is one of the most religious and holy sites of pilgrimage for Hindus in all of India and across the world. Known to be the oldest city in the world, pilgrims from all over the country and from different corners of the world come here "looking for something". This something could be internal peace, answers to unsolved queries, a connection or maybe just yourself. People come here finding themselves.
Many people could be seen here who have traveled thousands of kilometres to come visit Varanasi – and all this just to find peace and themselves.
It is a mystical land – you will see that only if you could believe in it. As they say, "All those who believe in magic, are the ones who find it".
Agra
Distance from Lucknow – 333 km
Time – 4 hours 22 minutes
Type of trip – Weekend Getaway
Agra is known worldwide (and maybe even beyond that) as the city of one of the eight wonders of the world. And that is what describes the city and Taj Mahal both accurately – wonder.
Taj Mahal is the most popular and renowned architectural gem ever built in India and people from across the globe come here to visit and experience the vibe of the ancient times. The place has some wonder about it – it takes you back centuries as you roam around the garden, water fountains and the main structure while listening to the stories behind it.
Another great attraction of the city is the Agra Fort – from where Shah Jahan (locked by his own son) looked at Taj Mahal (where his beloved was buried), waiting for the day when they could be one again.
Nainital
Distance from Lucknow – 385 km
Time – 8 hours 44 minutes
Type of trip – Weekend Getaway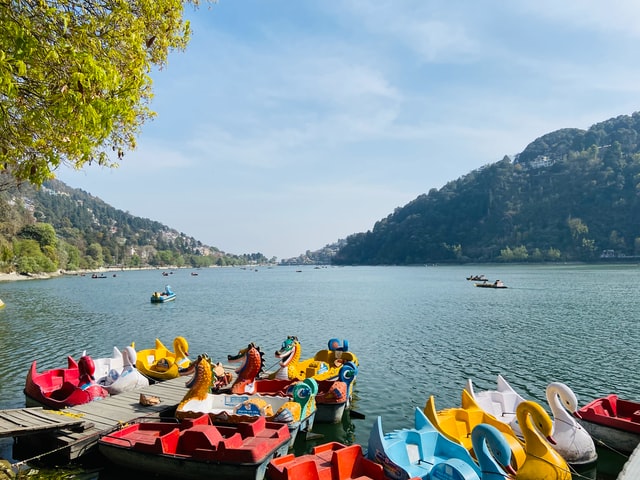 Nainital, one of the best and most favorite weekend getaways from Lucknow is a wonderful hill station which has plenty to offer for all mountain lovers – from the large mango-shaped lake, to incredible Himalayan mountain views to colorful winter markets to fun filled rides for youngsters to religious structures for adults.
Nainital is the most amazing hill station while also being the closest one from Lucknow and is easily accessible by road. People visit here in summers for peaceful vibes around the Naini Lake and in winters to experience snow over the mountains tops.
You can also indulge in various activities like paragliding, camping, bird watching, boating, etc. in the picturesque town of Nainital.
Khajuraho
Distance from Lucknow – 306 km
Time – 7 hours 42 minutes
Type of trip – Weekend Getaway
Khajuraho is a city of outstanding art, incredible architectures, wondrous waterfalls, adventurous wildlife, and so much more. The history of Khajuraho is unique and full of interesting stories and kings and artists who have carved the various temples depicting the entire lifelines of the Chandela dynasty kingdom for centuries to view and understand.
Khajuraho has temples, waterfalls, wildlife, mountains and everything one needs in a tourist place – especially when we want a relaxing venture.
---
Conclusion
Thanks for reading our blog post on weekend getaways from Lucknow. We hope you found it useful! If you did, please like, follow and share it with your friends and family. We would also love to hear your feedback, so please leave us a comment below. And don't forget to check out our website for more great content like this.