"Love is a Supreme Force that Exists in the Entire Multiverse. Love tells us that there is hope!"
September is here my friends! With the coming of Autumn, the trees are finally ready to show us how beautiful it can actually be to sometimes, just let stuff go! September also brings with it sensational preparations for wedding ceremonies here in India with someone, somewhere about to get married. Now, what comes after marriage? Honeymoon!
There are plenty of budget friendly destinations outside India where love birds could fly around and grow in love together. Today, we discuss such locations by telling you some of the Best Places to Honeymoon Outside India on a Budget!
Let's Go Already!
List of Best Places to Honeymoon Outside India on a Budget
---
1. Indonesia – World's Largest Island Country
Since a few years, before Covid of course, mostly all Indian couples wanted to experience the world of it's own by visiting one of the best places to honeymoon in the world – Indonesia.
Budget – Approximately INR 50K per person
Situated at the westernmost of the Lesser Sunda Islands in Indonesia, Bali has grown to become one of the most incredible destinations to visit. Not just for couples, but for family, friends or even solo travellers.
Bali has everything you need in a vacation with your other half for a perfect memorable journey – the active volcanoes, enigmatic rice fields, amazing coral reefs, fantastic beaches and the overall natural beauty.
Romantic Places to Visit in Indonesia –
Jakarta – Capital City of Indonesia, Jakarta has a variety of monumental tourism opportunities with the historic relics at the museum, modern malls to shop away in and the old town area. Also, the nightlife in Jakarta is said to be one factor in making it in the list of almost all travellers from the other side of the globe, even.
Bali – Grown to be one of the most beloved place for travellers and peace seekers from around the world, Bali has a world of its own. You can find incredible hike trails here, plenty of religious temples dedicated to Gods of different religions, and some very fun and lit kind of beaches, too. Bali has everything you want and more!
Komodo National Park – The Island of Komodo is covered with the Komodo National Park filled with so many different kinds of lizards, the home to Komodo Dragon! Renowned for a wild experience passing through the park and a breath-taking diving adventure, the Komodo Island should definitely be on your list if you visit the country.
---
2. Malaysia – The Land Below the Wind
Beautiful enigmatic beaches, secluded and mystical islands, elevated and astonishing hill stations along with the UNESCO World Heritage Sites make Malaysia one of the most unique and beautiful countries in the world!
Budget – Approximately INR 25K per person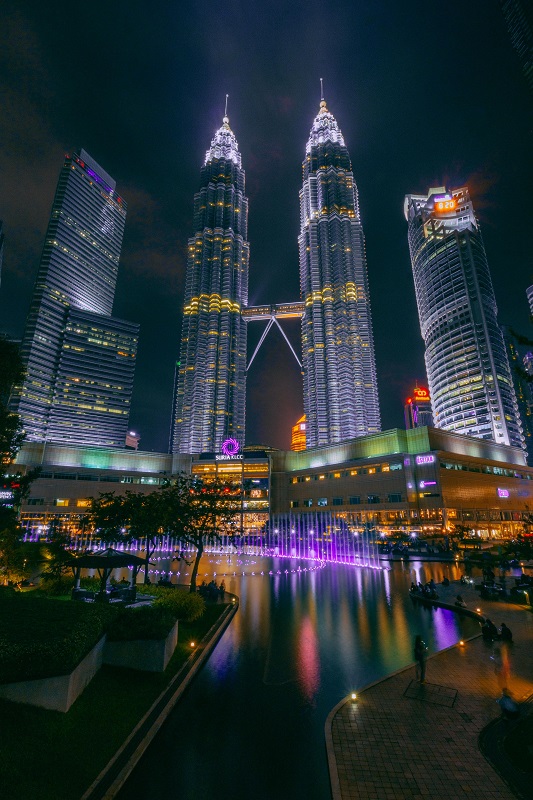 Malaysia, situated in the Southeast Asia region, is a diverse country of races, religions and cultures. People tend to visit Malaysia for its beautiful structures as well as the natural habitats it presents along with it.
Kuala Lumpur is one of the most famous place to exist in the country which also happens to be the capital. All of us know about the Petronas Towers in Kuala Lumpur, right!
Romantic Places to Visit in Malaysia –
Georgetown – Known to be a city of rustic charm, Georgetown is one of the best places to honeymoon providing ample amounts of exploration chances for couples. If you are a couple with historic appreciation, this sleepy town is just for you. The streets provide a experience in itself as you stroll around hand-in-hand watching the perfect colonial architectures of the place.
Tioman Island – Who doesn't love dragons, right?! This island situated in Malaysia offers a well spent romantic vacation day as you walk around the mystical forests, capture so many water streams and experience a marvelous and exotic marine life adventure with you sweetheart. Also, the island is shaped like a dragon!
Selingan Turtle Island – Turtle Watching is indeed a very interesting one among the many romantic things to do in Malaysia. The Selingan Turtle Island is one place where you can see families of small and large turtles roaming about the seashores. It would be so precious to start the journey of your life together amidst the turtles!
---
3. Maldives – The Most Loved Island Nation of the World
With so many different and unique islands, resorts, deep dive adventures and romantic vibes, this place definitely makes its way somehow in all the lists telling you about the best places to Honeymoon in!
Budget – Approximately INR 65K per person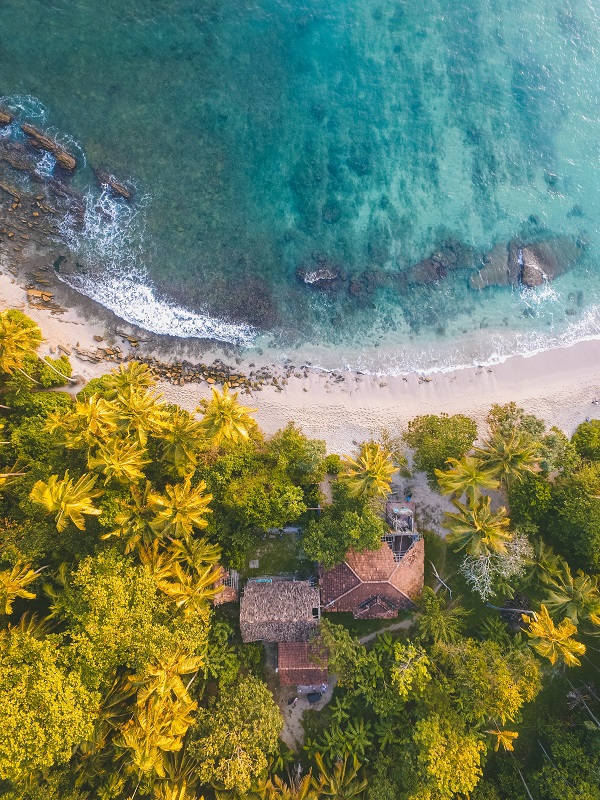 Maldives seems to be a perfect place to spend eternity in. Situated in the Indian Ocean, Maldives is basically a collection of thousands of islands filled with clear emerald water bodies, exotic coral wildlife and tremendously large beaches.
People visit other places to explore and have adventures to get that adrenaline rush, right? But people who visit Maldives – come for peace. A peace which is different from any other place. A peace which can motivate them, which can guide them… and maybe which can hold them! 'Cause humans are broken – and they need some fixing from time to time. Maldives is a place which gives them that!
Romantic Places to Visit in Maldives –
Manta Point – If you and your partner seek a deep diving experience in the crystal clear waters of Maldives, the Manta Point can be the best option. As you scuba dive your way to the depths of the ocean, you explore a new and exotic aquatic wild life – something you might not have experience ever before. You can even spot many Manta Rays in this once-in-a-lifetime experience.
Kunfunadhoo Island – The Kunfunadhoo Island is one of the largest in the Maldives Archepilago and is uninhabited. The famous luxurious island resort called Soneva Fushi exists here. Designed for the true romantics, this secluded island would be one of the best thing to happen to you once you visit and experience it with the love of your life!
Alimatha Island – The Alimatha island is filled with glorious beach vibes along with many adventurous activities taking you below the land, amidst the water. The Alimatha Beach is a peaceful one with not many tourists blocking you view and provides plenty of romantic time with your partner for as long as you'd like!
---
4. Thailand – The Land of a Thousand Smiles
Thailand has always been one place which has always fascinated me. No, not because of it's famous nightlife or even the pristine beaches or incredible monuments – but more so, due to the very interesting tales it has provided to the world through its history and beliefs.
Budget – Approximately INR 25K per person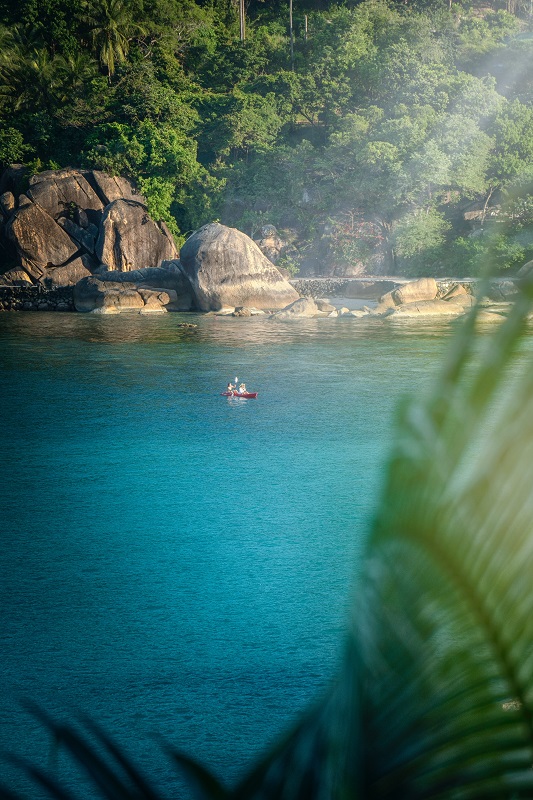 Thailand is a place we Indians have visited time and again for so many reasons. Situated at the South Eastern region of Asia, Thailand has so much to offer in different aspects of tourism – right from the delicious Thai food, the colorful festival experiences, the larger than life monuments and religious temples, the oh-so-magnificent seashores, islands and beaches. Thailand has it all.
Other than places to see and things to do, Thailand has more stuff to experience than most other places around India. Plus the country is perfectly beautiful, making it to the list of the most romantic and the best places to honeymoon from India.
Romantic Places to Visit in Thailand –
Similan Islands – Situated in the Andaman Sea, the Similan Islands provide you two love birds a perfect secluded and away from the world experience to chill and enjoy your honeymoon at its best. You will find here Thailand's most incredible beaches with white sand and blue crystal clear waters. This place also provides you with Hike trails where you can go hand-in-hand and tell the world by screaming out through your lungs how much you love your person!
Koh Samui – Making a list of the best places to honeymoon in Thailand and not adding Koh Samui somewhere in there seems to be a criminal activity of sorts! Koh Samui is THE best place to be with your soulmate if you are in Thailand! Situated at the heart of the Thai Gulf, this pristine island is filled with lush greenery, white-sand beaches and pretty hills inland. You can find many beautiful waterfalls around the island as you explore it along with your partner.
Bangkok – Not to be surprised, but the capital of Thailand also has plenty of romantic stuff to do if you look at the perfect spots! Take your partner along an adventure where you both roam around hand-in-hand through the streets of Bangkok and visit Asiatique and enjoy the big wheel while viewing the amazing skyline of the city!
---
5. Seychelles – Experience Paradise on Earth
Seychelles is quite straightforwardly one of the most beautiful among the best places to honeymoon Outside India on a Budget. Blessed with shining crystal clear water bodies, exotic sea wildlife and white-sand beaches, Seychelles is situated within the Indian Ocean off the coast of East Africa.
Budget – Approximately INR 100K per person
Once known to be a pirate hideout, the tropical paradise called Seychheles is basically 115 island country spread across the ocean, not very far away from India. It would surely be a lifetime experience with your soulmate to spend your honeymoon here.
Known to be world's one and only granite-island nation in the mid-ocean, Seychelles attracts visitors from across the globe to experience world's ultimate tropical heaven!
Romantic Places to Visit in Seychelles –
Mahe Island – The Largest Island in Seychelles, Mahe Island is a unique and incredible place to have a romantic picnic with your loved one. You can also get opportunities to hike along the island nation's largest mountain ranges. People recommend having a snorkeling experience when here at the Beau Vallon.
Eden Island – A very beautiful and mesmerizing island in Seychelles is the artificial Eden Island which consists of luxurious resorts, vast mansions and big shopping complexes all over the place. The exuberating and mystical views of the surroundings make it one of the best places to honeymoon outside India.
Anse Georgette – Not really well known, the spot can be a flat out safe house for couples who are not really quick to have a group around constantly. Anse Georgette is certainly an absolute necessity visit in the event that you wish to invest some calm energy with your accomplice.
---
6. Nepal – Our (Friendly) Neighborhood
Nepal has an incredible Himalayan range consisting of many huge and respected hills including the Mount Everest! It has many things to offer!
Budget – Approximately INR 10K per person
The infamous Pashupatinath Temple exists here in Kathmandu, which is a very religious and prominent temple in our Hindu relics. The beautiful and enigmatic mountain ranges, the delicious food and a sense of calming makes Nepal one among the best places to honeymoon outside India.
Other than that, Nepal has earned its reputation in being the ultimate outdoorsy location to exist in the world. It offers so many outdoor adventure activities including rock climbing, hiking, trekking, canoeing, zip lining and probably the most famous thing to do here – Mount Everest Base Camp!
Romantic Places to Visit in Nepal –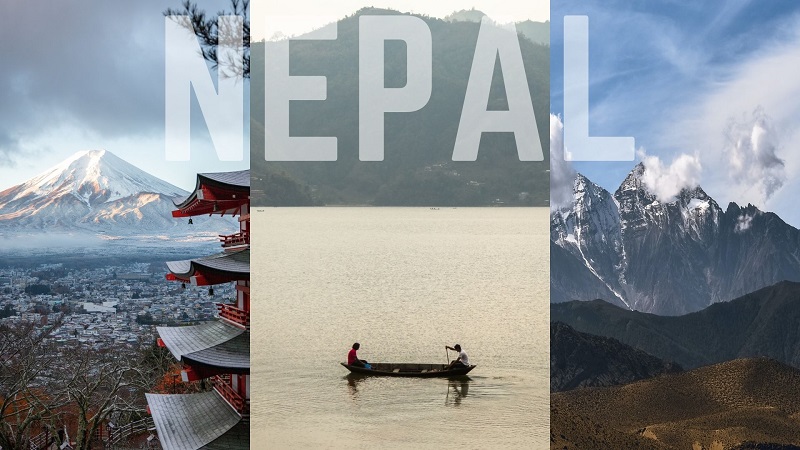 Pokhara – Honeymoon is all about celebrating love, and what other place to mention from Nepal other than this cute little Nepalese city called Pokhara where you and your love are amidst the picturesque lakes and mesmerizing hill views! Pokhara is known as the Nirvana for Newly Weds as it has plenty of things you both can do and remember for eternity. Including a romantic boat ride upon the second largest lake in Nepal – Phewa Tal.
Nagarkot – Won't you guys just love being with your partner in a place which has a picture perfect backdrop of the Highest Mountain in the World along with beautiful vibes surrounding you both? Of course you will! And Nagarkot is just the right place for that. You can view the amazing sunrise as the sunrays falls over the Annapurna Range of Mountains in Himalayas.
Daman – When people fall in love, they want to be together – just the two of them, no crowds, no people, right? Daman in Nepal is a perfect place for a secluded getaway from the city life away from crowds towards the mesmerizing mountain tops. Daman is a remote fairy land situated away from the towns right at the perfect place where you and your soulmate can chill while viewing the surroundings.
---
7. Vietnam – A Place of Historic Wonders
Vietnamese Coffee is a delight for many travel enthusiasts from around the globe. Not because of the taste it has, but because of the way it's made. It is like a Vietnamese Ritual of sorts that goes into preparing a cup of coffee!
Budget – Approximately INR 30K per person
Other than that, Vietnam is famous worldwide for a number of things ranging from the historic tales of the Vietnam War to the French-colonial architectural masterpieces and Ao Dai – a symbolic national costume wore by Vietnamese Women depicting the feminine beauty along with the pride of the people.
Other than the fact that Vietnam is a historic land of wonders, it also has plenty to offer as one of the best places to honeymoon Outside India. With the incredible caves, beautiful beaches and cities decorated with history, it makes it one among the unique and best destinations to honeymoon around the world.
Romantic Places to Visit in Vietnam

–
Da Lat – One of the most beautiful and romantic destinations in the Vietnamese Nation, Da Lat is built around a marvelous lake with mountains filled with pine trees surrounding it. Also known as the City of Eternal Spring, Da Lat is sure to give you two an enchanting experience while you explore the valley of flowers and the beautiful cascaded landscape.
Mai Chau – Mai Chau has one of the most calming and peaceful vibes throughout the place. You can achieve immense peace and a sense of warmth with your other half on a journey here if you choose it to be among the best places to honeymoon in Vietnam. The lush green fields and the mountain hills make it a perfect hideout for couples to spend some quality time in reminiscing their relationship and lives.
Phu Quoc – Largest Island of Vietnam, Phu Quoc is a fan favorite for couples who love them some adventure. You both can hop on a hike the mountains, roam about the tropical dense jungle or just have a calming evening together while laying down on a pristine beaches watching the sunset.
---
8. Myanmar – Land of Untouched Landscapes
Beautiful mountain hills, mesmerizing waterfalls and calming pristine beaches can all be found in Myanmar along with the religious places dedicated to Lord Budhha.
Budget – Approximately INR 30K per person
What makes it a prime player in the list of best places to honeymoon on a budget is how it perfectly blends the magnificent natural landscapes with the Religious Buddhist relics.
The country has thousands of unique and architecturally brilliant Buddhist Temples dotted through most of the cities. Myanmar is quite basically a land before time having cities older than a thousand years still strong and beautiful till date. It has plenty to offer for the romantic couples from adventurous treks to peaceful vibes.
Romantic Places to Visit in Myanmar

–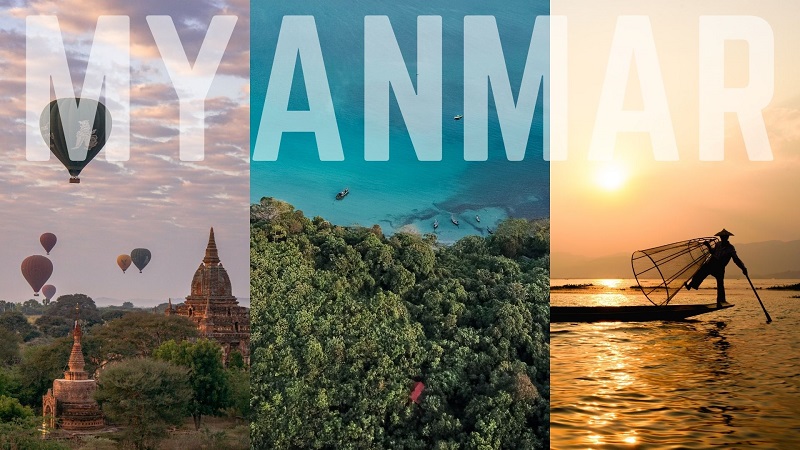 Bagan Temple – The Sunrise from Bagan Temple is said to be a truly breath-taking experience for couples. Hand in hand you can watch the skies as the Sun slowly shines its light towards the temple. It is indeed one of the most romantic moment in one of the best places to honeymoon outside India. You can also indulge in an experience of a lifetime while at Bagan by hopping up together on a Hot Air Balloon and going through the skies to see the world below the two of you.
Macleod Island – A secluded and preserved island in Myanmar is the Macleod Island which provides you with one of the best places to honeymoon in Myanmar vibes with the calm of the beach and adventure of the hike. You can hike towards the top vantage point to experience a truly blissful landscape of navy blue waters and lush green hilly forest complementing each other in the perfect way.
Inle Lake – As much as Bagan is known for being one of the best sunrise points of Myanmar, Inle Lake is the best place to find sunsets! You and your soulmate can hop around the place and indulge in activities like kayaking, etc. Nearby is a place called Sagar where you can view many sunken stupas as old as centuries.
---
9. Bhutan – A Colorful and Vibrant Place
Bhutan is known to be a place of utmost natural beauty as it is covered by almost 72% of the forest area. Other than that, Bhutan is a place which depicts forest conservation, a great culture and gross happiness quotient as well.
Budget – Approximately INR 11K per person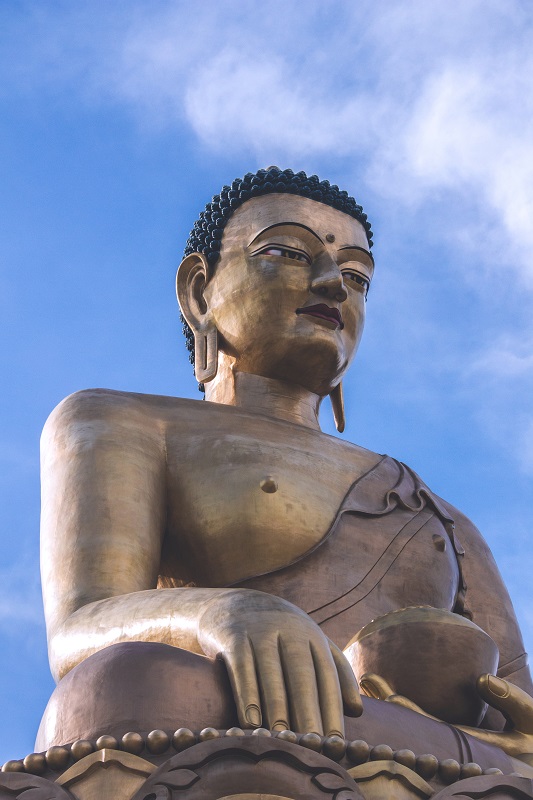 You may find the culture and traditions of Bhutan in all places you look at when there- from the streets to the people to the Buddhist temples and relics.
Bhutan is a small country but has a large heritage, preserved since centuries. The traditional and colorful festivals and the vibrant places of the nation can make for a pretty decent if not one of the best places to Honeymoon Outside India.
Romantic Places to Visit in Bhutan

–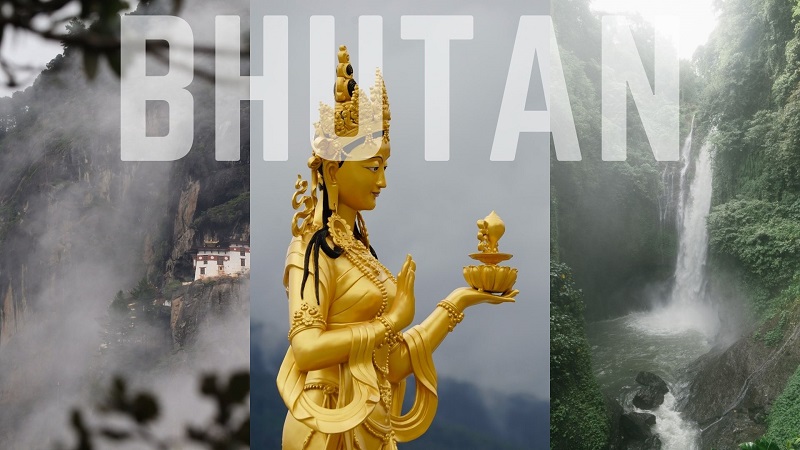 Paro Valley – First and Foremost in the list of romantic things to do or places to visit in Bhutan has to be the Paro Valley. Serving as the key access point into the country, the Valley of Paro has plenty of remarkable scenic landscapes along with pretty famous structures in the form of a fortress, an oldest temple, the national museum as well as the Tiger's Nest Monastery. It has plenty places to visit with your soulmate.
Thimphu – One of the best places to honeymoon in Bhutan has to be this place called Thimphu due to the experience of the rawest essence of Bhutanese cultures and traditions. The place is active throughout the year with many different kinds of festivals happening. Gomkora, Black-necked Crane Festival, Punakha Dromche are some of the reknowned festivals which take place here.
Bumthang – Bumthang is a precious hill site for the more adventure loving couples who love themselves a hike or two, beautiful hidden waterfalls, and so much different and unique natural landscapes. The Black Mountains, the treks to Burning Lake and the White Horse Treks are very famous around the area.
---
Jordan is said to be one of the most easy going nation in all of Middle East and is famous for many things – the City of Petra, Historic Landmarks, Religious Sites and just the way of living of people there.
Budget – Approximately INR 100K per person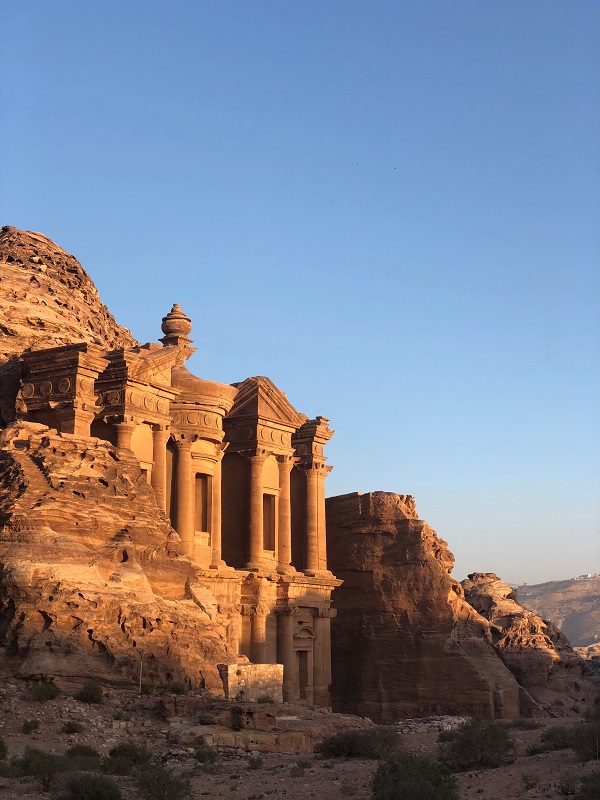 Films like Indiana Jones has made the place come in front of the eyes of many travellers around the world. And the historic structures, sand ruins and other aspects of Jordan has somehow made couples even more attracted to it since a couple of years.
Jordan is turning into one of the best places to honeymoon in the Middle East.
Romantic Places to Visit in Jordan

–
Wadi Rum – The Desert of Wadi Rum is like straight-outta fairy tale land. You and your loved one can kindle up your romance as you camp at the desert and gaze out the billion shining stars above you. It makes you feel like the first love felt – magical, but inexplicable. Locals provide camping opportunities in the area with delicious home-cooked food which makes the place more than worthy of becoming one of the best places to Honeymoon in Jordan or the Middle East.
Related – Checkout this must have best camping equipment checklist if you plan to head outskirts!
Ajloun – Having a fertile lush green terrain, the Hill station of Ajloun has plenty for you two love birds to explore. The historical ruins of the Ajloun Castle make it a pretty famous destination for all kinds of travel lovers and history enthusiasts. You both can spend your quality time exploring the ruins and the wilderness at the natural reserve.
Amman – Amman, the national capital is growing every year and has eventually became a hub of arts and culture. Stroll around the artistic galleries of the city while looking at some of the great arts of locals and international artists as well. It would really turn out to be an artistic romance experience for both of you.
---
11. Turkey – Land of Incredible Wonders
Everyone I know has a thing, a dream to for once in their life – visit Cappadocia! And why won't they, the place is wonderful.
Budget – Approximately INR 40K per person
Turkey is a colorful country with incredible castles, mouth-watering food, awe-inspiring bazaars and some of the world's most spectacular beaches.
The landscape of Turkey is on its own a wonderful aspect – with magnificent mountains, woodlands and enigmatic sea shores. Also, how can we not mention this one among the best places to honeymoon in the world – A Hot Air Balloon.
Romantic Places to Visit in Turkey

–
Bodrum Peninsula – Known to be Turkey's favorite destination to go in summers, the Bodrum Peninsula is basically paradise for honeymoon couples. Choose between strolling around the colorful and cute cafes and high class restaurants and lazing around the hot sand of the beach in this wonderful place.
Cappadocia – One of the most famous destination for a honeymoon couple, Cappadocia has a lot, lot to offer for every kind of traveller. The old caves formed naturally thousands of years ago by the rock formations have been turned into sleek and pretty boutique cave hotels.
Hot Air Ballooning in Turkey – It is arguably one of the most amazing experience you and your soulmate can have across the world. Imagine being over the world with your partner with a perfect view of the rock cones valley.
---
There you have it. 11 Best Places to Honeymoon Outside India on a Budget for you guys to choose from. Do not forget to get vaccinated before planning anything, though. Covid still lurks around us.
A honeymoon is a very special event between two hearts as they get to spend some time together after all the marriage activities and ceremonies and partying with family and friends. Now, these two burning hearts get to spend some time together. To live together – in an unknown land and to rejoice at the thought that the forever they wanted since days, months, years – is finally here. You are finally in that forever! And ain't that beautiful?
Comment Down Below saying which place you think can be the best places for a perfect honeymoon around the world?
That's All Folks!