"Never let your memories be greater than your dreams"
Places to Visit in Dehradun during Lockdown
Dehradun is known to be a city of some of the most elite boarding schools in India. The connectivity of Uttarakhand's Capital is another thing that makes the city very popular amongst tourists. It connects you with most of the major touristy places around Uttarakhand like Mussoorie, Rishikesh, Haridwar, Nainital, Chakrata Hill Station etc.
As I visited there recently, I have created a list of the most incredible places you can visit during current lockdown in Dehradun. These places include the infamous museums of the FRI, the magnificent looking Sahastradhara and other interesting places with a story to tell.
Read on to find out the best places to visit in Dehradun during Lockdown for solo riders, couples, for families and friends as well. Many of them I happened to visit during my short visit there, while others are some places which people told me are a must visit for one and all who comes to the Land of Doon Valley.
Let's Go!!
List of 09 Incredible Places to Visit in Dehradun During Lockdown with Friends, Family, Loved Ones or Solo –
Forest Research Institute or FRI
Sahastradhara or A Thousand Fold Springs
Dehradun Zoo or Malsi Deer Park
Guchhu Pani or Robber's Cave
Tapkeshwar Mahadev Temple
Mindrolling Monastery
Paltan Bazaar
Lacchiwala
Asan Barrage
1.
FRI: Forest Research Institute

–

Museums of Dehradun
One of the most popular places to visit in Dehradun during lockdown for all kinds of travellers has to be this uniquely designed Forest Research Institute. First established in 1878 as the Forest School and later named as the Imperial Forest Research Institute, FRI came into being since 1906.
As the years passed, the institute slowly kept spreading while undertaking large areas of forest grounds and other structures added to the main building. FRI is now spread over 4.5 square kilometers with a unique Colonial and Greco-Roman styles of architecture.
The entire area is said to be larger than the infamous Buckingham Palace in London! Many tourists visit here to admire the style of architecture and visit interesting museums inside to learn more about different aspects of the forest researches in India.
The 6 museums in the FRI are as follows :-
Social Forestry Museum
Pathology Museum
Silviculture Museum
Timber Museum
Non – Wood Forest Products Museum
Entomology Museum
Other than the architecture and the educational aspects of the institute, the place also has been part of many bollywood ventures around the decades. Some interesting movies shot here are – Krishna Cottage, Rehna Hai Tere Dil Mein, Paan Singh Tomar, and Student of the Year. The scenic landscape provides an astonishing backdrop with the institute in the foreground and the Doon Valley mountains at the back!
Location – Chakarata Rd, New Forest, P.O, Indian Military Academy, Dehradun
Timings – 0900 HRS to 1700 HRS
Entrance Fee – Rs.15 per person for museum entry
Website – Forest Research Institute Deemed University Dehradun
2. Sahastradhara – A Thousand Fold Spring in Dehradun
Another very popular one amongst the many incredible places to visit in Dehradun has to be the Sahastradhara! Sahastradhara basically means A Thousand Fold Spring. Situated at the Baldi River, it is during monsoons pretty crowded with people taking photographs of the many small and large waterfalls and people having a bath inside the river.
Sahastradhara has many unique waterfalls and caves which provides many interesting opportunities for all travellers. A full day can be well spent at the area.
An interesting thing about the water in Sahastradhara is that it contains sulphur and thus is said to have incredible medicinal and therapeutic value – thus earning the name of Sulphur Springs.
The Sulphur amounts in the water falling from the waterfall is a result of the fall cascading through the limestone flowstones or stalactites.
Note – Stalactites is a long thin piece of rock hanging down from the roof of a cave
You can also indulge in a memorable ropeway experience at the Sahastradhara Ropeway as well.
Location – Shree Ganpati Sagar Hill, Dehradun
Timings – 0800 HRS to 1900 HRS
Entrance Fee – No Entry Fee
3.
Malsi Deer Park

–

Dehradun Zoo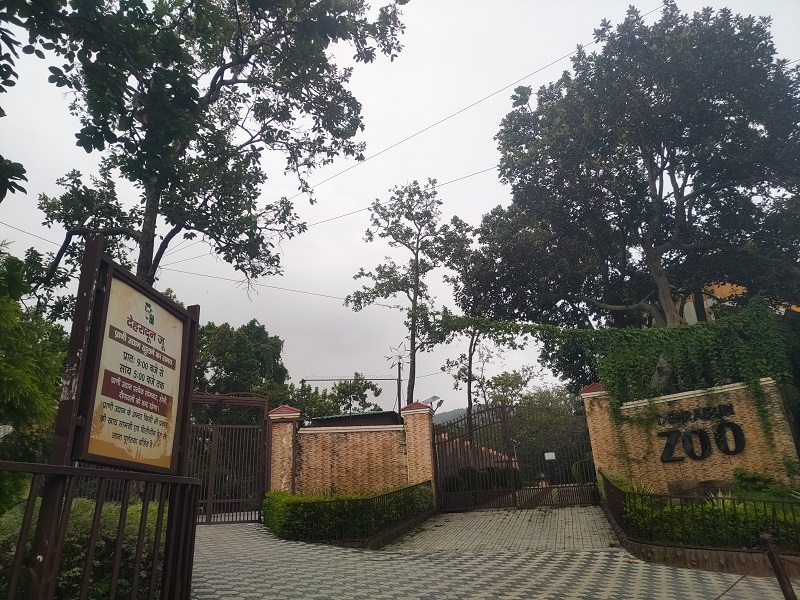 Malsi Deer Park or the Dehradun Zoo is another very interesting site amongst the places to visit in Dehradun along or with friends or family, alike.
When we went on a trip from dehradun to mussoorie by scooty, we saw the Dehradun Zoo at the entrance of the hilly road but couldn't visit it due to late hours. Next day we decided to head to the place and find out what all the Dehradun Zoo has to offer us!
Dehradun Zoo or the Malsi Deer Park is not a very large area but still fulfills your desire for natural walks with the scenic landscape at the surroundings while watching different species of animals.
It has many unique bird species, unique fishes and deadly looking snakes from across the globe. Other than that you can obviously find hordes of Spotted Deer and other Deer along with a lonely Leopard sitting at it's throne! Crocodiles, Alligators and a few turtle species are kept at the beginning points. Also, at the entrance you can find a children park, where you will be basically scolded by the guards if you go ahead and try out the swings even though it's for children under the age of 12 years! (PS- Do not ask me how I know this :P)
This miniature zoological park is a part of the very large and diverse Rajaji National Park in Uttarakhand and consists of four major houses –
The Aviary for the unique birds
The Aviary had some unique and colorful looking bird species like Pheasant, Golden Pheasant, Love Birds, Peacocks, etc. It rained when we got there so the entire area looked much more fascinating with bright colors.
The KAA Snake House for seeing the deadly variety of snakes up close
This is a very interesting experience as the snakes were really active during the time I happened to visit the place. A glass wall is the only thing that separates us from the deadly snake species.
And they seem to be looking for one opportunity to grab the visitors!! The KAA Snake House can be one of the most interesting places to visit in Dehradun without a doubt!
Aquatic World – A unique and colorful fishes aquarium.
One of the most clean and pretty looking aquarium in all of India, the Aquatic World in Dehradun Zoo has plenty of fishes swimming around their individual tanks spread over. Visit here and see if you can Find Nemo or Dory, anywhere?
Location – Mussoorie Road, Malsi, Dehradun
Timings – 1000 HRS to 1800 HRS
Entrance Fee – Rs. 10/- per person
4.
The Robber's Cave or Gucchu Pani in Dehradun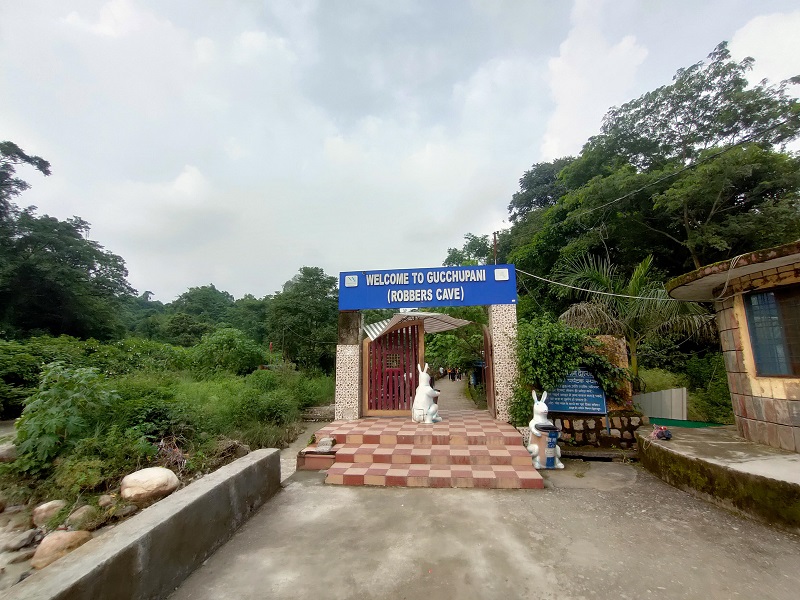 Guchhu Pani or Robber's Cave is another one in the list of very popular places to visit in Dehradun for couples or travelers of all ages.
The story behind the name Robber's Cave given to the place goes back to the late 1800s when the Britishers ruled over India. This picnic spot we know and love today because of it's narrow cave structures filled with water – was back then used to be a perfect spot for gangs of robbers to hide from the British troops. The cave gave way for the robbers to stay hidden for long hours, even days due to its natural conditions.
A stronghold like construction and a cascade partition the Robber's Cave in two parts. Additionally, Robber's Cave is well known for an unusual regular marvel according to which, a flood of water shows up then vanishes underground, and possibly shows up again after couple of yards.
The Robber's Cave in Dehradun is a very famous picnic spot for tourists visiting Dehradun and can be a very interesting point to visit when exploring the city and places to visit nearby Dehradun.
Location – Guchhupani, Malsi, Dehradun
Timings – 0700 HRS to 1800 HRS
Entrance Fee – Rs. 25/- per person
5.

Tapkeshwar Mahadev Temple
in Dehradun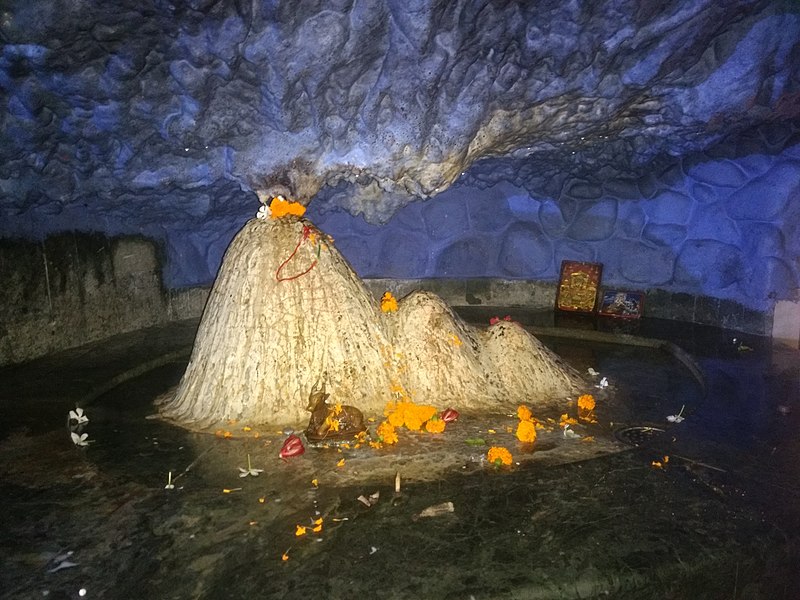 Tapkeshwar Mahadev Temple is a peaceful temple dedicated to Lord Shiva in Dehradun. Situated at the banks of Asan River, the temple sees a lot of tourists every year due to a fascinating thing happening over here at the oldest shivling in the cave.
Tapkeshwar Mahadev Temple is named so because it is said that certain water droplets keep on falling onto the holy Shiv Ling continuously all year long. No one could prove till date as to why it happens. It is believed to be a sign from God and people gather from across India to see it all happen in front of them trying to figure out how.
Thus, making it into the list of unique places to visit in Dehradun.
It is also believed that this place was used as a residence by Guru Dronacharya, the esteemed teacher of the Pandavas and Kauravas of the Hindu epic Mahabharata. Temples of India are really fascinating in more than one ways.
Location – Tapkeshwar Colony, Garhi Cantt, Dehradun
Timings – 0400 HRS to 2230 HRS
Entrance Fee – No entry fee
6. Mindrolling Monastery –
Buddha Temple in Dehradun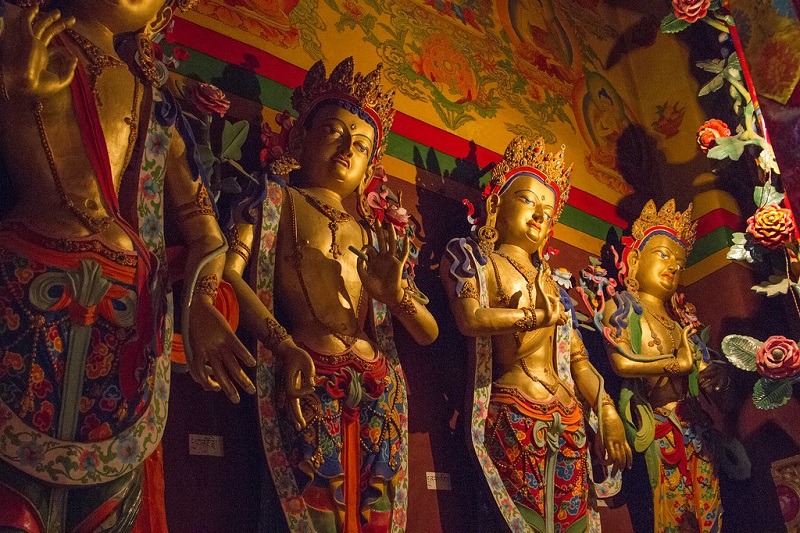 Another religious place of worship in our list of places to visit in Dehradun during Lockdown is the Mindrolling Monastery.
Constructed by Khochhen Rinpoche in 1965, the Mindrolling Monastery is a place of peace away from the city crowds and pollution. The great stupa stands tall at a height of 60m and is said to be one of the tallest Buddhist Stupas in the world.
It additionally contains a unique display of relics, paintings and Tibetan art, housed in holy shrines. A monumental 35m-high gold Sakyamuni Buddha sculpture, devoted to the Dalai Lama, directs the cloister.
People come here to get the perfect blend of unique architectural gem along with a peaceful combination of spirituality, calmness and serenity.
Location – Buddha Temple Road, New Basti, Clement Town, Dehradun
Timings – 0900 HRS to 1900 HRS
Entrance Fee – No entry fee
7. Paltan Bazaar –
Shopaholic Paradise for Dehradun Visitors
Out of many other places to visit in Dehradun any time, Paltan Bazaar is a rather unique one. A list of places to visit cannot be complete without mentioning a place where you can shop out, right?
Situated near the clocktower in Dehradun, Paltan Bazaar is the main marketplace for shopaholics to visit and spend hours looking at different kinds of stuff from grocery to branded clothes, etc.
The wonderful brassware and sweaters sewed and sold by the neighborhood Tibetan ladies can be found here. It likewise has stone seats to sit and enjoy in the night while strolling through the market.
You can visit the Clock Tower situated here at the evening as it lightens up for some well spent time at the place.
Location – Clock Tower, Dehradun
Timings – 1000 HRS to 2200 HRS
Entrance Fee – No entry fee
8.

Lacchiwala

–
Popular Picnic Spot in Dehradun
Situated amidst fascinating Sal trees and a calming, soothing vibe, the Lacchiwala Nature Park or Picnic Spot is very popular among the locals in Dehradun.
The USP of the place is mostly the man made water pools which people like to swim and have a great time in. This makes it a very popular summer destination in Dehradun. A stream coming from the nearby Suswa River has been collected here and build up into pools for a family park vibe and people enjoy it a lot here.
This place is one of the most amazing places to visit in Dehradun along with family members to have a great, memorable time in the city.
The lush green scenic views along with the breathtaking scenarios will surely leave you at awe of this place and craving for more time there.
Location – Haridwar Road, Doiwala, Dehradun
Timings – 1000 HRS to 1600 HRS
Entrance Fee – Rs. 10/- per adult, Rs. 05/- per child
9.
Asan Barrage

–

Bird Sanctuary in Dehradun
Asan Barrage Bird Sanctuary is situated near the confluence of the two rivers Asan and Yamuna at the border of Uttarakhand and Himachal Pradesh.
It is really famous among Bird Watchers and Bird Lovers as this place consists of globally endangered species of birds. It has approximately 53 species of birds native to the place and 19 migratory ones as well. The Asan Barrage is quite large in size covering a length of 287.5 meters.
Other than the bird watching, people interested in several adventurous activities also visit here as it is very close to the GMVN water sports complex. Try out the various water sport activities like water skiing, paddle boating, kayaking, motor boating, etc.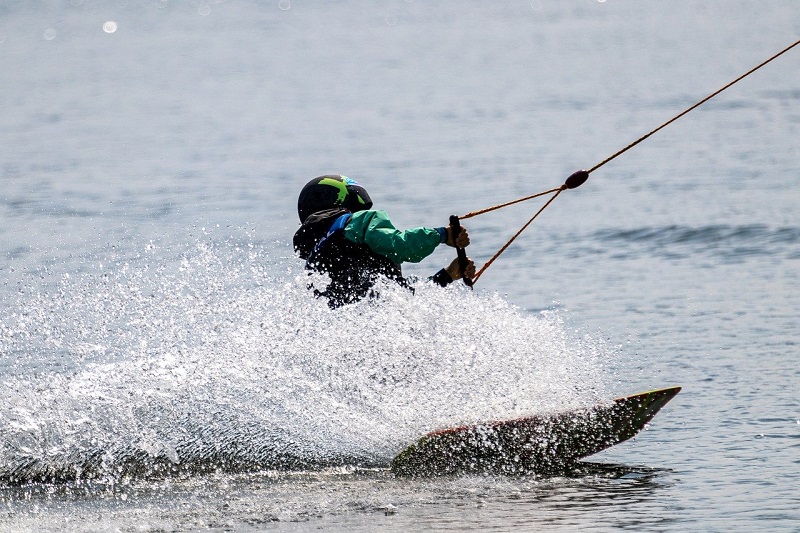 Location – Jhanda Mohalla, Dehradun
Timings – 0800 HRS to 1800 HRS
Entrance Fee – No entry fee
---
Dehradun, the capital city of Uttarakhand, the City of Intellectuals, the City of Love is a great place for a vacation. There are plenty of amazing and unique places to visit in Dehradun. Sometimes people tend to ignore the place for the more visually scenic landscapes like Rishikesh, Mussoorie (the queen of hills) , Chakrata, etc. But if you happen to spend a few days in Dehradun, you will find out that it has a story to tell of its own. Doon is a marvelous place that connects one to almost all major destinations in Uttarakhand and a place which has so much to offer for one and for all.
That's All Folks!