As you take your first steps into this kid's-favorite wildlife hotspot in the capital city of Uttarakhand, you are welcomed by a cacophony of birdsongs, children's laughter and lush greenery – setting the stage for this marvelous journey into the Dehradun Zoo.
Moving further, the melodious chorus of exotic pheasants, macaws and lovebirds take center stage as you move along the beautiful canopy of tall trees casting a dappled sunlight on your path.
The first thing that catches your eye when you enter is the Fun Park just at the beginning of the mesmerizing land of wildlife wonders.
This is a small area made just for the kids. With swings, slides and merry-go-rounds, it is a place your child would immediately get drawn towards.
You can spend some time there before your actual journey into the zoo begins.
---
Catching the Symphony of Dehradun Zoo: The Aviary
Stepping inside the Aviary feels like crossing into a different world altogether. As one passes through the entrance, one's eyes catches the first glimpses of the most interesting, colorful parakeets sitting together with a whole bunch, as if waiting to be admired at.
Further, you witness one of the most beautiful birds in the world – the Golden Pheasant.
In this world that keeps turning black and white at times even in the most colorful times, there exists a bird that seems to have been painted by the very hands of Mother Nature herself.
With a body draped in shimmering golden-orange feathers, a fiery crest adorning its head somewhat like a regal crown, and a long, flowing tail of deep red, gold and green – The Golden Pheasant is an embodiment of royalty and elegance.
Further along you will find Rio – the colorful Macaw with feathers painted in bright hues of blues, yellows and reds.
The loudest of birds in the Aviary of the Dehradun Zoo, the Macaw is a unique one and people tend to stop and look at the glamorous and mostly friendly exotic bird – until of course it screams and scares away your kids.
Other birds in this beautiful sanctuary includes – varieties of different parakeets, love birds sitting together, Emu and the Ostrich running wild in their large enclosures.
---
Exploring Beneath the Surface: Aquatic Wonders of Dehradun Zoo
The Aquatic World in the Zoo is a treasure trove of unique aquatic life from all across the globe.
Just as you enter, you find massive tanks housing a kaleidoscope of the most exciting underwater inhabitants, each having its own unique charm.
From the turtles swimming from side to side, the variety of fishes on display and the serene, clean atmosphere inside, it is a must-explore place to visit in Dehradun for a family.
Encounter numerous aquatic fish species from the ethereal beauty of the angelfish gracefully gliding through the water to the large and dangerous piranhas looking at you with spooky little eyes and hungry jaws.
Some of the unique fish species you can see here are: Silver Shark, Oscar Fish, Goldfish, Dollar Fish, Zebra Danio, Jaguar Fish, Texas Cichlid, Buffer Fish, Alligator Fish and many more.
These fishes swimming quickly from one side to another, with their buddies along, make for an interesting video-venture for those wanting to film their experience. It is a treat to even watch these colorful fishes going back and forth when you are back home.
---
Kaa: Dehradun Zoo's Serpent Sanctuary
Beyond the infamous birds and fishes of the zoological wonderland, there lies this small area inhabiting the most dangerous, scary-looking and large species of serpents from across the world.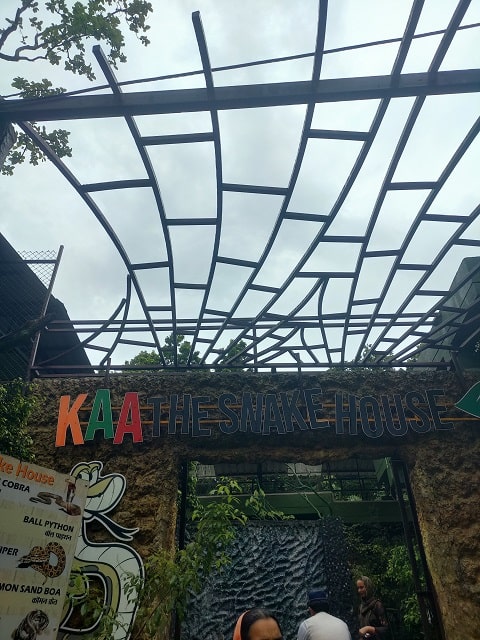 Kaa, the snake house in Dehradun inhabits a varied variety of small, large, venomous, non-venomous snakes kept in clear glass enclosures. The best thing about this area is that it is kept indoors, so the sunlight does not disrupt your viewing experience.
From the fearsome Indian King Cobra having an imposing hood and deadly venom, to the delicate and beautiful Green Vine Snake and the Indian Python, Kaa offers a comprehensive glimpse into the world of snakes.
As you look at the larger than life Python sitting wrapped around near the glass that separates you and the serpent with a few inches, looking straight towards you – you are reminded of Kaa, the extremely manipulative and hypnotic python luring Mowgli into a false sense of security, before trying to eat the man-cub (The Jungle Book).
One of the highlights of Kaa Snake House is the various informative posters and detailed guides you can find inside telling you about the different kinds of snakes, the differences between them, the bodily structure of a serpent and so much more.
---
Other things in Dehradun Zoo
Also referred as the Malsi Deer Park, the Zoo is mostly a wide green area with astonishing aviary and aquatic wildlife and a mesmerizing serpent house. Other than these, there is not much to expect from the zoo.
Other Animals
You can find two fenced-enclosures to witness the Spotted Deer, Neel Gai and two-horned Deer. Also, if you are lucky enough, you can find a leopard walking opposite to the Deer enclosure. Other animals include crocodiles, species of tortoises and more.
Cactus Garden
This little garden area just opposite the snake house and nearby the Aquatic World, and boasts about the most intriguing kinds of Cactus. In all shapes and sizes, you find numerous species of the Cactus from all across the world and can learn about the way they grow and other information if that's what interests you.
Vasundhara
If you are interested in giving your kids a fascinating and informative 3D experience, you can buy tix for the 3D film showcasing different animals in their habitats and informing about their lives out in the wild.
Also, there is a small cafeteria near the theatre where you can have a few snacks or soft drinks. Although, as per the reviews it seems pretty costly.
---
Plan Your Visit
If you're planning a visit to Dehradun Zoo, keep in mind that it's not just a destination for wildlife enthusiasts; it's a sanctuary of serenity and natural beauty. Be sure to bring your camera, as every turn unveils a new photo-worthy moment.
Location: Dehradun Zoo is situated in the picturesque capital city of Uttarakhand, Dehradun.
Timings: The zoo is typically open from 9:00 AM to 5:00 PM, and it's recommended to check the official website for any updated information before your visit.
Admission: Affordable entry fees make this experience accessible to all. (Rs.20 per adult)
---
Conclusion
Dehradun Zoo is not just a destination; it's a celebration of the avian and aquatic wonders that grace our planet. As you wander through its lush pathways, remember to embrace the moments of tranquility and awe, for they are the essence of this bird and fish paradise in the heart of Uttarakhand. So, come and lose yourself in the symphony of nature that is Dehradun Zoo.
Comment down below if you have or want to visit this place. Share the blog with anyone looking for family spots in Dehradun.
That's All Folks!