"Do not make sense of all that I am about to tell you. Sometimes, things are about the feeling – not the words!"
The Queen of Hills might have become one of those "overly travelled" and "not that good enough" tourist attraction now, as people explore new and brighter ones not too far away from her.
But there is a thing about Mussoorie, which kind of pulls you towards it – maybe just for a small halt to experience the Kempty Falls, or to stroll around at the mall road or try and trek up the highest point at Lal Tibba (at a height of 7,464 ft above sea level).
People might have tagged her with many names, but what she undoubtedly remains to be and feel like – is a Queen. A Queen of hill stations
As I explored the places to visit in Dehradun while travelling around town for a few days, it would have been a crime to not visit Mussoorie – for me.
It's not like I have some story behind getting drawn towards her, but it is just something inexplicable. I travelled their once before, as a kid, I hardly remember any of it. Except for the fact that I had a small black cap which got lost somewhere around town.
But, this is not a story about why I am drawn towards the Queen.
This is a story about the time when I experienced a landslide happening in front of my eyes – for the first time ever – while on the way to meet her.
The Calling – Laying Eyes on the Queen of Hills
Landslides are common at the hilly roads in Uttarakhand and Himachal mostly during the monsoons. We knew that when we decided to go there.
It wasn't exactly a planned trip. As most of our trips go – this one was another of those impulsive decisions.
So, when in Doon – from the right place you can actually catch a view directly towards the crown of the queen if you look closely.
When I saw it, it was covered with mist. Which made it look more elegant and – royal. That's the first time I had a glimpse of the Queen of Hills – from quite afar among the dense forest – but still.
It felt like a calling. You know the moments when you see someone and instantly connect. The Magic!
I saw the Queen and her crown, covered with a large audience in the shape of the mist – waiting for her to take the stage and make her speech.
I couldn't miss it for anything!
We decided to go through onwards a journey Amidst the Mist from Dehradun to Mussoorie.
"The Mist"- ycal Protector of the Queen of Hills
As we moved closer towards our destination, the mist started to form around us.
It felt like a magical creature in the form of a mist – like the Queen's own sent – to see after and protect the kingdom, you know.
The Mist wrapped us around it as we moved forward. At one point it felt like we are transferred to a different world – with our scooters and backpacks.
Queen of Hills
by Shashwat Pandey
Like someone opened an invisible portal and we somehow went from the hilly roads towards a space with nothing but the Mist.
I felt it then – it felt something much more than just a mere phenomenon – it felt real, alive – but not scary at all.
The Mist cleared after a while as we moved forward towards the Queen.
We had a halt for sometime as I reminisced and started to note down the moment that went down and what it made me feel.
Half of our journey was complete, next stoppage would have been Mussoorie.
On the halt, when we started to feel like we are back on track – back the way we were – back in our own world – that's when it happened!
We saw through a viewpoint at the opposite side of the valley and there it was again – The Mist. It looked like its resting on a bunch of small – but attractive hill houses.
It slowly, steadily started to fade away – maybe to tell the Queen all's going right.
The Mist of Queen of Hills
by Shashwat Pandey
The Landslide Experience
We hopped on our scooters back and made a promise to only stop now at the venue for the Queen to greet everyone.
But how could things go according to plan.
Moving for about ten minutes towards the destination, we saw a traffic with vehicles both small and big – jammed down for a couple of kilometers.
Being on a two-wheeler at these times is a pretty great "pro", as we can easily go see what it is all about, rather than getting irritated sitting inside the cars, honking continuously.
That is exactly what we did and saw a couple of guards standing there telling the vehicles to stop and not go any further.
The reason? A Landslide was about to happen!
We asked one of them how they came to know about it. And the guard pointed us towards an avalanche!
We saw small rocks slowly – and then rapidly coming closer towards the edge of a mountain to fall down not-too-far-away from us!
As we went back to our vehicle and sat down, we heard the guard screaming at the top of his lungs for everyone to BACK DOWN!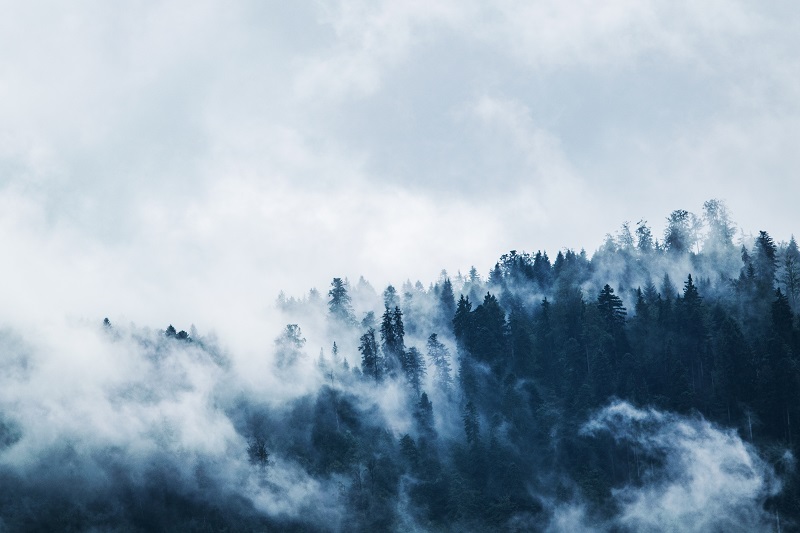 Everyone around us panicked – like really.
I had always heard about a landslide happening on the hilly roads during monsoons, even saw some photographs on the news channels.
But never did I see or feel what I felt in those few milliseconds when I looked up towards the avalanche and saw some rocks (although small) coming down straight and hitting the road a few meters from us.
It happened in a fraction of seconds, really – but it felt like at least a few minutes. I felt my heartbeats slowing down just at the thought of it all.
"A few seconds late, and we would have been hit by the mountain"! I heard some woman saying out loud.
Everyone, including us – returned back from the scene almost at the speed of a flickering light.
There were screams – a lot of them as we moved back downwards for a couple of blocks.
We were lucky – lucky enough to be stopped at the right time by those guards – lucky enough to be on a two-wheeler and maybe just lucky enough – to be alive.
As we returned back telling the car guys it's gonna be a long hours of a traffic halt for them while controlling our scared emotions, we did not see it – but heard something.
A loud noise – a THUMP! Like something big hit the road.
It was a larger rock – falling at most a few 100 meters from where we were all stopped.
We thanked God, and returned a little downwards to grab our souls – who had left the bodies.
Now what?
The landslide happened, the four wheelers were all stuck on the road – small and huge rocks fell on the main road – blocking the road for a couple of hours.
The question that remained was – Now what?
Are we supposed to head back home now?
Would my dream to see the Queen in all her glory – would remain unfulfilled today?
The answer to all that – was NO!
We found out the older route for heading to meet the Queen. It was much dangerous, much steeper – but also a lot adventurous.
I could not miss the opportunity to see her – with the beautiful crown, surrounded by the mysterious Mist.
Finally – The Moment Arrives
After another three hours of riding on a scooty through a messed up terrain only to catch a glimpse of the Queen of Hills, we reached her.
Just at the right time.
The stage was set, the people were all there – the Mist arrived slowly – and then came the Queen. In a white gown of clouds, with the blueish glitter surrounded by lush greenery and the glowing crown.
Everyone bowed. I looked her into the eyes – and felt overwhelmed.
Check out my Youtube Video to see the journey from Doon Valley to Mussoorie –
Conclusion
After so many hurdles – the landslide, the rain pouring on us most of the times, the Misty adventure – I was right there where I wanted to be – in front of the Queen.
And it felt like magic feels – fascinating, inexplicable and peaceful.
People might say Mussoorie is not what she was before – that she got old – overly crowded and so on.
But as I said, what it will inevitably and always be – is a Queen!
That's All Folks!