"Sometimes, you gotta travel far enough – to find yourself"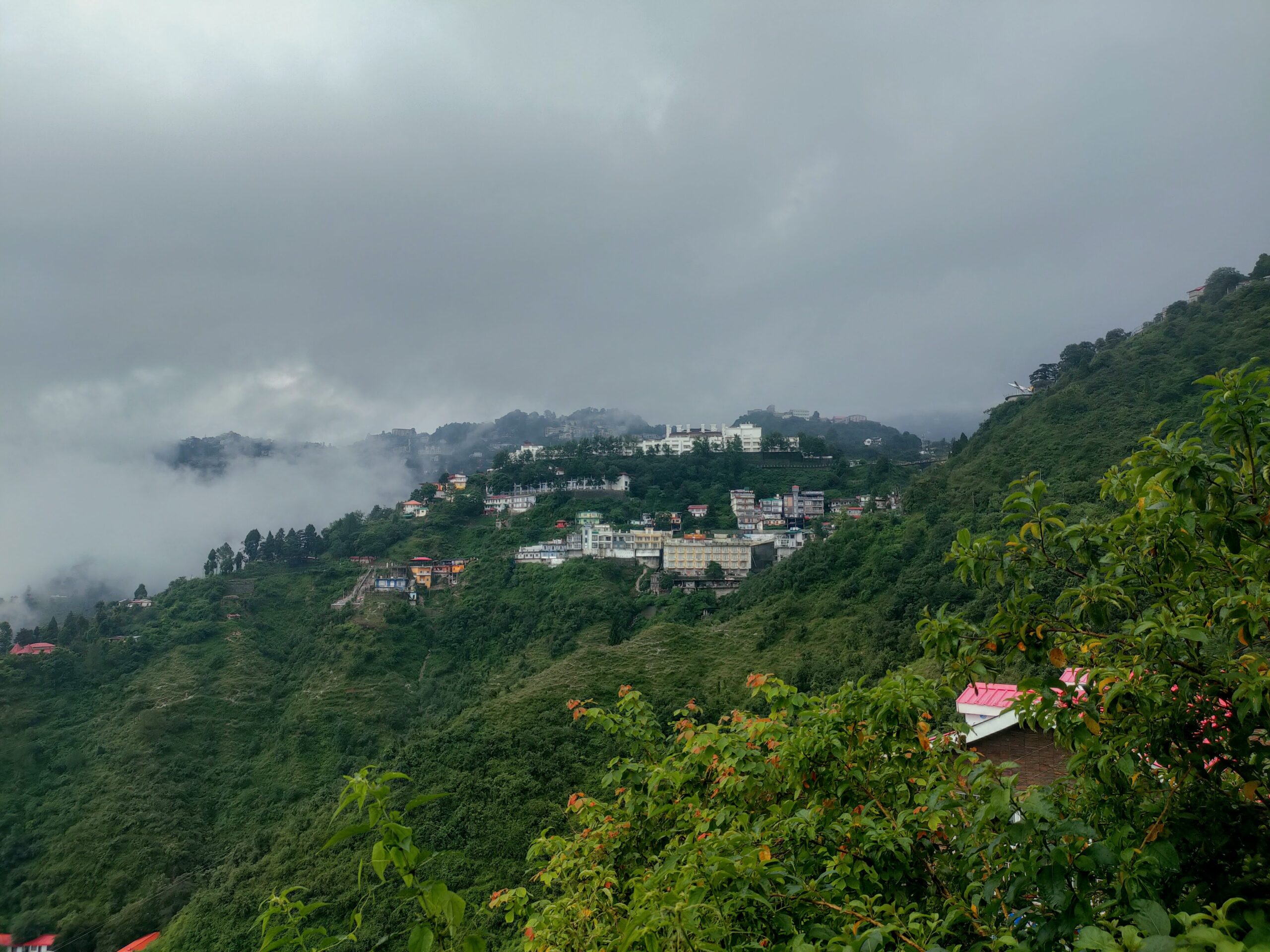 Monsoon covers the magnificent hill stations in India with an alluring layer of mist around the edges and sometimes even around the small towns and roads. I had been seeing so many videos and photographs of mountains covered with clouds or mist, that I just had been looking for an opportunity to visit and experience it on my own!
I travelled from Dehradun to Mussoorie and experienced for the first time in my life – a journey through the clouds, Amidst the Mist on a Scooty!
Explore with me my journey from City of Nawabs, Lucknow to Dehradun to Mussoorie, the Queen of Hills, as we explore the small but unforgettable journey through the incredible roads!
Starting Our Journey from Lucknow to Dehradun to Mussoorie
Arriving at Dehradun
I arrived at the Dehradun Railway Station early in the morning at about 0600 hours and it took me another two hours to actually reach the stay. Not because it was really far away, but all thanks to the Covid rapid tests being taken for one and all before they set foot into the Smart capital city of Uttarakhand.
Note #1 – It is important for you to have a valid RT-PCR or Rapid Antigen Test done with Covid Negative report if you plan to come towards Uttarakhand. If you are fully vaccinated – you only need the vaccination certificate.
Other than the test/certificate, you also need to register at this website before arriving at any place across Uttarakhand.
Note #2 – If you are coming from Lucknow, the BSB DDN Express Rail might just be the best choice for you for transportation purposes. It takes approximately 14 hours to reach from Lucknow to Dehradun via train route.
Where to Stay in Dehradun?
I actually did not have to tackle up this question on my visits to Dehradun because my sister happens to live here. But that does not mean I won't be telling my #solemates about the stay options y'all could opt for if you plan on staying in Dehradun.
Dehradun offers many different and unique choices to choose from as far as the accommodation goes. You can choose homestays or guest houses at cheapest prices. Other than that, if you are a solo traveller or a group of friends – you can opt for various hostels in and around the city.
Hotel Embassy Dehradun & The Trekkers Hostel, situated near the famous marketplace in Dehradun – Paltan Bazaar could be a great choice if you want a cheap and nice stay in Dehradun. GoIbibo offers the best price for it @INR 704 per night (as of 9 August 2021)
Nomads House: Bunkstay Hotel and Cafe in Patel Nagar, Dehradun is a pretty hostel where you can stay with friends or alone at a cheap price per night per room. GoIbibo offers the best price for the mixed dorm room for as low as @INR 396 (as of 9 August 2021)
Other than the cheap hostels in Dehradun, the most favorite homestay for people I came across in Dehradun is the Doon Valley Homestay in Jakhan. MMT offers the best price for it @INR 954 per night (as of 9 August 2021)
Next Step – Scooty/Bike/Car Rental
The best way to travel from one place to another or to actually let the place open up to you is when you drive along its roads, routes, etc. Renting a bike or a scooty, if you are a solo traveller or a couple of friends, can be one of the best choice you make while travelling to places full of natural wonders.
The very first step while planning our trip from Dehradun to Mussoorie was to rent up a scooty. We called out a few providers but the prices did not match our expectations. Then we headed to the Doon Bullet Riders Bike Rent and Repairing Centre where I got myself a scooty at INR 400 for a day (after a little bargaining of course). I needed the scooty for only a day, if you hire from them for more than a day, they might even give you a much better price.
You can contact them whenever you need a bike or a scooty from Dehradun.
Location – Shop No. 14, Shri Ram Complex, Kanwali Rd, Dehradun
Contact Number – +91 8650161313 (Mr. Sarfaraz, Doon Bullet Riders)
---
The Journey Begins – Dehradun to Mussoorie on Scooty
Mussoorie or the Queen of Hills in Uttarakhand is at a distance of 34 kilometers from Dehradun, but the hilly zigzag road tend to take almost 2 hours for you to actually reach the hill station. Mussoorie is situated at massive height of more than 6500 feet above sea level.
The best part about a journey to Mussoorie is the route it takes you through. That too in monsoon, when the Queen is covered with the perfect layer of misty clouds.
Our journey began at noon and it took us a little more time to reach the Mall Road in Mussoorie due to several reasons including our love for capturing the beautiful mountain scenes by stopping at major places, our love for food (especially the Maggi of the hills) and LANDSLIDE!
From home in Panditwari, we rode along the slightly mountainous roads for up to 13 kilometers to reach the main Mussoorie Hilly Road starting from the Dehradun Zoo. The journey ahead just kept getting more beautiful and picture perfect!
Our first stop was near the Shiva temple which we came across the journey. Shri Prakasheshwar Mahadev Temple is one of the most visited and infamous temple dedicated to Lord Shiva en route to Mussoorie. Many people stop here for a darshan or sometimes just to have a feel-good experience of watching a beautiful holy place sitting facing the perfect landscape of the mystical mountains.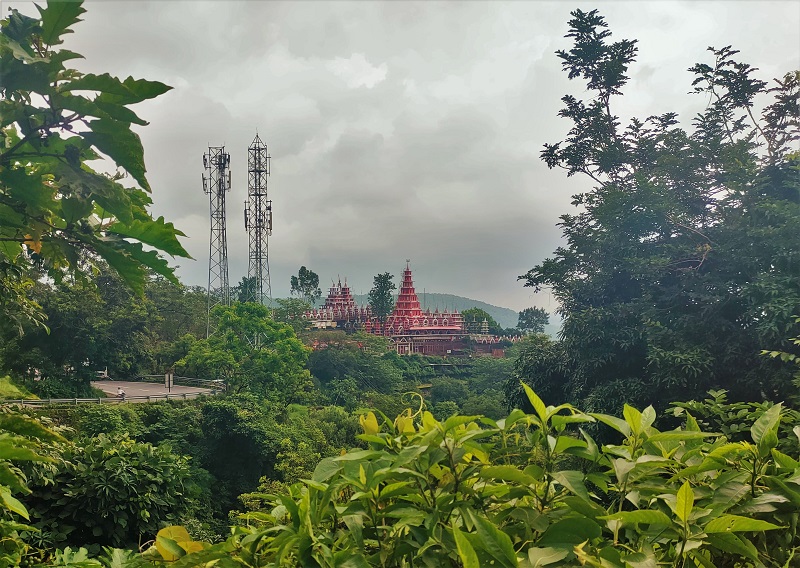 As we journeyed forward, the mist around the edges started coming closer and closer. It felt like I was actually seeing magic in front of my eyes.
The world is magic! A magical realm full of the most beautiful places anyone could ask for. All it takes to understand that – is to really look for it!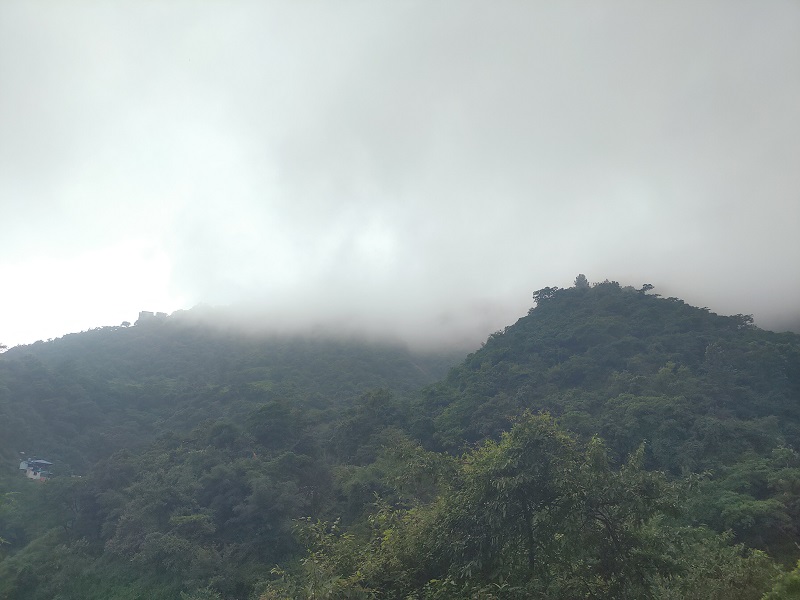 At one point we were covered with heavy mist from all corners. It felt almost as if we are riding through the clouds!
Experiencing Landslide for the First Time Ever
Yes, so this interesting tale happened as we moved forward in our journey from Dehradun to Mussoories by scooty.
If you guys have been to hilly roads or live nearby, you might know that the traffic over their could easily compete with the renowned Mumbai traffic, right?
Luckily, we were on two wheeler so we ventured forward to see if we could go on or just to find out what's happening. As we reached near the start of the traffic we saw many bikes and scooters standing there – with people looking sad and some frustrated, even.
So we asked one of the security personnel over there regarding the issue and he said "It seems there's going to be a Landslide anytime. And we cannot let people go forward right now!"
During the monsoon season, landslides are pretty common in these kind of roads.
And that moment somehow all our heartbeats raised and synced together as we all turned our bikes/scooters on and ran backwards!! One minute more and we would have been no more!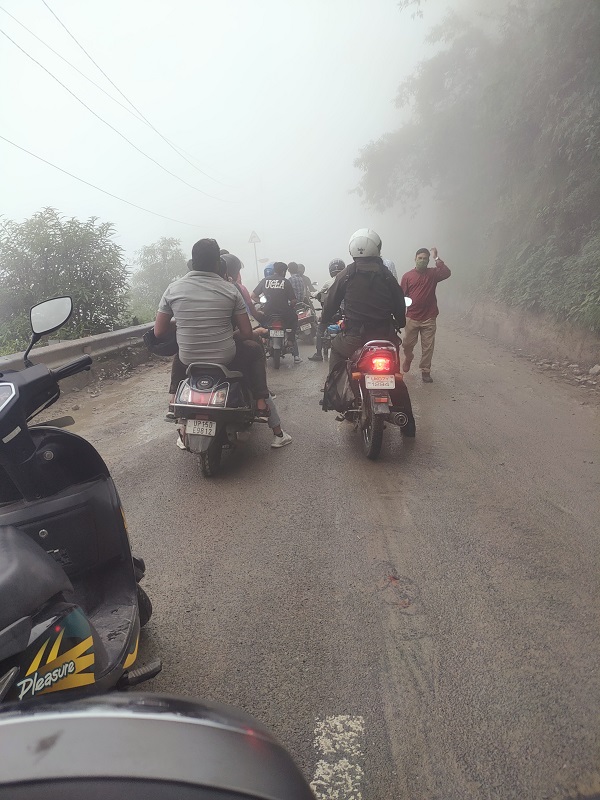 It was all happening so fast and just from the noise of the rocks falling, it felt like everything stopped! We thanked God that we moved away at the right moment!
Everyone started their vehicles and turned around just at the right time!
When we talked about it later that night, we thought to ourselves whether the smaller rocks falling first near the area, could be a sign to turn around? Was it a sign from nature to save us? Do you believe in anything like that?
PS- People, if you happen to travel during monsoons in these landslide prone areas please be very careful. We were really lucky that the security personnel had already stopped all vehicles from moving forward where it was all about to happen. Still! Drive Safe!
Continuing the Journey

– Dehradun to Mussoorie via Old Route

The main route towards the Queen of Hills got closed due to the Landslide and we were left with no other option to reach it without getting our heads blown out! We were a little upset. But as we moved backwards I realized there is also an alternate route to get to Mussoorie – the old one!

This route is more of an adventurous one with smaller roads and zig zag turns all the way up. We chose it and thus began an hour or so of adventure ride, that too on a scooty!

As we reached the connected main road towards Mussoorie, we got hit by massive rain! I mean it was like someone spraying us up with little icy bullets – honestly!

We had the infamous mountain maggi with tea at a nearby dhaba to wait for the rain to stop.
---
The Queen of Hills Welcomes Us – Arriving at Mussoorie
Finally after almost 3 hours of riding and stopping for views, we reached Mussoorie. The Queen was quite busy with the hordes of travellers from across the nation coming there to register those scenic views and some to roam around the Mall Road of the place.
Mussoorie looked awesome when we landed our rides there! Covered with mist and enthusiastic people from all sides, it felt as if the Queen was actually their to greet us all – in the form of the vibe the place gave us. I have been to Mussoorie once, when I was so little that I don't really remember any part of the trip besides the photographs I have seen of us at Kempty Falls from the Album at home.
Even though I had been there more than a decade back, maybe – it felt homely. Like I know this place – somehow. The scents, the views, the vibe all felt familiar to me. Familiar and yet – Strange!
Hills have that about them. They help you find yourself when you feel lost. They have an unknown power within them. That holds you, guides you and sets you free – to achieve what all you want in life.
We did not spend much time in the city. Although, we did stroll for some time across the Mall Road and visited the Company Garden in Mussoorie. More about that experience on the next blog post!
You won't have to wait much longer!
That's All Folks!