Nainital- The city of lakes, as it is most accurately called is a very peaceful place to be. I have been there twice before, with my family. This time, it was with two friends. This was my first trip that I found out about just one hour before we had to go. This is the story of my Nainital Travelogue.
I woke up in the morning, got a call from a friend saying, "hey, wanna go to Nainital for the weekend?"
And I, still sleepy, was like, "umm, yeah, sure, when?"
And he went, "In an hour!"
I didn't think for much long and said "ok, then let's do this". It was an instantly executed trip. We didn't had any hotel booked- we thought we'll just go there and get a hotel for a night – it was a 2 days trip. 48 hours. That's it.
We realized later we must have had a hotel booked for sure, but then we wouldn't have got that much fun experiencing and planning a road trip.
It was a weekend getaway. A get-away from all the tensions, stress, problems or whatever- to leave it all behind for two days and just be free for a while. Nainital is a place that will instantly change your mood as it's so damn peaceful – The road surrounding the Lake, the mountains, the cold breeze, everything.
---
Nainital Travelogue Day 1 – Stopped by Nainital Police
So we leave for Nainital at around 11 in the morning. We started the journey with the red bull- so it gives us wings to fly up towards the mountains, you know.
Nainital is at a distance of about 380 kilometers from Lucknow. We went through Sultanpur route.
Our first stop was at a roadside place to have "the best kebab paranthas in town" – and they were indeed, very tasty. We had our lunch there and left for the forward journey. We had some famous mouth watering gulab jamuns nearby.
After a few hours we reached the mountain roads.
I love the mountains, it's roads, it's people, it's houses, everything about it makes me feel really, really great.
We watched the sun, slowly setting along with our car moving upwards to the destination.
Related – A Day Trip to Haridwar
Stopped by the Nainital Police
We were about to reach our destination in half an hour or so, when we were stopped by the Nainital police, at the bypass. They told us you can go forward only if you have a hotel booked in Nainital with parking facility due to this time being the peak season.
They told us you will have to keep your car nearby and take a shuttle service to go to Nainital City. Now, it was late in the evening. We couldn't let the car stay at that place for whole night. So we decided to go search for a hotel nearby or in Bhimtal.
Searching for a Night Stay in Bhimtal
We had the infamous Maggi of the mountains. Maggi is like the most precious food item all over India, but there is something about the mountain Maggi, maybe something they put in it, or maybe it's just the vibe, but it tastes different – good different. It is like the most loved food item for the mountain travellers, specially in India.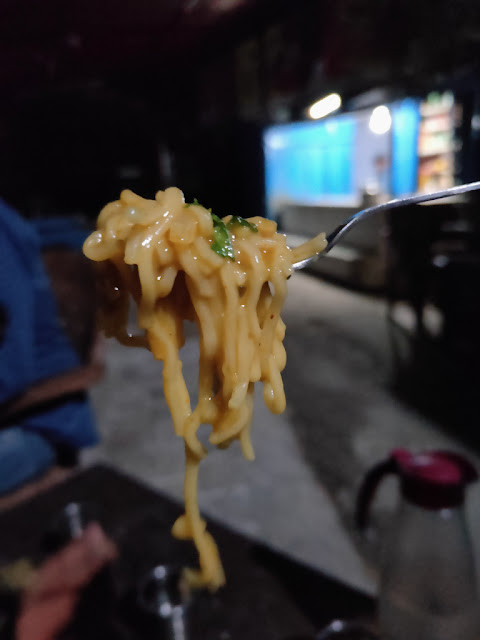 So we searched for hotels, with no success. Everything was packed. Not a single room was to be found.
We drove to Bhimtal, situated at a distance of just about 50 kilometers from Nainital and searched for hotels over there. But every hotel we asked for a room in, was packed.
Then, at last we were really tired and just thought we don't care about the hotel ambiance or anything, just give us one room to sleep in, that's all. We were all exhausted from the hotel search and all the rejections.
Finally, we randomly asked a guy about any place we could stay in and he turned out to be the owner of a camping site nearby. We got it. Not a hotel. But even better. A camp. In the jungle.
It was amazing and we didn't think we could get that much of an awesome place to stay in. We were glad and thanked god for letting this happen. It was midnight. We had our dinner and went to sleep in the comfy camp.
---
Nainital Travelogue Day 2 – Exploring the Lake City of Nainital
We woke up early in the morning, had tea and started to get ready to leave for Nainital.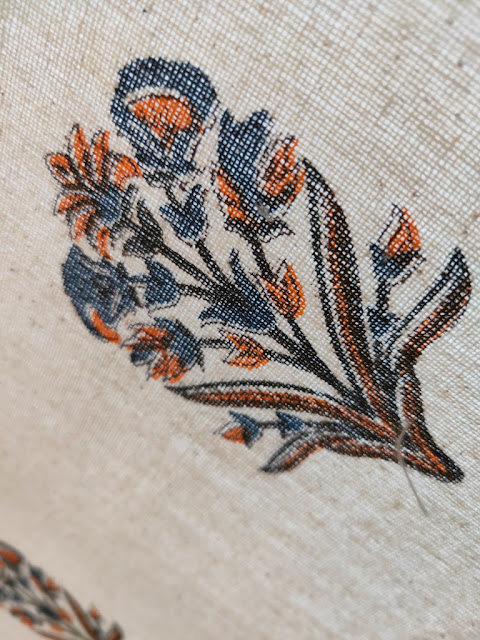 It was daytime- we thought maybe they would allow our car to go at this time. And even if they don't, we would leave early to get time to figure out what to do.
All we had in mind was that we travelled for a full day from Lucknow to Nainital just to visit Nainital, and we won't go back until we see it. Whatever it takes.
So we checked out of the awesome camping site and moved towards the bypass. We tried to talk to the police officers to let us through. But they didn't listen. After about 2 hours of waiting, thinking, trying to convince them, we finally decided to park our car at the parking at the bypass and take the shuttle service to go to Nainital.
Finally Reaching Nainital
We finally reached Nainital. It was a feeling that can't be explained. It was wonderful and felt peaceful. We walked around the Naini Lake on the Mall road for sometime, clicking pictures. And also on the day we reached there, we saw and experienced the Sikh's religious parade or Juloos at the mall road.
We had our lunch near the mosque and decided to book a sightseeing tour of the most famous sites in Nainital.
We booked a tour but due to it being the peak season, Nainital was really populated and the car was taking very long to reach us, it was about 2 to 3 hours of waiting by the lake.
We then booked another one which was nearer and was less costly. Then started our sightseeing.
Nainital Sightseeing
The first spot was kinda like a small cave cut through the mountains, it's specialty was that it blew the coldest winds. The people there told us if a person stands near the cave for more than 2 hours, he will surely be diagnosed with hypothermia. It was that cold.
Next, we visited the lake view point from where the Nainital town was visible as a phenomenal beauty that it is. A lake surrounded by small shops and roads and people. It was a wonderful scenic beauty.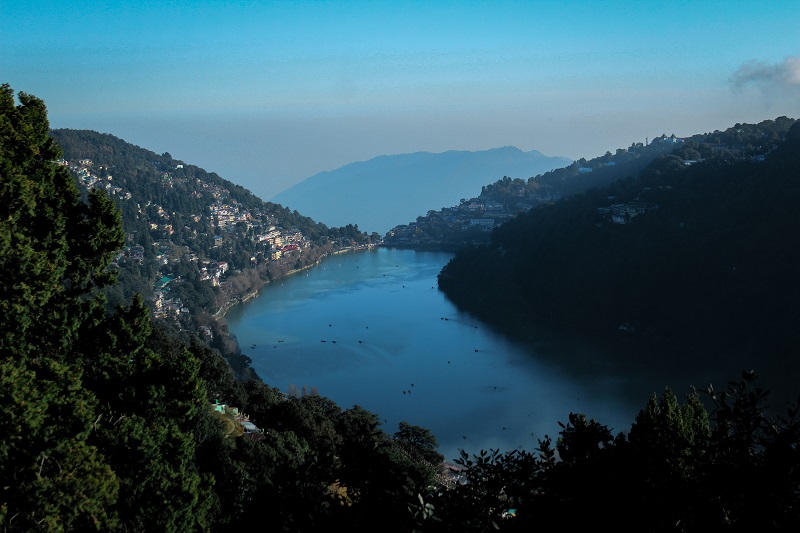 Next, we went to the adventure park and cable car at the snow view point. There, we indulged in the Go Kart Ride, which was an amazing adventurous experience.
These included- the suicide point, the lovers point, and a beautiful bird sanctuary situated in the Corbett region of Nainital.
It was in a deep forest area where one could hear different birds chirping, and this place was a bird watchers' paradise. After a few other scenic view spots, we returned to Naini Lake. It was about to hit 7 on the clock, so we literally ran towards the boating area, and booked a boat immediately.
Boating Experience in the Naini Lake
The boat ride in Nainital is a must do. To experience what Nainital is all about. After the ride, we walked around the Mall road, viewing the lightings on the mountains at night coming from houses and hotels. We had our dinner and left for journey back home.
And our small but memorable journey towards the Lake City of Nainital ended.
That's All Folks!