"It's not what you look at that matters, It's what you see."
HARIDWAR, Also known worldwide as a doorway through which the Holy river Ganges descends towards the plains.
One of the seven sacred cities of the Hindu religion – known as Sapta Puri, and a major pilgrimage center.
People from around India as well as from all over the globe come visit Haridwar in the Land of Gods for the main purpose of taking a holy dip into the magical waters of the Ganges River.
As is said, "when you take a dip in the holy river of Ganges, all your sins from this as well as from your previous lives will be washed off and you will attain Nirvana". 
Now that you know the story, you may figure it out on your own as to why so many different people from different cultures and corners of the world take a trip to Haridwar, right? To wash away their sins. Because humans are flawed. They might be sinful sometimes. Unintentionally, maybe. Or maybe not so.
---
Day Trip to Haridwar Begins
We did not have many days to explore all the things to see in Haridwar to go towards the nearby towns on our own. It was a weekend getaway of sorts, so we just spent a night in there and got back the next day. Still, time is no definition to attain or make memories, so we did make a few in that limited time as well. Travelling is making memories.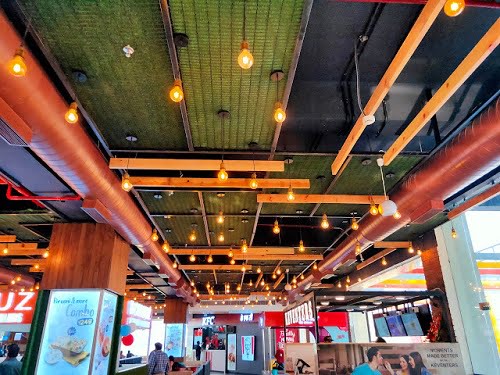 Day 1 – Reaching Haridwar and Visiting Rishikesh
We reached Haridwar at some point in the evening. We had our hotel booked, thanks to OyoRooms, beforehand. And the location of the Hotel Shiv Murti was right in front of the Haridwar Railway Station.
Even the infamous markets of Haridwar and the Holy Harr ki Pauri was not more than a 2 kilometer walk from there.
We got our room and left the luggage there and went outside. We had a few hours in hand, so we thought we could go see the best places to see in Rishikesh in the time being and come back for a good night sleep. And that is what we did. 
We went to Rishikesh, with a cab to Lakshman Jhula. It was night, and it was mesmerizing.
The lights. I have always had a thing for those beautiful lights shining, twinkling in the night's darkness. The Ganges was flowing with a great pace beneath the bridge. Beneath us.
After we walked around to the other side of the bridge, we realized there is the famous restaurant nearby known as Chotiwala. But unbeknownst to us, that restaurant was located near the Ram Jhula. So we had to walk for two kilometers towards the other Jhula beneath that night sky in a straight going deserted road with only about one or two people to be seen beside us.
It was kind of terrifying, but adventurous 2 kilometers of our trip. We finally reached the restaurant, had our dinner and I would recommend you all to try it. The Chotiwala Restaurant, near Ram Jhula. We went back to our hotel in Haridwar to spend the night.
---
Day 2 – Morning in the Sacred City of Haridwar
We woke up and witnessed an amazing scenic view of Haridwar through our balcony :
The colorful streets, the beautiful blue sky with little strokes of white clouds spread at different places, the stretched mountains at the background.
It was like what we, as kids, used to draw on a plain sheet of paper, remember? Those pointy mountains with a yellow bright 'smiling' sun peeking out from behind, then the green trees and grass spread around, a blue sky above us, maybe a house – with a chimney. And the river flowing through the mountains towards the plains.
Now that last part was missing from this scenery, so we had to pack our clothes and go find it – the river– The Ganges.
Finding Ganges – Visiting Har Ki Pauri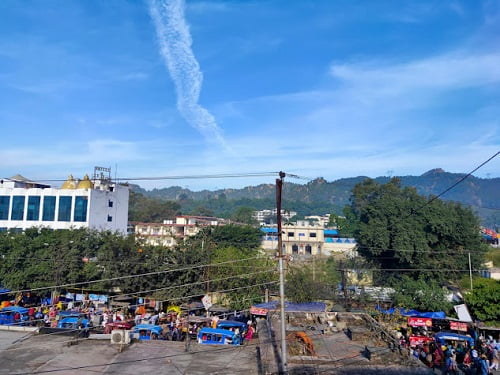 Before heading to another two kilometers walk to get to our first destination i.e. Har ki Pauri, we stopped just across our hotel at one of these many food and tea stalls you may find all over the main road of the city- for some breakfast.
We were not at all alone in this journey, as there were at least hundreds of people hovering around wherever one might look throughout the streets. The streets of Haridwar are smaller in width but much larger in color (just like this incredible rainbow mountain in Peru).
One may find all those different and unique colorful people, shops and antiques all around the street leading one towards the Ganges. You may shop here, eat mouth watering delicacies here, or just randomly roam around for as much time you want.
We straightaway headed towards our destination as we did not have much time to spare and the crowd was inexplicable for bathing in the holy river.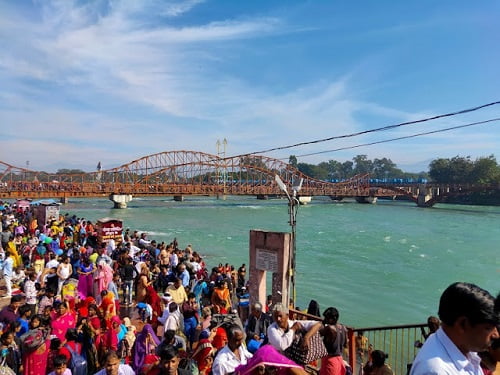 We finally reached and got our first look at the huge river Ganges flowing at a slightly fast pace and about hundreds or maybe thousands of people spread all across its edges to wash away their sins along with a few changing rooms for women near the Ghats of the river.
A trip to Haridwar would not even be considered that if you not visit Har ki Pauri. It's the most precious point of the city.
We took the holy dip. It was freakin' cold to be honest. And my heart, my body and even my soul was shivering after the dip. The river was very much cleaner looking as compared to the parts where it reaches the plains.
We had our lunch in the very popular and oh so massively crowded Mohanji Puriwale. If you are here, you must try the tasty kachaudis of this place.
Ropeway to the Mansa Devi Temple (Haridwar Sightseeing)
Mansa Devi temple is situated atop the Bilva Parvat inside the Rajaji National Park. Now there are two ways to reach this divine place : by trekking through the various shops and greenery and another one by the rope-way or as it is called here "Udan Khatola".
So we chose the latter as it was a very interesting and scenic view of the mountains and the greenery spread across.
We then walked toward the Ganges once again to experience the Ganga Aarti near the river banks. But with the crowd and so many heads floating around in front of our eyes, we couldn't manage to get a proper glimpse of the Aarti.
Although, just the vibe of the place and the people and that divine feeling was amazing and worth it all.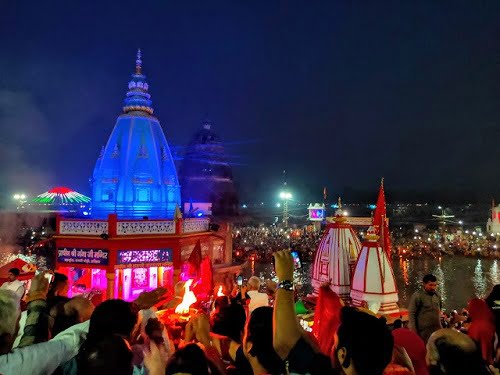 ---
Conclusion
Our day trip to Haridwar was an instant plan and sometimes, those are the best ones. Have you ever been to the Holy City? Tell me in the comments below how your experience was. Stay Tuned for more!
That's All Folks!