Thailand is a really well known, adventurous, magical and interesting place that is mostly jam packed every year with travelers and explorers from across the world.
Today's blog post gives you a fun and adventurous 6 days Thailand Itinerary
Thailand is a Southeast Asian country known for it's beaches, temples, and mountains. Bangkok, the capital city, is home to grand palaces, temples such as Wat Arun and Wat Pho, and the Giant Swing.
In the north, Chiang Mai is a renowned city for it's Buddhist temples and picturesque mountains. To the south is the island of Phuket, where you can find world-famous beaches such as Patong Beach and Kata Beach.
Now that you know a little bit more about Thailand, let's get started on planning your trip!
---
Day 1: Reach Pattaya
Our first destination for you in this suggested Thailand Itinerary 6 days is Pattaya – the land of scenic views, perfect nightlife and floating markets.
How to Reach Pattaya from Bangkok
Pattaya is located approximately 147 kilometers from Bangkok, the capital of Thailand – and there are ways you can reach the destination without breaking your bank.
Bus Service
A frequent bus service is available to drop you from Bangkok to Pattaya ever 2 hours. You can catch an Ac Isan (or bus) every 30 minutes between 6.30am to 11.20pm.
This is the cheapest way to reach Pattaya on the first day of your journey – it costs approximately 11 Dollars (about 900 INR) per person and takes 2 hours to reach.
Mini Van
Another, a little more expensive alternative to reach Pattaya is via a minivan. It takes about half an hour extra to reach your destination, but it also saves you from the crowded bus traffic. Although there is a catch when it comes to the luggage space.
If you have a lot of luggage, it is a big no-no to use a minivan. But if you travel light, you can go for it. It even stops at a few points between destinations.
Train
Trains are not a very highly recommended mode of transport when travelling in Thailand, but if you really want that Thai experience, this might be the thing for you.
There are 2 trains that connect these two cities together, and they both leave early in the morning at 6.45AM & 6.55AM respectively.
The 6.45AM train is a rapid one and reaches Pattaya in a lesser time duration than the other train. And thus, it's the most looked after.
---
Where to Stay in Pattaya
Now that you reached Pattaya, the next thing would be to get yourself into a comfortable & affordable stay.
Let's check out a few options, shall we?
Centara Pattaya Hotel – 4 Star Property | Outdoor Pool + International Dining
Location – 78/140 Moo 9 Nongprue, Bang Lamung District, Chon Buri 20150, Thailand
Cost per room per night – Approx. ₹2000+
Garden Sea View Resort – 4 Star Property | Beachfront Resort + Outdoor Pool
Location – 207 1 M.5 Pattaya-Na Kluea Rd, Muang Pattaya, Bang Lamung District, Chon Buri 20150, Thailand
Cost per room per night – Approx. ₹2500+
A-ONE Pattaya Beach Resort
Location – 115/9 Beach Rd, Bang Lamung District, Chon Buri 20150, Thailand
Cost per room per night – Approx. ₹1300+
---
Alcazar Show at Night
The Alcazar Show is a cabaret show in Pattaya, Thailand that has been running for over 30 years. It is one of the most popular tourist attractions in Pattaya, and draws in crowds of all ages every night.
The show is divided into four sections, each with a different theme.
A comedy section
A music section
A dance section
An interactive section
The show is known for it's extravagant costumes, sets, and lighting, as well as it's talented performers. If you are looking for a fun and unique show to see while you are in Bangkok, the Alcazar Show is a must-see!
---
Day 2: Koh Larn Coral Island Tour
Koh Larn Coral Island is a beautiful island located off the coast of Thailand. It is well known for it's clear waters and beautiful coral reefs. The island is a popular destination for tourists who want to experience the beauty of the underwater world.
Koh Larn Coral Island is a great place to snorkel and dive. There are many sites where you can see a variety of marine life. The reefs are also a great place to find James Bond Island.
Koh Larn Coral Island is a great place to relax and enjoy the beauty of nature. There are many activities to do on the island, such as swimming, sunbathing, and hiking.
How to Reach?
The day 2 journey in our Thailand Itinerary 6 days, begins once you reach the Pattaya Beach – from where you take a speedboat to Koh Larn. It takes about an hour to reach the island.
Ferries travel to the island from the beach every hour from early morning 7.00AM to evening 6.30PM. You can get yourself a cheap ferry from Bali Hai Pier Marina in Pattaya. It would cost you about ₹60 per person.
A speedboat will cost you minimum ₹3300 to reach the island.
Doing it all by yourself can be more expensive, so why not use a package tour with Indian staff, lunch and everything preplanned for you?
Get the Coral Island Pattaya Tour from Viator & have a marvelous experience with an Indian Lunch, Hindi speaking staff and Indian travellers. (Full on Desi Vibes in a Videsi Destination!)
Things to Do in Coral Island
Koh Larn Coral Island is a beautiful island with white sandy beaches, crystal clear waters, and lush vegetation.
The island is also home to a number of coral reefs which make it a popular destination for snorkeling and diving. There are many things to do on Koh Larn Coral Island, so it is no wonder that it is such a popular tourist destination.
Sea Walking (Walking over the sea bed underwater)
Parasailing
Scuba Diving
Banana Boat Ride
Jet Skiing
Relaxing on the beach
Explore Coral Creatures
Want to learn more about Scuba diving and how is it different from Snorkeling? Read our blog about Snorkeling vs Scuba Diving now!
---
Day 3: Noong Nooch Village Garden
Nong Nooch Village is a world-renowned garden located in Thailand. The village is home to a wide variety of flora and fauna, as well as a number of unique statues and sculptures. Visitors to the village can explore the gardens, take a ride on the elephant train, and even learn how to cook traditional Thai food.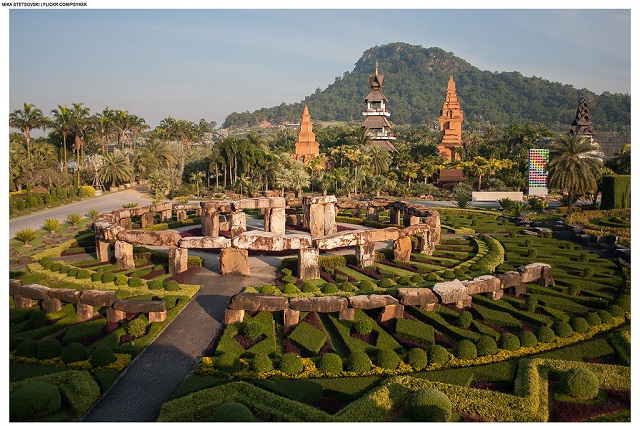 Nong Nooch Village is a must-see destination for anyone interested in gardening or Thai culture. So if you find yourself in Thailand, be sure to add Nong Nooch Village to your Thailand itinerary.
Nong Nooch Village Garden is a great place to visit if you are interested in learning more about the natural world. The park offers a variety of different programs and activities that can help you learn about the different plants and animals that live in the park. You can also enjoy the beauty of the gardens and the peace and quiet of the park.
Things to Do in Nong Nooch Village
The village is home to a number of interesting places to visit, including the Nong Nooch Tropical Botanical Garden, the Nong Nooch Traditional Thai Dance Show, and the Nong Nooch Elephant Show. If you're looking for things to do in Nong Nooch Village, be sure to check out these three popular attractions.
Here are the must-do things when you visit this incredible village garden in your Thailand Itinerary :-
Visit the Nong Nooch Tropical Botanical Garden
Go on an elephant trek
Visit the Thai Culture Museum
Take a cooking class
Go shopping at the Floating Market
---
Day 4: Phuket Island Experience
Phuket Island is one of Thailand's most popular tourist destinations, and it's easy to see why. The island is home to beautiful beaches, luxurious resorts, and a thriving nightlife scene. And with so much to see and do, it's no wonder that Phuket is a top destination for travelers from all over the world.
If you're planning a trip to Phuket, be sure to check out our Phuket travel guide. We'll help you plan the perfect vacation, from finding the best beaches to exploring the island's culture and history.
How to Get to Phuket from Pattaya
If you're planning a trip to Thailand, you may be wondering how to get from Pattaya to Phuket.
The good news is that there are a few different ways to make the journey. The most popular option is to take a ferry from Pattaya to Phuket. The journey takes about 5-6 hours and there are several ferry companies that operate the route. Another option is to fly from Pattaya to Phuket. The flight takes about 1 hour and there are several airlines that offer direct flights.
Whichever option you choose, you're sure to enjoy your time in both Pattaya and Phuket.
Things to do in Phuket Island
Looking for things to do in Phuket Island? Whether you're a beach bum, an adventure seeker, or a culture vulture, Phuket Island has something for everyone. Here are just a few of the many things you can do while you're on this beautiful island:
Soak up the sun on one of Phuket's many beaches
Visit the Big Buddha and learn about Thai culture and history
Go on an elephant trek through the jungle
Take a Thai cooking class and learn to cook delicious Thai food
Explore the Old Phuket Town and see the island's colonial history
Go scuba diving or snorkeling and see the amazing underwater world
Visit Phi Phi Island and relax on it's idyllic beaches
---
Day 5: Transfer from Pattaya to Bangkok
Pattaya to Bangkok would be the same as day 1, but opposite! You can travel from a bus, a minivan or a train towards Bangkok with memories of Pattaya and the incredible beauty and experiences it offered.
Move early in the morning so you have plenty time to explore and walk around Bangkok once you reach there.
Bangkok is the capital and most populous city of Thailand. It is known for it's beautiful temples, it's lively markets, and it's delicious food.
Bangkok is also a great place to shop, as it is home to many of Thailand's most popular products, including Thai silk, Thai spices, and Thai handicrafts. If you're looking for a truly unique and exotic city to visit, Bangkok is definitely worth a visit.
Where to Stay in Bangkok?
Bangkok is in many cases considered the gem of Southeast Asia and understanding why is simple. This Thai city brags a huge assortment exceptional culinary encounters, top notch diversion, and stunning history and design.
But before we move ahead to explore this marvelous city, we need to select a unique stay option for our travel here right? Let's go!
Bangkok Palace Hotel – 4 Star Property | 24/7 Dining + Ballroom
Location – 336 New Petchaburi Rd, Makkasan, Ratchathewi, Bangkok 10400, Thailand
Cost per room per night – Approx. ₹2500+
Mandarin Hotel Bangkok – 4 Star Property | City Views + Spa + Swimming Pool
Location – 662 Rama IV Rd, Maha Phruttharam, Bang Rak, Bangkok 10500, Thailand
Cost per room per night – Approx. ₹3000+
Atelier Suites – 4 Star Property | Funky Hotel Vibes + Balconies
Location – 256 Lat Phrao 122 Alley, Phlabphla, Wang Thonglang, Bangkok 10310, Thailand
Cost per room per night – Approx. ₹1500+
---
Day 6: Explore Bangkok
Bangkok is a city of contrasts. It has everything from ancient temples to modern malls, and from bustling street markets to vast green parks.
Other than that, the Thai capital is a city of contradictions as well: one minute you're in the heart of an old-world market, the next you're in a high-tech mall; one minute you're admiring an intricately decorated temple, the next you're eating at a world-class restaurant or shopping at one of Bangkok's many malls.
A visit to Bangkok can be as long or short as you like – there's plenty to do for those with only 24 hours in the city and more than enough for those with three days or more on their hands.
It is a bustling metropolis with life and energy at every hour of the day. If you are planning to visit Bangkok, here are some things to do in Bangkok –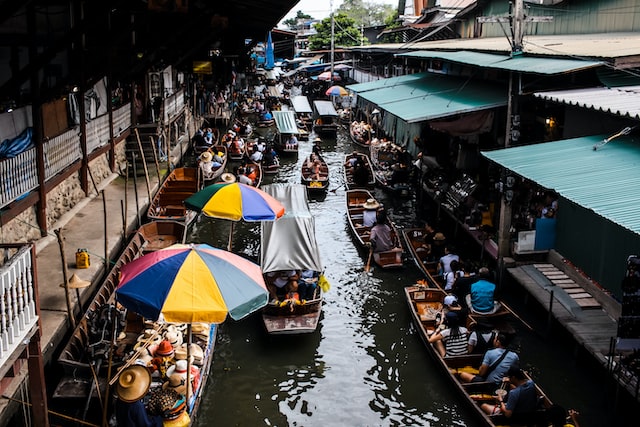 Visit the Grand Palace: The Grand Palace has been the official residence of the Kings of Thailand since 1782. The complex includes many buildings and structures such as Wat Phra Kaew, Wat Pho, Wat Arun and more.
Take a river cruise: One of the most popular things to do in Bangkok is taking a river cruise along Chao Praya River. You can take a boat ride from Tha Tien Pier all the way up to Nonthaburi Pier or vice versa – it's your choice!
Visit Chatuchak Weekend Market: There are over 15,000 stalls selling clothes, food, pets, plants and anything else you can imagine at this market!
Take a trip to the Floating Market: The Bangkok Floating Market has been around for over 100 years. It is a floating market that takes place on the riverside and includes food, clothes, souvenirs and more!
Sky Train: Located in downtown Bangkok, this modern train connects five districts of Thailand's capital.
Have some street food: A great way to try some of Thailand's local cuisine is by heading down to one of the many famous foodie hubs around the city.
Bangkok is our last spot for this incredible 6 days Thailand Itinerary!
---
To Wrap Things Up
Thailand is a beautiful place with lots of history, natural elements, incredible stories, ancient legends and so much more!
This was our suggested Thailand Itinerary for a 6 Days trip to this incredible country. Comment down below if you want to add on something to this little list. Share with your friends & families who might need stuff to figure out how to plan a trip to Thailand.
Stay tuned since there will be upcoming blogs about this country that go deeper into the things to do, places to see, incredible ventures and budget friendly experiences in the country for you! Subscribe us to get notified of all our blog posts!
That's All Folks!