Millenniums ago. Before the world we know existed. There was a battle. Good vs Evil. An Army of vaanars vs an Army of monsters. A fight for love. A fight for dharma.
The battle ended. The Vaanar Army won. Rama won. And after 14 years of exile – it was time to return back home. To the kingdom of Ayodhya.
Rama, Sita and Laxman along with Hanuman and a few others hopped over the Pushpak Vimana and began their journey. Just amidst the journey came a large forest near the Vindhya ranges of India's heartland.
They stopped at the place and Rama told Nal and Neel (two Vaanars) to build a fort over the hilltop to keep check on Lanka. Ram gifted the fort to his loving younger brother Laxman. The place since then was referred as "the brother's fort" or Bandhavgarh National Park.
Today, as I returned back from this marvelous wild land – I sit here to tell you – all you need to know about the Bandhavgarh National Park and how to get the best out of it in terms of travel, safari and wildlife.
Let's Begin!
---
What to expect when visiting Bandhavgarh National Park
Bandhavgarh is spread over an area of about 1536 sq km and has been existing as one of the most loved national parks in the heart of India since many years.
Madhya Pradesh is a land of greenery, ancient history and wildlife. It has the most fantastic wildlife areas among all of India and is visited in tens of thousands every year.
Here are a few things to know about the National park before visiting: –
How many days are required for Bandhavgarh?
Bandhavgarh is a large national park situated near the Vindhya Hills in Madhya Pradesh. The wildlife sanctuary is the only attraction there and people visit here just to take part in the incredible safaris.
A three days trip to the forest land is enough to experience the wildlife of the place in all its glory. There are 3 core zones in Bandhavgarh, namely – Tala, Magadhi and Khitauli.
People make their itinerary such that they could get a safari for all three at different days. It makes the adventure stretch a little more and the chance of a big cat sighting more possible.
Which gate is best for tiger sighting in Bandhavgarh?
All three major or core zones in Bandhavgarh are incredible and the tigers can be and are seen roaming around these zones most of the times. But the one considered the best of these zones – considering that many locals even refer you to select the same – is Tala.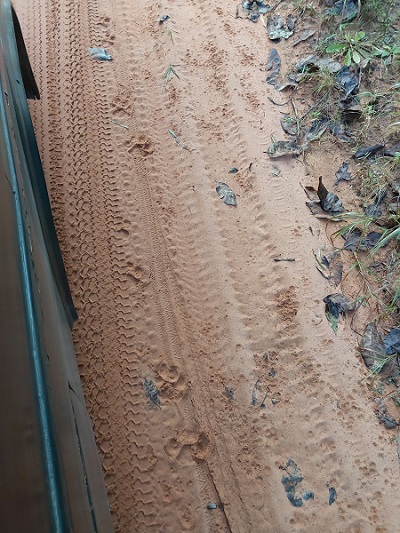 Tala or Taala Zone is the largest zone in area and the tigers sightings have been notably the most in here. Many people from across the country come to visit Bandhavgarh keeping in mind to experience the Tala Safari in Bandhavgarh.
Although other zones are no less. Magadhi and Khitauli are both considered just great zones and tigers sightings have been a normal feature of all three. You can hear the Cheetal, Peacocks, Langoors and crows even giving out warning calls – which tell you that the Tiger is near.
How many tigers are there in Bandhavgarh?
The estimated value of the number of tigers inside the area of Bandhavgarh National Park is mentioned to be around 70 to 80 – although the locals and guides would tell you a number a little larger than this.
Our core zone guide told us that this area belongs to a Tigress and her family. There's the Tigress – Buffer Female, her 4 children (all females) and her hubby Tiger. The family walks around the three major zones and pug marks, both small and large, are a normal trait to capture in them.
What should I wear in Bandhavgarh National Park?
There are mostly no restrictions as far as the wildlife board is considered when it comes to what one should wear during the Bandhavgarh Safari.
But here are the recommended stuff which you could consider when thinking What to Wear on A Safari :-
Consider wearing long sleeves and full pants so you're protected from insect bites, cold winds, spikes, etc.
It is recommended to choose natural, earthy colors like brown, khaki, greyish tones – nothing awkwardly bright and shiny.
Get that Sunhat along! A sunhat will protect you from the scorching heat when it finally manages to enter the wild lands.
Pack sun lotion along with other items. Sun protection is really important when exploring the depths of the forest.
How do I book safari in Bandhavgarh?
Bandhavgarh Safaris can be booked right from your resort in the place. Every wildlife resort in Bandhavgarh has their own connections with Safari providers who can provide you the best safari experiences depending on availability and stuff.
But if you think you can just go and get a morning safari for tomorrow if you book today – it is a rarity – more so than the chances of seeing a tiger walk right in front of you.
What's recommended is that you book online and that too at least 2 months prior to your chosen date of Safari. You can easily Book a Bandhavgarh Safari through the official website.
If you haven't booked early, you can also get some last minute tix from the counter. But it is a hectic process and a less possible one as well. People in large numbers wait from 3.00 in the morning for the counters to open and get a last minute chance of booking a safari for the early morning venture into the wild.
Other than that, sometimes your resorts can help you get last minute bookings done for the core zones. Which is also a rarity. Although, buffer zones are mostly available to book online as well as offline even at the last moment.
---
How to reach Bandhavgarh?
Bandhavgarh is a national park in the central Indian state of Madhya Pradesh. The park is known for its large population of tigers and is a popular destination for wildlife enthusiasts.
There are several ways to reach Bandhavgarh, depending on your location and preferred mode of transport.
By air, the nearest airport is in Jabalpur, which is about a 3-hour drive from the park.
Alternatively, you can take a train to Umaria, which is about a 2-hour drive from Bandhavgarh.
If you're driving from Delhi, the journey will take approximately 12 hours.
Once you reach Bandhavgarh, there are a number of ways to explore the park, including jeep safaris, canter safaris, and nature walks.
We had our road trip towards Bandhavgarh from Prayagraj (formerly Allahabad) and it took us approximately 6 hours to reach our resort – Bundela Bandhavgarh by Octave Resort in Manpur (4km from Tala Gate).
The route was pretty good with mountain roads, fascinating hill scenes but towards the end the roads get shorter and well, full of potholes and rocks spread all over. So keep that in mind.
You can also take a slightly longer route towards Maihar-Satna road and keep on the NH35 up till you find the turn towards Bargarh Road – which will take you straight towards Bandhavgarh.
---
Bandhavgarh National Park Safari Details
Bandhavgarh Wildlife Sanctuary is one of the most popular safari destinations in India. The park is home to a wide variety of wildlife, including tigers, leopards, deer, and wild dogs. Visitors can take safari tours through the park to see the animals in their natural habitat.
Bandhavgarh National Park is a great place to see a variety of wildlife, and a safari tour is the best way to do it.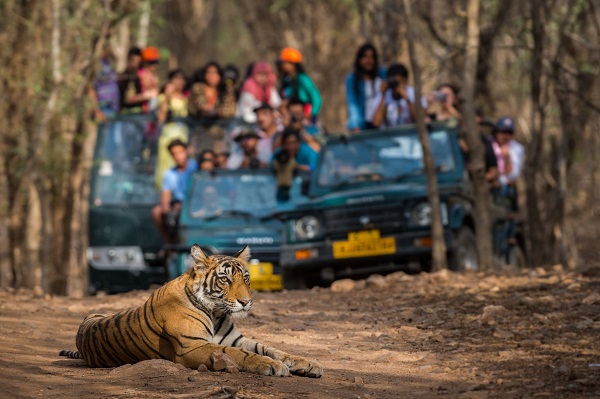 Things to know about Bandhavgarh Safari
There are three different safari core zones and three buffer zones in the park, and each one has its own rules and regulations. Be sure to check the rules for the zone you choose.
The most popular zones are the core zones and bookings for them start at least two months before your date of safari. The online websites are online and you can book your safari from their and get your permit. That permit is then needed to be shown at the counter near the Tala Gate and then you wait for your Jeep/Canter to arrive and take you on your wildlife adventure!
Bandhavgarh Safari Booking Tariff (as of Oct.2022) :-
| | | | | |
| --- | --- | --- | --- | --- |
| Nationality | Vehicle | Zone | Weekdays (in INR) | Weekends (in INR) |
| Indian | Full Jeep | Core | 7000 | 8000 |
| | Single Seat | Core | 1600 | 1800 |
| | Full Jeep | Buffer | 6500 | 6500 |
| Foreigner | Full Jeep | Core | 12000 | 12000 |
| | Single Seat | Core | 2000 | 2200 |
| | Full Jeep | Buffer | 7000 | 7000 |
Bandhavgarh Safari Tariff
*Canter Safari costs you approximately INR 500-1600 (per person) depending on availability and instant bookings.
My Safari Experience in Bandhavgarh National Park
We are a family who loves instant travel. Whenever an option comes out, a long weekend maybe or a festive holidays – we then plan for a trip somewhere nearby. Our Bandhavgarh visit was also an instant travel opportunity that came into our minds just two days prior the Diwali holidays a week ago.
We booked our resort near Tala after checking out reviews, pics and stuff. Then searched through sites on our laptops and phones and tablets and whatnot to get safari bookings somehow. But everywhere we looked it was 1. costly and 2. just the buffer zones were available!
Sad. So we did not book it and decided to just reach the place and then see if our luck works and we can get a last minute safari through our resort or somewhere.
So we did just that. We drove towards the wild heart of India – Bandhavgarh, checked into our resort and went to the enquiry table to ask about safari bookings. They said it's not possible at the last moment but will try. The staff I must say was really helpful to us.
We did get a confirmation that we can get a booking for a Jeep Safari. But the person said it would cost us ₹9000 for the three of us. It was a Jeep booked by a family of 2 and they said if we get it booked we can share the money. But it would only cost us more.
So we looked online for a private safari booking and found one. Our luck worked again and we got a canter booked at the last moment. That too for the core zone called Magadhi. Plus it costed just ₹5000 for us. (Approx ₹1600 per person).
A canter is basically a bus-type vehicle which can carry about 15-20 people along the safari. It is open and we can catch glimpses of the wildlife without any issue.
Then started our fascinating 5 hour long Safari into the depths of the wilderness. We saw spotted deer, Cheetal, Peacocks, Langoors. But even if you see different varieties of animals what you came all the way from home to the place of wild – is to see or get a slight glimpse even – of a Tiger.
We had all the boxes ticked – the pug marks – the roars – the calls. We knew there were two tigers just around us. We could hear them fight over a Cheetal kill. But our lucks got worn out, maybe.
The canter driver and the guides did their best and moved us through the wild back-and-forth just so we could get to witness what we came there for. But the Tigers did not come out. We knew they were right there. Right behind those large trees and bushes.
But we couldn't see them. It felt heartbreaking. But also the experience of the forest was fascinating. A memorable trip – tiger or no tiger.
Just the mere exploration and getting into the depths of the wild was as much fun to me. We reached Bandhavgarh keeping in mind and being prepared that we might not get the safari and that too in the core zone. But it did happen. And I am thankful that it did.
"Wo kehte hai na, kabhi kabhi na milna bhi, dobara milne ka mauka hota hai"
---
Best Time to Visit Bandhavgarh
The best time to visit the park is between October and April. This is when the weather is cool and the animals are most active.
Bandhavgarh National Park is a popular tourist destination in India, known for its abundant wildlife. The park is home to tigers, leopards, elephants, and many other animals.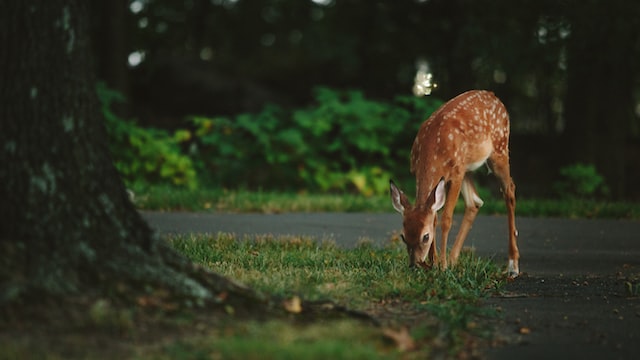 The answer depends on what you're looking to see and do while you're there.
If you're interested in seeing tigers, the best time to visit is between March and May. This is when the tigers are most active and are often seen out in the open.
If you're more interested in seeing other animals, the best time to visit is between October and February. This is when the park is open and the weather is cooler, making it easier to spot wildlife.
No matter when you decide to visit, Bandhavgarh has plenty to offer you in the form of the forest vibes, migratory birdies, wild beasts like wolves, bears, leopards as well.
---
Is Bandhavgarh National Park worth visiting?
Bandhavgarh National Park is one of the most fascinating destinations not just for wildlife enthusiasts but for travel lovers in general as well.
A place covered with wild sounds, fantastic resorts, ancient historic values. A place away from home, from hustle bustle of city life. A place with millions of twinkling stars forming a natural night roof above. A place loved by many.
Bandhavgarh National Park is considered to have the most number of tigers considering the overall area of the park. There are more than 60 tigers in the major zones of the forest.
Also, an interesting thing to note is that it has been stated that almost all the White Tigers across the world trace up their roots back towards Bandhavgarh National Park.
Some interesting places to visit in Bandhavgarh National Park
Bandhavgarh Hill
The highest point in Bandhavgarh National Park is called the Bandhavgarh Hill.
It stands on an altitude of about 807m above sea level. The hill has majestic view with Son & Johilla rivers flowing on the east side and Umrar river flowing on the west.
Bamboos and Sal trees cover the slope's plain parcel as the slope climbs it slants.
Uncommon types of insectivorous plant like Drocera Peltata is found close by Acorus Calamus or Buch in this slope. Bandhavgarh Slope is popular for its pleasant regular magnificence and the cool environment. The captivating perspective on slopes is noticeable from to the extent that 30 km.
Shesh-Saiya
The interest lies here in Bandhavgarh Public Park where the 65 ft sculpture of Lord Vishnu is the groundwork of Charanganga.
The predetermined plan of this resting sculpture of ruler Vishnu on the seven beat snake is the very much expressed rare design. The encompassing region is rich with natural product comportment trees. On celebrations like Diwali the beautification of the lights look selective around the icon of Vishnu.
The great mix of bait plant life and on a slope better commendations the sculpture of Master Vishnu which is known as the Shesh Shaiya of Bandhavgarh National Park. This spot is one of the focuses of attractions for the travelers overall and they have the honor to intently be inside that encompassing to have a brief look at it.
Hot Air Balloon Safari in Bandhavgarh
A hot air balloon safari is the perfect way to see the wildlife in Bandhavgarh National Park. A hot air balloon safari will give you an up-close and personal view of the wildlife in the park.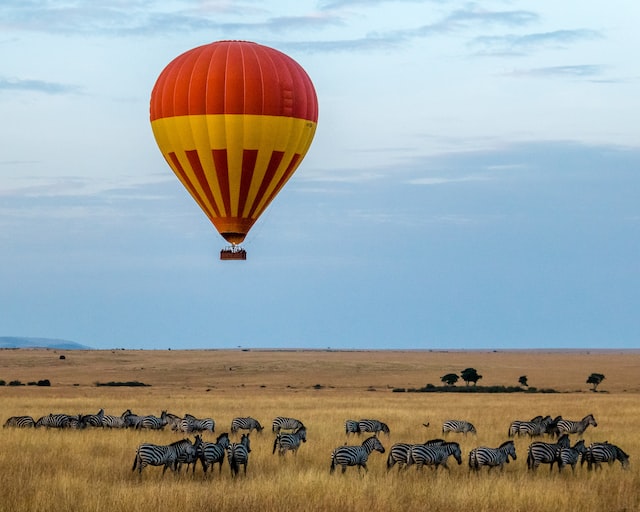 During your safari, you will float peacefully over the park in a hot air balloon. You will have a guide with you who will point out the animals and tell you about them. The safari will last for about an hour, and you will have the opportunity to take some amazing pictures.
A hot air balloon safari is a once in a lifetime experience. If you are visiting Bandhavgarh National Park, be sure to add this activity to your itinerary.
---
To wrap things up
In conclusion, Bandhavgarh National Park is a beautiful and unique place that is definitely worth visiting. The park also has a rich history, dating back to the time of the Ramayana.
Visitors can also enjoy the park's beautiful landscape and views of the nearby mountains. If you enjoyed this article, please share it with your friends and subscribe to our blog for more travel tips and information. Thanks for reading!
That's All Folks!