Diwali, the celebrative festival of lights is upon us once again. And this time we should go ahead and have a fun travel experience with our family. India is a country of celebration with so many festivals and events going on almost throughout the year.
This time, we have brought to you this perfect list of the most incredible places to visit in Diwali Holidays 2022! Experience the festival of lights with family at the best places that it's celebrated in with crowds, glowing faces, diyas and happiness.
Let's start!
---
Ayodhya
Ayodhya — the Kingdom of Lord Rama has to be the first destination on our list of the best places to visit in Diwali because that is the location where it all began.
Diwali was first celebrated when centuries ago, Lord Ram, his younger brother Lord Laxmana and Goddess Sita returned back home to their kingdom after 14 years of exile.
The locals decorated their homes with Diyas and mashaals (torches) and the entire streets of Ayodhya were decorated for their arrival.
After that it became a festival which will be celebrated till time infinite.
Ayodhya is decorated with thousands of diyas, every house is lit up with lights, candles and people visit the ghats and temples with full enthusiasm.
You can see the evening sky in Ayodhya light up with lights and laser shows this time which tends to create an atmosphere of the epic Ramayana.
Varanasi
Varanasi is one of the most popular places to celebrate the Hindu festival of lights. Every year, thousands of people flock to the city to see the colorful lights, fireworks, and celebrations. If you're planning on celebrating Diwali in Varanasi, here are a few things you should know.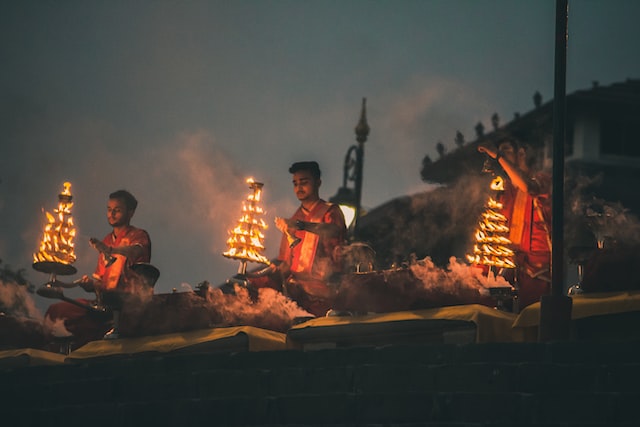 Kashi or Varanasi is a beautiful place – a place of historic values, a place blessed by Shiva himself – a place people turn to when they seek peace. And Diwali is a festival celebrated with a high standard of enthusiasm, awe and love.
Diwali is a five-day festival, and the celebrations in Varanasi usually start a few days before the actual holiday.
On the day of Diwali, there will be a grand parade that goes through the streets of the city. You'll see people dressed in their finery, carrying candles and lanterns. The parade usually ends at the Ganga river, where people light candles and set them afloat.
Being in Varanasi during your Diwali Holidays will be the best choice you make since the entire city is decorated with lights, diyas and mashaals – especially near the infamous ghats of the city.
Udaipur (Light Festival)
If you ever have the chance to visit Udaipur, the white city of India during Diwali, you will not be disappointed. The city comes alive with color and light, and there is a feeling of joy in the air. It is an experience that you will never forget.
Udaipur is a marvelous city all colored in white with historic palaces, man-made lakes, small hills and so much to do, see and enjoy.
Diwali lights up the entire city more so than it does the people all 'round the year. Udaipur showcases it's celebrations of this auspicious occasion in the form of a festival or carnival called Udaipur Lantern Festival.
Thousands of tourists plan their vacations to the City in White during Diwali to participate in the Lantern Festival. The historic structures are all decorated with twinkling lights and pretty dresses, music, dance and a thousand happy faces.
You get to see and experience musical performances by famous bands and DJs. The visitors dance their worries off and burn all the darkness inside and around them as they light the floating lanterns and fly them away into the sky. Up, up and Away!
During the festival, thousands of lanterns are lit and floated down the lake in front of the Taj Mahal Palace hotel. The festival is a popular tourist attraction and a great way to see the city's famous landmarks lit up in a unique way.
BTW – You can read about the Myths and Stories of Deepavali here and know more about why we celebrate this festival with so much enthusiasm throughout India.
Jaipur
Another most popular among the places to visit in Diwali Holidays is none other than Jaipur – the Pink City.
Jaipur is filled with color and light during Diwali, and the city comes alive with celebrations. From traditional Diwali markets to huge fireworks displays, there is something for everyone to enjoy during this festive time.
If you're looking to experience Diwali in all its glory, Jaipur is the place to be. From the vibrant markets to the beautiful decorations, Jaipur is truly a city of light during this special time of year.
Earthen lamps, candles, lightings, sweets all over town, and a fascinating weather – this all sums up the vibe of Jaipur during the festival of Diwali and the 4 days holidays that it brings along.
Kolkata
Kolkata, with its rich culture and history, is the perfect place to celebrate Diwali.
During Diwali, the streets of Kolkata come alive with lights, colors, and decorations. People from all over the city come together to celebrate the festival with food, music, and dance. And of course, there are plenty of fireworks to enjoy.
Kolkata is a particularly festive place to celebrate Diwali. The city is decked out in lights and there are many events and celebrations to enjoy. If you're looking for a festive and fun place to celebrate Diwali, Kolkata is the perfect place to be.
While North Indian states observe Diwali by adoring Goddess Lakshmi and Lord Kuber, individuals in West Bengal commend the day by revering Goddess Kali on the night of Diwali, consequently called Kali Puja in the state.
Brilliantly decorated idols of the fearsome Goddess Kali are additionally placed on shows across the city for people to see. While the Goddess Kali, for many individuals is considered to be a darker power and fearsome deity, however actually, she is adored for her capacity to obliterate the ego and vanish your deceptions that go with it.
Pushkar (Haveli Diwali)
The last but never the least destination among our places to visit in Diwali Holidays' list stands to be this marvelous city called Pushkar. Pushkar organizes an infamous Camel Fair during the festive season wherein people from different places come along to celebrate, have fun and experience Pushkar.
The Pushkar Fair is said to be one of the largest Camel Fairs in India.
Other than the fair, other essentials of Diwali are also included in the city. The city is decorated with different and colorful lights, flowers, candles, etc. The city bazaars are all decorated, Havelis are infamous during this time of the year too due to the vibe, decor and experience they provide the visitors.
There are many Haveli resorts in Pushkar where you can visit or take a room in for a stay during Diwali and experience the royal Diwali celebrations.
---
Conclusion
There you have it. With the Diwali holidays already started, you now have TravelSole's top 5 best places to visit in Diwali Holidays. Travelling to places – especially to experience a festival in – always ends up to be much more memorable, fun and just fantastic.
Now that you have the answer to "Where can I go to celebrate Diwali this year?" – what are you waiting for? Go select a place near to you, pack your bags, and go!
But hey, don't forget to share this blog with your loved ones.
That's All Folks!
"𝐓𝐡𝐞𝐫𝐞 𝐢𝐬 𝐚𝐥𝐰𝐚𝐲𝐬 𝐥𝐢𝐠𝐡𝐭. 𝐈𝐟 𝐨𝐧𝐥𝐲
𝐰𝐞 𝐚𝐫𝐞 𝐛𝐫𝐚𝐯𝐞 𝐞𝐧𝐨𝐮𝐠𝐡 𝐭𝐨 𝐬𝐞𝐞 𝐢𝐭. 𝐈𝐟 𝐨𝐧𝐥𝐲, 𝐰𝐞 𝐚𝐫𝐞
𝐛𝐫𝐚𝐯𝐞 𝐞𝐧𝐨𝐮𝐠𝐡 𝐭𝐨 𝐁𝐄 𝐢𝐭."
A very Happy Diwali to everyone reading this!