Cappadocia is a truly magical place. The landscape is otherworldly, with its sweeping hills, jagged mountains, and fairy-tale chimneys. And what better way to take in all this natural beauty than by floating gently above in a hot air balloon in Cappadocia?
Riding in a hot air balloon is an unforgettable experience. You'll feel like you're floating on a cloud as you take in the stunning views of Cappadocia. The gentle breeze will be a welcome reprieve from the heat of the day, and the peace and quiet will give you a chance to truly appreciate the beauty of this special place.
What is so interesting about Cappadocia?
Cappadocia is an interesting place to explore. With stunning landscapes, pointy hills, incredibly dream-like scenes and so much to see, do and experience – it automatically made it's way into becoming one of the places that one must visit at least once in life.
But what makes this place in Turkey – so incredibly famous? Well, the obvious answer is the Hot Air Balloon Rides! But there is much more to this dreamland than the rides.
Best Things to Do in Cappadocia (except the obvious)
Red & Rose Valley Hike
Red & Rose Valley is said to be Cappadocia's most wonderful natural wonder and people have already flooded Instagram with photos from around here!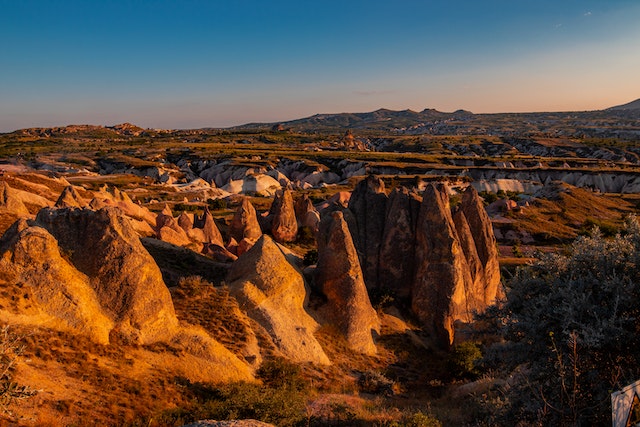 You will see surreal formations of the rocks, red-pinkish colors all over the place around the hills as you hike and find some ancient churches made out of caves.
The entire places is blessed with natural beauty and is a fantastic place for adventures, photography, romance getaway opportunity and so much more!
The red & pink colors often seem to vary when the sun moves around from day towards the evening sky – and makes for an experience like no place else can give.
Getting to Red Valley – Getting to Red Valley is easy as it is situated just at the outskirts of a town called Gerome (approx. 57 kilometers from Cappadocia). You can take a cab, rent a car or a two-wheeler and reach the destination within 2 hours.
Activities in Red Valley – Horse Back Riding, Trekking, Quad Biking & Sunset/Rise Trek
Love Valley Hike
Love Valley is one of the most outstanding valleys in not only Cappadocia but across the world as well. You can find the incredible and ancient fairy-chimneys over here along with a beautiful landscape and hiking opportunities as well.
There were many volcanic eruptions during the ancient times around the place now known as Turkey. As a result of the eruptions that lasted for maybe a millennia – resulted in forming the weird-looking towers that people call fairy chimneys now.
People also love to camp around the Valley of Love as it gets really fascinating around night times. People believe that real fairies do come out sometimes off of these towers or chimneys with their bags of pixie dust (maybe) and fulfill your dreams!
Getting to Love Valley – A local bus from Gerome takes you to the place from where the valley starts. You need to get off just before Uchisar. It is at a distance of approximately 79 kilometers from Cappadocia.
Activities in Love Valley – ATV Rides, 4×4 Off Road Safari, Photo-Ops
Visiting Uchisar Castle
Uchisar Castle is stated to be the highest point in the entirety of Cappadocia and is a stunning castle situated not too far away from central Cappadocia.
Visiting Uchisar Castle is one among the top things to do except riding a Hot Air Balloon in Cappadocia. The castle looks like a small kingdom made out of small mountains and is surrounded by stunning beauty from all over.
You will find hollow rooms, windows carved out from the rocks and experience a sort of world that was a couple thousands of years ago.
Although it is a hard climb to the top – but once you conquer that – you will be introduced to a breathtaking view of the surrounding which is a fascinating dream sequence of sorts.
Getting to Uchisar Castle – Bus from Gerome to Uchisar is the best and cheapest option to get to the Uchisar Castle. Other medium can be a cab, rented vehicle, etc.
Activities in Uchisar Castle – Trekking, Castle Exploration
---
How to reach Cappadocia?
Reaching Cappadocia is a no biggie since it is well connected to Istanbul, Turkey's Capital – which is connected to all the major airports in the world.
The best airports to fly to near Cappadocia- Istanbul International Airport, Kayseri Airport and the Nevsehir Airport
Distance from famous places around Turkey to Cappadocia – Istanbul: 567km | Antalya: 575km | Ankara: 331km
As per Rome2Rio – the cheapest way to reach Cappadocia from India is: to fly from New Delhi to Nevsehir and then take a bus/cab to Cappadocia (12 km distance).
The flight takes approximately 14 hours to reach and costs a little above INR 28,000 per person.\
What is the best time to visit Cappadocia? July & August brings out the very best out of Cappadocia. The weather remains cool and clear and the hiking trails are all easily accessible.
---
Cappadocia hot air balloon experience
Cappadocia has too many wonderous natural formations and places which make it a unique place in the world but what makes it a bucketlist-worthy destination – is none other than the Hot Air Balloon in Cappadocia experience!
Cappadocia is one among the world's best places for Hot Air Balloon Rides!
Although the hikes and trekking trails are all astonishing when it comes to exploring the place on your own but no other deed can come closer to an experience of the weird and exciting landscape of Cappadocia and it's different kinds of rock formations, colors and fairy chimneys.
One of the most exciting thing that makes hot air balloon in Cappadocia a fantastic experience is that due to lack of wildlife in the regions, the hot air balloon gets freedom to come down and let you experience the scenic views like never before and like no place else!
Top Things to Remember before heading to Hot Air Balloon in Cappadocia –
Hot air ballooning is a must-do activity when visiting Cappadocia. There is something truly magical about floating above the landscape of this unique region. The experience is unlike any other and is sure to be a highlight of your trip.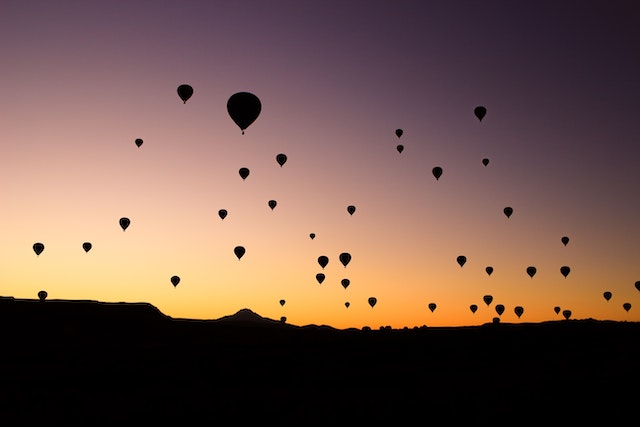 If you are interested in hot air ballooning, there are a few things you should know –
The best time to go is in the early morning when the winds are calm.
You will need to book a tour in advance as spots fill up quickly.
Be sure to dress warmly as it can get chilly up in the air.
The entire process of getting to the site, experiencing the balloon ride and getting back to point A takes about 3 to 4 hours.
Breakfast and Drinks are provided by the Balloon Company you hired the package from. (Both before and after flight)
It is an early morning activity which means you have a full day to explore and do other wonderful stuff around town as well.
How Much Does hot air balloon cost in Cappadocia?
A hot air balloon ride in Cappadocia costs around $140 to $250 depending on your package. In Indian Rupees it would be approximately around the range of INR 12k to 20k per person.
---
Is hot air balloon in Cappadocia worth it?
The unique landscape of Cappadocia is a sight to behold, and there is no better way to experience it than by hot air ballooning opportunities.
Floating above the hills and valleys, you'll get a bird's eye view of the area that is simply unmatched. And with the help of a knowledgeable guide, you'll be able to learn all about the history and culture of Cappadocia from up high.
Riding a hot air balloon in Cappadocia is an experience unlike any other. This ancient region of Turkey is home to some of the most breathtaking landscapes in the world, and a hot air balloon ride is the best way to see it all.
The price of a hot air balloon ride can vary depending on the company you book with, but it is generally around $200 per person. While this may seem like a lot of money, it is worth it for the once-in-a-lifetime experience. Not to mention, the money goes towards supporting the local economy.
So, is a hot air balloon ride in Cappadocia worth it? We say yes!
---
Conclusion
A hot air balloon ride in Cappadocia is an experience you will never forget. The stunning landscape, the feeling of being surrounded by nature, and the sense of tranquility are just some of the reasons why you must put this on your bucket list. So what are you waiting for? Follow, comment and share this article to spread the word.
That's All Folks!