We are going to talk about one of the most popular hobbies in the world, scuba diving. It is a sport that requires a lot of training and experience. The most important part of this sport is to be able to see what's happening underwater.
People with unclear eye sight could have problems while going underwater. And this blog post is all about if we can experience scuba diving if we have glasses on, whether there are any alternatives for that and more information about the same.
Read along to learn if you can do scuba diving with glasses on and other alternatives for the same.
---
Scuba Diving in Goa
My first ever experience of scuba diving happened recently on my trip to Goa on the start of this month and it was a blissful experience to say the least.
Goa is one of the most amazing places in India to try your first ever scuba diving experience and it is much easier to access and book from mostly all major places all over the state.
We booked a water sports package which included 6 water sports including scuba diving and parasailing along with breakfast, lunch boat rides and more. It cost us approximately INR1800/- per person, you may get it slightly on the lower or higher end.
I would however recommend you to book a proper scuba diving package (costing about INR3500 per person) so you can actually have a proper experience with proper training, deep dive and videography.
What we got with the water sports deal was a 1 minute long experience while not actually going any deeper into the sea at Grand Island. The experience was good nonetheless, but I believe if you really want to do scuba – you shall do just that!
You may try out this deal (not sponsored). It is a well-reviewed and great deal when compared to other such packages which are on a higher level when it comes to the pricing. This one is just INR3500/- and takes you deep into the ocean to watch corals, look at the colorful sea creatures and maybe even, Find Nemo!
The moment I got inside the sea, it felt different, unique, something extraordinary and like a world we know nothing about.
But before having done the underwater adventure and catch few glimpses of the world beneath the land, I was really scared – not from the thought of doing it – but from the thought of not getting to do it. Why? Due to the glasses!
I wear spectacles since school to make sense of this blurry world we live in and I found out all about scuba diving and how to do it if you wear glasses.
---
Can we scuba dive with glasses?
The short answer is NO. But there is a catch.
Basically one of the most important thingy in scuba diving is the scuba mask which covers your nose and eyes with a plastic covering that seals at the back of your head.
And wearing glasses would make the plastic not fully seal itself over your face to stop the water from entering inside and drowning you. So glasses cannot be worn inside the water with the diving mask.
But that doesn't mean you can't experience the underwater world before getting that laser eye surgery done – the world isn't that cruel.
There are a few ways one can experience the underwater world even if you wear glasses –
Just the lenses, not the stand
As said earlier, eye glasses or spectacles would stop the diving mask to set itself over your face and that is basically because of the stands that sit over your ears.
So one way to wear your glasses inside the diving mask is to remove those stands from each side and just let the lenses be. You may do this early on and get your diving instructor to attach the lenses over the eye of the mask.
Mostly the see-through point or the glass part of the mask is wide enough to let your specs' lenses in, but I'd recommend having the normal, thin and round lenses for the specs – they are much easier to attach.
Having a scuba mask is also a con since you have your own thing and can try out diving in a swimming pool and stuff like that to be more comfortable if its gonna be your first try at the world beneath.
Also, they are not very costly. For example, you may try this one (affiliate link) which is one of the most positively reviewed and quite affordable scuba mask available online.
Prescription Lenses Scuba Mask
Also, you can get your own prescription scuba mask at home and attach a pair of prescribed glass lenses to those permanently by taping or something.
A prescription scuba mask is an awesome thing to happen for people with weak sight (like me) and well it is a great investment.
You can easily get yourself a prescription scuba diving mask at a nearby Decathlon.
You can check which lenses you want depending on the sight issue – nearsightedness or longsightedness. There are also many bifocal lens scuba masks available.
Wearing Lenses?
Some people might suggest you can do scuba diving or any other underwater sport if you wear lenses, and that might be true as well. But one thing to keep in mind when doing scuba diving with lenses is that you shall be very careful as if the lenses get wet, it would turn out to be an infection which would harm your eyes a lot.
Secondly, you need to show experts your lenses and see if they give it a green signal to go underwater with the sealed mask. Sometimes, due to the sealed mask, no air could enter or exit into the scuba mask and the pressure could result in causing irritation into your lenses which would affect your experience of the dive.
Next issue is when you put on or remove the scuba diving kit, you may lose a lens somewhere to be never found again. Which could be a major issue as well.
If you think these points can be tackled easily, go ahead and dive with your lenses. If not, find another way.
Experience Counts
When you take a scuba diving along with a water sports package (like we did in Goa) you get many water sports opportunities including a scuba diving experience.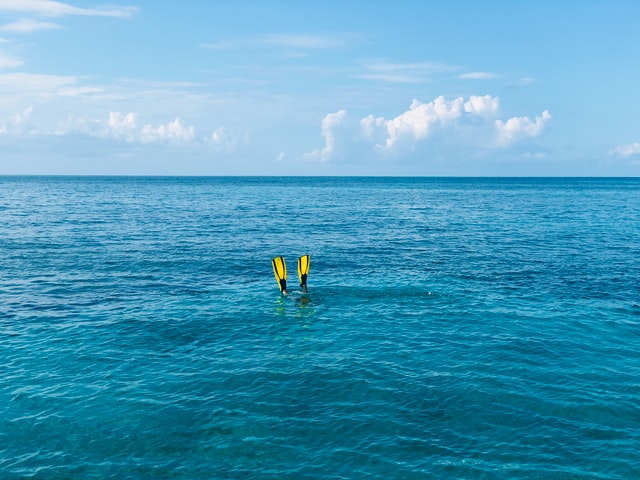 What happens in this experience is that it basically is a minute long experience where a kind-of reaction video is made of your experience and the divers attract the fishes to come right in front of your face.
It isn't much of a deep dive and swimming around the corals and stuff like that, but the experience is something worth it. You get to go underwater, see around, feel the fishes right in front of you.
Also, we learn in the scuba course that the water has some magical magnifying properties which makes things or creatures seem to be bigger and nearer than they really are.
Other than that, you can actually do a deep dive scuba experience, although you might get a blurry view of everything until it comes into your view-sight but the experience in itself could be a memorable one.
As they say, sometimes – the experience is what counts, right?
Conclusion
So the answer to the question "can we do scuba diving with glasses" is not as easy as being a yes or a no.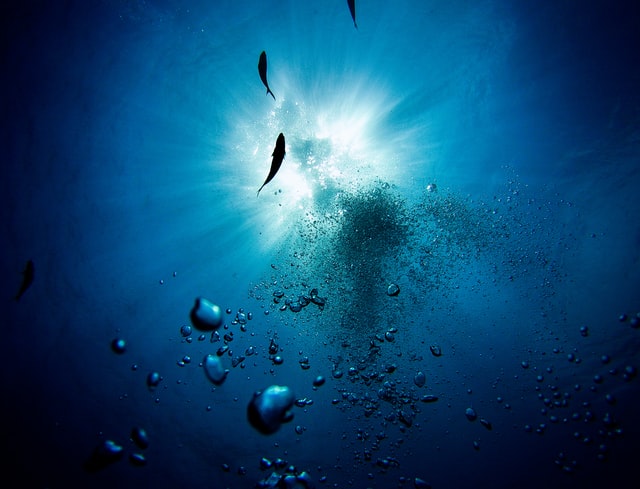 There are ways for you to experience the underwater even with weak eye sights. You may try out the given options or you may try out snorkeling. There is an article which describes the differences between snorkeling and scuba diving for you. Check it out for more info.
Do not forget to share the blog with your friends and family. You can also subscribe to the blog to get these posts and more content firsthand before anyone else. Comment down below if you liked the post.
That's All Folks!