Ever since I had come back from my first trip to Goa back in 2021 January, it had stuck somewhere along the depths of my mind that I had to visit this place once again!
That opportunity came about 15 months later when me and two college friends of mine decided to take this trip in the first week of May.
But the thing that worried us was the inevitable curse of a Goa plan – it always seems to get cancelled.
But we did not let that happen, we booked our transportation and hotels and said to ourselves whatsoever might happen, we will go to Goa this time!
And it happened, after waiting and counting down the days, the date of our journey finally came. And with packed bags, smiling faces and lots of excitement, we reached Goa.
Here is a 3 nights 4 days Goa itinerary for you!
This post is the ultimate Goa travel guide telling you all the best of the best ways to visit Goa and that too on a budget. We will cover all the necessary elements of a travel guide – from how to reach, where to stay, what to see, do, eat and where to relax and more.
Let's Go!
---
Goa Travel Guide – How to Reach
So the first thing that comes to mind when planning a trip to Goa or any place for that matter, is to find out ways to reach it.
Goa, just like most of the popular places all over India is well connected both with train routes as well as with flights. Choosing between the two depends on two factors – time and money.
If you have more time and less money, you may choose to go from a train. While, if you have more money and less time, you can opt for a direct flight to Goa.
Train – The Konkan Railway Route going through Goa towards Karnataka is said to be one of the most outstanding railway route in all of India. The Western Ghats, many river beds and 100s of tunnels make the route very interesting to travellers, enthusiasts and peace-seekers. A train from New Delhi to Madgao (Goa) would take approximately 30 hours to take you towards Goa.
Flight – The best and fastest way of transportation from anywhere to Goa is by a flight. It is costlier than a train journey, but also more comfortable, manageable and quick. You may get direct flights from Mumbai, Delhi, Chennai, etc.
You may try some travel hacks provided on a previous blog post to cut costs of a flight!
Private Vehicle – Post Covid, people started to travel more and more from their own personal vehicle as far and as much as they could. Domestic travel saw a high rise in travel stats during the pandemic years of late 2020 till now as well. Taking your private vehicle (a car or a bike) gives you extra comfort, ease and fun time with family and friends. The major cost point is to service the vehicle and the petrol.
---
Where to Stay in Goa
The next big question once you reach Goa is to figure out the best place to stay at, right? Here are the best locales to stay in North and South Goa –
Best Locales to Stay in North Goa
Baga – Baga is arguably the most popular and populous place in the entirety of Goa. Many people, while travelling, prefer to stay at a place where there are a huge chunk of travellers coming and going all day long. For such people, Baga can be the best place to stay at. Mostly preferred by friends group and sometimes the solo travellers as well.
Fun(?) Fact – Baga could get pretty nasty as the sun goes down!
Affordable stays in Baga – IORA Baga Beach, Resort Primo Bom Terra Verde, Hotel Baga Bay
Calangute – Calangute is the next popular beach area where most of the travellers and tourists prefer to stay at. Calangute is comparably much more preferred by families and couple travellers to stay at more than Baga. With so many eateries, the beach a few steps away and a breathable environment, Calangute could be among the best places to stay at in North Goa.
Affordable stays in Calangute – Blue Marine Resort, Casa De Joana, The Flora Residency
Candolim – Next best thing and a much more peaceful stay options in North Goa is the Candolim area. That is where we stayed during this trip. With the beach very few steps away and so many amazing eateries for veg as well as non veg lovers spread all over the streets, Candolim stands out to be more breathable and exciting as well.
Affordable stays in Candolim – Ruffles Beach Resort, Silver Sands Holiday Village, Goa Blossom Resort
*We stayed at the Goa Blossom Resort and it was a very comforting stay with humble professionals and friendly management. Also, the pool area was the most loved from our side since it was covered with large coconut trees from different sides. I would recommend it for an awesome, affordable stay with friends or family.
Best Locales to Stay in South Goa
Colva – One of the most popular beaches in all of Goa, Colva brings out the best touristy vibes straight from the moment you reach on the parking area of the beach. Filled with so many eateries, ice cream stalls and what not, staying in Colva means you will never be compromising on the food. Best for corporate outings, family trip, etc.
Affordable Stays in Colva – William's Beach Retreat, Star Beach Resort, Hotel Colva Kinara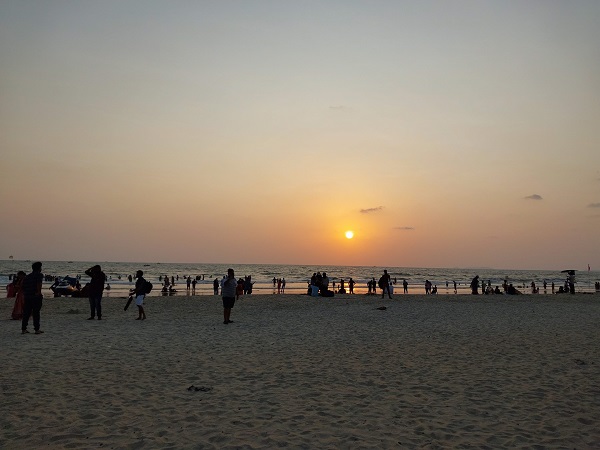 Palolem – Palolem Beach recently gained popularity and instantly became one of the most visited beaches in South Goa. Situated at the border area of Goa and Karnataka, the area around Palolem keeps you closer to the vibe of Goa and farther to the crowds. Stay options can be found in pretty affordable fee while providing best of the best comfort, scenic views and relaxation.
Affordable Stays in Palolem – Palolem Beach Resort, Roundcube Beach Bungalows, Hill Top Sea View
Bogmalo – Bogmalo is an incredible location for all types of travellers to stay at. Right from the corporate team members to families to friends to couples and even a solo fellow, Bogmalo opens its arms for everyone. Another plus point of staying here is that it is situated very close to the Dabolim Airport. You can experience the most incredible nature scenes and get authentic Goan village experience while living here.
Affordable Stays in Bogmalo – Mariaariose – Melody of the Sea, Le Petite, Hotel Z Square
---
How to Travel Within Goa
Now as we have figured out how to reach and where to stay in Goa, next thing that comes to mind is how to travel within Goa? And this Goa Travel Guide is here to help you with that as well!
Self Drive Car
Goa is famous for its routes, roads and the scenic views we get when going from one point to another. And the best way to experience those Goa vibes is to take a self drive car along for your days in Goa. Having a car means you can easily travel from any point to another without any hassle and it always makes for an incredible journey. Recommended for family members and friends group as well.
A self drive vehicle is quite affordable in all parts of Goa, with the cost ranging from as low as INR 1000 for a day. Which is quite affordable. Also, the price depends on the type of car you want – from regular to luxurious.
Scooty/Bike Hire
If you are a group of 3-4 friends, you may even hire scooty or bikes for an adventurous journey throughout Goa. You will see more rented scooters and bikes in most of Goa than four wheelers. And that is not even an over statement. I have been there twice, and have experienced the exact same thing.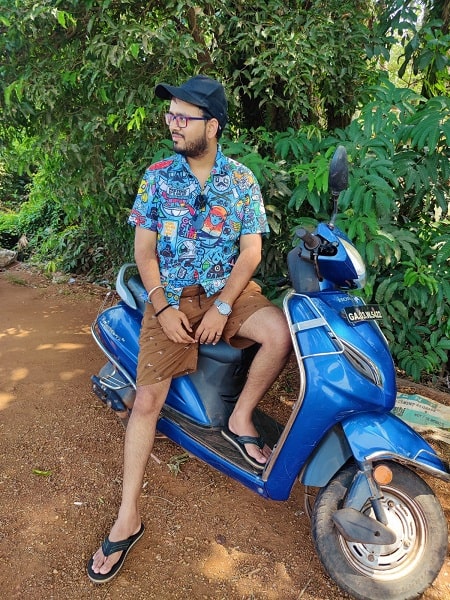 Scooty or Bike Rentals are very cheap in Goa, specially if you happen to go during the off season (summer, monsoon, etc.). You may easily grab a two-wheeler in INR 350-400 per day and roam around the city.
In my opinion, a two-wheeler is much more interesting to hire for travelling anywhere – it makes it easy for the city to open up to you.
Cabs
Another mode of transportation in and around Goa is by hiring a cab for sightseeing, etc. It will obviously cost you more than hiring a scooty or self driving car, but it has its own positives as well. Having a driver means you do not need to worry about things like – routes, parking or dents on the vehicle, etc.
The cabs for sightseeing in Goa starts from around INR 2500 and can go further to INR 4000, 5000. Which could end up possessing half of your budget.
So it depends what you would like to choose, although a self drive vehicle, be it a car or bike, could be much more reasonable.
---
Places to See in Goa
The Land of Beaches has plenty to offer with the pristine and unique beaches, incredible forts, nature hikes and hidden waterfalls. That is what makes the place unique and seem new every time you visit it.
Let's discuss the most amazing places to Visit in Goa Travel Guide on your trip with friends –
Aguada Fort
A well preserved 17th century fortress built by the Portuguese, the Aguada Fort still stands tall with mesmerizing views of the Arabian Sea. The most popular thing about the place is the large lighthouse which can also be seen while boating through the Arabian Sea in Goa.
Sinquerim Beach
One of the most fascinating beaches in Goa, this beach is a hub for water sports activities ranging from parasailing to dolphin tours, etc. This was the first ever beach we set our foot into on this trip to Goa and MAMAMIA was it beautiful!
Calangute Beach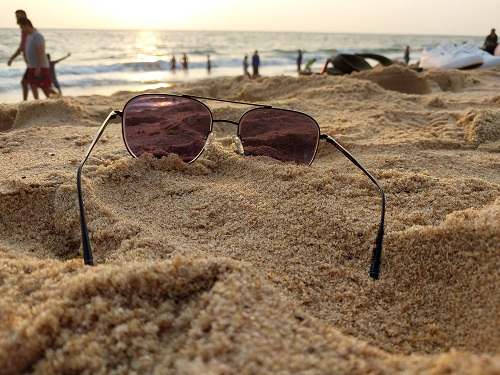 The second most popular beach in North Goa is the Calangute Beach – which is basically a part of Baga. Filled with incredible beach shacks and party clubs on the beach, the Calangute Beach makes it way more interesting for everyone to party at or just to chill with the loud music without the crowd of Baga.
Baga Beach
Being the most popular and populous beach (as I said) in whole of Goa, Baga cannot be left ignored. Even though you know it is crowded with tourists and travellers alike, you cannot skip the beach whatsoever. If not anything else, the Tito's Lane is what attracts you. The large chinatown-esque market leading you towards the beach is an outstanding street filled with eateries, cafes, restaurants with live music and what not.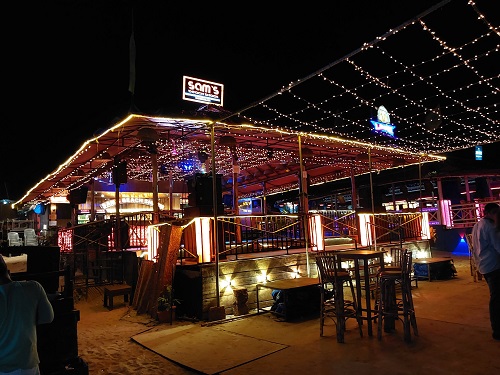 One thing to keep in mind is that as the sun goes down, Baga could turn out to be a nasty place filled with dalals (or pimps) on scooters chasing you and whispering in your ears while offering you a "very good night" with prostitutes. Even if you turn them down first and foremost, they would still chase you and try to convince you. Just ignore them, go to your vehicle and move away.
I saw a couple of youtube videos about it and researched a bit to find out that it's a big SCAM! Once you fall in their trap, they would take you to a night club and you won't even know where all your money went! Do not fall into this trap! (even if you're into that stuff – I'm not judging).
Palolem Beach
Once a hidden gem, Palolem has been slowly turning into a very popular beach in South Goa. People from all over the country have noticed it and want to come here for "peace" which isn't available over there anymore! Although still, Palolem is a beautiful beach and is worthy of your visit.
You may see some shacks around it and many boats kept over the sand, resting. Many water sports can also be enjoyed over here.
Butterfly Beach
One of the most incredible experiences of our trip to Goa was reaching Butterfly Beach. Butterfly beach was one of the most amazing and memorable experience for all of us and it felt like a dream come true once we visited there. We had our beach fun over here and clicked pictures over the large rock formations. Butterfly beach is highly recommended to one and all.
The Interesting Route Towards Butterfly Beach
We had all heard about it and wanted to go see and experience. But it wasn't all cotton candy and easy to go.
The route towards butterfly beach takes you through a forest area known as the "Leopard Valley" – and as interesting as it may sound, the route is full on off road adventure with bounces and rocks and stuff.
Then, when you reach the parking area for four-wheelers, you see a small café, and that is the only place you see with water bottles, beer and food for a while until you come back from the adventure further.
(Little tip – Do not forget to buy plenty water bottles from the place because the next step is the nature hike and you do not get any water throughout the hike and not even on the beach.)
The nature hike to reach Butterfly is tiring (especially when you go during summer) but also quite interesting. We heard birds chirping, saw monkeys jumping from high trees and owls screaming. The adventure came when the owls started to scream.
Since there was no network, we couldn't figure out why that is and only believed that this might be some "warning call". It was scary, but we moved on and finally reached – the most beautiful, magnificent and incredible beach in South Goa.
Colva Beach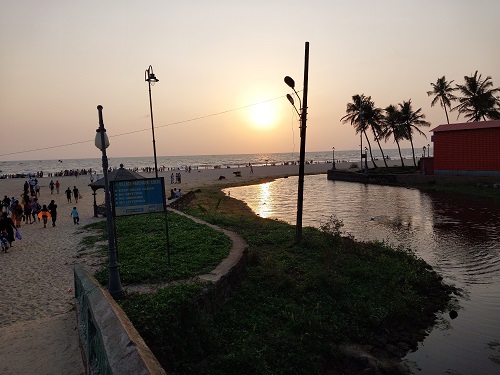 Another famous beach of South Goa, Colva was really fascinating to see and experience as the evening arrived and the winds turned into cold breezes. It was really peaceful experience as the sun set happened over our day in Goa. Colva also offers plenty of water activities like boating, parasailing, para gliding, jet ski and so much more.
Chapora Fort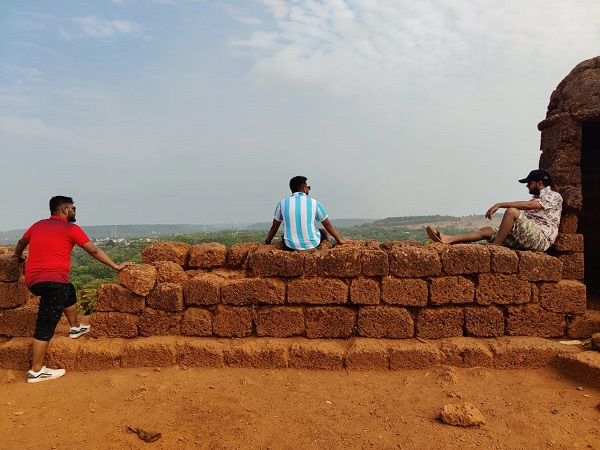 Dil Chahta Hai was a movie that made Goa more than popular among the domestic group of travellers. And the Chapora Fort is the place where the trio from the movie gave that immense pose where they sit over a edges of the rock fort while looking to the sea. A trip to Goa is not complete without taking that pic on the Dil Chahta Hai Fort – especially if you come here with your buddies!
Want to know what are the top 10 best beaches in Goa? Click the link to find out now!
---
What & Where to Eat in Goa
Going to a place and exploring it means you shall also be indulging and trying out the special delicacies it has to offer. These are the best and authentic street food of Goa for a tasty adventure –
Croquettes and Samosas
A croquette is like a dumpling filled with meat or veggies served as a popular non-veg snack in Goa. The Goan Samosas are also unique as it is the first time I heard about Non-Veg Samosas.
Choris Pav
Choris or the Goan Sausages wrapped around under pav makes the Goan people's favorite breakfast item. It is a very famous delicacy in Goa and is a must-try. Choris is made by mixing the pork meat with spices and onions.
Gadbad Ice Cream
Gadbad means trouble in Hindi, but once you try the famous ice creams of this stall in Goa, all your trouble and worries would vanish. They serve a combo of different unique ice creams added into one and topped with jelly and sweet noodles (falooda).
Missal Pav
Missal Pav is a famous street food in most of Maharashtra, and the Goan one is also pretty famous for locals and tourists during the sightseeing walk. It is spicy and filled with nutrition which could keep you going through the day!
Goa is mostly famous for non vegetarian food – from authentic Goan delicacies to sea food and general chicken, mutton, etc. But that doesn't mean that a vegetarian cannot enjoy food here. There are plenty of incredible and famous Pure Veg restaurants throughout the state which are very affordable and the taste is mystical.
---
Best Time to Visit Goa
When asked to a local about the best time to visit Goa or about the time when Goa sees a large number of travellers they have a pretty straightforward answer – and that is "All Year Long!"
We know that Goa's major tourist season is said to be during the months from October to December due to the Goa Carnival taking place during that time and also for the winters.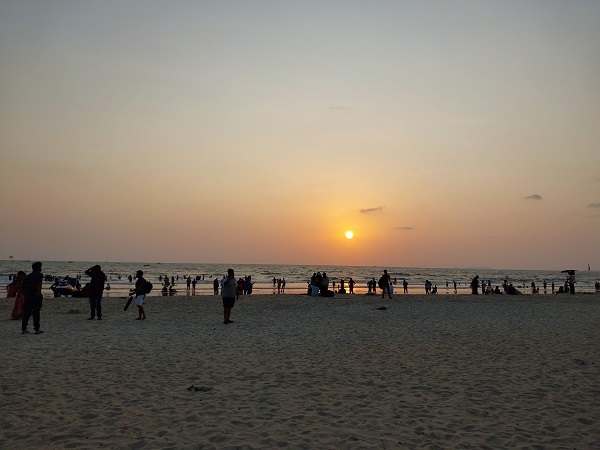 But Goa remains to be incredible, awe-inspiring and beautiful throughout the year – be it summers, winters, or even monsoon.
It totally depends on the purpose of your visit.
If you want to tackle the winter of the north and want to go to a place for warmth and fun – you may visit here at the "so-called peak season" i.e. October to January. Otherwise, if you want to see and experience the great humongous Dudhsagar Waterfalls in all its glory – you may come here during the monsoons.
Meanwhile, if you just happen to visit the pristine beaches, enjoy some water sport activities and experience Goa – you can come in summers.
When we decided to go to Goa during the first week of May, everyone we knew here in the North India was like "Are you sure?" "It must be hot!" "Ready for the heat" etc. etc. but we decided to go and experience whatsoever Goa and it's weather has for us in store. And to our luck, the weather remained warm but bearable.
And when you are on a trip with buddies, you do not care much about the heat.
---
Conclusion
Goa has never, in the decades of travel experiences, disappointed anyone. Be it travelers of any age or gender, a group of friends, a family or a solo wanderer, Goa has something for everyone.
Even if you happen to travel to Goa more than once like I did, it still surprises you in the most exciting ways. There's the warmth of the sand, the cold breeze of the ocean, the loud beats of the music, the beautiful chaos and amidst all of that – there's peace.
That's All Folks!