Last week I published a Goa Travel Guide telling people things they should know about the place before visiting. There I mentioned that this was my second experience of Goa and this time I tried and explored the tourist paradise like a writer – deeply.
This 4 Day Goa Itinerary would definitely help you plan your trip and experience each day in Goa at the fullest!
This is the itinerary for our own trip to the "Pearl of the Orient" which lasted for 4 awesome days full of fun, adventures, memories and water bottles!
First things First: Are 4 days sufficient for Goa?
When you ask a travel operator to provide you with the best Goa package, they would most probably provide you a 3 nights 4 days package full of sightseeing of North and Central Goa, along with stays and transport options.
The answer to the question of 4 day Goa itinerary being sufficient is that it depends. It depends on the way you want to travel Goa – as a tourist, you can complete a basic Goa trip in 2 to 3 days, but as a traveller – you need at least 4 to 5 days (even more) to let the city open up to you in the best way possible.
Also, 4 days are recommended for a trip to the Tourist Paradise in India because it is much better for working professionals as they could take a long weekend and enjoy the sound of waves, the ocean, people and beer bottles clinking.
The itinerary here will give you the best way to explore and experience Goa in the most unique ways possible!
---
Day One: North Goa Beaches & Forts
On your first day to the incredible city, we give you what you heard and read and saw about Goa before visiting – the Goa you know about! The Northern Goa.
After checking in to your stay and some rest, you are now ready to explore the infamous beaches and forts of North Goa.
Aguada Fort
Begin your exploration from the 400+ years old Aguada Fort which houses a very famous white lighthouse and incredible Arabian Sea scenes and landscapes.
Situated atop the Mandovi River towards the south of Candolim, this fort was built by the Portuguese as a guard from the Dutch soldiers trying to invade. A North Goa trip cannot be complete without visiting this Fort and experiencing the mesmerizing views and history of it.
There is an entry fee of INR25 per person and that's all. You can enjoy with family, friends, your partner or even alone as you stand looking towards the endless sea.
We began our own Goa exploration with this outstanding epitome of Portuguese architecture, and you shall too.
Time to Explore – 1 to 1.5 hour
Sinquerim Beach
One of the most beautiful beaches in North Goa, the Sinquerim Beach is located on the way when you move from Aguada towards Candolim.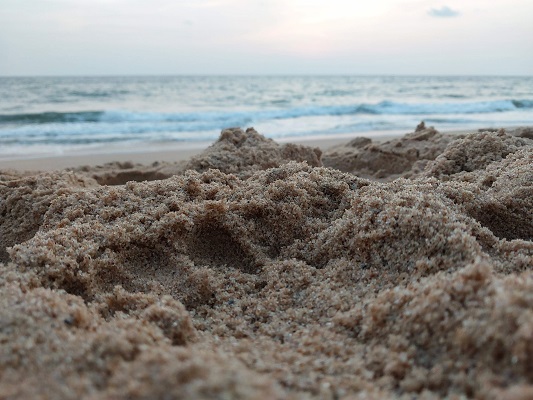 This was our first experience of a Goa beach on this trip – the first beach we went to.
Goa has more than 35 beaches all over the state and all of them are unique in their own way. I mean you cannot think that hey, we have been to a beach now let's skip them – that would be a huge mistake! Goa is all about its beaches and ocean vibes.
As for this particular beach, it does not have that relaxing vibe to it due to the number of daily visitors – both locals and explorers. Although, you will see many people enjoying and walking all over the place and many opportunities for some water sport activities as well.
Time to Explore – 30 to 45 minutes
Candolim Beach
Situated at a short distance of about 3 kilometers from Sinquerim, Candolim Beach is one of the most famous beaches in Goa.
Candolim is one of the longest beaches in all of Goa stretching from Chapora Beach to Aguada Fort.
Along with being the longest, Candolim is also world wide famous to be the hosting beach for India's biggest electronic music festival, The Sunburn (28th-30th December).
When compared to Calangute and Baga (the most famous North Goa beaches), this one stands to be quite quiet and gives out more relaxing vibe even at night hours.
Our stay (Goa Blossom Resort) was in Candolim and we visited here post-dinner and the vibe was magical, peaceful and really relaxing.
Time to Explore – 30 to 45 minutes
Calangute or Baga Beach
Calangute and Baga are the most famous, most fun and also sometimes overly crowded beaches of Goa. Being most famous means that even if you are not into the crowded places, you still can't miss these. I clubbed them both together since the vibe of the two beaches are quite the same – the party vibes!
If you want to experience the best nightlife in Goa, these are the beaches you need to visit. Spend some time here and you may even come back later in the night to dance your hearts out!
Filled with numerous incredible shacks, cafes and water sports options, you will definitely be having a marvelous time on these beaches.
Time to Explore – maybe 2 to 3 hours of dancing and partying (during the night)
---
Day Two: Old Goa Churches & the South Goa Beaches
The second step in our 4 day goa itinerary, starts early in the morning. Wake up, get ready, have your breakfast and get se and go for a day full of history, stories and calm and peaceful beaches.
Since, the first day was about the places you know about, the second day is about the other parts of Goa – the age old churches and peaceful, less crowded beach vibes.
As for the major objective of day 2 – we decided to head towards and explore the more peaceful beaches in Goa – Palolem and Butterfly Beach. Along the way, you may also visit the famous churches and cathedrals of Old Goa. Let's begin there.
St. Basilica of Bom Jesus
Old Goa is filled with immense amounts of history and religious architectures in the form of churches, cathedrals, museums, etc. and one of the most famous ones of those gems is the St. Basilica of Bom Jesus.
Constructed during the Portuguese era, this architecture is one of the most fascinating examples of the baroque form of architecture.
Built in 1605 AD, the Basilica hosts the tomb and mummified remains of St Francis Xavier, who was a Roman Catholic missionary and the founder of the Society of Jesus.
Time to Explore – 1 hour
Catholic Church of St. Francis of Assisi
Just in front of the Bom Jesus Basilica, stands tall a beautiful architectural gem in the shape of a large Catholic Church and a Museum of Archaeological History of Goa.
The uniqueness of the church is not merely about the religious aspect attached to it, but also for the incredible architecture made with a combination of blending the Portuguese-Manueline style of design with each other to form it all.
The Museum contains many important portraits and artefacts of the rich history of Goa during the Portuguese rule over the state.
Time to Explore – 1 hour
You may read more about the old goa churches and their stories on a previous blog related to the things to do in Goa for first time travellers.
Palolem Beach – No more a hidden gem!
Palolem Beach was not that popular a couple of years ago and was found to be much peaceful, relaxing and quiet beach in all of Goa. Although the Southern parts of Goa are still much calmer as compared to the Northern ones, but as the hidden gem got found, people did not waste any time to make it popular and as a result, it takes the Paradise vibe of the beach away.
But that does not mean that it is not worth your visit. I mean we travelled almost 78 kilometers from Candolim to Palolem giving our precious 2.5 hours into the trip just to reach this place. So it is still one of the most amazing things you would ever see in Goa – even though it is crowded now – but the heavenly vibe is still there.
Palolem Beach is a spectacular beach filled with boats and beautiful shacks and wonderous clean ocean waters. It is worth every penny and worth every minute it took us to reach.
But the major reason we visited the Southernmost parts of Goa was not due to this beach, it was for the other one – The Butterfly Beach.
Time to Explore – 1 hour
Butterfly Beach – Incredible Journey & Enchanting Experience
Butterfly Beach was our major objective and endgame for the day we decided to travel 3 hours almost from North to South Goa.
Another hidden paradise found recently by explorers, the Butterfly Beach is beautiful, outstanding and as I said "enchanting" point to visit and just breathe in at Goa.
But what makes it unique beside the wonderful landscape views of the beach filled from corners with large rocks and trees and clear waters, was the journey towards.
You can take a boat ride from Palolem to reach Butterfly Beach, but what most travellers would recommend you do and what we did too – was to travel by road towards this place. That was the best part of our day – also very tiring in Goa's heat – but oh-so fascinating as well.
THERE WAS A HIKE! And that too through the midst of a wild forest. That was the best part of it all. It was almost like at least 3 to 4 kilometers long nature's walk to reach the Butterfly Beach at the end of it. And it was marvelous.
Time to Explore – 2 hours
Colva Beach
The last leg of the day we visited when returning back from South Goa to North Goa was the Colva Beach. Said to be one of the coolest and attractive beaches in all of Goa, the Colva Beach really was our relaxing spot for the day. Especially after the adventurous walk among the forest in Butterfly.
There is also a white-washed Our Lady of the Mercy Church near the beach entrance which people love to visit at Colva.
Colva is arguably called to be the safest beach and the most family friendly beaches located towards Central Goa. And it is one of the most popular and populous beaches of South Goa.
You may also have incredible water sports fun here if need be. (But we saved that for the next day of our trip).
Time to Explore – 30 minutes.
---
Day Three: A Day Full Of Water Sports (Scuba Diving, Parasailing, Jet Ski, etc.)
The day three of our 4 day goa itinerary was dedicated completely to Water Sports. We booked a package for it all which costed about INR1700 per person and it included six different water sport activities – Scuba Diving, Parasailing, Jet Ski, Banana Boat Ride and Bumper Boat Ride.
Our day of adventure began when we got a call that the bus is arriving to get us from our hotel stay to the spot where we meet our group.
They take you to a designated spot where all the other members of the day gather and hop over the boat. The boat then takes you to the Grand Island after a 45 minute ride. Breakfast and Lunch along with drinks is included in mostly all water sports packages no matter where you get that from.
As we reached the Grand Island, the adventures began.
Scuba Diving
The first water sports activity that we were the most excited for was Scuba Diving. Diving has always fascinated me since so many years of watching travel shows and documentaries about it. And when the movie ZNMD (Zindagi Na Milegi Dobara) came out, my want and desire to experience Scuba Diving became more intense.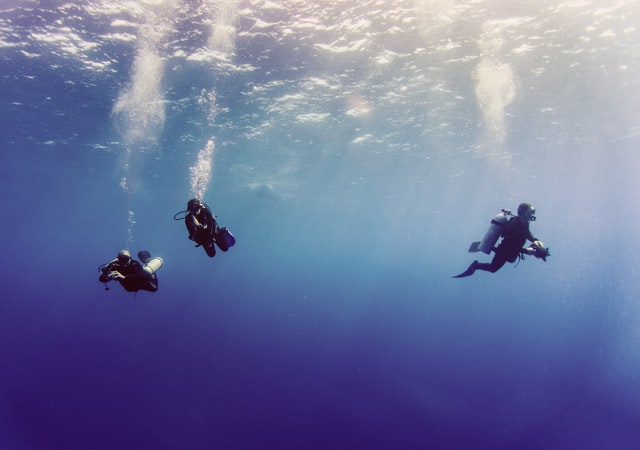 And finally, the day and the moment came when I experienced it for the first time. And it was really amazing – going underwater, the fishes, the slow breaths – everything felt not quite normal and yet so much more extraordinary.
Just the first moment of entering the sea, and seeing underwater was incredible in itself and then came the colorful fishes. Right in front of my face. And quite frankly at first it felt like CGI! Because it was so unreal! You know. To experience such a thing right in front of your eyes.
Hands down the best experience of the day and of the entire Goa trip for me would be this one. As I came back, I wanted more time – one more dip inside. For a second there as I reminisced the minute that felt like so much and yet so little – I felt numb, blank, and suddenly so at peace.
Parasailing
The next adventure for the day was the Parasailing experience. Our boat had to wait a little for the next water sport, but when it happened it felt otherworldly as well.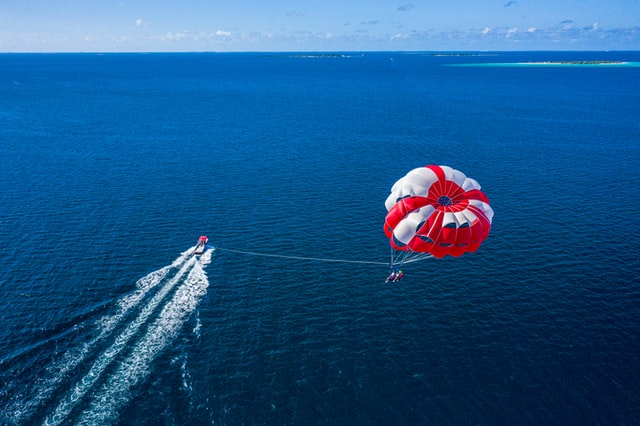 As they tied me with those ropes and all of a sudden left me – to fly – high above towards the sky. The entire world seemed to have slowed down. Magically.
They even made us dip down onto the sea which was so amazing I can't put words to define that.
And the view of the surroundings was incredible – we got ourselves a fantastic view from a bird's angle and oh-my-god it felt freaking amazing!
Jet Ski
So I need to tell you that Jet Ski is not something like shown into the movies. I mean they do not give you the motor to ride alone – not at any cost. And well it is kind of required as well. Otherwise the sea might swallow you and spit you out in no time!
So there is an operator who drives the jet ski through the waves sent with you. You do nothing into it. You just sit back and enjoy the ride. And to be honest it is worth it as well. The experience is wonderful even though you are not looking like a superstar going against the waves, but the hops and jumps the vehicle takes makes you hoot out loud and that is what counts.
Bumper Ride & Banana Boat Ride
Bumper Ride can be done on a round boat with total three people. What happens is that they speed up the boat and twist and turn it around and you have to keep holding on no matter what happens. Or else, you fall right into the ocean.
That is what life can sometimes be, in a way – you just need to keep holding on to the slightest latch or rope or opportunity that keeps you on the boat. A little disbalance, and you're gone.
Banana Boat Ride is somewhat similar except for the shape of the boat is like a yellow banana and it can sit about 5 to 6 people on the boat.
---
Day Four: Other Interesting North Goa Spots
This was the last day of our trip and we decided to spend it roaming around the other interesting beaches around Northern side of Goa – namely Mandrem, Morjim, Ozran and Anjuna Beach and the infamous Dil Chahta Hai Fort!
Mandrem Beach
As mentioned in a previous blog post about Goa beaches, Mandrem is one of the most quiet and calming beaches in North Goa. Full of mostly international travellers and lesser Indians, it is unique and calming and worth spending hours in.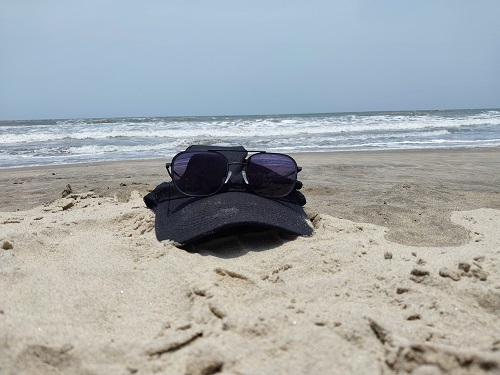 This was our first beach of the day and we spent almost 2 hours here – clicking pictures, relaxing on the benches, chatting about our experiences of Goa and to get back home.
Mandrem Beach is attached to the Russian Beach which is mostly filled with great beach shacks and foreigners enjoying themselves. You can also learn and practice surfing here if you want. Also, we collected a lot of small shells from there.
Time to Explore – 1 to 2 hours
Morjim Beach (Turtle Nesting)
We then went to explore the Morjim Beach. We went to see the Turtle Nesting Center over there. So basically, this was the place where sea turtle eggs are kept for harvesting and in November towards the end when the eggs are hatched, it is a moment to experience when small turtles move slowly towards the Arabian Sea.
It is celebrated as a Turtle Festival in Goa. Another beach where it happens is situated in South Goa and is called as the Galgibaga Beach.
We couldn't see any turtles over there, but we did see how the eggs are protected and preserved under wooden boxes surrounded by sand and concealed from the direct sunlight.
Time to Explore – 1 hour
Chapora Fort – Dil Chahta Hai Fort
Dil Chahta Hai was an Indian movie that changed the way cinema in the country worked before that! No one could have thought a new age travel film could be something of a blockbuster during that era. But it did. And it made travelling (especially to Goa) much more prominent in the minds of Indian travellers.
The Chapora Fort is also called the Dil Chahta Hai fort due to the main reason that an iconic shot from the movie where the three chaps sit looking towards the sea and make a pact to return to Goa no matter what every year at least once.
When you reach there, especially in the bheeshan summer you might see and think to yourself shall I really do the trek. Is it worth it? Well first of all, it is worth it! And secondly, the trek looks like we need to cover a lot of distance when viewed from below, but it is not that! Just a few steps and you reach the entrance of the ruined fort. Yes, the fort is all ruined with huge and small rocks and stones spread all over.
But the view is what people come here for. With views of Ozran, Vagator and Dream Beach on one side and Chapora Jetty, Morgim and Morjim Beaches from the other. That is what attracts so many people from different parts of Goa to visit here on their travels. That, plus to remake the DCH pose!
Ozran Beach – Peace, Calmness and Everything in Between
The next point on our last day of venturing for the 4 day goa itinerary was the Ozran Beach. Ozran is a beautiful, magnificent and outstanding beach and that is how we experienced it!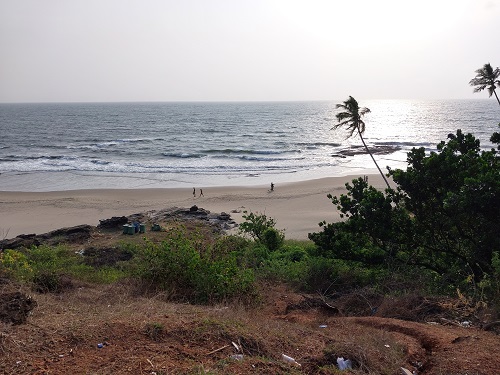 As we reached there, the winds started to increase and the weather became really fine! Best thing about the beach was that the point where Google Maps dropped us was like a large hilltop and the beach was beneath us. We had to trek down to reach the beach. And the best part about the beach was not just the wind, the ambience or the even the trek. But a part of all of that.
Next best thing about the beach was the black rock formations where one could sit and relax while being really close to the ocean and the waves AND CRABS! It was the first time I saw real crabs in my life! And man, they were really small, almost un-seen-able (like a camouflage with the black rocks) and really fast and dangerous with their movements.
It was an incredible and a really calming experience – as we all sat at different places on the black rocks – looking straight towards the unstoppable, everlasting and never-ending ocean.
*Other places you can go to for this day could be – Vagator Beach (local's favorite), Anjuna Beach (a blend of calm and chaos), Fontainhas (a colorful street you may have seen on Instagram, etc.)
**Alternatively, on your last leg of the travel venture, you may also book a Journey to the Awe-Inspiring Dudhsagar Falls.
A little information regarding Dudhsagar Falls –
So first things first, to experience the best of Dudhsagar, you need to come here in Goa's monsoon season! That is when the falls is at its best. And that time is between the months of June to August.
Secondly, there are two ways you can do the journey –

Reach the spot via own vehicle
You may cover the distance of approximately 80 kilometers to reach the starting point of Dudhsagar Falls. But you will need to pay the entry fee, jeep tax, etc.


Book a Dudhsagar Falls Day Tour Package
This might cost more, but is much better and much more comfortable for your day.
The package also includes a tour to the Spice Plantations in Goa and the total cost starts from approximately INR 1500 per person and children above 3 years of age need a full ticket.
It includes hotel pick-up and drop, 12km jeep safari from Mollem National Park, 1.5 hours of adventurous Dudhsagar Falls experience, guided spice plantation tour.
---
Conclusion
And that ends yet another blog post about this marvelous place. You can also try out this 4 day goa itinerary for an ultimate Goa experience. Stay tuned for more such interesting blog posts and more.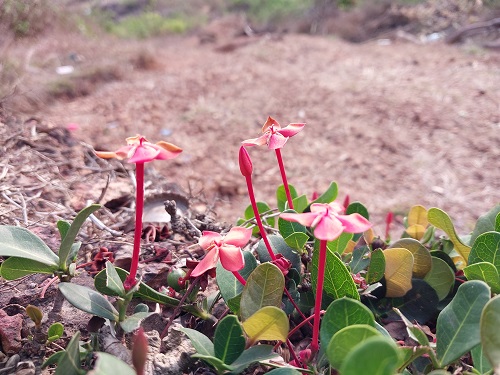 Follow us on Instagram @travelsole001 for getting updates and travel related reels and content. You can also subscribe to our email list to get notified about latest blog posts and updates regarding TravelSole blogs.
That's All Folks!