Bora Bora islands are one of the most fascinating islands in my bucket list of places to visit around the world and it has many reasons for being up there.
From the enchanting turquoise waters to overwater bungalows and breathtaking natural beauty, Bora Bora is a paradise for beach lovers, island-hoppers, nature enthusiasts, regular travel lovers and honeymooners.
Today, we talk about the different seasons of this French Polynesian island and find out what could be the best time to visit Bora Bora.
Let's Begin!
---
What is the Best Time to Visit Bora Bora?
High Season: May to October
With the best weather and a perfect time for water-activities, the May to October mark is considered to be the High Season for Bora Bora. The humidity levels are low, rainfall is minimal and there's abundant sunshine – just like anyone would picture an island paradise to be like.
For many, this is the best time to visit Bora Bora since it is a place known for catching golden sunsets, exploring coral reefs and trying out fun water-activities like scuba diving or snorkeling, etc – which are all fully functional during this time.
The wind during this time is also pretty gentle and feels as if passing by while caressing your cheeks as you relax at the beach side.
Why High Season?
Weather Bliss:
A symphony of sunshine and a balmy temperature blesses Bora Bora during the high season. The days are longer with the sun gloriously shining and reflecting light towards the magnificent backdrop of the ocean.
It is the best time to visit Bora Bora as it offers the visitors languid afternoons on the powedry beaches while invigorating dips in the magical waters of the South Pacific.
Crystal Waters:
For all the water enthusiasts, this season is the prime time to visit the French Polynesia for exploring the crystal clear waters and the depths of Bora Bora's lagoon.
Snorkeling, Scuba and other water sports begin with full swing during this time of the year and they take you on a magical experience inside the underwater world filled with coral gardens, playful and vibrant fishes and otherworldly marine life.
Also, the water provides exceptional visibility to witness so many colors almost like a kaleidoscopic view of the aquatic wonderland in front of your eyes.
Sunsets and Stargazing:
Due to the clear skies, one can always have a blast when looking at the sky in Bora Bora during this time of the year.
With the golden spread all over the sky during the morning, then changing into hues of orange and pink later to finally transform into a night sky full of stars – both alive and dead – sparkling just for you to witness, to experience, to feel the universe.
Stargazing, at least for me, is the most amazing thing or experience one can have anywhere across the world. Just imagine being at different places looking at the similar sky – all covered with twinkles and planets and galaxies and so much more.
Romantic Escapes:
When we talk about Bora Bora, our mind takes us through a sort of slideshow of images, most of them being a photograph of a couple – in whites and blues trying to match up the ocean hues. Am I right?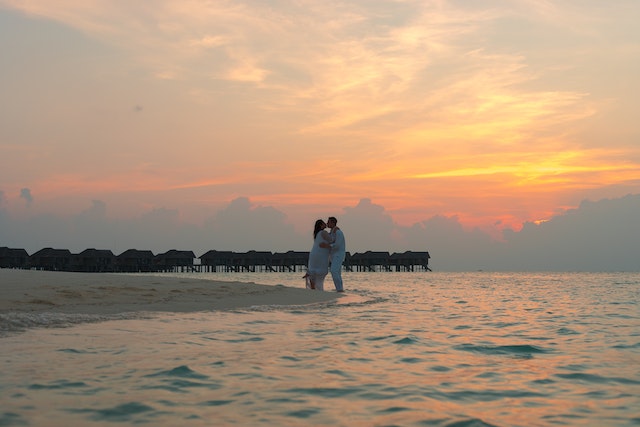 Well, Bora Bora is known for its romantic vibe and this high season is the most idyllic condition for setting a stage for romance to flourish.
Have private candle-lit dinners under the sky with the ocean waves forming a live orchestra for just you two or have a couples' spa treatment at your stay and relax together. Bora Bora has so much to offer when it comes to romance and love and other things considered magic.
---
Shoulder Seasons: April and November
Falling just before and after the Peak Season, April and November are considered to be a bridge of sorts between the low and the high season when it comes to Bora Bora.
Although the weather is a little less predictable, the crowds are less and one can easily visit places without worrying about stupid lines or heads floating all over the place.
Visitors enjoy a pleasant temperature during these months along with reasonable accommodation rates when compared to the High season.
You can get the luxurious overwater bungalows and world-class resorts without having to loot a bank. It is considered to be the best time to visit Bora Bora due to the same reason.
April: A Tranquil Prelude
April is the time that serves like a tranquil prelude or a prequel to the bustling high season that's coming up. It sets stage for everything we talked about on the above season.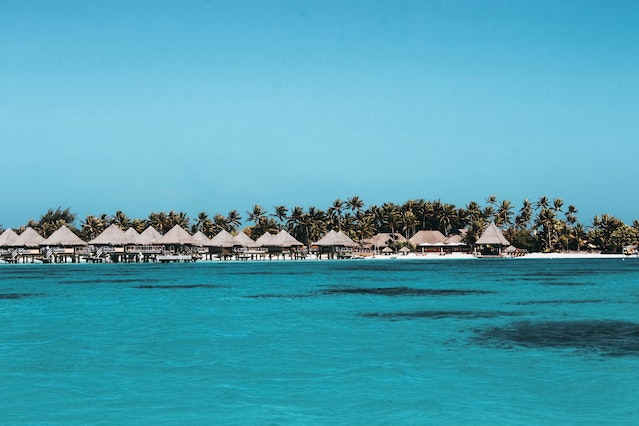 The weather is typically pleasant, with warm temperatures and a gradual decrease in the humidity which make it a top-choice for people who want to experience the paradise before it turns into a crowded space.
One witnesses occasional showers that mostly are short-lived and give way to clearer skies and a rejuvenated lush greenery spreads all over the land.
One of the most prominent elements of visiting Bora Bora in April is the thinner crowds. While not entirely devoid of visitors, you still find lesser tourists at the most popular attractions and beaches when compared to the upcoming month.
November: A Prelude to Tranquility
The sequel to the bustling Bora Bora season trilogy that no one actually asked for begins with the end of the High Season in the land.
November offers a tranquil and idyllic escape with an inviting weather filled with warm temperatures and an increase in rainfall – often followed by clearer skies and golden sunshines.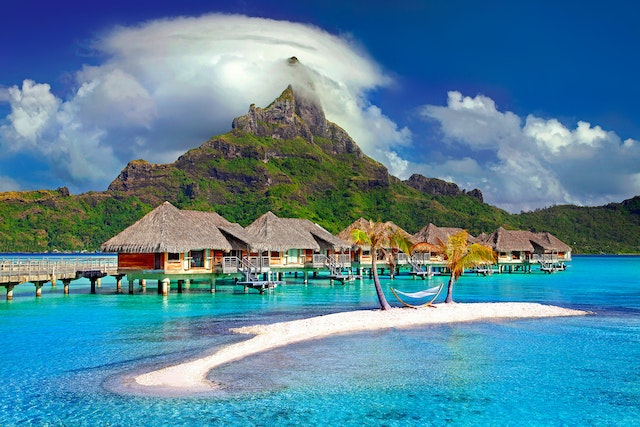 November is considered to be the best time to visit Bora Bora because it allows you to enjoy the island's natural beauty at a more leisurely pace. One can indulge in deeper connections with the locals and create authentic and memorable interactions with them without having to deal with the rush that happens up till the previous month.
The shoulder seasons in Bora Bora i.e. April and November both present an excellent opportunity for budget travelers by providing reasonable rates for transportation, accommodation and even a few activities.
---
Low Season: December to March (Cheapest time to go to Bora Bora)
The cheapest time to go to Bora Bora is none other than what's considered to be its Low Season: December to March. It marks the beginning of rainy season in Bora Bora.
This one is when you'll see almost no crowd even at the most popular areas around the island. Also, it is considered to be the best time to visit Bora Bora for the more budget-conscious travelers due to the fact that transport and accommodations are all the cheapest during these months.
It is considered to be the rainy season in Bora Bora, so rainfall is more frequent(although brief) as compared to the other two seasons.
During this time, a lush greenery sort of blankets over the island adding a unique charm to the entire landscape, and as you sit back and relax looking at the wonderous surroundings, little showers add even more romance to the ambiance.
Why Low Season?
Nature's Revival
In these months of exploring Bora Bora, one can witness lush greenery and refreshing showers. The intermittent rainfall breathes new life into the island, resulting in a lush, emerald landscape – a sight to behold.
There are primarily two seasons in Bora Bora: wet and dry. The wet season brings with it the lush greens and magical landscape views we talked about earlier.
The beautiful showers serve as kind of a natural elixir which cools the air and nourishes the vibrant flora which blankets the island. The entire landscape turns into a green wonderland and provides you a magnificent opportunity to witness the revival of nature.
Budget-Friendly Bliss
If you want to have an experience of "luxury in budget", these months are the best time to visit Bora Bora for you – with friends, family or alone as well.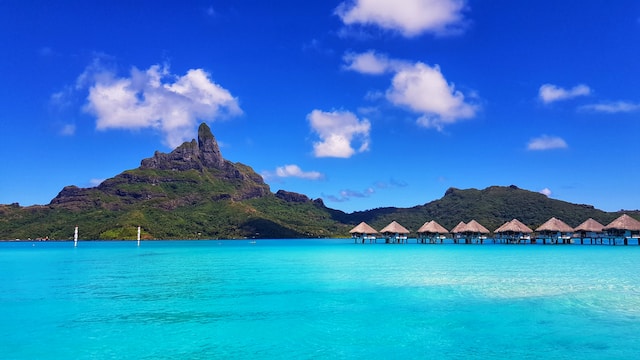 With possibly the lowest accommodation rates even at the most high-end resorts and unbeatable prices for transportation, etc. it allows you to indulge in the luxury without having to break your bank.
It is a dream of many to experience Bora Bora's renowned luxurious hospitality and stunning vistas, and this is the time when you can actually afford to do it and have an experience of a lifetime.
Intimate and Serene Vibes
Any destination, during its low season, brings a sense of calmness and intimacy when there aren't any travelers blocking your views or long lines you have to wait through. Bora Bora is no less.
With a natural scenic ambiance and a magical landscape that feels otherworldly quite a lot of times, Bora Bora's beaches and attractions provide more serene and uncrowded spaces as one leisurely strolls along the shorelines.
Imagine unhurried underwater adventures, clear views of the ocean and peaceful moments of reflection providing you enough time to endure and enjoy the beauty that surrounds you – in a place like no other.
Romantic Rainfall
As said earlier, Bora Bora is a place of romance and what best than some pretty background and little showers spread all around as you take the hand of your companion and dance in the midnight blues, right?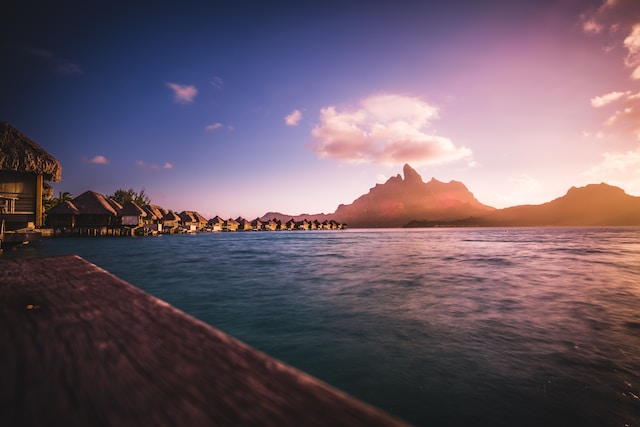 Cozy up with your partner in an overwater bungalow, listen to the gentle patter of raindrops on the roof or maybe just let it all go and dance right in the middle with raindrops bouncing along when touching your heads and hands. And as the rain stops, witness the rain-kissed landscape glistening under the soft light.
These moments of intimacy and connections are not available everywhere, Bora Bora gives you a fascinating love story moment right in the middle of it's low season happenings.
---
Conclusion
Bora Bora is one of my most favorite honeymoon destinations in the world, and there aren't many reasons why it shouldn't be.
With all the seasons, it has something to offer for all kinds of travelers. Whether you seek a budget-friendly escape, fewer crowds, pristine weather conditions or maybe you want to feel the touristy energy at the destination, Bora Bora' varied seasons offer exciting experiences all year round.
The beauty of this tropical paradise remains constant whatever time you choose to experience it. The best time to visit Bora Bora depends on your personal preferences and priorities.
If you want to have a luxury-in-budget experience in the island, choose the wet or low season (December to March).
If you want to experience the perfect weather conditions and the most outstanding experiences in the island, visit during the peak season (May to October).
If you want to have an idyllic experience at the beaches and want to have a budget-friendly stay at the overwater bungalows, visit during the shoulder season (April or November).
That's all folks!