"Goa is Calling.. Pick Up!"
People who say "Goa isn't a place, it's an emotion" are quite right. And you only realize it when you have been there and returned back home. The incredible beaches in Goa, the historical churches, the insane crowds of people looking for their peace in the chaos – create a world of thoughts in your mind, which you take along when you leave the place.
More than an emotion, it has been like a dream that keeps following me. It has merely been a month since I visited Goa with my family, and the place seems to never exit out of my mind's thought structure. Everyday, I wake up, and do whatever I need to be doing, but there's always a moment where there's a knock on my mind's door…
"Who is it?" I ask everyday.
"A Call!" Comes the Answer.
"A Call from Whom?"
"A Call from The Pearl!"
The Pearl of the Orient, as it is quite famously known to be, calls you back – Just for one more run along the incredible beaches in Goa. Just for one last walk around the lighted streets in the middle of the night. Just to enjoy a little more. Just to feel alive a little more.
Best Beaches in North Goa
I have brought to you an ultimate list of top 10 Best Beaches in Goa that are a must visit to experience the very best of the dream destination.
1. Mandrem Beach | Calm in the Storm
The small village in the North Goa region called Mandrem is a home to tucked away cute cafes, picturesque resorts and incredible beach vibes.
Mandrem was a very calming experience of a beach for us. Comparably less crowded, more cleaner amongst the Goa Beaches spread all over. Have a beer or two while sitting on those comfy-cushiony layovers, as you look as far as possible to the everlasting sea. You can't help but think about life and it's meaning.
It sounds weird, maybe, but that's what actually happens when you travel to a place surrounded with calmness and sounds of silence.
Mandrem is one of the best things you shall not miss and one amongst many things to do in Goa.
2. Anjuna Beach | Perfect for All Ages
Anjuna is referred as one of the most gorgeous beaches in goa with something to do for all kinds of beach lovers. Ranging from adventurous water sport activities like parasailing, jet skiing, banana boat rides to walking around the shore, collecting shells and marvelous stones as a beach-souvenir and a few amazing bars with a view too. Anjuna has everything you need in a beach. And more.
If you are in and around Goa during the weekdays, stop by Anjuna for the amazing wednesday flea market that is hosted here every week. And stay till late night to enjoy a trippy trance party with a spectacular crowd of people.
3. Baga Beach | Popular and Populous
Anyone who has never been to Goa yet, might not know much about it. But what they know is this particular name of the most amazing of the Goa Beaches – BAGA. Baga is a sensation on it's own. It's the most popular beach in the entirety of Goa – the Land of Beaches. At least for the major group of Indian Travellers.
Hundreds of Optimistic Explorers, Couple of some Amazing Water Sport Opportunities and the incredible night parties is what defines the incredible Baga Beach.
There's the very famous Tito's Lane near the beach known to be one shop stop for people searching for incredible night outs while in Goa.
4. Sinquerim Beach | Quiet and Peaceful
The Sinquerim Beach, located near the state Capital, Panjim, boasts out majestic views of an amazing shoreline and picturesque resorts and some amazing types of water sports to indulge in.
This one amongst the Best beaches in Goa, remains comparably less crowded and much more cleaner than the other ones located towards the more northern side.
You can try out their Dolphin Spotting tour. Yes, since I have been to Goa, many of my friends have been asking me if there really is something called a "Dolphin Sighting" in Goa? Or is it just some trick. So let me tell you that it's no trick of any sort. There are Dolphins around the area, and they can definitely be spotted while on the cruise. Best times to take the Dolphin Tour is either early in the morning or late towards the sunset. As these are the times when the crowd is less | Less Crowd = More Dolphins |
5. Candolim Beach | The British Beach
One of the many exotic beaches in goa, Candolim is known to be the British- holiday maker's favorite one in North Goa. You will find less desi travellers and more foreign ones on this beautiful beach situated nearby the famous Aguada Fort and many amazing resorts.
Candolim Beach is a well maintained and clean beach which is much less crowded than it's neighbor- the Calangute Beach. It is defined by it's seemingly endless soft sand strip along the seashores. You will find a vast line of cute looking wooden beach huts across the area. It forms a very instagram-worthy location.
Mostly people over here will be found relaxing and soaking on the sand along with a few bottles of their favorite beer.
Best Beaches in South Goa
South Goa is a world of it's own with ample amounts of peace, lesser crowds and similar kind of party vibes when compared to it's Northern counterpart. Beaches in Goa's southern part are shaped like a crescent moon which gives you more so mystical vibes from them when you happen to visit them.
Some of my most favorite of South Goa beaches are listed below:
1. Palolem Beach | Paradise of the Orient
Looking for a beach that's like a masterpiece blend of a scenic landscape with greenery on one side and shining blue waters in the front? Palolem is the one to be at!
Amongst the best beaches in goa for couples, the Palolem Beach has plenty to offer from natural beauty to rocky standouts covered by trees.
You may encounter many interesting shacks as you walk around the shores with your better half in Palolem. People's favorite happens to be one known as "The Titanic Beach Shack". You can find clean and simple huts to chill at over there.
PS- People claim the food there to be extremely delicious. I haven't tried it myself yet. If you lovely people, ever did or would ever get to try the same, do not forget to tell the little old me about that. (we have a deal then, aight?)
2. Benaulim Beach | Experience Enchanting Sunset
Located about 40 kilometres from Panaji, the Benaulim Beach is known to be a sun lovers paradise. It is an insanely attractive beach with greenery laced out and the magnificent views of the Arabian Sea as well.
Another interesting thing about this particular beach in South Goa is that there's a little bit of mythology related to it.
As per Hindu Scriptures, Lord Parashurama, an incarnation of the Almighty Lord Vishnu once launched his arrow from Konkan. The mystical arrow landed over the sea. Lord Parashurama commanded the Lord of the Sea, Varuna that he recedes the sea waters up till the point where the arrow has landed. Lord Varuna accepted and did as he was asked. (If you know anything about Lord Parashurama, know one would dare make him angry, so.)
The place where the arrow landed, was named Banahalli. Bana- meaning the arrow, halli – meaning the village.
This village is situated adjacent to the beautiful Benaulim beach in South Goa.
3. Galgibaga Beach | Goa's Turtle Beach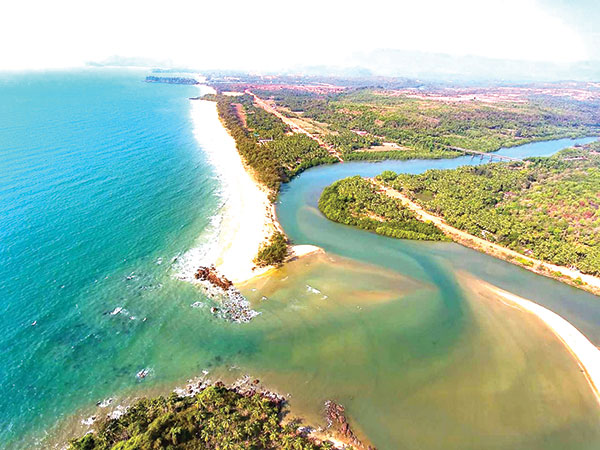 Galgibaga Beach is one amongst a few beaches that has been kept a hidden secret and not many tourists visit here. Hence, it is one the most amazing beaches to ever exist in not just Goa, but in all over the country.
The main USP for this beach is that it's a natural habitat for turtles!! Not the Ninja ones, No!! Remember Franklin & Friends!! YEAHH!!
Known as a special place being the nesting ground for Olive Ridley turtles, Galgibaga Beach is a must see for all the travellers who like off-the-beaten path sights and destinations and exciting memories.
Galgibaga has been claimed out many a times to be "The Cleanest Beach in India"(thanks to the shielded animals, maybe?)
4. Cabo de Rama Beach | Southernmost Goan Beach
Due to the location of this masterpiece of a beach, Cabo De Rama sees lesser crowds of tourists as compared to any other beaches in Goa.
Just beside the famous Cabo de Rama Fort, this secluded beach remains so for most of the year. You could only see a few locals hanging out over there during the evening.
So, if you happen to be visiting the best of South Goa, never miss an opportunity to grab up this beach all by yourself. You will feel as if you own the beautiful private island while relaxing there with your loved one.
When here, do not miss the visit to the Cabo de Rama Fort which is a blend of history and scenic views.
As per Hindu epic Ramayana, during their exile years Lord Rama and Goddess Sita sat at the spot for some time. Karnataka people built the fort and named it Rama Kila. But later, when the Portuguese took over Goa, they named it Cabo de Rama.
This one is another of so many different and unique Beaches in Goa and is the one which looks and basically is a Hidden and Golden colored beach decorated naturally by palm trees and small hills.
You can find an astonishing looking lagoon which looks straight outta some dream you had years ago. The blue lagoon is created by the river called Khola, from where the beach gets it's name.
As South Goa beaches are mostly known for, this one also has the best scenic views, almost nil touristy crowd and a vibe which remains in your mind throughout life.
---
Conclusion
See, Goa has something which no one can explain about by writing down, or even making a video about. The Vibe. The Essence. I don't exactly know what that is. But it definitely is something straight outta the high heavens.
Here is a 3 nights 4 days Goa itinerary for you!
Only few places have that. That feeling, you get when you see magic for the first time. When you meet an old friend after like a million years. Love at first sight. Realize the feeling? THAT!
Tell me, which place gave you THAT feeling in the comments!!