Vrindavan, India is a holy town that is home to many temples and ashrams. There are plenty of things to do in Vrindavan. It is a popular destination for pilgrims and tourists who come to visit the temples and participate in spiritual activities. There are also many restaurants and shops in Vrindavan, so visitors can enjoy a variety of experiences while they are there.
Let us discuss about this mystical land of Radha Krishna and how you could have an amazing visit here when you go through all the places mentioned in the following article.
Things to do in Vrindavan – Temples and Holy Ghats
Nidhivan – A mystical legend
When it comes to the best things to do in Vrindavan, this place is one which shall not be missed. Nidhivan is basically a forest area believed to be magical!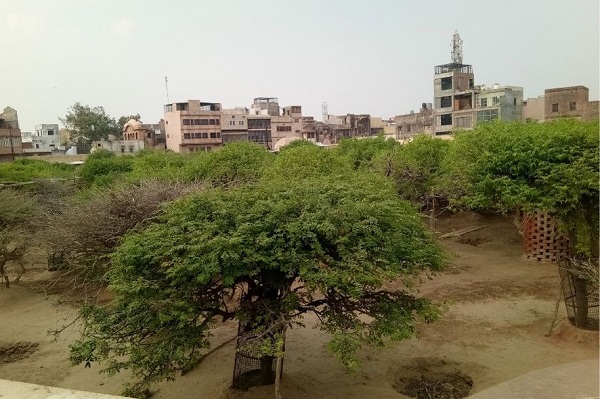 After the sun goes down and the place is locked up, not one living being can be seen near the forest. The people with homes having windows opening towards the forest, lock them up for the night and even the hordes of monkeys you see all day long here, tend to disappear as the night arrives.
Why is this? It's because people believe that during night time, the conjoined and entangled trees of the Nidhivan transform into Gopis and the legendary Lord Krishna himself comes down from his abode to play Rasleela with them.
It is said that no soul – nor human neither animals or insects could be there at the time of this marvel happening – or else they'd just disappear.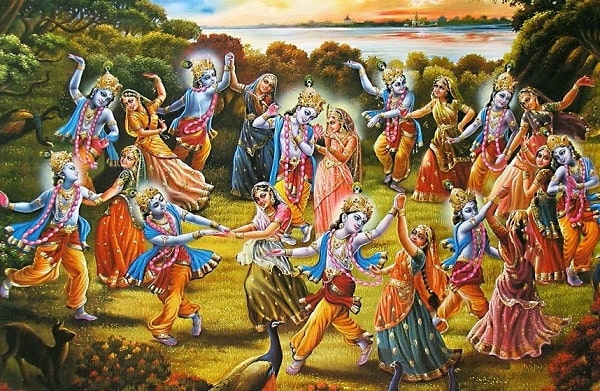 This is said not as a warning or terrifying signal, though. As it is believed that once any living soul witnesses Lord Krishna himself in front of their eyes – they become one with the God – as there's nothing more to live for, nothing more to learn, nothing left to see, nothing.
When you visit this place in Vrindavan, you will see hundreds of conjoined trees of Tulsi (Holy Basil) which are never given any extra water, but their leaves remain bright green throughout the year. Magic or Mystery? (A mystery could be solved, but magic doesn't need to).
There are a few important landmarks present in the Nidhivan area, these include –
Believed to be the place where Radha Krishna spent their time together, the Rang Mahal is put together every night by the priests and the room is decorated with items like a saree, bangles, paan leaves, holy water, few sweets and a freshly made bed is arranged and the room is then locked from the outside. When they go check it in the morning, everything seems scattered, the bed seems used, the sweets are gone, the jug of holy water is empty.
People believe Radha and Krishna visit here every night to spend their quality time and remain with each other till dawn.
You might have heard the stories of the notorious childhood of Krishna and the one where he was called out to be "Makhan Chor" or butter thief – when he and his friends broke down and stole the butter from pots.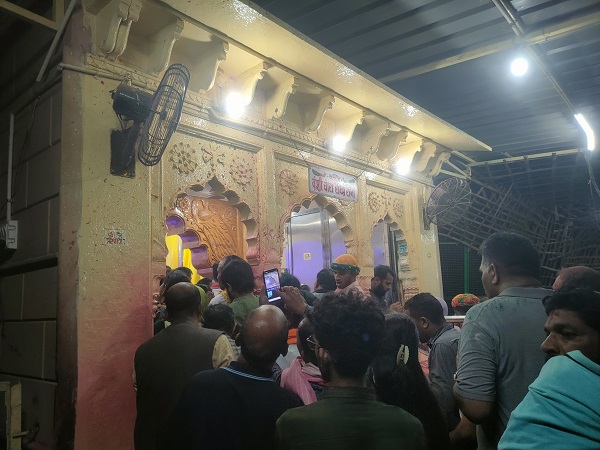 Since Krishna stole Makhan and was called the Makhan Chor, there was one incident where Radha Rani stole Krishna's bansi or flute.
It is said that once in the forest, while Krishna took a nap, Radha Rani came like a cat and slowly took out the beloved flute of Krishna and ran towards her friends. Once Krishna woke up he knew where to look for the bansi so he went straight to Radha. But the girls were really clever and made it a game of passing the flute from one person to another. Finally, Radha gave the flute back.
This temple is built on the spot where the playful theft happened. This place depicts the relationship between Radha and Krishna – they were best friends and legends like this shows that.
Swami Haridas was a dedicated devotee of Radha-Krishna and performed his devotion duties on this place. As a result an idol of Banke Bihari (a combination of Radha and Krishna) appeared from the ground.
This is said to be the place where the major rasleela or dance happened between Krishna, the gopis of town and Radha.
Lalita Kund is a small pond situated in the premises which is believed to be created by Krishna himself when once the girls asked for water amidst the Ras Leela.
---
Banke Bihari Temple – Eyes of the Idol
Banke Bihari Temple is one of the most popular things to do in Vrindavan as it is the temple dedicated to the idol which is basically a form of both Radha and Krishna combined.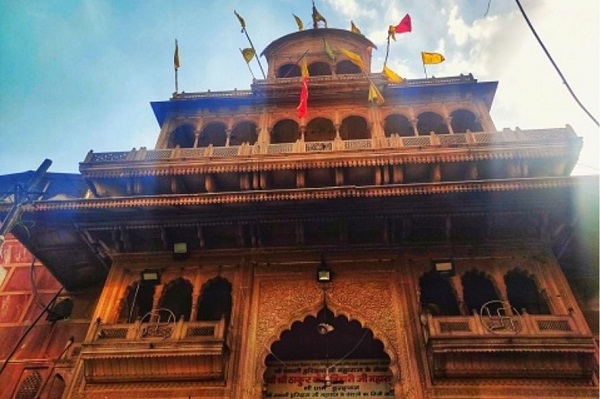 It is believed that Radha Krishna weren't different from each other – "Radha is Krishna and Krishna is Radha", "Without Radha, Krishna is nothing and Without Krishna, Radha cannot be complete".
Counted among the most visited temples in the entire Braj Bhoomi, the Banke Bihari temple is specially packed during Janmashtami and Holi festivities. I celebrated this year's Holi at the Banke Bihari temple, you can read about it on this blog.
It is said that Swami Haridasji meditated and chanted a holy poem dedicated to Radha Krishna and as a result of his devotion, both of them came in front of his eyes at Nidhivan and merged into each other to form the smriti of the Banke Bihari idol. The idol was then taken to the place where the Banke Bihari Temple stands today.
---
ISKCON Temple
The first temple constructed by the International Society for Krishna Consciousness (ISKCON), the ISKCON temple in Vrindavan is much visited, attractive and a place of high religious value.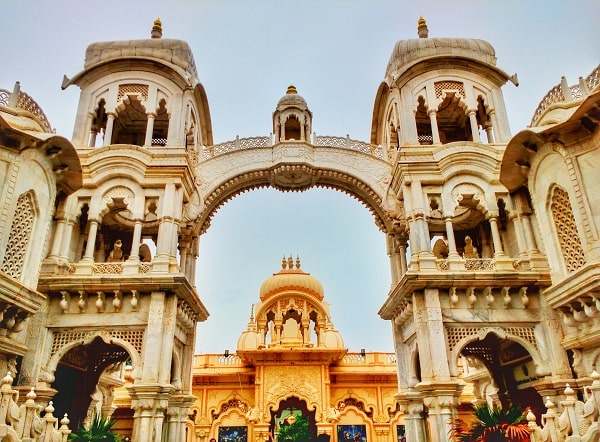 People and devotees from across the world are welcome here with open arms. You might even see some priests inside the temple who come from different corners of the world – like Spain, etc.
The grandeur, premise and architecture of the temple is a dream come true for the founder of the ISKCON Swami Prabhupada. Also known as the Sri Sri Krishna Balaram Mandir, ISKCON comes under all the travellers looking for places to visit and things to do in Vrindavan.
ISKCON is basically a group of devotees who made it big and now spread the teachings of Shri Krishna to the entire world.
---
Prem Mandir – The Temple of Love and Colors
Prem Mandir or the Temple of Love depicts what Krishna also stood for – Love. He explained that Love is the strongest power in the entire multiverse. It is comparably a newer establishment which completed construction in 2012, but it is one such temple out of the 5000 temples in Vrindavan and surrounding areas that most of the people know about.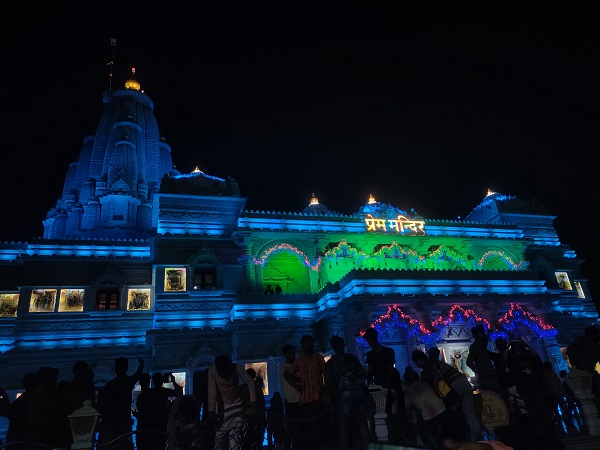 One of the best feature of this temple is the changing colors or lightings that one can see and get mesmerized by during the evening. It keeps on changing from red to green to purple to blue to orange and what not.
The garden area surrounding the main temple is filled with different aspects of the life of Lord Krishna depicting four major leela's of Shri Krishna –
Jhulan Leela
Govardhan Leela
Ras Leela
Kaliya Naag Leela
The temple is dedicated to love – not just of Radha Krishna but also of Sita Ram. The first level of the temple is dedicated to Radha and Krishna while when you move to the second level you will find a space dedicated to the love and respect of Ram and Sita as well.
The temple is a religious place obviously, but the other factor that attracts people towards the location is the architecture of the temple. Prem Mandir is constructed using the Italian marble with stories and legends from the life of Radha Krishna carved up on all sides of the outer walls of the temple.
---
Madan Mohan Temple – Oldest Temple in Vrindavan
Shree Radha Madan Mohan Temple is the oldest temple in Vrindavan established in the year 1580 AD.
Madan Mohan is basically another name for Lord Krishna which means "the one who mesmerizes everyone". It is believed that Lord Krishna's mere presence was so divine and peaceful and positive that it used to mesmerize and amaze everyone who happened to be in the same area as he is.
While Krishna is depicted as Madan Mohan, Radha is depicted as Mohini – who can even mesmerize the ultimate mesmerizer (Krishna).
As per the locals, the temple is approximately 5000 years old, although the year of establishment is not that far away. But it is the belief that keeps these places alive, right?
Many locals believe that the temple was first constructed by the great grandson of Krishna named Vajranabh. But with the passage of time, the idols were lost. Later on, in the shadow of a large Banyan tree, Advait Acharya found the deity of Madan Mohan. He then proceeded to give it to a follower of Chaitanya Mahaprabhu, Sanatana Goswami. Santana Goswami was the one who then established the temple we know today.
---
Govind Deo Temple – Marvelous Architecture
The Govind Deo or Govind Dev Ji Temple in Vrindavan is another very important religious places around town and is dedicated to Lord Krishna.
The unique thing about this temple and what attracts the major amounts of people coming here is the fascinating architecture. The temple is built with the idea of combining the unique architectural styles of the Hindu, Muslim and Western designs.
Constructed by King Man Singh of Amer, Rajasthan in 1590, the structure is completely constructed using red sandstone and the design also sometimes feel like a Greek cross symbol.
Another interesting thing to note about this particular temple is that it took almost 10 million Indian Rupees to construcrt
---
Keshi Ghat – Holy Ghats of Yamuna
Keshi Ghat is the most prominent of the Ghats in Varanasi and devotees and travellers from all around the country and outskirts come here to experience peace.
Built by Queen Laxmi Devi of Bharatpur sometime in late 17th century, Keshi Ghat is a must thing to do in Vrindavan.
You can visit the place for witnessing the 500 year old Pratham din Pooja dedicated to Goddess Yamuna and for a boat ride through the Yamuna river showcasing a different look to Vrindavan.
The legend associated with this place is that Kansa sent a horse demon called Keshi towards Krishna to kill him and end the curse and stop the prophecy. For those who don't know – the prophecy told to Kansa by Goddess Yogmaya that, "eighth child of Devaki and Vasudeva will be the end to Kansa's evil reign".
That child was Krishna. And to save their child, Devaki and Vasudeva sent him to Nandgao to Yashoda and Nanda. So Kansa found out about the whereabouts of Krishna and started to send his various demons to hunt the boy down – not knowing that the "boy" here is not an ordinary human, but the eighth avatar of Lord Vishnu himself.
The place where Keshi Ghat is located was the place where Krishna fought and defeated the Gigantic Horse Demon named Keshi.
---
Shopping in Vrindavan
There are few places in the world that can compare to the spiritual power of Vrindavan. This holy city in India is known as the birthplace of Lord Krishna, and is home to countless temples and spiritual sites.
But one of the most unique aspects of Vrindavan is its bustling bazaar, where shoppers can find everything from religious artifacts to everyday household items.
The bazaar in Vrindavan is a fascinating place to explore, and it's no wonder that it's become a popular destination for tourists. The narrow streets are packed with vendors selling all sorts of goods, and the atmosphere is quite colorful with vivid items of religious and entertainment purposes.
Loi Bazaar
Loi Bazaar is the most famous shopping street of Vrindavan.
You can find items from handicrafts, fresh fruits, clothes and religious idols of Radha Krishna – all at reasonable prices. The varied shops and stores with unique and colorful artefacts and the prices makes this place a high value tourist attraction.
Other than the clothes, idols and handicrafts, you may also find uniquely designed antiques and stuff made up of brass and wood works. All these items are made by the locals.
Khadi Bhavan
Another great place of shopping and things to do in Vrindavan is to visit the Khadi Bhavan.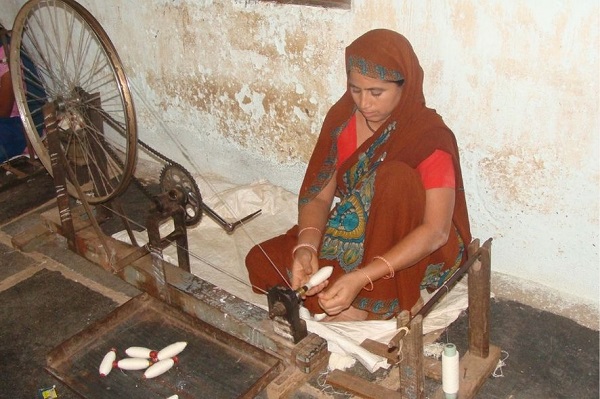 This place offers what the name suggests – the clothes made up of Khadi (an Indian cloth used to create hand-woven clothing with cotton or silk threads). Other than that, Khadi bhavan is also famous to provide a wide variety of glorious art works like paintings, sculptures, portraits, jewelry – all with the imagery depicting the life of Lord Krishna.
---
Eating out in Vrindavan
There are many places to eat in Vrindavan. The most popular places are the small restaurants on the main streets.
There are also a few larger restaurants, but the food is not as good as the small places. The best food is found in the small, family-owned restaurants. They have been in business for many years, and the owners are experts at cooking.
The food is fresh and delicious, and the prices are very reasonable. There are also a few vegetarian restaurants in Vrindavan. The food is very good, but the prices are a bit high.
Best Food Items in Vrindavan
Lassi – Served in a Kulhad
Samosa – Uniquely made with onion and garlic
Kachori – Favorite brunch for localites and tourists
Malpua – Famous North Indian dessert
Rabri – Most favorite dessert for everyone
Makhan Mishri – Krishna's favorite
Best Food Joints in Vrindavan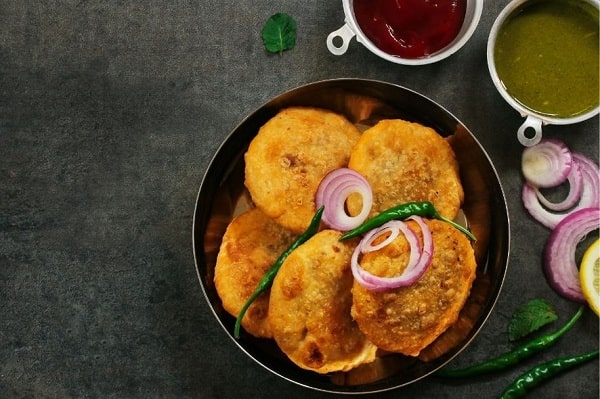 Things to do in Vrindavan could not be complete if you do not visit these joints for some mouth watering delicacies –
MVT – Near ISKCON Temple
International restaurant managed by international staff. You can have delicacies like types of salad, pastas, ice cream, other food items of America, Europe, etc.
Govindas – Near ISKCON Temple
Another great restaurant near the Krishna Balaram temple or ISKCON is the Govindas Restaurant. You may find Italian and Chinese cuisine food items here.
Oma – Best Kachori
Arguably the best kachori place near town is known as Oma Kachori Wale
Shankar Mithai wala – Mathura
Best place for variety of sweets from Desi Ghee delicacies to Khova Mithai.
---
Is Vrindavan worth visiting?
There is no one definitive answer to this question. Some people might say that Vrindavan is only worth visiting if you are particularly interested in Indian culture and religion, while others might argue that the city has something to offer tourists of all backgrounds.
In my opinion, I completely agree with the latter – that the city of Vrindavan might be popular mostly because it is a religious and cultural city with a mythological history, but it also has plenty to offer to different types of travelers, like enthusiasts of architecture. Each temple in Vrindavan has a unique design and incredible architecture which defines each one of them differently than the other.
What is the best time to visit Vrindavan?
The best time to visit Vrindavan is during the Holi festivities. You will see for yourself that the place isn't all about the religious temples and stuff that comes with it – but it has a different and unique vibe to it. The festival of colors is one of the most incredible festivals celebrated in the entire Braj Bhoomi and you must not skip the opportunity to experience it once in life.
---
To Wrap things up
There are plenty things to do in Vrindavan, some of the main attractions in Vrindavan are the numerous temples and ashrams. The city is also home to a large number of monkeys, which can be a major tourist draw for some people.
If you are on your spiritual journey, Vrindavan will be the best place to start with – it has that positive vibe and a peaceful environment.
With that, we wrap up another blog post telling you the major things to do in Vrindavan and places to visit. Share this article with your friends, follow us on social media for updates, and leave a comment below to let us know what you think.
That's All Folks!