It is a popular notion that most beautiful places around the world tend to be a little expensive. But they don't have to be, right?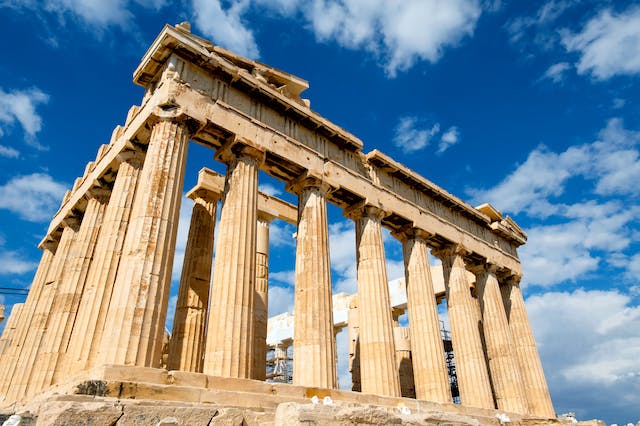 Greece, or Land of the Gods is considered to be an expensive destination for Indian tourists and the major reason behind that would be to just believe on the above notion.
But that isn't completely true. In this blog, we discuss: is Greece expensive for Indian tourists, cost of accommodation, transfers, activities and meals in the country and how much would it cost if you visit the destination for a 5 days journey.
---
Is Greece expensive for Indian tourists?
Even though its located in the European continent and has some of the most outstanding and lavish experiences when it comes to travel and exploration, Greece is not a very expensive place to visit for Indian tourists. Some even consider it to be a very cheap European vacation where one can get marvelous experiences and save a lot more than what they would spend going to the contemporary routes of Western European countries or the States.
Greece is one of those places where you can get almost everything as per your own budget: from cheap thrills to the more finer, lavish experiences. That means, you can have some of the most cheap options for staying, traveling, exploring and eating in and around the different locales within Greece.
Some of the major reasons why it is actually an inexpensive or cheaper destination for traveling for Indian tourists are:
Greece has a very affordable accommodation system with hostels and pretty hotels.
Greece is known to have among the most unique and budget-friendly public transports.
Many activities/experiences in Greece are low-cost or free.
Greek cuisine is one of the most delicious as well as relatively inexpensive.
---
Cost of Accommodation in Greece
Greece offers a wide range of accommodation: from budget hostels to reasonably priced high-end hotels and vacation rentals. This range of options catering to every budget makes it quite prevalent as an affordable destination.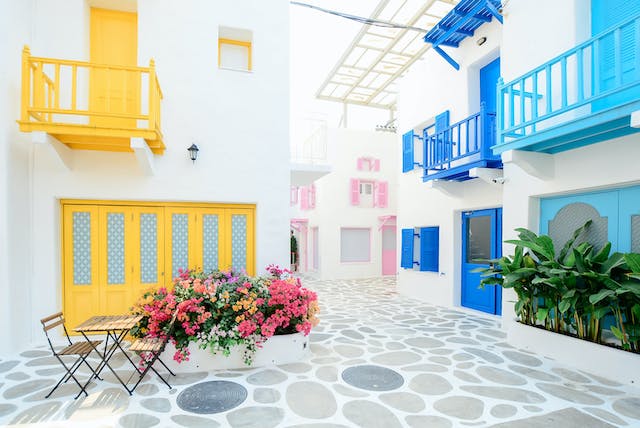 If you want the best deals for accommodation in Greece, visit during the off season i.e. Winters (November to March).
Hostels are one of the most sort out options for budget-conscious travelers as it offers the cheapest way to stay in any destination around the world.

They offer dormitory-style rooms or private rooms at affordable rates, often providing communal spaces & shared facilities, which makes hostels a cost-effective choice for many.

Guesthouses or small family-run hotels are another affordable stay option in Greece, available in less touristy regions.

Guesthouses usually do not have all the modern amenities of a hotel, but are more cost-effective and provide a local experience with a personal touch.

AirBnB or Vacation Rentals provide a range of options from shared rooms to booking entire apartments.

These are more economical option for families or a group traveling together. You can find great deals, especially if you plan to stay for an extended time period.
Cost of Accommodation:
The cost of accommodation in Greece for your stay might vary depending on various factors like location, time of year and the type of stay you choose:
Hostel dorm beds can range from €10 to €25 (₹900 to ₹2,200) per night.
Mid-range hotel prices start from approximately €60 to €120 (₹5,000 to ₹10,000) per night.
Renting a room or shared rooms in Greece cost from around €20 to €50 (₹1,800 to ₹4,500) per night.
An entire apartment or vacation rental would cost you somewhere around €50 to €150 (₹4,500 to ₹13,000) per night.
Luxury hotel prices start from €150 (₹13,000) per night.
If you plan on having a mid-range hotel for your 5 days vacation, the average stay cost in total per person would be approximately: ₹37,500/-
---
Cost of Transfers within Greece
When it comes to traveling within Greece, the public transport i.e. the buses as well as local ferries are relatively cheap and an inexpensive solution for traveling between islands or around cities.
Transportation costs within Greece can be relatively inexpensive when compared to some other European nations and following are the reasons why:
Public Transport: The extensive public transport system in Greece offers generally a more affordable as well as convenient travel for moving around within the cities or islands. These local transfers include: buses, trams and metros (Athens and Thessaloniki).
Local Ferries: While ferry costs might vary depending on the distance and type of ferry you need for your journey, they are still more reasonably priced. Also, they are the primary mode of transportation between multiple islands.
Taxis: Compared to the public transports, taxis are obviously more expensive, but still comparably more affordable than other European countries. Note: Always ensure that the taxi driver uses a meter.
Rent a Car: Renting a vehicle can really be a cost-effective venture which also provides you with an adventurous experience as you drive on unknown roads in an unknown country. Prices depend on the time you visit and the type of vehicle you choose: a scooter, bike or a car.
Cost of Local Transfers:
Depending on the mode of transfer you choose and the specific region where you opt it in can vary the cost of transportation in Greece. Here we have a general overview of it all:
Public Transport: In major cities like Athens, the cost of a single public transport ticket (bus, metro or tram) is mostly approx. €1.20 to €1.50 (₹100 to ₹130).
Ferries: Short island-hopping trips might cost somewhere around €5-€10 (₹450-₹900), while longer journey's cost starts from €20 (₹1,800) and can go over €50 (₹4,500) (for high-speed ferries going to distant islands).
Taxis: Taxi fare in major cities of Greece cost from around €3-€4 (₹267-₹356), and the rate per km ranges from €0.74 to €1.50 (₹66 to ₹135). For late night travels or extra luggage, you might need to pay an extra amount.
Car Rentals: Renting a cost in Greece can range from around €25 to €40 (₹2,230 to ₹3,500) per day during the low seasons. These prices could double-up during the peak season.
As per experts, if one opts to travel within a city with public transport while adding to it the island-hopping experiences, the total 5 days in Greece travel would cost you: ₹13,500/-
---
Cost of Activities and Travel Experiences in Greece
Greece is one of those countries which has many free to visit attractions and plenty things to do without having to pay much.
Best Free Things to Do in Greece:
You can explore ancient ruins, visit beautiful beaches and natural landscapes of Greece without having to break your bank.
Explore ancient ruins scattered throughout Greece can be admired from outside without charge. For instance: the Temple of Olympian Zeus in Athens or the Agora.
Enjoy panoramic views from the Areopagus in Athens offering breathtaking views of the city.
Visit one of the numerous beautiful beaches of Greece, which are free to access. Just take a towel with you to lay down and soak in the magnificent sun and enjoy beach vibes.
Visit museums when its a free day, as many museums across Greece set specific days where they provide free entry. Make sure to know the free days or particular museums when you plan your itinerary.
Cost of Activities/Experiences in Greece:
In the Land of Gods, the cost of activities and travel ventures mostly depend on specific activity, location and the time of year.
Following are the approximate costs associated with various activities and experiences:
Museum Entry Fee ranges from around €5 to €12 (₹500 to ₹1,000) per person.
Entry to major archaeological sites like the Acropolis in Athens can cost you around €20 (₹1,800) per person.
Prices for outdoor activities like hiking, exploring natural parks, renting equipment for water sports, etc. can vary widely. While hiking and similar adventures might be free, water sports would cost you around: €20 to €50 (₹1,800 to ₹4,500) per hour.
Wine tours or food tastings around the country might cost around €15 to €30 (₹1,400 to ₹2700) per person.
Hence, if your 5-day Greece vacation includes all these experiences plus the free things to do, the total activity cost would come to be around: ₹8000/-
---
How much does a meal cost in Greece?
Greek Cuisine is one of the most delicious, famous and inexpensive one in the entire world. You can easily find tasty, affordable food like gyros or souvlaki.
Even in the restaurants, traditional Greek delicacies can be quite affordable compared to other countries around the continent.
The cost of one meal in Greece can vary widely depending on where and what you eat:
Street food or quick bites across the country would cost you around €2 to €5 (₹170 to ₹450). Try out the street gyros or souvlaki.
On average, at an inexpensive restaurant, this cost could range from €8 to €15 (₹700 to ₹1,300) per person. Which could include traditional dishes like moussaka, souvlaki or a Greek salad.
At a mid-range restaurant, the cost ranges from €15 to €30 (₹1,300 to ₹2,600) per person. This could include a more diverse menu with a variety of dishes & possibly a drink.
If you want to have fine dining experience at an upscale restaurant, it would be starting from €30+ per person (₹2,600+).
Prices can fluctuate based on the city or island you're visiting and the specific restaurant or eating establishment. Also, keep in mind that prices tend to be higher in more touristy areas.
For our 5-day trip planning, let us assume we go for an inexpensive restaurant. If we have included breakfast with our hotel/stay, and have one meal per day i.e. 5 meals for a 5 day vacation, the total meal cost for your Greece venture would be around: ₹10,000/-
---
How much is a 5 day trip to Greece?
Now, if we calculate all the different elements of the trip we talked about above i.e. Accommodation, Transport, Meals & Activities for a 5 day trip to Greece:
Accommodation cost: ₹37,500/-
Local transfers/transportation cost: ₹13,500/-
Activities/Experiences cost: ₹8000/-
Meal costs: ₹10,000/-
Total budget that you must have for planning a 5 Day Trip to Greece should be at least: ₹70,000/- per person and ₹1,40,000 per couple.
*Remember: the provided rates for all the necessary elements of a travel experience are subject to change depending on the time of booking, date of journey, season and so much more. This is just an average as per the current scenario in the country.
---
Conclusion
Exploring the affordability of Greece for Indian visitors reveals a very nuanced picture. While certain aspects might seem expensive, there are numerous ways to navigate and enjoy this stunning destination without breaking your bank.
From smart budgeting to seeking out more local experiences, Greece offers an incredible tapestry of history, culture and natural beauty worth exploring.
If you found this article helpful, why not share it with fellow travelers and those planning their Greek adventure?
Spread the knowledge and help others make informed decisions. Let's inspire the world to uncover the Magic of Greece without worrying about expenses.
That's all folks!