In the season of cherry blossoms, liveliness and colors, I sit here in a resort looking out of this beautiful sliding glass door, towards the balcony, showcasing the land created with the "magic of love". They call this place Vrindavan. (Vrinda means Tulsi or basil and Van means a forest).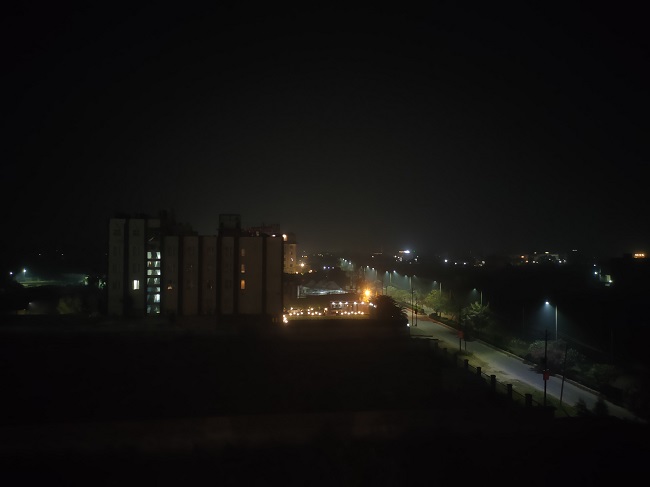 With some music playing in the background, the sun is slowly setting on this marvelous day of Holi celebrations in the city. This time – the evening over here – seems fascinating. The city transformed from being 'full of music, flying colors, loud cheers, chants of "Radhe Radhe" during the day' to being 'silent, calmer and peaceful during the night'.
And today, we talk about Why Vrindavan Holi is famous and why everyone shall once in life visit and experience it!
Introduction to Holi in Vrindavan
It is believed that Krishna created this place for his best friend, Radha to showcase their eternal love.
It had been years since the thought of visiting this place of wonder hid inside my mind, but as they say "the closest things are harder to catch". So even after being just about 400 kilometers of distance from Lucknow, we couldn't visit here properly.
Until now. And that too, at the best time. I had always heard on the news channels, social media, even from friends – that the Holi Celebration in Vrindavan and Mathura is the most incredible experience for everyone! I thought to myself, "Ah, well, what would it be that it's so famous – what's different?"
And, honestly, this question can only be answered if you yourself happen to experience everything on this day – the colors, the people, the chants, the surprise splashes and so much more!
I had seen many clips and photographs of crowds of people playing, throwing colors, screaming in joy, chanting "Radhe Radhe" and so much more throughout the years every time on Holi. And finally when I got the chance and time to experience it on my own – I just had to go and rejoice in one of the most amazing memories and the most exciting Holi celebration for me since years!
---
Why Vrindavan Holi is Famous?
The entire braj bhoomi in Northern India, which includes Nandgao, Barsana, Mathura and Vrindavan, celebrates Holi like no other place in the country. And these places are all significant to the mystical and glorious tale of Radha Krishna.
People gather from across the nation to visit here to experience Holi in all it's glory throughout Braj for at least a week before the holiday. It is said that the actual Holi festivities start about 40 days earlier and everyday is a celebration. And it is all dedicated to Radha and Krishna and their story.
Radha Krishna is the epitome of Love, friendship and life in general. It's not just a story or a mythological tale – it's a deep sensation for millions of people. Even for me, someone who grew up listening to the tales of these two childhood besties and love birds and the notorious and still innocent moments of theirs – is what forms the sense of what love actually is. Or what it actually is supposed to be.
Radha and Krishna's tale of eternal love separates love (prem) from attachment (moh). It explains one that love is not attachment or addiction or anything people now believe it to be. Love, is simply an emotion, a divine power which does not ask anything in return – Love is not a boundation, it's freedom.
As quoted by Krishna in The Bhagavad Geeta – "Love should set another person in love with us – free."
This love, this story is what makes the entire Braj Bhoomi so popular and attractive for people to come and celebrate the festival of colors in. Radha Krishna and the faith in people's minds that they once lived, laughed and loved on this place is Why Vrindavan Holi is famous.
Recommended Read – Why Do We Celebrate Holi (to learn about the different unique tales that define the meaning of Holi and explains why it means so much to people)
---
Holi Celebrations in Vrindavan – Types of Holi in Vrindavan
As I said earlier, each of the places in Braj Bhoomi represent a phase of life of Lord Krishna and Radha. That means the celebrations of Holi happen around all these towns at different dates with different types of festivities and events.
The Major types of Holi Celebrations in Vrindavan are mostly the same as all the other places, these include –
Lathmaar Holi
Phoolon Ki Holi
Widow's Holi
Dhulandi Holi
Lathmaar Holi
Lathmaar Holi is one of the most prominent and popular events which make for the celebration of the festival of colors in Vrindavan.
The boys (representing Krishna and his friends) visit the places of Holy significance on this day and are beaten up (playfully, of course) by the beautiful girls dressed in pretty red lehengas (representing Radha and her friends) by a stick (or a lath) and thousands of people gather around to capture the scene while enjoying flying colors and water shots from all over.
This is done to showcase and remake the scenes from the Radha Krishna tale where Lord Krishna went to Barsana (Radha's hometown) to play Holi with her, along with his friends, but they were all dragged down and beaten up with sticks by Radha and her friends (playfully, of course).
Phoolon Ki Holi
Phoolon Ki Holi or Phoolon Wali Holi or the Holi with Flowers is another very interesting and important events during the festive season that represents why Vrindavan Holi is famous.
Just like the name suggests, this Holi is basically played with colorful flower petals instead of colors. People gather around the Banke Bihari Temple in Vrindavan and throw huge bunches of flower petals towards each other. Many localites gather over their roof tops and shower the devotees and visitors with huge chunks of flower petals from above and it feels like a fascinating scene out of a Disney movie!
Truly an experience that shall not be missed!
Widow's Holi
As you move around the city and visit the incredibly majestic places like Nidhivan, etc. in the city of Vrindavan, the local people or guides will tell you that Vrindavan is also called the City of Widows. Why that is? Well, there is a grand ashram for widow's here where they can work, earn and live freely away from the society calling them names and children who want nothing to do with them – away, from the world's cruelty.
Vrindavan welcomes these women with open arms and during the festival of Holi, it fills the white lives of these women with so many different colors! And that is what makes it unique and also Why Vrindavan Holi is Famous for everyone!
As we know, the widow's are asked to wear white clothing and are not even allowed to wear any jewelries and stuff – there life becomes lifeless and remains colorless throughout the year – except these few days! When they can freely be what they once used to be – full of colors, bright smiles and a slight happiness.
Dhulandi Holi (Rang Panchami)
Dhulandi Holi in Vrindavan gathers crowds of people – both locals as well as wanderers from across the country and the world to experience a carnival of colors. Local artists dress up as Krishna and Radha and others to showcase performances depicting their unique tales of love and wonder. People throw colors at each other and paint the town red, blue and yellow!
This is the Holi that we all know and celebrate at our own hometowns as well – but the reason Why Vrindavan Holi is famous much more than other parts of the country, is because of the vibe and feelings and the people gathered around and the immersive impact it all has upon everyone.
---
Is it safe to visit Vrindavan in Holi?
Holi in Braj is one of the most incredible and highly recommended festival which everyone shall at least once in life experience – with friends and family or however they like.
But one major question that arises in the minds of travellers (specially maybe in the minds of a group or solo women travellers) is that is it safe to visit Vrindavan in Holi.
The answer is not that simple. As you know – large festivals or celebrations means large amounts of people – all kinds of them.
The major problems faced by women during these times are item snatchings, inappropriate touching, drunken groups of people, eve teasing etc. This happens anywhere there's crowd and people are still figuring out how to stop this from happening but with no solution what-so-ever.
Here are some tips that can keep you safe and away from the stress of the streets so that you can enjoy what you came here for – the festival of Holi –
It is a recommended advice by many women who experienced the festival that you avoid being on a solo trip at least when coming here. Travel with friends as it is much more safer to be with familiar people rather than fighting your way through the unknown crowd alone.
But I'd rather say this is a suggested advice, but that shouldn't stop you from going alone if you want so. After all, there is something Super in every Girl out there and some Wonder in every Woman.
Avoid Over-Crowded Places
Avoid places which are suffocatingly crowded – it is a safety tip for you as well as your health. Holi celebrations happen at different parts and towns across Vrindavan and Mathura. You can choose anyone of them which seems to be less crowdy and more safe. Local guides and hotel staff could help you with it.
And do not worry, everywhere you go you can experience the incredible Holi festival vibes with similar joy and fun.
This is not just because of the drunken or misbehaving crowd owls in there but also for being safe from the colors getting all over your skin. Wear old clothes (like a long Kurta or something) which will make you feel comfortable and you can enjoy the colors coming at you from all sides without worrying too much of it getting into your skin.
Do not tolerate any inappropriate touching
I have been told that girls have this superpower to know what touch is good and which one's bad, right. So remember that even if it is a different land and people you don't know – you are still in power. Even the slightest vibe of an inappropriate gesture and you tell them to BACK OFF!!
Not many people will have that dirt in their minds though. There will be times when people (both men and women) will put gulaal on your cheeks along with a teeka on your forehead as well. Keep in mind that not all people are bad.
Another kind-of evil lurking during the season of Holi in Vrindavan could be the HEAT! If you remember the Glucon-D (maybe) ad that came few years back where the Sun literally sucks your energy out with a stray, remember that? Well that's what it feels sometimes when you are in the crowd – covered with dirt, colors, water and what not. So keep in mind to carry water with you at all times and stay hydrated.
Keep your electronics safe
If you happen to carry your phone, make sure you have those transparent plastic pouches which can seal and keep your phones safe. And if you have to carry camera(s) for documenting the Holi festivals – make sure they are waterproof. It is inevitable to keep them away from water.
Be prepared when you get out and mix up with the crowd to celebrate and experience the Holi in Vrindavan. Be prepared for colors, gulaal, etc. Be prepared for people throwing buckets full of water and even mud into your faces. Be prepared for strangers coming up to you to wish you a Happy Holi.
Be prepared for loud chants of Radhe Radhe and Jai Shri Krishna along the way. Be prepared for the crowd to become more and more suffocating at times – although keep in mind the crowd gets the most suffocating just before the major destination arrives (and that shall not be missed). Be prepared for the best Holi celebrations of your life!
---
To wrap things up
Holi is one of the most vibrant and joyous festivals in India. and more so in the city of Vrindavan, where it is celebrated with much pomp and joy. Here are some of the reasons why Vrindavan Holi is famous and is considered the most special place for Holi celebrations. If you'd like to learn more, please Like, Follow and Comment on this post. We hope you enjoy this little glimpse into the vibrant celebrations of Holi in Vrindavan!
That's All Folks!