Looking for an exciting 3 Days in Rome Itinerary? Discover the perfect blend of history, art, culture and cuisine for making the most of your visit.
Rome is a living museum where ancient ruins, renaissance masterpieces and modern life all converge harmoniously.
From the grandeur of the Colosseum to the timeless elegance of the Vatican, Rome's streets resonate with the whispers of its emperors and artists that all helped shaped its vibrant tapestry.
With our 3 Days in Rome with family we blend in the grand monuments, beautiful fountains, cobblestones streets and splendid patios along with other Roman treasure troves – all into one. Read along and find out the most fun things do to, places to stay, some tips and the total budget for your trip.
---
3 Days in Rome Itinerary
Day 1: Immersing in Ancient Rome:
Visit to the iconic Colosseum
One of the must do things when planning your 3 Days in Rome has to be the awe-inspiring Colosseum. A place where once gladiators fought lions while the crowds roared from all corners.
As you walk through its arches and witness the remnants of the structure still holding a legendary tale for centuries, you seem to travel to that time right in the middle of an epic gladiator battle.
As per the latest records, nearly two-third of the original structure has been destroyed, due to severe earthquakes and neglect.
When it was built all the way back after 69 CE, the Colosseum was built as an entertainment venue – hosting gladiator battles, animal hunts and for mocking naval battles.
You could purchase their skip-the-line tickets in advance to avoid large crowds that are really common at the Colosseum.
Explore the Roman Forum and Palatine Hill
As we move forward with our day, we step into the heart of Ancient Rome – the Roman Forum and Palatine Hill.
Once the bustling center of political, religious and social life, the Roman Forum is now a captivating array of ruins whispering legendary stories. Witness the ancient temples, basilicas and arches that once defined the city.
The Palatine Hill next to the Forum offers breathtaking views of the ruins and the city beneath. The Rome emperors all lived at this place and the remnants of their lavish palaces provide a glimpse into their opulent lifestyles.
Head to the picturesque Capitoline Hill
Lastly for the Day 1 in your 3 Days in Rome Itinerary, you make way to the Capitoline Hill to intake a different perspective of the entire city.
Designed by Michelangelo, the Piazza offers stunning views of the Roman Forum and its surrounding landscape and museums that are worth a visit for their collection of ancient sculptures and art.
Later, you could immerse yourself in the delightful delicacies of Rome by enjoying a traditional Italian dinner at a nearby trattoria. Have the authentic pasta dishes and local wines as you reminisce your first day in this city that feels more ancient and still very real at the same time.
---
Day 2: Vatican City and Renaissance Wonders:
Begin the day at Vatican City & Visit St. Peter's Basilica
After a happy sleep at your relaxing stay, start your second day among the Rome Itinerary 3 Days by visiting the awe-inspiring Vatican City.
The smallest independent state in the world, Vatican City is nestled within the heart of Rome and is popular among tourists as a treasure trove of art, history and spirituality.
As you step into this fascinating enclave, prepare to be immersed in the grandness of St. Peter's Basilica – a splendor of the Vatican Museums and the timeless beauty of the Sistine Chapel.
Whether you are more into art, history or just a curious being – the Vatican promises an unforgettable experience resonating long after you leave the destination.
Climb up the steps to the basilica and enjoy the mesmerizing views of the expansive St. Peter's Square down below. Inside the basilica, you can marvel at its wide dome, intricate mosaic work, priceless art and the Michelangelo's Pieta.
You can climb up at the very top of the dome and experience 360° panoramic views of the entire city.
Explore Vatican Museums & Sistine Chapel
A trip to the Vatican is incomplete without exploring the museums – a treasure of art and history holding stories from centuries ago.
The highlight of the Vatican Museums is undoubtedly the Sistine Chapel, as said earlier – since it includes the most renowned frescoes of Michelangelo: Creation of Adam.
As you stand amidst these masterpieces, it's hard not to feel a sense of wonder and admiration for the creativity of human.
Although the views and the history is easily accessible, navigating the Vatican Museums can be overwhelming due to their vastness – hence, it is advisable to plan your visit in advance and book online tickets for the same. It helps you skip long queues and ensures that you have sufficient time to explore the galleries.
Important Tip#1: Remember that the Sistine Chapel is a sacred place, so maintain respectful demeanor while in there.
Visit the charming Piazza Navona
Evening comes with a leisurely experience at the charming Piazza Navona – one of Rome's most iconic squares.
Admire at the grandeur of the Fountain of the Four Rivers at its center. Designed by a popular Italian sculptor Gian Lorenzo Bernini in the year 1651, this fountain represents the four major rivers in the world that were known at the time.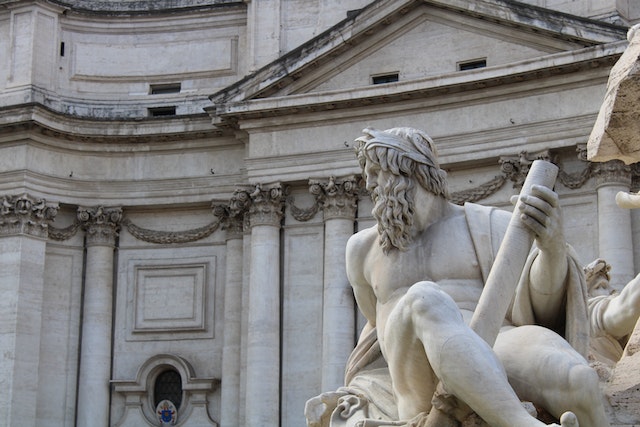 This square comes alive when the sun goes to sleep. The streets are filled with street performers, artists of all types and a lively ambiance transforming the city from an ancient historic space in the morning to an incredible evening of lights and performances.
From Piazza Navona, venture forward towards the Pantheon – a marvel of ancient Roman engineering. The magnificent dome with its oculus or eye remains an architectural wonder and is called as the world's largest unreinforced concrete dome.
Step inside into the Pantheon to witness a unique interplay of light and shadows creating an almost mystical ambiance within.
For a sweet ending to your day, indulge in some authentic Italian gelato from one of the nearby gelaterias. The flavors around these sights are diverse and incredibly delicious, making it a perfect way to experience the quintessential treat of the Romans.
---
Day 3: Art, Culture, and Hidden Gems:
Start the day at the world-famous Trevi Fountain
Today will mark your last day in our 3 Days in Rome Itinerary as we head on towards the mesmerizing Trevi Fountain.
This iconic masterpiece is not merely a beautiful sight to behold, but also an interactive experience. It is believed that when a traveler tosses a coin over their left shoulder into the fountain, it ensures their return to the Eternal City of Rome in the near future.
Almost, as if something we experience at the Taj Mahal. It is believed that whoever turns to have a final look at the Taj before exiting – it means they would return back to the Taj once more.
The intricate designs and roman architecture of the Trevi Fountain depicts Neptune, the God of the Sea – making it a true symbol of Rome's grandeur. If you want to avoid the crowds, it is the best to arrive early in the morning to capture the fountain's beauty in its serene moments.
After you've enjoyed the fountain, took those amazing photos and whatnot, take a leisurely morning stroll through the charming area around the Spanish Steps.
This historic square is surrounded by elegant boutiques, art galleries and cute cafes. The Spanish Steps provide a perfect spot to rest and people-watch – as well as to admire the impressive Barcaccia Fountain at the base.
Dive into art at the Galleria Borghese
Galleria Borghese is a fascinating treasury of art masterpieces nestled within the Borghese Gardens of Rome.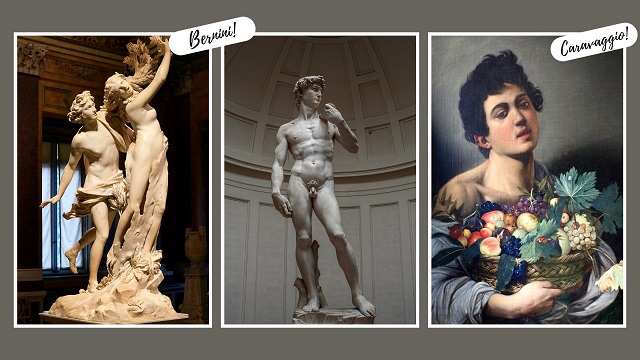 This artistic museum boasts an excellent collection of sculptures, paintings and other decorative art from the period of the Baroque and Renaissance. Marvel at the lifelike sculptures of Bernini like: Apollo and Daphne & David and the striking paintings of Caravaggio – including the Boy with a Basket of Fruit.
It is very crucial for booking your visit in advance, because as per the rules – there's a limited number of visitors allowed to go inside the museum at a time.
Also Read: Crowds of Vrindavan.
Explore the vibrant neighborhood of Trastevere
Evening is the best time to visit the enchanting neighborhood of Trastevere. Located on the west bank of the Tiber River, this bohemian-style quarter is known for its narrow cobblestone streets and picturesque squares.
It offers a delightful contrast to the grandeur of central Rome and fills your 3 Days in Rome Itinerary with a laid-back and artsy vibe.
You can find medieval churches adorned with intricate mosaics and unique artisan shops as you walk around the magnificent streets of the destination. For dinner, choose from a variety of local trattorias that serve authentic Roman cuisine – from classic pasta dishes to traditional Roman-Jewish delicacies. You can also witness street performers and musicians often entertaining visitors and locals alike.
As your third and last day for 3 Days in Rome ends, reflect on the rich experiences and memories you have collected during your 3-day exploration of Rome. From ancient wonders to artistic masterpieces and charming neighborhoods – Rome truly offers an unforgettable journey through time and culture.
As your day comes to an end, reflect on the rich experiences and memories you've collected during your 3-day exploration of Rome. From ancient wonders to artistic masterpieces and charming neighborhoods, Rome truly offers an unforgettable journey through time and culture.
---
How to Get Around Rome:
One thing to keep in mind during your 3 Days in Rome, is to understand how to get around the city. It is relatively easy due to the well-connected public transportation system and pedestrian-friendly streets. Following are the major ways to navigate the city –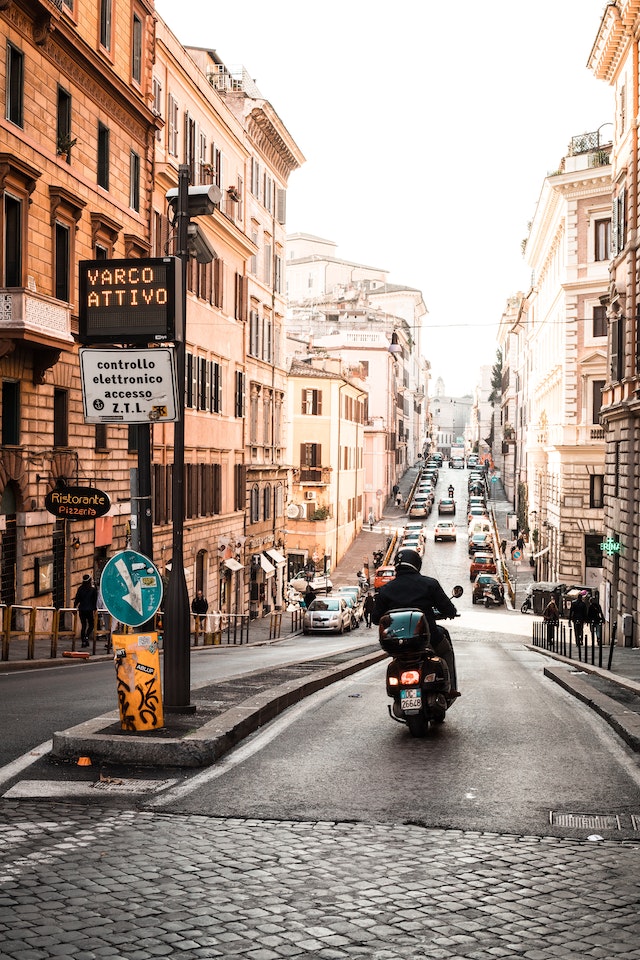 Metro System in Rome – A convenient option for traveling long distances, connecting major attractions like the Colosseum, Vatican and Termini Station. The train's runtime is usually from 5.30 AM to 11.30 PM.
Buses & Trams – The extensive network of buses and trams in Rome cover areas not served by the metro. You can easily catch a bus to the off-beaten spots in and around the city and intake scenic views of the city through travelling in a tram.
Taxis & Ride Sharing – Taxis are widely available throughout the different quarters of the ancient city. Ensure that the taxi has a working meter. Uber and other local equivalents are also available for cab booking in the city.
Walking – As we at TravelSole have mentioned many times, the best way to explore a city is by walking in it. Wear comfy shoes and explore the Trevi Fountain, Spanish Steps and the Piazza Navona on foot.
---
Where to Stay for 3 Days in Rome:
Best Luxury Hotels in Rome:
Hotel Hassler Roma: ⭐⭐⭐⭐⭐
Location – Piazza della Trinità dei Monti, 6, 00187 Roma RM, Italy
Features – Opulent decor, Impeccable room service & Michelin-starred dining experience.
Type of Stay – Luxury, Timeless, Elegant
Prices – Approx. $1320 per night
Rocco Forte Hotel de Russie: ⭐⭐⭐⭐⭐
Location – Via del Babuino, 9, 00187 Roma RM, Italy
Features – Beautifully landscaped gardens, a Serene wellness spa & Stylish courtyard dining.
Type of Stay – Classic, Elegant, Modern
Prices – Approx. $1560 per night
The St. Regis Rome: ⭐⭐⭐⭐⭐
Location – Via Vittorio Emanuele Orlando, 3, 00185 Roma RM, Italy
Features – Luxurious rooms, Gourmet dining & Personalized butler service.
Type of Stay – Classic & Lavish
Prices – Approx. $846 per night
---
Best Budget-Friendly Hotels in Rome:
Hotel Italia: ⭐⭐⭐
Location – Via Sardegna, 31, 09124 Cagliari CA, Italy
Features – Comfortable Rooms & Essential Amenities.
Type of Stay – Affordable, Easily Accessible & Friendly
Prices – Approx. $194 per night
Hotel Navona Colors: ⭐⭐⭐
Location – Via dell'Orso, 38, 00186 Roma RM, Italy
Features – Colorful, Modern Rooms & a Cozy Ambiance.
Type of Stay – Central location to the lively Piazza Navona & Great Value.
Prices – Approx. $96 per night
Hotel Grifo: ⭐⭐⭐
Location – Via del Boschetto, 144, 00184 Roma RM, Italy
Features – Complimentary breakfast buffet, Comfortable stay, Rooftop terrace.
Type of Stay – Clean & Comfy rooms
Prices – Approx. $140 per night
---
Best Areas to Stay in Rome: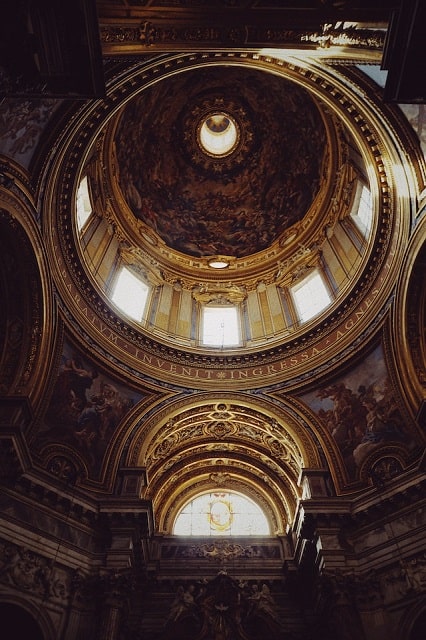 Colosseum and Ancient Rome:
Wake up to the iconic symbol of Rome.
Enjoy easy access to the Roman Forum & Palatine Hill – best for the day 1 of our 3 Days in Rome Itinerary.
Experience the charming Monti neighborhood – known for the cobblestone streets and artisan shops.
Vatican City:
Ideal stay area if you plan to spend significant time exploring Vatican attractions.
Enjoy the proximity to the legendary Vatican Museums, St. Peter's Basilica & the Sistine Chapel.
Choose from a wide range of stay options from upscale hotels and resorts to guesthouses and religious-themed hotels.
Pantheon and Piazza Navona:
Experience staying in the very heart of the ancient city of Gods.
Get easy access to the landmarks like the Pantheon & Piazza Navona.
Choose from a mix of luxury accommodation choices and charming boutique hotels.
Trastevere:
Trastevere offers a lively neighborhood experience with a Bohemian atmosphere.
Experience a unique blend of medieval architecture & modern amenities.
Enjoy the vibrant nightlife of Rome in this enchanting locale.
---
3 Days in Rome Budget:
Planning a trip for 3 Days in Rome involved considering various expenses from accommodation, meals to transportation, local transfers and attractions, etc.
While the budget of traveling to a destination can vary depending on several factors like the set budget limit and the type of traveling, here is a rough estimate that we thoroughly researched and planned out for y'all for an epic adventure in the Eternal City –
Elements of a Travel Budget –
1. Accommodation:
Budget: $50 – $150 per night for hostels or budget hotels.
Mid-Range: $150 – $300 per night for mid-range hotels or guesthouses.
Luxury: $300+ per night for upscale hotels or boutique accommodations.
2. Meals:
Breakfast: $5 – $10 (at local cafes or bakeries)
Lunch: $10 – $20 (at trattorias or casual eateries)
Dinner: $20 – $40 (at restaurants offering traditional Italian cuisine)
3. Transportation:
Public Transport: A 3-day Roma Pass costs around $30 and includes unlimited public transportation.
Single Metro/Bus Ticket: About $1.50 – $2 per ride.
4. Attractions:
Colosseum and Roman Forum: Around $16 (with skip-the-line ticket).
Vatican Museums and Sistine Chapel: Approximately $30 (with skip-the-line ticket).
Other attractions and museums: Budget around $10 – $20 per site.
5. Miscellaneous:
Gelato, coffee, snacks, souvenirs: Estimate around $10 – $20 per day.
Estimated Total Budget Range:
Budget Traveler: $150 – $250 per day ($450 – $750 for 3 days)
Mid-Range Traveler: $250 – $400 per day ($750 – $1,200 for 3 days)
Luxury Traveler: $400+ per day ($1,200+ for 3 days)
Remember that the given budget estimates are approximate and can vary depending on several factors like – personal preferences, exchange rates, your day of booking and journey or any unexpected expenses, etc.
Research & plan ahead to ensure your budget aligns with your set travel goals & expectations.
Once you have your budget set, you can use this 3 Days in Rome Itinerary for a perfect getaway experience to one of the most outstanding cities in the entire world.
---
Conclusion:
In just 3 days in Rome, you get an immersive experience through millennia of history, art and the ancient Roman culture. The Eternal city is a city of iconic landmarks, hidden gems & culinary delights that welcomes you with open arms and shares legendary stories from centuries ago with you in the most extraordinary ways.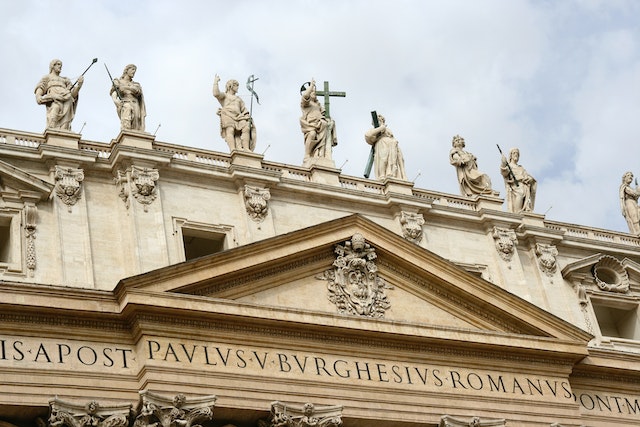 With different kinds of travel experience for history buffs, architecture enthusiasts, local explorers and other kinds of travelers, Rome is definitely a worthy destination to visit.
From the awe-inspiring Colosseum to the grandness of the Vatican & the charming cobbled streets of the Trastevere, every little corner or quarter of Rome tells a different story of how they made this city into what it is now.
With our itinerary you get an in-depth view of the entire city and it's magical story in the best way possible. You can now understand that 3 days in Rome are enough if you travel like a traveler rather than just a tourist.
If you found our 3 Days in Rome Itinerary helpful & inspiring, do not hesitate to share it with your fellow travel enthusiasts. Leave your thoughts in the comment box below – we'd love to hear about your Rome experiences or any additional spot or tips you might want to include in our article.
Stay updated with more such travel itineraries, guides, destination insights and cultural explorations, be sure to become a #SoleMate by subscribing to our newsletter.
That's All Folks!