Did you watch the new @yoyohoneysingh track, KALAASTAR? It is a sequel to the 2014's blockbuster Desi Kalakaar and boy it is a wonderful sequel to say the least!
At the end of the song (spoiler alert) we see him asking @AsliSona where she wants to go next? To which, she replies, "Puerto Rico!"
So, before they head on towards this marvelous island of enchantment, let's find out all about the Weather in Puerto Rico in November and more.
In this little blog post, you will find:
What is the weather in Puerto Rico in November?
Is November a good time to visit Puerto Rico?
What are the best things to do in Puerto Rico in November?
Some frequently asked questions.
---
The Allure of Puerto Rico
Often referred as the Island of Enchantment, Puerto Rico boasts a marvelous blend of influences from Spain, Africa and the indigenous Taíno culture. This incredible fusion is vividly reflected in its rich cuisine, music and art.
From the historic streets of Old San Juan filled with the colorful buildings and cobblestone roads to the lush green rainforests of El Yunque and the fascinating beaches along the coastline, the island of Puerto Rico offers travelers with a range of exciting experiences.
One of the most attractive feature or Puerto Rico is its cultural diversity. Visitors get to explore centuries-old Spanish forts, savor up the delicious, mouth-watering dishes like mofongo and tostone and dance to the mesmerizing rhythms of salsa and reggaeton. Another great aspect of this island is its people (or Boricuas) who are known for their warmth and friendliness.
---
What is the Weather in Puerto Rico in November
The weather in Puerto Rico in November remains to be a delightful escape from the chillier temperatures one experiences in most parts of the United States. This month is said to be one of the best times to visit Puerto Rico, as it combines pleasant temperatures with relatively low rainfall.
Temperature in November
You can expect slightly warm and a very comfortable weather in Puerto Rico.
During daytime, the temperature of the island typically range from the mid-70s to lower 80s Fahrenheit (24-28° C). This makes for an ideal weather for indulging in various outdoor activities, sightseeing and enjoying the stunning beaches in the island.
Humidity in November
The humidity levels in Puerto Rico in November are relatively moderate, which makes it a very comfortable time to enjoy outdoor activities.
You do not need to worry about sweating or experiencing oppressive humidity, which is mostly prevalent during the summer months.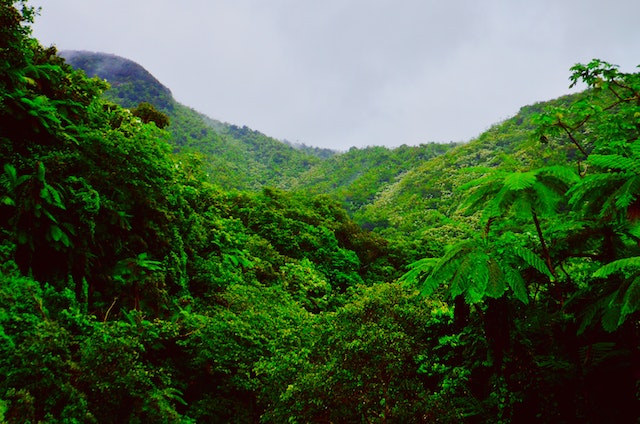 Is November rainy season in Puerto Rico?
During November, the rainfall decreases significantly compared to the previous, wetter months of the summer. While you can expect some brief showers, they are usually sporadic and should not significantly affect any of your travel plans.
Note: November is considered to be the end of hurricane season in Puerto Rico and the chances of experiencing a hurricane during this month are quite low.
Sunshine in November
The weather in Puerto Rico in November remains mostly sunny, with clearer skies and an abundance of daylight hours.
This is the perfect time for explorers wanting to soak up in the sun, explore outdoor attractions and indulge in any kind of water sport adventures like: snorkeling, swimming, diving, etc.
Does it get cold in Puerto Rico in November?
No, it does not get cold in Puerto Rico in November. In fact, one the primary reasons why people love to visit Puerto Rico in November is due to its warm and comfortable climate. You can expect mild to warm conditions throughout the month, making it ideal for all things touristy: from exploring stunning architectures of the Caribbean island to experiencing outdoor activities during day time.
Overall, November could easily be one of the most excellent time to visit Puerto Rico due to the pleasant weather conditions with neither the intense heat of the summer, nor the frequent rainfall. This month of the year is ideal to explore the island's natural beauty, rich culture and vibrant cities.
---
Is November a good time to visit Puerto Rico
Yes, November is a very good time to visit Puerto Rico as it offers a pleasant weather, reduced crowds and an opportunity to enjoy local events and festivals. With the fascinating temperatures, lower to minimal rainfalls and fewer tourists, it is an ideal month to explore the beautiful beaches, outdoor adventures and cultural festivals without any worries.
Why is November the Best Month to Visit Puerto Rico?
It is the most fantastic time to visit Puerto Rico primarily due to the weather in Puerto Rico in November and the less crowded experience.
Following are some more reasons why you should plan your trip to the island in November:
Festival & Events: Puerto Rico often hosts various cultural and holiday events starting from November. You will get the opportunity to witness the magic of these events unfold at the San Juan International Film Festival and the San Sebastian Street Festival if you visit in November.
Reduced Crowds: Since November falls outside the peak tourist season in Puerto Rico (mid-Dec to mid-Apr), you will see very few crowd at the most popular tourist attractions and attractive beaches. This means you have the destination all to yourself and can explore the island with a greater ease and enjoy the tranquil experience with your loved ones in the best way possible.
Affordable Travel: Due to it being a low-season, you can find flights and stays in a more reasonable price when compared to other months. November makes Puerto Rico a budget-friendly location to visit.
Outdoor Activities: With the comfortable weather in Puerto Rico in November, it becomes an ideal time for many outdoor adventures like: hiking, water sports, etc. You can also explore the island's natural beauty with the perfect conditions.
Thing to Remember: Although November is also a part of the Atlantic hurricane season, the risk of hurricane around Puerto Rico during this month is minimal. Still, you need to be informed about such stuff. And it is wise to get a proper travel insurance for your trip. Try this one out!
Also Read: Best Travel Insurance For International Travel
---
Things to do in Puerto Rico in November
Visiting Puerto Rico in November provides you with a wonderful opportunity to explore the island and what all it offers at your own pace and style. Here are some of the most interesting things to do in Puerto Rico in November:
Explore Old San Juan: The historic streets of Old San Juan are characterized by colorful colonial architecture, cobblestone streets and various impressive fortresses like El Morro and San Cristobal.
Relax at the Beaches: The beaches in the coastal land of Puerto Rico are the most talked about. With the warm weather in Puerto Rico in November, you can spend some great time at the beaches (Condado, Isla Verde, and Luquillo) while sunbathing, swimming or trying out various water activities.
El Yunque National Forest Hike: November is the perfect time to explore the depths of the El Yunque National Forest. Hike this fascinating tropical rainforest and explore lush trails, stunning waterfalls and the breathtaking views from the mountain peaks.
Tour of the Bioluminescent Bay: Everyone has seen those magical, glowing effect over the sea water, which happens at the Bioluminescent Bay, at Vieques or Fajardo in Puerto Rico. Take a night tour in a kayak or electric boat to witness this mystical natural wonder.
Dance the Salsa: One of the most romantic dance genres and music in the world, salsa comes from Puerto Rico. Do not miss a chance to dance the night away at a local salsa club with the love of your life. You can look for events or live performances around the destination for an authentic experience.
Learn about Coffee: Puerto Rico is known for its coffee production. Visiting a coffee farm in the lush mountains gives you an experience where you learn about how coffee is produced and processed.
Explore World's Largest Single-dish Radio Telescope: The Arecibo Observatory offers fascinating tours and educational exhibits about space, the universe, the world we live in and the astronomy. It is a fun place to visit for a family with kids.
Experience San Sebastian Street Festival: If you plan on visiting Puerto Rico in late November, you must get tickets before-hand for the San Sebastian Street Festival featuring live music, art, food and colorful parades.
Sample the Local Cuisine: Puerto Rico offers a delectable mix of Spanish, African and Caribbean influences. Try traditional dishes like Mofongo, Arroz con Grandules and Tostones at local restaurants.
---
Conclusion
As Honey Singh's "KALAASTAR" video has thrust Puerto Rico into the trending spotlight, it's clear that the allure of the Island of Enchantment remains stronger than ever.
With the rich cultural heritage, breathtaking landscapes, warm and welcoming people and just the pleasant ambiance, the island promises a truly enchanting experience for all kinds of travelers visiting Puerto Rico in November.
So, Join the trend, explore the island and make numerous memories that will last a lifetime in this captivating Caribbean gem.
Share the blog with Honey Singh fans, Puerto Rico lovers, travel enthusiasts and curious wanderers all around you. Did you enjoy the new song? Tell me in the comments below!
That's All Folks!