Cancun, a once beloved coastal destination for tourists, has recently raised a few concerns among the vacationers.
The reason behind this concern is due to the increasing reports of violence that surrounds Mexico.
The level of crime in several areas of Central America has been transforming into a more violent scenario as homicides, kidnapping, assaults and carjacking reports have been all over the news recently.
Amidst all this, the popularity of this Mexican paradise has sparked debates about safety and many travelers are now questioning their plans to visit.
So, today we discuss is it safe to travel to Cancun and:
---
Why are Travellers thinking twice about Cancun?
The number one reason why travellers are thinking twice about their Cancun vacation plans is the increasing reports of violent crimes that surround Mexico. Many cities in and around Central America have raised the news of different types and levels of crime on a rise in certain areas. This has left the vacationers from The States into a more anxious stage where they are not sure if they should visit this coastal paradise or not.
While tourists are rarely a target of the more higher levels of crimes, the citizens of USA have been caught in the crossfire, nonetheless.
Although the concerns are all there, many travelers ultimately are still ending up going ahead with their travel ventures and coming back without any negative reviews regarding the crimes in the coastal destination.
---
Is it Safe to Travel to Cancun?
Yes. It is absolutely safe to travel to Cancun, more so than other major cities across Mexico as the reports of crimes from this particular city are just the mere normal that one needs to be aware of when traveling anywhere in the world. These include petty crimes like: theft and scams. There are no major crime reported from Cancun in particular. It is a tourist destination and travelers have been visiting the place without any problem.
By taking some precautions and staying informed, you can enjoy your visit to Cancun and the Mexican culture that the coastal city boasts off, without any risk.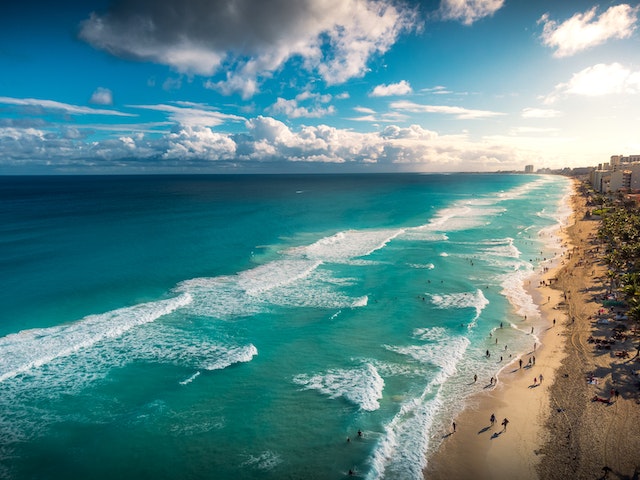 As per the US State Departments, the Yucatan Peninsula is the safest region in Mexico for travelers in 2023. However, the State Department also have a travel advisory stating people to "exercise increased caution" in the state of Quintana Roo.
Safety Tips:
Choose Accommodations Wisely: Opt for the most reputable and known hotels and resorts and avoid taking any place of for night stays just because the prices are low.
Stay in well-traveled areas: Stick to the more popular zones like the Hotel Zone, etc. and avoid wandering into the unknown streets.
Use Reliable Transport: You can utilize taxis, private vehicle or shuttle services for a safer getting around in the city.
Eye your belongings: Petty theft is the most common crime in the city, so always keep your eyes on your belongings. You'd be much better off carrying just the most essential stuff with you when outdoors.
Do not wander about alone at night: Darkness brings along crimes as well, that's why we need Batman in real, right? And since we don't have him, we need to be extra cautious when traveling alone at night.
Stay Updated: Always check the travel advisories or updates online before visiting any place in the world.
---
Cancun vs Cabo: The Safer Choice?
When it comes to the most outstanding coastal destinations in Mexico, these two names often pop up in convos: Cancun and Cabo San Lucas.
Both these destinations offer travelers with sun-soaked beaches, stunning landscapes and a plethora of activities. Both still have a unique charm and character which cannot be found at the other.
If you're torn between the two and considering factors like the most suitable vacation spot keeping in mind the safety concerns and types of activities, here we explore what makes them distinct and help you make a decision:
| | Cancun | Cabo San Lucas |
| --- | --- | --- |
| Culture and History | Rich Mayan culture, ancient ruins | Limited cultural sites |
| Natural Beauty | Pristine white sandy beaches | Desert landscapes, striking scenery |
| Nightlife | Vibrant nightlife, clubs, and bars | A more relaxed atmosphere |
| Outdoor Activities | Water sports, scuba diving, snorkeling | Sportfishing, whale-watching |
| Accommodations | Wide range, from budget to luxury | Upscale resorts, private villas |
| Safety Assessment | Varied, with some areas experiencing increased crime. Petty theft is common. | Generally considered safer with lower crime rates. Petty theft still possible, but less common. |
Is it Safe to Travel to Cancun vs Cabo
Cancun: The Caribbean Elegance
While Cabo has its own unique charm, Cancun remains to be the more popular choice among the two due to its stunning beaches, vibrant nightlife and a wide range of attractions and activities it offers.
Cultural Richness: Cancun offers the best of both worlds to the travelers. It blends a tropical paradise perfectly with the rich Mayan culture. You can explore ancient ruins like Tulum and Chichen Itza, both within a day's trip from Cancun. It lets you explore the fascinating history of the region.
White Sandy Beaches: Cancun boasts some of the most stunning beaches in the entire world, with powder-like sands and clear turquoise waters. The Hotel Zone is a hub for luxury resorts which often offer easy access to the most breathtaking shorelines.
Nightlife & Entertainment: If you want a vibrant, beach nightlife: Cancun is the perfect place to be. From fascinating beachfront clubs and bard with live music and entertaining shows, you will find so many ways to keep the party going as the night gets darker.
Variety of Accommodations: Cancun, being the more popular coastal city, offers a wider range of accommodations to suit every budget: from luxurious beach resorts to more affordable stays. This makes it even more accessible to a broad spectrum of travelers.
Cabo: Where Desert Meets the Ocean
Cabo San Lucas or Cabo stands out as a Mexican beach destination due to its unique style of blending tranquil desert landscapes with the thrilling ocean adventures. Also, it is more safe destination as even the petty crimes like theft are comparably lower.
Stunning Desert Landscapes: The unique appeal of Cabo lies in its dramatic desert backdrop. You are surrounded by rugged mountains and arid landscapes and this creates a striking contrast to the pristine beaches and the deep blue Sea of Cortez.
Outdoor Adventures: Cabo is a haven for adventure enthusiasts as it offers a wide variety of activities to try: from world-class sportfishing to thrilling water-ventures like scuba diving or snorkeling, etc.
Secluded Luxury: Since Cancun is a more popular choice for all types of travelers, Cabo gets more solo travelers and honeymooners most of the time. This makes it a secluded luxury hotspot with an array of high-end resorts and private villas with intimate and wonderful ambiance.
Peace & Serenity: Being a secluded vacation spot in Mexico, Cabo is more relaxed and laid-back and offers more peace and quiet to the travelers.
Ultimately, your choice should depend on your preferences and how comfortable you feel with the safety measures in place.
---
Best time to Travel to Cancun
Although Cancun's weather is beautiful year-round, the best time to visit this coastal destination depends on your preferences and: weather, crowd levels and budget.
Here's a breakdown of the different seasons in Cancun to help you decide when would be the best time to travel to Cancun:
Peak Season (Dec to Apr): This is Cancun's dry season with warm temperatures and one can find plenty of mind-blowing sunshine. Expect higher prices and crowded attractions. Ideal time for beach activities and water sports.
Shoulder Season 1 (May to Jun): Weather during this time is still warm, but gets increasingly humid. Experience lesser crowd and minimal rainfall with more budget-friendly prices. Best for water activities and exploring Mayan ruins.
Hurricane Season (Jul to Oct): There's a higher chance of rain and potential storms. Fewer tourists visit Cancun during this time. Best for budget travel as it offers flexibility in plans. Keep in mind the occasional rain.
Shoulder Season 2 (November): November is the transition month between hurricane and dry season. The weather is pleasant with warm temperatures and less humidity. Crowd is relatively quiet compared to the peak season. Best for enjoying weather, saving money and avoiding the peak season crowds.
---
Things to do in Cancun
Cancun is famous for its stunning, soft-sand beaches with turquoise waters, swimming, sunbathing or trying out various water sports like snorkeling, scuba diving and parasailing.
Here are some of the best things to do when you visit Cancun, beyond the beaches:
Visit Mayan Ruins: Explore the rich history of the Mayan culture by visiting archaeological sites like Tulum and Chichen Itza.
Discover Xcaret Park: Xcaret is a natural eco-park where you can explore the beauty of the Riviera Maya. It features stunning underground rivers, lush jungles, wildlife encounters and interesting cultural shows which provide you a deep connection to Mexico's traditions.
Explore Xel-Ha: A natural aquatic theme park, Xel-Ha is a popular site for snorkeling and swimming adventures. Discover a variety of colorful fish and marine life while floating down the freshwater river, exploring caves and cenotes.
Isla Mujeres Day Trip: A short ferry ride will take you to this magnificent tranquil island called Isla Mujeres. Experience pristine beaches, a charming town and opportunities for snorkeling with whale sharks during the right season.
Hotel Zone Nightlife: Cancun's Hotel Zone offers a vibrant nightlife scene: with the most fascinating dance clubs, bars and entertainment shows – making it a perfect destination for night owls.
MUSA Underwater Museum: MUSA is an underwater museum where marine conservation and art meet and form a stunning experience for a family visit. You can snorkel or dive among sculptures submerged beneath the sea and have an immersive experience.
Taste Mexican Cuisine: Mexican cuisine is one among the most popular food in the entire world. Savor the authentic cuisine at the beautiful restaurants and street vendors. Do not forget to try: tacos, ceviche and chiles en nogada along with the regional Yucatecan specialties.
Catamaran Cruise: Set sail over the Caribbean Sea on a catamaran cruise. You can enjoy snorkel, swimming and even visit the beautiful nearby Isla Contoy.
Shop at Mercado 28: If you are a shopping enthusiast, Mercado 28 is a bustline market in Cancun where you can find handcrafted souvenirs, jewelry, clothing and local artwork.
Cenotes Day Trip: Cenotes or natural pits or sinkholes are unique to the Yucatan Peninsula. They provide opportunities for swimming and diving in crystal-clear, freshwater pools.
Cancun is a stunning masterpiece of a destination in Mexico which offers a diverse range of activities, ensuring a memorable vacation for all kinds of travel lovers.
---
Wrappin' it up
While the concerns about safety in Cancun do exist, careful planning and taking precautions can help ensure a safe and enjoyable trip.
Remember to stay informed about the state advisory and local conditions, respect the local culture and make the most of the stunning beaches, rich history and a vibrant culture that Cancun offers.
Liked this blog post? Share it with your favorites now.
That's All Folks!