Who doesn't love pizza? The sensational aroma, the soft, cheesy slices, the fascinating taste and the incredible feeling at every bite. Although not the place where it all started, Florence is still one of the most outstanding places to have Pizza in Italy and across the world.
And today, we find out the most interesting, highly recommended places to find the best pizza in Florence – a city of art and culture containing the secret that beckons every traveler's taste buds.
Let's Begin!
---
1. Mister Pizza Florence: Delicious Pizza Offerings
Known for its delicious pizza offerings, the Mister Pizza in Florence is your go-to pizzeria for a delectable pizza creation. Their menu offers a wide range of unique and popular pizzas like the Margherita and the infamous Neapolitan-styles pizzas as well, catering to all tastes.
Being really popular among both locals and tourists, the Mister Pizza Florence has a friendly ambiance and really attentive staff, which makes it a popular place for having the best pizza in Florence.
You can also find many healthier options to the traditional pizzas, like the ones from their gluten-free category and vegan options to avail what best suits you.
Location: Piazza del Duomo 5r, 50122, Florence Italy
Popular Order: Classic Margherita Pizza. Topped with tomato sauce, mozzarella and fresh basil.
---
2. Berberè Pizza Florence: Authentic and High-Quality Pizza
The next best pizza in Florence can be found at the Berberè pizza place. This is a very popular choice for locals and travelers who are looking for the most authentic and high-quality pizza out there in the city.
Being authentic and committing to quality are the two major features of this pizzeria which sets it apart from other places for having the Italian foods or delicacies. They tend to take their pizzas seriously, using top-notch ingredients from the best of places and applying the traditional cooking methods to give you the essence that the dish always intended provide.
Each little bite acts as a reminder of why Neapolitan-styled pizza has captured the hearts of pizza lovers from different corners of the world.
Location: Piazza De' Nerli 1, 50124, Florence Italy
Popular Order: Bufala Pizza. Topped with buffalo mozzarella, cherry tomatoes and fresh basil.
---
3. Giotto Pizzeria Bistrot: A Comfortable Setting
Offering a variety of tasty pizza from around the world, the Giotto Pizzeria Bistrot makes it way on the third position on our list of discovering the best pizza in Florence.
Although not as popular as the other two mentioned above, the returning value to this particular pizzeria in Florence is pretty glorious not just for the taste and the ambiance, but as a place to hangout with friends and family while relishing their extensive pizza menu.
You can couple your delicious, authentic pizza with the fine collection of wines and desserts of choice while sitting at one of Italy's most cozy atmospheres.
Location: Via Francesco Veracini 22/a, 50144, Florence Italy
Popular Order: Quattro Formaggi (Four Cheese) Pizza. Blends different cheeses into one.
---
4. Gusta Pizza Florence: Traditional Neapolitan-style Pizza
If you seek an authentic wood-fired Neapolitan pizza experience along with a very pretty cafe-vibe, do not miss a visit to the GustaPizza in Florence.
They boast about their soft doughs and airy crusts topped with the finest ingredients, colorful veggies and the perfect wood-fire baking scenario. The mere dedication to the tradition and the taste is all evident in every slice.
Note: Visit here if you don't mind the huge lines formed, stretching out of the entry doors. People just love this place so much that it isn't any less of a blessing if you get a seat inside without waiting. And after all, the best things (or the best pizza in Florence) always demand a little patience.
Location: Via Maggio 46R, 50125, Florence Italy
Popular Order: Diavola Pizza. Topped with spicy salami and chili oil.
Also Read: 3 Days in Rome Itinerary
---
5. Starita a Materdei: Top-Notch Pizzeria in Florence
If you are looking for the most sublime culinary experience and need the most top-notch pizzas in town, visit the Starita a Materdei in Florence.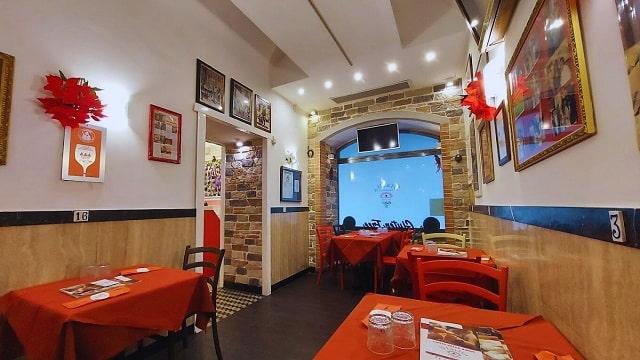 Considered to be one of the most authentic, delicious and best pizza in Florence, the Starita is one of the oldest pizzerias offering the traditional wood-fired Neapolitan pizzas in the world (started way back in 1901 at Naples, Italy).
A gem in Florence's pizza establishments, the Starita a Materdei is a well-regarded pizzeria serving pizzas that are crafted with precision and passion.
Location: Via San Gallo 2r, 50129, Florence Italy
Popular Order: Montanara Pizza. Deep fried with toppings of tomato sauce, mozzarella and basil.
---
6. Pizzeria Antica Porta: Classic Italian Pizzas & Cozy Ambiance
One of the most interesting places in town to find the most classical, best pizza in Florence (Firenze), the Pizzeria Antica Porta offers a warm and welcoming setting with a cozy atmosphere which is always fun for a hangout for the locals as well as the wanderers in town.
Their menu includes the most famous varieties of pizza with traditional flavors, having which can transport you to Italy's culinary heart – beating at every bite you take.
The whole vibe of the place, right from the entrance feels traditional, with a mix of modernity and bright, authentic colors. Other than the pizzas, people love to try out their pastries and other desserts.
Location: Via Senese, 23, 50124 Firenze FI, Italy
Popular Order: Pizza Bianca. Topped with creamy mozzarella, arugula and cherry tomatoes.
---
7. Il Pizzaiuolo: A Favorite Spot for Pizza & Pasta Lovers
A local favorite and a go-to space for all kinds of pizza enthusiasts, the charming, almost enchanting ambiance of Il Pizzaiuolo in Firenze attracts you to get inside, try out their exceptional pizza offerings and indulge in the culture of the Florentine Pizza.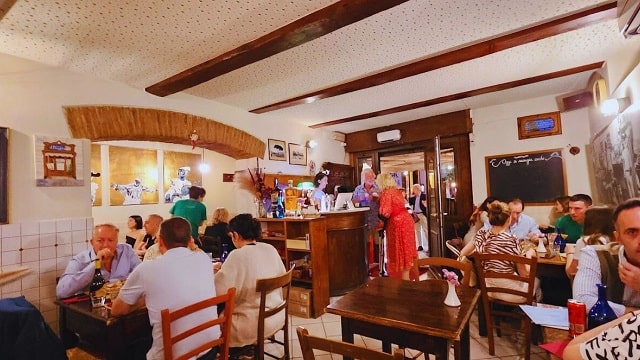 Open for more than two decades, the Il Pizzaiuolo seems a venue that is very old-school for what one can see, and that is a great thing about this particular pizzeria, making it unique and an addition to the list of the very best pizza in Florence.
Other than their wood-fired pizzas, this place also tends to have the most delicious and mouth-watering Italian pasta dishes for making it an even more memorable experience.
Location: Via dei Macci, 113r, 50122 Firenze FI, Italy
Popular Order: Margherita & Diavola Pizzas.
---
8. Fratelli Cuore: Quirky Pizzas inside a Train Station
What makes the Fratelli Cuore a very unique and different-than-the-most pizzerias in Florence is the touch of creativity that they add on top of their Pizza scene.
They offer innovative toppings and quirky combinations, making it one of the best pizza in Florence catering to diverse palates. It is a spot to explore the modern and newer pizza horizons and how the story of the most delicious cheesy slices evolved from traditional styles to this quirky combos and interesting plating.
The insides of the pizzeria seems like a place one has seen in many movies and even video games with large windows, small tables almost perfectly set up in a row and people dressed in the most brilliant outfits.
Location: Piazza Stazione, Santa Maria Novella, 50123, Florence Italy
Popular Order: Gourmet Pizza. Topped with a unique mix of a variety of seasonal toppings.
---
Honorary Mentions: Best Pizza in Florence
While we've explore 8 best pizza in Florence, there's a few more that deserve an honorable and noteworthy mention:
Giovanni Santarpia: Known for its quality pizzas and an inviting ambiance, it is an excellent choice for satisfying your pizza cravings. Here you find a craftsmanship that characterizes Florence's pizza culture.
Pizza Napoli 1955: Their pizza seems to pay a homage to the rich Neapolitan pizza-making tradition. The name in itself evokes a sense of history, taking you back to the roots of pizza in Naples.
Pizza Spera: A hidden gem in Firenze, this place offers a cozy and welcoming atmosphere that makes you feel at home and offers authentic pizzas with the freshest and high-quality ingredients.
These pizzerias in the beautiful streets of Firenze, though not featured in detail, are still highly regarded for their ambiance, taste and authenticity and are worth a visit for all that they offer.
---
What makes a Neapolitan pizza different?
Known for its simplicity, the Naples-style or Neapolitan are the most popular and the most traditional kind of pizza. These are the ones you can find and try out at the given places for the best pizza in Florence. But what's the secret?
These pizzas are simply made with tomatoes and mozzarella cheese at the crux of it. But the tomatoes are not just any tomatoes. That's where the secret lies. The tomatoes must be either the San Marzano tomatoes or the Pomodorino del Piennolo del Vesuvio (Piennolo cherry tomatoes) – which grow on the volcanic plains at the south of Mount Vesuvius.
These kinds of tomatoes grow in small clusters on compact vines and are favored so much for their unique cultivation technique, the taste and the aroma.
---
Is Florence good for pizza?
Yes, Florence is indeed good or a great place for pizza enthusiasts. While it may have not originated the pizza itself, Florence or Firenze still has developed its own unique pizza culture and made it popular throughout the world.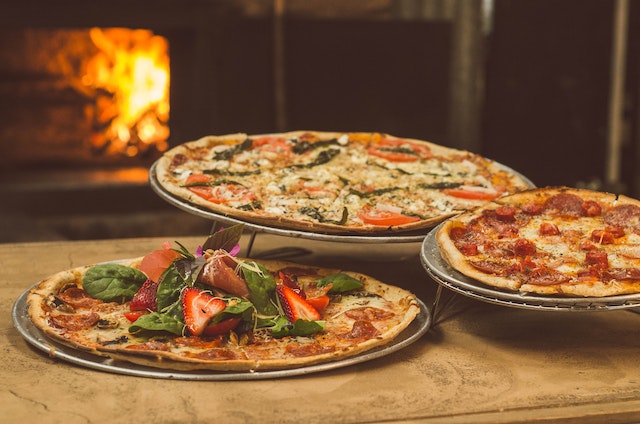 The city's pizzerias are known for their dedication to fresh and quality ingredients, wood-fired ovens and the Neapolitan-styled, thin crusted pizza offerings.
Whether you prefer the classic Margheritas or like to have an adventure with unique toppings, you can find the very best pizza in Florence to satisfy your cravings and create unbeatable memories.
---
What is the style of pizza in Florence?
Florentine pizza culture is primarily influenced by the Neapolitan traditions, which means the pizzerias in town focus on making the most authentic and traditional Neapolitan-styled pizzas. The main elements of the best pizza in Florence are:
Thin Crust: The Florentine Pizzas mostly have thin, crispy crusts with a light, airy texture.
Simple Ingredients: The Neapolitan traditions emphasized on simplicity and so does their pizza.
Wood-Fired Ovens: The authentic pizza offered in Florence is baked in the wood-fired ovens, which makes for a slightly charred and blistered crust.
Minimal Toppings: Unlike the other pizza styles we see around us, the Florentine (or Neapolitan) pizzas mostly have minimal toppings over them. This allows the other flavors to shine.
Authenticity: Most pizzerias in Firenze take pride in adhering to the traditional methods and recipes, ensuring that the pizzas remain faithful to the Neapolitan tradition.
---
Conclusion
At the end, we would say that Firenze or Florence is not only a place full of masterpiece artworks or historic prowess, but also a paradise for pizza lovers like you and me.
From the classic Margheritas from the most popular pizzeria in the city to the wacky combinations in a modern setting, Florence's pizzeria has whatever you need for your pizza hunting experience.
So, next time you're in the city looking for the very best pizza in Florence, you know where to go to satisfy your cheesy cravings and learn for yourself what makes the Florentine pizza truly unforgettable. Buon Appetito!
Share the blog with all your pizza loving buddies and comment down below if you ever wondered where the pizzas originated from.
That's All Folks!