To travel is to experience a new world, a newer feeling, new people and even a newer you sometimes. It leads you straight in the middle of a unique culture and lifestyle. And it pushes you to indulge in a world you know nothing about. To immerse yourself within the destination. To lose yourself.
But if you love traveling, exploring and wandering to exciting places, you shall also keep in mind to keep those places – breathing.
Today, in this blog post, we discuss the most amazing ways explaining how to reduce carbon footprint while traveling.
Our travel makes a significant impact on the environment of the destination. A higher amount of footfalls everyday might be a good thing for the destination's growth, but it also sometimes leads to higher amounts of pollution, waste and whatnot.
As travelers, it is our responsibility to keep these destinations clean and one way to do that is by reducing our carbon footprint and preserving the land for future generations to experience.
---
What is A Carbon Footprint?
Before listing down the ways to reduce our carbon footprints while we explore the world, let's explain what it actually means.
A Carbon footprint is basically the total amount of greenhouse gases produced directly or indirectly by varied human activities. These greenhouse gases could come from natural sources like the sun, or human activities like burning fossil fuels, manufacturing, transport, etc.
Carbon Dioxide or CO2 is the gas that has a major contribution towards climate change and that happens majorly when we burn fuel.
Other factors leading to create a carbon footprint include: energy usage, our food choices, waste disposal, etc.
---
How to reduce carbon footprints while traveling
Choose eco-friendly accommodations
The first and foremost thing one can do for a low carbon travel is to choose eco-friendly accommodations.
With the popularity of sustainable tourism and people wanting to reduce their carbon prints and help the environment as much as they could, the hotels/resorts/guesthouses have been delving into being more eco-friendly.
One can choose accommodations with renewable energy sources, situated in the greener locales, having a low-flow showerheads and recyclable waste.
But the question here is how to find these accommodations, right? I mean we can't just go ahead and search every hotel/resort for having a low flowing showerheads or providing sustainable practices, but what we can do – is book online!
With booking.com having the travel sustainable badge, and many other similar hotel booking sites giving out a category for green travel accommodations, choosing a place to stay has been much more easier than ever.
Some of the other websites one could checkout are: Select Green Hotels, Book Different and EcoHotels, etc.
---
Use public transport
One of the most easiest ways how to reduce carbon footprint while traveling is to choose local transport to explore the destination.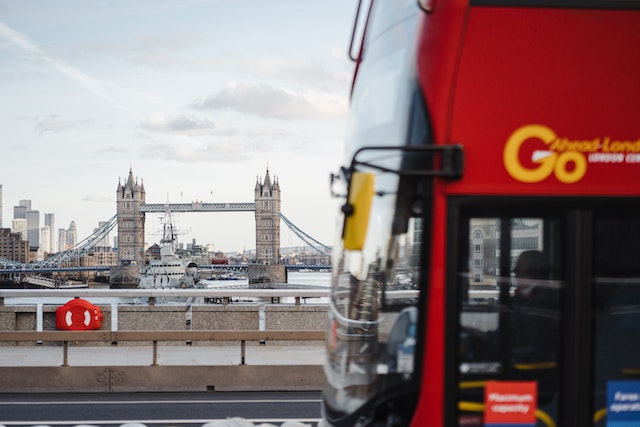 Using public transport not only makes sure you have a low carbon travel, but also feels light on your budget and provides a more indulging way to interact with the local culture, people and experience of a location.
With buses, rickshaws, etc. one can travel a city like the locals do and experience what the city really offers.
Many destinations are famous for their local transport as well. For instance, the "Tuk-Tuks" in Bangkok and the "double-decker red buses" in London. Even the yellow taxis in New York City.
---
Walk
Another wonderful way of traveling and how to reduce carbon footprint, is to walk.
Walking or Cycling through the streets of a city, through the mountains, through the valleys, towards a river are all incredible experiences.
It has been said time and again that "Walking is the best way to let a city open up to you". That is why all the major tourist destinations across the world offer unique walking tours. These might include historical tours, haunted walks, nature walks or hikes, and more.
The world is filled with unique walkable cities, especially within the continent of Europe. Cities like Paris, London, Florence, Amsterdam, Prague, and more offer the best street walks, beautiful walking experiences and fun interactions with locals and other travellers every now and then.
When you walk, and avoid taxis/buses/motored vehicles for going from point A to point B, you make sure to cut a load off over your carbon footprint.
---
Pack light
The third point on our list of how to reduce carbon footprints while traveling has to be packing light.
Packing light helps you in numerous ventures like budget travel, trekking ventures and more. But the most efficient way it helps in travel is by reducing your carbon travel.
Pack only what you really need. I know it's easier said than done. But you need to keep in mind that you are doing this for a sustainable travel. Also, who wants to pay those hefty amounts at the baggage center in the airport, right!?
With light baggage, you carbon footprint automatically lowers since there is less things to go to waste. You can also use reusable bags and make sure to avoid using plastics at all costs.
---
Indulge in eco-friendly activities
Looking for eco-friendly options to indulge in while traveling is another great way to reduce your carbon footprint while traveling.
These activities include-
nature walks,
bird watching,
hiking,
cycling through the valley,
water activities, and
family picnics.
Choose your travel operators keeping in mind that they prioritize sustainable tourism and know about local cultural experiences that offer a fun, sustainable and carbon-free tourism activities.
---
Support carbon offset programs
Keeping the world free of carbon footprints doesn't have to be all on your little shoulders, right. So there are companies and organizations across the world that have made programs called Carbon Offset Programs that invest in renewable energy, reforestation, water and waste management and other projects that help reducing greenhouse gas emissions.
Some of the most effective and popular Carbon Offset Programs you can invest in are:-
Atmosfair:
Atmosfair is a German nonprofit organization with focus on business travel promoting and financing renewable energy in more than 15 countries worldwide.
Mission: Offset flight emissions until newer technologies emerge with zero emission flights and similar.
Cool Effect:
Cool Effect began as a small, clean burning cookstove project in 1998 and has since grown into platform that represents 15+ global projects in reducing the carbon pollution that causes climate change.
Mission: Giving people power and confidence to come together and form a global community to help reduce the carbon pollution.
Terrapass:
Terrapass is another effective carbon offset program that has been providing carbon offsets to individuals & businesses from 2004. As per 2020 report, the Terrapass customers have offset a carbon amount similar to planting more than 7 million trees!
Mission: To fight climate change by reducing as much carbon emissions as possible via the use of education, online tools and renewable energies.
Many airlines and travel organizations also provide some of these carbon offset programs wherein you could invest in.
---
Reduce energy usage
It can be said for a lot of travelers that when they are in their homes, they seem to be more aware of the energy usage around them. They tend to close lights behind them, turn the machines off, and use lesser energy.
But when it comes to travelling, some of them completely neglect the energy usage of the place they are staying in.
One of the most effective ways for how to reduce carbon footprints while traveling is to make sure you reduce your energy usage.
Turn off the lights and electronics while not using them or heading out, take shorter showers and reuse towels, conserve energy by adjusting the thermostat – these small steps could make a large change when it comes to conserving travel and sustaining it for the future.
---
Eat locally
Another important thing to keep in mind to reduce the carbon footprints of your travel is to eat locally!
Choosing local, healthier food not only makes for a healthy diet, but also saves on your budget and is good for the environment as well.
Also, it supports the local economy.
Look for organic, locally sourced foods more than the exotic dishes coming from far away. Getting food items from far away also is a reason for the growth in carbon footprints.
When you choose local, homegrown cuisines in the destination you are supporting the environment, the culture and the local farmers of the place as well as making a connecting with the city or the country by trying out the food that locals have.
---
Educate others
Finally, educating your own self, your family, friends and other circles about sustainable ways of traveling, about the carbon footprint, carbon emissions, the greenhouse gases and how to control all of it is the most effective way to reduce the carbon footprint and make sure the world remains to be a wonderland for our future generations.
Read books and articles about all these terms, educate yourself and then share your knowledge and experiences with others so that your story could inspire others.
And maybe that's how we could tackle our way to victory in this fight for a sustainable world and sustainable, carbon-free tourism.
---
Conclusion
In conclusion, there are many ways that tell you how to reduce carbon footprint while travelling if you really look for them. To safeguard the world we live in and all these unique, beautiful destinations we love to travel and explore – is our responsibility.
Travelling responsibly and sustainably will not only be good for the world, but it would also open doors for your exploration journeys as well. You could meet more locals, travel like they do, eat like they do, have a complete local community experience, gather tales from their world and share it with yours.
By choosing eco-friendly hotels, public and green transportation, light packing and supporting local environment-friendly activities you can make a positive impact on the environment.