Along with being the oldest city in India, Banaras or Varanasi has also grown to have a diverse culture and unique history to what it has grown to become now. And the local food holds a large space in that category.
Banarasi Paan is a delicacy which everyone – locals, tourists, celebs and politicians – enjoy with utmost passion. It is a symbol of happiness, love and the beautiful hospitality that Banaras offers all those who come there.
Let us discuss this "Punctuation of Life in Varanasi" that is the paan of banaras along with the history, ingredients, process of making and understanding why banarasi paan is famous!
---
What is Banarasi Paan?
An exotic combination of areca nuts wrapped into a catechu of a betel leaf along with different ingredients. The most incredible thing about this Paan and what makes it a unique delicacy is the "melt-in-the-mouth" quality of it. As soon as you keep the entire Paan in your mouth, it's so soft that it melts in your mouth and the flavors are spread all over. YUMM!
Banarasi Paan is the most famous type of Paan available in India and people from all corners of the nation either already have or should try this at least once in life. The aroma, the essence, the softness and the taste feels like a carnival inside your mouth.
Paan of Banaras is used for various purposes from using it as a religious offering to having it at least six times a day.
With years crossing by, the Banarasi Paan has become a symbol of Varanasi's food culture. No food is complete without having the mouth-freshening Paan in the city.
---
The history of Banarasi Paan
The Banarasi Paan history is believed to be as long as the city of Kashi itself. Kashi or Banaras is the oldest city in India (maybe the world, even) as it is associated with Lord Shiva.
It is even said that Lord Shiva used to enjoy this form of Paan as well. According to scriptures and believers, it is said that the first ever seed to grow the betel leaves (the leaf of the paan) was planted on Kailash by Shiva and Parvati together. That is the reason why the betel leaf is one of the most religious plant leaf and why banarasi paan is famous as well and is used as offerings to god all around India.
It has even been mentioned in the Hindu epics – Ramayana and Mahabharata.
In Ramayana, when Hanuman went to seek Sita in Lanka, she gifted him a garland made up of the betel leaves.
In Mahabharata, after the grand war was over, Arjuna had to perform a yagya (meditative prayer) for which he needed the betel leaves.
Later during the Mughal era, the Paan got it's origin and came to exist as what we know and love today. The Mughals were the ones who added lime stone, cardamom and cloves (choona, ilaichi and laung) inside the betel leaves. That is what made the modern Paan which people love.
Other than eating the delicacy, during Mughal era, Mumtaz Mahal used the betel leaves for makeup purposes due to the softness and other benefits the plant has. Now, many use it as an element of make up in their lives.
Also Read: Ghats of Varanasi
---
How it is made?
The unique secret of the Banarasi Paan is that the leaves, which is the most important part of the item is not grown in Varanasi. The betel leaf is grown in Bihar and is called "maghai" while in parts of Odisha it is grown as well but referred as "jagannathi".
There is no rocket science in making a Paan – you just need to add a few items which feel pleasant to the mouth. The paan is basically a mouth-freshener and that is what is supposed to be the elements added to it.
The Banarasi Paan ingredients are reca nuts, catechu (kattha) of fresh betel leaf, tobacco, slaked lime, to which other ingredients like rose petals (gulkand), silver foil (varakh), etc.
---
What are the different types of Banarasi Paan?
There are a pretty wide variety of Paan available in all of Banaras – with different flavors, unique textures but the constant softness and melting quality. Here are a few types –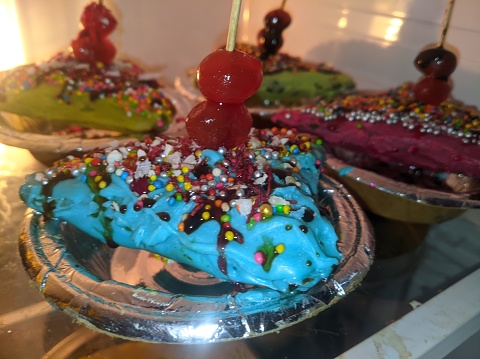 Saada Paan – This is basically the regular paan which the paanwallahs would give you when you ask for a normal Banarasi0 Paan. They add a great chunk of sweet gems into the paan which makes it unique and also kid's favorite among the lot. No supari is used in this paan and it is completely healthy with a cherry on top and a silver coating.
Paan Masala – This one is basically the regular paan but with supari and saffron induced in it. You can see this paan decorated with berries and cherries on top.
Chocolate Paan – As the name suggests, this is a regular paan with gems and sweeteners coated with chocolate. And although it might seem weird, but the taste is rather satisfying.
Panchmeva Paan – A rich combination of five unique dry fruits come into play in this type of paan and that makes it even more popular among locals and tourists alike.
Navratan Paan – Made with gulkand, mint, elaichi, saunf and a chunk of red cherries, this type of paan is like a festival of taste in your mouth. The flavors all spread out beautifully and makes for a delicious delight.
---
What are the health benefits of Banarasi Paan?
The betel leaves or Paan has many incredible health benefits as well along with being Banaras' favorite mouth freshener. Here are the reasons why Banarasi Paan is famous even among the health conscious public –
It has rich water content which makes it a source and opportunity to beat-the-heat.
It is rich in Vitamins and is a great source for calcium too.
It has a medicinal value too as the betel leaves, when turned into a paste, can even heal cuts and bruises on the body.
It has the power of improving digestion – one of the reasons why people prefer paan after a meal.
It acts as a mouth and breath freshener – that means it has qualities to keep your oral health in check.
It helps in weight loss as well – due to the features of the leaves reducing fat and balancing the metabolism.
---
Where to eat a Banarasi Paan?
Banaras is full of popular Paanwallahs in different streets around the city. You can have the best of the best paans of Banaras at the following places –
Ramchandra Chaurasia Tambul Bhandar
Arguably the most famous of all paan shops around town, the Ramchandra Bhandar has an expertise of about 50+ years and a huge variety of flavorful paans to try out. Many celebrities and politicians have come and tried out different kinds of paan at the bhandar which has made it into the most popular one among a huge lot of paanwallahs.
Location | CK 19/16-A, RB Collection Pvt. Ltd., Ash Barrio, North Chowk
Banaras Paan Store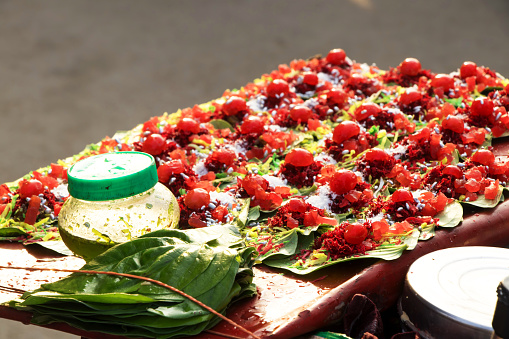 Another one of the most popular spots for having paan in the city older than time is the Banaras Paan Store. They have almost 30 very different varieties of delicious melt-in-the-mouth paan made with numerous unique mixtures of dry fruits and sweet gems and stuff. The Banaras Paan Store has something for customers of all shapes, sizes, age and taste.
Location | H. No.-A 13/1 Prahlad Ghat
Krishna Paan Bhandar
Being a 100 year old shop, this one stands among the most legendary paan shops in the whole city. With that amount of time and energy invested into making a shop, it is inevitable to leave a legacy, right! This paan bhandar has various types of paans but the most famous one is called the Choti Patti Paan. That is their legacy which has been carried out for generations. Major personalities like Queen Victoria, Pandit Nehru, Atal Bihari Vajpayee, Aamir Khan, Lalu Yadav and many others have found their way to this store for having their favorite paans.
Location | Main House Contentment, Nadesar
Keshav Tambul Bhandar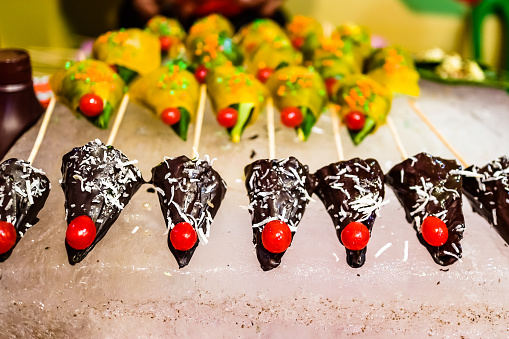 Over 60 years have gone into making this small shop into a big achievement! And it shows. Being more than six decades old, the shop has kept it's legacy alive by not converting into a bigger space but heading forward with the authenticity of old times. The specialty of the paans of Keshav is that they have different types of paan for different seasons. For example, the months from December to April are dedicated to the Maghai Paan, May to July is for the Jagannathi Paan and August to November is for the Desi Paan.
Location | Swastik Plaza, Lanka Rd, Near Ravidas Gate, Anandbagh, Lanka
---
To Wrap Things Up
So that was all about the famous Paans of the oldest city in India and the explanation for why banarasi paan is famous among thousands of tourists and locals. Tell me in the comments if you have tried this paan and how you liked it! If not, go try it!
I hope you liked the blog and the story of a little betel leaf from Kailasha, through the giant Hindu epics, to the Mughal era to the Modern world we live in!
Follow us on Insṭagram (@travelsole001) for daily travel posts and subscribe to our email list and become a #SoleMate for getting the new blog posts before anyone else.
That's All Folks!