Everybody loves Hawaii, right? I mean what's not to love about the fascinating island. It has everything one wants from a fun, romantic and exciting vacation spot that is so talked about.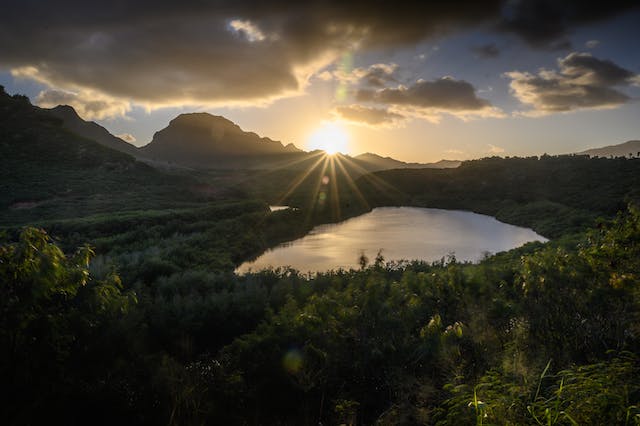 But one factor to consider when planning a trip to this beautiful island, is that it can be a really expensive experience.
So, here we discuss some of the most exciting alternatives to Hawaii in Europe and find out more about the Hawaii of Europe: where you can find much cheaper accommodations, lesser crowds and similar experiences for your next vacation.
Read along to find out:
---
Top 3 Places like Hawaii in Europe
Hawaii is known to be an expensive vacation spot and still the visitors flocking to this beautiful island just doesn't seem to back down.
But, if you want the same vibe of the Hawaiian islands with lesser crowds, calmer weather and a cheaper stay, here are the top 3 places like Hawaii in Europe:
1. Azores (Sao Miguel Island) Archipelago
The Azores Archipelago in itself is a beautiful place to explore and experience if you love greenery, volcanoes, dreamy landscapes and turquoise-toned lagoons.
One of the most popular islands of this Portugal archipelago, Sao Miguel Island is mostly considered to be a Hawaii of Europe.
Also referred as the Green Island due to the natural beauty and lush landscapes of the island, the Sao Miguel in Azores is very much like Hawaii as it offers a mix of volcanic terrain and vibrant vegetations.
Are the Azores like Hawaii?
To determine whether the Azores is like Hawaii or not, let's discuss the various similarities and differences between the two very beautiful island regions around the world.
Similarities:
Volcanic Origins: Both, Azores as well as Hawaii were formed by volcanic activities which resulted in shaping their landscapes and contributed to the presence of volcanic features such as craters, calderas and popular hot springs.
Lush Green Landscapes: The Azores, much like Hawaii are known for their lush green scenic views. Both destinations boast vibrant vegetation, dense forests and fertile land – which creates a sense of natural beauty and serenity.
Geothermal Activity: Sao Miguel Island in Azores features some of the most popular and large geothermal hot springs and mud baths, similar to the geothermal wonders of Hawaii.
Differences:
Climate: Unlike the tropical climate of Hawaii, the weather in Azores is comparably milder, sometimes cooler and more variable.
Culture and Cuisine: Heavily influences by their Portuguese heritage, the Azores' culture and cuisine offers a unique blend of European and Islandic traditions. While Hawaii has a distinct Polynesian cultural heritage shaping its customs, cuisine, folklores and music, etc.
Biodiversity: While Hawaii is renowned for its unique and diverse ecosystems where one can find many species found nowhere else on Earth, the Azores has a different set of flora and fauna due to the difference in location and climate.
---
2. Madeira: Landscapes, Lore & Liquor
Another very popular destination in Europe that is highly considered to be the Hawaii of Europe is Madeira.
This island paradise rivals Hawaii in terms of natural beauty and a subtropical climate, which makes it a must-visit destination for those seeking a fun experience with their loved ones.
Madeira is known for its exquisite botanical gardens, levada walks* and some of the most stunning beaches across Europe.
Why is Madeira the Hawaii of Europe?
Madeira is popular contender for being considered the Hawaii of Europe due to its subtropical climate, stunning natural beauty, volcanic terrain, outdoor activities, coastal charm and a relaxed island lifestyle, all of which evoke a spirit of Hawaii in a European setting.
There are several similarities and differences in Hawaii and Madeira, which we discuss further:
Similarities:
Volcanic Origins: Just like Azores and Hawaii, Madeira also has a volcanic origin and is known, just like Hawaii, for its impressive volcanic structures, landscapes and unique geological formations.
Mild, Subtropical Climate: Both Hawaii as well as Madeira enjoy a mild, subtropical climate. This means they both have relatively warmer temperature year-round, making them ideal for travelers who seek a warm escape from colder climates.
Scenic Landscapes: Both Hawaii and Madeira offer outstanding natural landscapes with lush rainforests, volcanic craters, magnificent waterfalls and pristine beaches.
Differences:
Archipelago vs Single Island: Hawaii is a large archipelago consisting eight beautiful main islands, each with its own unique character and attractiveness. While, Madeira is a single island which has its own diversity and attractions which attracts travelers from around the continent to visit and experience what all it offers.
Cultural Influence: While Hawaii has a strongly influenced culture from the Polynesian, Asian and American traditions, Madeira's culture has been shaped by European influences, which many consider to be a more fascinating and immersive experience.
Accessibility: While Hawaii has more easy access from North America, Asia and Pacific due to it having multiple major airports in different islands, Madeira has a single airport which is more accessible from various European destinations, mostly.
---
3. Lanzarote: the Canary Islands
With its moon-like volcanic landscapes, pristine beaches, unique culture and mouth-watering cuisine, Lanzarote is another incredible destination considered to be Hawaii of Europe.
One of the most interesting Canary Islands, Lanzarote is known for its unique volcanic terrain, with the Timanfaya National Park resembling the surface of the moon.
Another popular thing about the Lanzarote has to be the beautiful Famara and Papagayo beaches, where one can surf, sunbathe or simply enjoy the crystal-clear waters.
Why is Lanzarote called the "Hawaii of Europe"?
Lanzarote in the Canary Islands is often called the Hawaii of Europe due to its striking volcanic landscapes, climate mirroring the Hawaiian subtropical charm and the sandy, clear beaches. The island has a unique lunar-like terrain, coupled with beautiful coastlines and water sports activities, evoking the essence of Hawaii in a much better price, with much lesser crowds.
Both, Hawaii and Lanzarote are beautiful and unique destinations having many things in common, and a few differences as well. Let's explore these: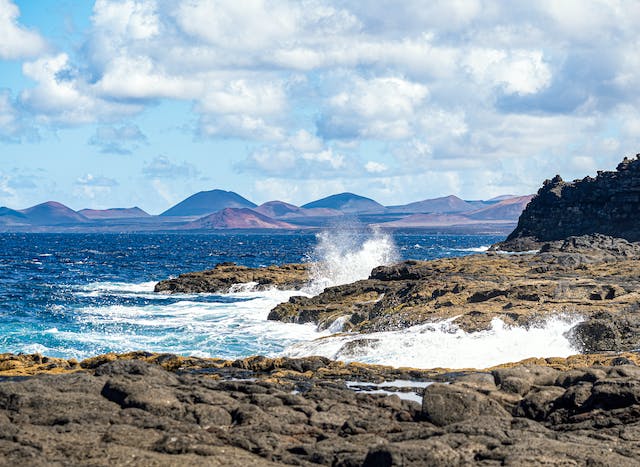 Similarities:
Stunning Beaches: Hawaii and Lanzarote both are known for their incredible beaches having white and golden sands, while Lanzarote also features beaches with black volcanic sand. Visitors get to hang out for hours enjoying sunbathing, swimming, surfing and more.
Mild Climate: Both, Hawaii as well as Lanzarote enjoy mild and pleasant climates year-round. The temperature in both locations makes them ideal for sunny ambiance and being away from the cold.
Flore and Fauna: Both these island destinations are home to unique flora and fauna. While Hawaii is famous for its diverse ecosystems including the native Hawaiian monk seal and a variety of bird species, Lanzarote boasts its unique and diverse species and is home to the endangered Loggerhead sea turtle.
Differences:
Ecosystem Diversity: Hawaii is known for its diverse ecosystems, from arid deserts to tropical rainforests and high mountains to pristine beaches. Lanzarote, due to its smaller size, has a limited range to its ecosystems, while still being a little diverse.
Tourism Infrastructure: Hawaii has a well-established tourism infrastructure with its wide range of accommodation options, restaurants and activities. Lanzarote, although having a robust tourism industry, is still a hidden gem with less crowds and more affordability.
Distance to Major Landmass: Hawaii is one of the most remote island chains across the Earth, while Lanzarote is much closer to major landmasses like Africa and Europe – which makes it more accessible for travelers from these continents.
---
Wrapping it up
While Hawaii is undoubtedly a paradise in its own right, these European destinations offers a taste of that tropical allure without the need for an intercontinental flight, having to keep a larger than life budget and doing what most vacationers do.
Whether you're drawn to the wonders of Sao Miguel, the botanical beauty of Madeira or the lunar landscapes of Lanzarote, each of these destinations offers a unique blend of natural beauty, adventure and relaxation.
So, plan out your next European adventure in one of these stunning locations. Share the blog with your friends and families.
Comment down below, if you want to visit in such Hawaii-alternatives.
That's All Folks!