Christmas is a time of joy and celebration all around the world. But did you know that the way Christmas is celebrated varies drastically from country to country?
In India, Christmas is a time to come together with family and friends, to exchange gifts, and to enjoy traditional foods and drinks.
From the Christmas markets of Goa to the carol singing of Meghalaya, India has it's own unique set of traditions to celebrate the birth of Jesus.
If you're curious about how Christmas is celebrated in India, then this is the guide for you! From devotional songs to spicy foods, we'll cover everything you need to know about Christmas traditions in India.
---
Christmas Traditions in India
That time of the year has come when the houses and streets and trees will all be decorated with fascinating electric lights, candies, cute bulbs and whatnot. Christmas is just 'round the corner, Santa has packed all his stuff and is ready to take his flight around the world after just a week!
And when he finally arrives in the land of many worlds, India – we cannot just sit idle, right? We need to tell him that we celebrate his arrival with utmost passion, happiness, joy and energy like any other country in the world.
Small electric lights, oil burners, decorated mango or banana trees, pine trees covered with the Christmas ornaments, lit streets, mouth-watering food delicacies and lots of candies – makes for the perfect Indian Christmas.
Here is a list of the most interesting Christmas Traditions in India –
Attending Midnight Mass in Christmas
It is a time when people of all faiths come together to celebrate the birth of Jesus. The atmosphere is filled with joy, music and prayer. The churches are decorated with flowers and lights and the streets are filled with people.
The midnight mass is an important part of the Christmas celebration in India as it is a time to remember the birth of Jesus and celebrate it with friends and family.
During the midnight mass, prayers are offered and hymns are sung. After the mass, people exchange gifts and sweets.
The churches are decorated specifically with lights, candles and poinsettia flowers.
---
Christmas Decorations in India
Christmas in India is typically celebrated by decorating homes, churches and streets with lights and festive decorations.
Family and friends gather together to exchange gifts, sing Christmas carols and partake in traditional Indian sweets.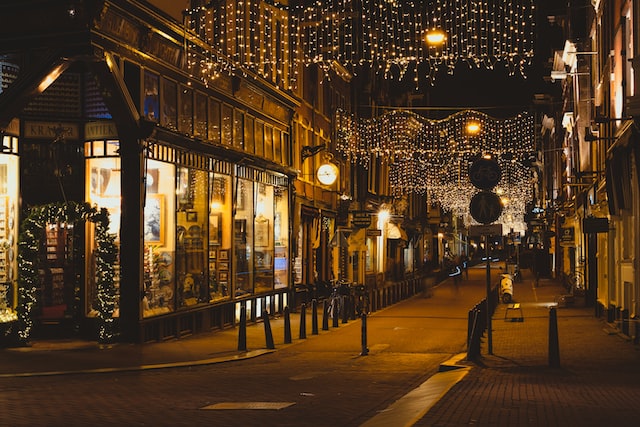 Everywhere you look, beautiful strings of lights adorn trees and lights hung on homes, churches, and streets create a magical ambiance. In larger cities, entire streets will be lit up with bright decorations.
The most fascinating places to visit and experience the Christmas décor in India are –
Goa
Pondicherry
Kerala
Shillong
Manali
The most popular decorations include strings of fairy lights, colorful paper stars, and paper lanterns. People also hang wreaths of holly, mistletoe, and poinsettia flowers on their doors.
Christmas trees are also popular, with many people opting for artificial trees decorated with ornaments, tinsel, and fairy lights.
On Christmas day, people also dress up their homes with traditional Indian decorations like rangoli, diyas, and garlands of flowers. Christmas decorations in India are a beautiful reminder of the joy and spirit of this festive season.
---
The Food of Indian Christmas
Food is an integral part of Indian Christmas celebrations. From traditional dishes like biryani and korma to festive desserts like kheer and rasgulla, the festivities are incomplete without a delicious feast.
The most popular Christmas dish is a savory cake called the 'Christmas Pudding'. Christmas in India is the perfect way to celebrate the holiday season with family and friends.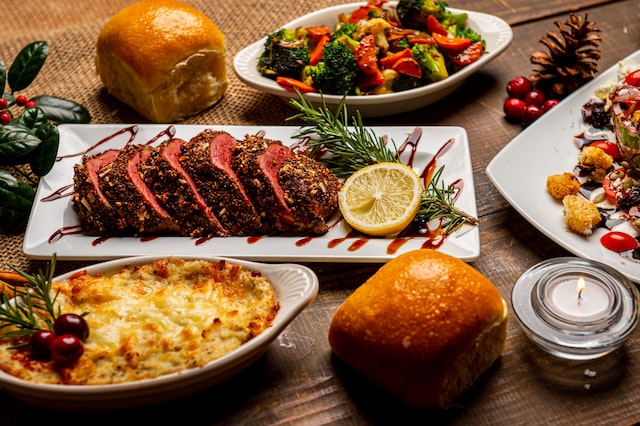 The feasting usually begins with a Christmas cake, which is usually made with rum-soaked dried fruits and spices like cinnamon and nutmeg.
This is followed by a variety of savory dishes including chicken, lamb, and fish.
Vegetarian dishes like dal makhani and aloo gobi are also popular.
Sweets like halwa and barfi are also prepared to end the meal on a sweet note.
People also enjoy traditional drinks like eggnog and mulled wine during the festivities.
Popular dishes are often cooked up with spices such as cardamom, cloves, and cinnamon to give them a unique flavor. This is one of the many ways that Christmas traditions in India are celebrated.
Indian Christians often observe a traditional fast or religious vigil during the days prior to Christmas. Christians in India fast from December 1 till Christmas Eve and then have the most delicious food of the year to celebrate with.
Mutton or Chicken Biryani and Mutton Curry delicacies are very popular among Indians during the festival. In Goa, it is a traditional cuisine to have a mouth-watering dish of pork and beef for the main course.
Other food items famous for Indian Christmas include –
Chicken, Mutton, Fish curry with Biryani in most northern parts of the country.
Nga-atoiba Thongba in Manipur (a fish curry made with potatoes and pear.)
Pork Sausages, Rum Balls, Chicken Roulade in Kolkata.
Sweets of Portuguese Cuisine in Goa includes Kulkul and Kormolas.
Kerala offers Appam, Stew, Puttu etc. as the India Christmas Food.
Single most popular dish in Nagaland during Christmas is the Smoked Pork.
Additionally, Christmas Traditions in India are marked with an array of sweets such as barfi and gulab jamun. These delicious treats are synonymous with the festive season and make for a great addition to the Christmas celebrations.
The joy of Christmas is truly felt when these authentic Indian desserts are passed around among family and friends.
---
Exchanging Christmas Gifts
Gifting is an important part of Christmas celebrations in India, where loved ones exchange presents, sweets, and other treats.
They are exchanged as a sign of love and appreciation. In Indian culture, gifts are often given to family members, friends, co-workers, and even strangers. Gifts can range from small items such as chocolates, sweets, ornaments, and cards, to larger items such as electronics, jewelry, or clothing.
Gifts are also exchanged during Christmas parties, where people enjoy traditional Indian snacks and music. Gifts are also a way for people to express their gratitude for the blessings they have received throughout the festivities.
Popular Gifts Exchanged during Christmas Traditions in India –
Traditional Indian gifts are often simple but meaningful, such as hand- carved wooden sculptures or handmade jewelry, which carry more sentiment than simple material items.
Sweets, such as motichoor laddoo or jalebi, are also very popular and make great gifts for family members when celebrating Christmas in India.
Spices are also a traditional gift during Christmas in India, symbolizing good luck and happiness for the coming year
Decorating the Christmas tree with ornaments is a popular Christmas tradition in India, with some families even going so far as to include traditional Indian motifs like peacocks and elephants.
Finally, Indians celebrate Christmas by attending festive dinners with their families and exchanging gifts that are often wrapped in bright paper with festive designs.
---
Best places to Celebrate Christmas in India
Delhi
Delhi is known for its vibrant markets and Christmas celebrations with carol singing and light shows.
During this festive season, many of the churches in Delhi, such as Sacred Heart Cathedral and St. James' Church, are beautifully decorated and offer wonderful opportunities to experience the Christmas traditions in India.
Every year, people from all over the country flock to Delhi to celebrate Christmas with family at one of the many top-notch restaurants and shopping districts. India Gate and Connaught Place are among the most popular spots to soak up the festive spirit and get a glimpse into how Christmas is traditionally celebrated in India.
Goa
Goa is home to some of the most popular Christmas festivals in India, such as the Biggest Foam Party, Midnight Mass at churches, and the Sunburn Festival.
Goa also offers a unique experience during the holidays, with its beaches, traditional dances, and delicious cuisine.
Next, Goa is also a great holiday destination if you are looking to celebrate Christmas in India. The beaches, traditional dances and delicious cuisine make it a truly unique experience that cannot be found anywhere else.
There is no better way to spend the holidays than with the beautiful sights of Goa and its amazing culture.
Bangalore
Bangalore also has a wide range of activities for visitors during Christmas season like religious programmes and musical performances.
Next, Bangalore boasts spectacular Christmas traditions in India that you can take part in. Whether its religious programmes or musical performances, there is something for everyone during Christmas season in this cosmopolitan city.
If you're looking to experience the best of Christmas celebrations in India, then Bangalore is certainly one of the places to consider.
Mumbai
Mumbai is a great place to celebrate Christmas with its vibrant nightlife and plenty of festivities. It is a melting pot of cultures and religions, so the city is full of Christmas cheer and traditions.
From decorations to homemade sweets, there are plenty of Christmas traditions in India that bring everyone together to celebrate.
You can find countless churches, bustling malls, and lively markets to explore for unique gifts and decorations.
Add to that the delicious street food and the memorable nightlife experience, it makes Mumbai one of the best places in India to celebrate Christmas.
Shimla
The beautiful hill station of Shimla is another popular destination, with its festive atmosphere and stunning winter scenery.
During the Christmas season, Shimla is transformed into a winter wonderland and the streets come alive with decorations, carols, and street vendors.
Tourists flock to Shimla to enjoy its snow-capped mountains, go skating on ice rinks, or just to relax in the cozy cafes and bars.
The vibrant nightlife and festive markets of Shimla make it one of the best places to celebrate Christmas in India.
Visitors can take part in activities like bonfires, cultural events and adventure sports while they enjoy the spectacular views of snow-laden valleys and lush green forests.
---
Conclusion
In conclusion, India is home to a wide range of Christmas traditions in India that are unique in their own ways.
From exchanging gifts, to visiting churches and singing carols, these traditions reflect India's cultural richness and the people's love for the festive season. It is a season of joy and celebration in India and continues to bring smiles on the faces of people of all religions.
Have a Merry Christmas, everyone!
That's All Folks!