The street food in Lucknow is a huge part of its culture and historic values. The people of Lucknow enjoy food like no one else does. We don't just have food, we celebrate it. From vivid varieties of Chaats and Kachoris to the infamous kebabs and shawarmas and further towards the sweet lassi and kulfi faloodas, this City has more than plenty to offer and satisfy your taste buds.
This is an article dedicated to all the foodies across the world who needs to visit here and try out these 14 unmissable street food delicacies of Lucknow.
Here. We. Go!
---
Veg Street Food in Lucknow
Although when people hear about Lucknow and its food, they majorly think of the non veg delicacies and stuff made popular since the Nawabi-era – stuff like Kebabs, Biryanis, Chicken/Mutton curries and Shawarmas, etc.
But the street food in Lucknow is much beyond the concept of veg and non-veg. It has, plenty to offer and maybe even more popular veg delicacies around town. The most favorite breakfasts and snacks of people around town is not kebabs or shawarmas but bun makkhans, khastas and chaat.
Chai + Bun Makkhan
Arguably all Lucknowites' favorite thing to do in the morning is to have tea! Tea is the punctuation of life here – as far and as long as I have seen.
Clubbing with the morning tea is this soft, spongy and delicious Bun Makkhan (Bun is a type of bread and Makkhan means Butter). It is an outstanding combination for a morning breakfast here in the City of Nawabs. Majorly all the small tea shops around town can give you this combo.
Khasta Kachori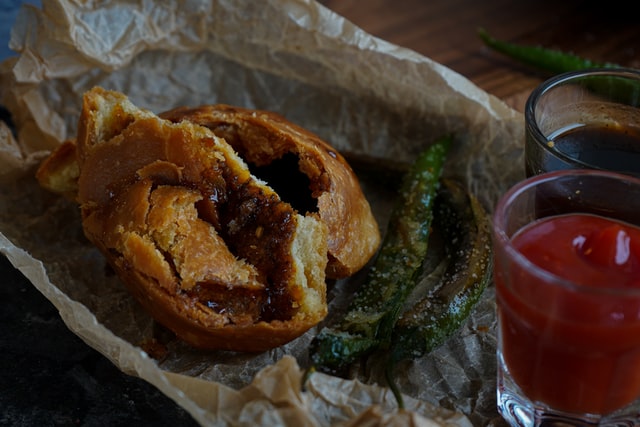 The most favorite breakfast or brunch delicacy for people all across this beautiful town – is the Khasta Kachori! Khasta Kachori is basically a very popular North Indian street food served mostly with a dry potato veggie and sometimes with chickpeas or a spicy potato curry.
Khasta Kachori is a deeply-fried snack made with various spices by using moong dal and gram flour.
Pani Batashe
Pani Batashe, Pani Poori, Golgappa, Phulke are all the same thing with different names all over the country. Here in Lucknow, they are referred as Pani Batashe. Pani means water and a batasha means a deep-fried crispy flatbread.
Popular in all of India, this street food in Lucknow has no time boundation whatsoever and can be had anytime from early in the morning to late at night. The major element that makes these flatbreads so popular and in-demand is the variety of flavored water. You can have a Batasha with different types of waters ranging in flavor from – spicy, sour, sweet, etc.
Basket Chaat
There is this word people like to call us Lucknowites as – "Chatora" basically means someone who loves a spicy, tangy food. And that is what Lucknow stands for right!
Chaat is one of the most popular snack in all of India and what it is – is a sweet, spicy and savory snack delicacy made with mixing Dahi, a couple of masalas, sauces, etc.
A Basket Chaat is a must-try street food in Lucknow which is basically a small basket made up of grated and fried potatoes on top of which is filled the chaat.
Chole Bathure
If you know India and it's food, you might know Chole Bathure as well. One of the most popular Punjabi delicacy which is famous all over the Northern and Central parts of India, Chole Bathure are also among the best street foods in Lucknow.
Chole is a spicy curry of chickpeas mixed with awesome masalas, and Bathure is a classical Punjabi Indian Bread. Sometimes you may get a soft bathura, while other times you may get a more crispier one. Both feels amazing to your taste buds.
Veg Kabab Paratha
Lucknow is famous for kababs and not just the non-veg ones. The Veg Kabab Paratha is one of the most ordered out or evening food favorite for people of this city.
A veg kabab is made up of mixed vegetables and spices into a type of patty and is served with Mughlai Parathas or Rumali Rotis.
You may find many street stalls providing you with variety of kababs. You can have them along with parathas – separately as well as in a roll-form.
---
Non Veg Street Food in Lucknow
Now comes the time to mention what makes the street food in Lucknow reach farther away on the outskirts and all over the world even – the Non Veg Delicacies. Lucknow is famous for the way of making and celebrating people's most favorite non-veg food items. Lucknow has the best of all – the best kebab, the best biryani, the best masala curries and so much more!
Galawati Kebab
Mentioning street food in Lucknow and not writing about this is a crime! Galawati or Galouti Kebabs are the most famous and incredible food in all of Lucknow.
I lived near Delhi for my college years and met people from across the nation. And the first thing they thought of or the first thing they know about Lucknow – is the Kebab.
What makes this particular dish stand out to become a sort-of symbol to the world of Lucknow Food, is the unique melt-in-the-mouth quality of its kebabs. The most famous places you can have these are – Tundey Kababi and Mughal's Dastarkhwan.
Biryani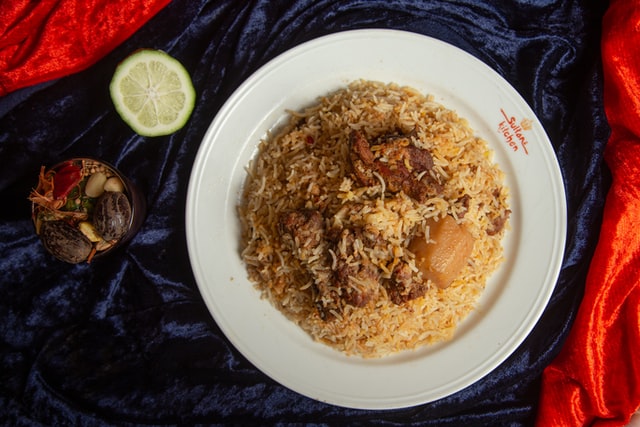 Who doesn't like Biryani! I mean the straight deep spices, the aroma, the softness and warmth of the rice and just the immersive experience is, well, something out of this world.
You know, there are things or moments or stuff that, when experienced, takes you to a different world or a different tangent altogether for a li'l while, right? Biryani does that too quickly! It is an experience not just a delicacy.
Biryani has grown to become one among South Asia's most favorite dishes of all time and why not! I mean what is there to not love about it! (Except for the ilaichi, of course.)
Kulcha Nihari
A treat for all non-veg lovers, Kulcha Nihari is an outstanding Mughal dish and very popular among locals and tourists around the town of Lucknow, alike.
Nihari is basically a Mutton or meat served in a thick, tasteful gravy with a soft bread called Kulchas. The unique thing about these Kulchas and what separates them from the Punjabi Kulchas is the softness element that the Nihari Kulcha possesses.
It is believed that if you are on a street food tour in Lucknow, trying the Kulcha Nihari has to be on your to-do list.
Chicken Shawarma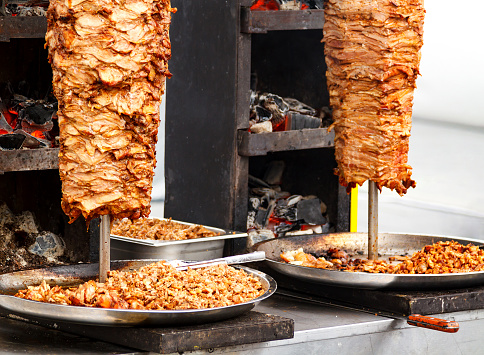 Just imagining the delicious chicken meat getting cut into thin little pieces and then roasted and served as a wrap of a mouth-watering delicacy! Shawarma does something to you at the first bite – even if it's your hundredth time having it.
The softness, the roasted pieces, the taste, the spicy mixture and the aroma seems to do some sort of incantation to your entire being! You can feel the taste through your body – rushing down slowly.
---
Dessert Street Food in Lucknow
After discussing the veg and non veg food items and delicious delicacies around the joints and streets of Lucknow, now comes the time to mention the desserts!
Lassi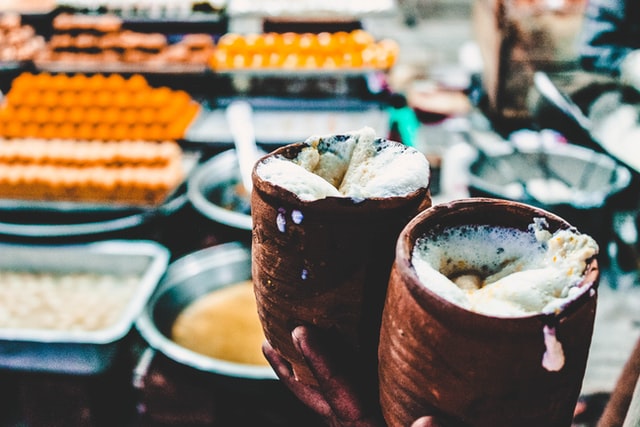 A glass full of Lassi mixed with malai is a refreshing and really-tasteful dessert beverage infamous in the category of street food in Lucknow.
Lassi is basically an Indian milkshake made with mixing dahi, dry fruits, cream, sometimes saffron, mint and rose water as well.
There are basically two kinds to Lassi – the sweet and the sour. But we here are talking about the sweet one.
Kulfi Falooda
Another pretty famous and well known dessert of Lucknow is the Kulfi and Falooda. Laced with different types of dry fruits and sweet elements, the Kulfi mixed with the right amounts of Falooda perfectly melts in your mouth and spreads through your tastebuds making it feel like a marvelous experience.
Kulfi is the Indian version to a frozen dessert or ice cream, while Falooda is a cold and sweet Mughlai dessert made with noodles.
Makkhan Malai
Most of the people's favorite dessert street food in Lucknow is the Makkhan Malai. These also melt in your mouth as fast as you taste it and the quality which makes it unique is the utter softness that the dish has.
Makkhan Malai or Mallaiyo is a dessert pretty famous across the Northern India, majorly in the parts of Uttar Pradesh.
The consistency of the dessert is what makes it special and oh-so-interesting to have. It is basically what it might feel to have a soft, delicious, sweet and mouth-watering cloud!
Malai Paan (Malai ki Gilori)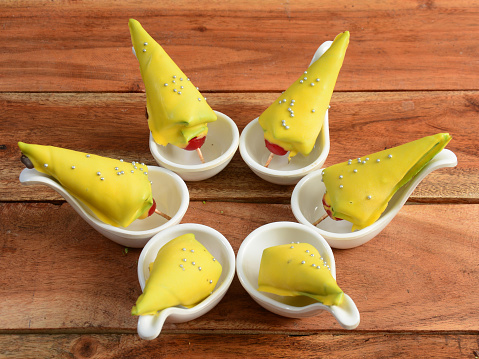 Malai Ki Gilori or the Malai Paan is another interesting delicacy when it comes to having dessert street food in Lucknow.
As the name suggests, the Malai ki Gilori is a sweet, sweet Paan covered with a creamy layer stuffed with nuts and mishri. Topped with silver varq and a royal texture, this dessert stands in line with the various other food items mentioned above having the melt-in-the-mouth quality.
Just one little bite will make you drooling for more! Another quality of the Malai Paan is that it is very delicate which makes it too soft and super delicious.
---
Best Street Food Places in Lucknow
The most interesting thing about my city and the street food in Lucknow is that for each type of food item, there is a dedicated and infamous place! Let's discuss –
Sharmaji Ki Chai
Location – 34, Trilokinath Marg, Sushanpura, Lalbagh, Lucknow, Uttar Pradesh 226001
Must-Haves – Chai, spherical-shaped samosa, bun makkhan
Sharma Ji Ki Chai is the most famous and hence, insanely crowded tea places across the town. You need to have an experience of their Tea along with a unique Gol Samosa and Bun Makkhan.
Bajpayee Kachori Bhandaar
Location – Nawal Kishore Rd, near Cathedral School, Hazratganj, Lucknow, Uttar Pradesh 226001
Must-Haves – Khasta Kachori, Poori Sabzi, Dahi Jalebi
Another very famous point for locals as well as travellers to the city looking to have authentic Lucknawi Khasta Kachoris in the morning is the Bajpayee Kachori Bhandaar.
Sardarji Ke Mashhoor Chole Bathoore
Location – 42, Trilokinath Marg, Sushanpura, Lalbagh, Lucknow, Uttar Pradesh 226001
Must-Haves – Chole Bathoore, Chola Kulcha
Most famous and the most authentic Chola Bathura joinsts in all of Lucknow, the Sardarji Chole Bathure in Lalbagh have the best tasting Punjabi food delicacy of all.
Shuklaji Ki Chaat
Location – church building, 11, Shahnajaf Rd, Hazratganj, Lucknow, Uttar Pradesh 226001
Must-Haves – Aloo Tikki, Dahi Batashe, Papdi Chaat
Lucknow and Chaat go hand in hand and it has been so for hundreds of years. The Shukla Ji Chaat Corner provides you with huge varieties of Chaat Delicacies from Regular Chaat, Papdi Chaat and Basket Chaat. They also offer spicy Pani Batashe.
Tundey Ke Kabab
Location – 168/6, Old Nazirabad Rd, Mohan Market, Khayali Ganj, Aminabad, Lucknow, Uttar Pradesh 226018
Must-Haves – Galawati Kebab, Biryani, Chicken Masala
The most authentic place to have the most infamous street food in Lucknow – the Tundey Kebabi in Chowk is famous for the Galawati Kebabs and people from around town visit here to experience the mouth-melting kebabs.
Idrees Ki Biryani
Location – opposite Pata Nala, Jauhari Mohalla, Raja Bazar, Police Chowki, Lucknow, Uttar Pradesh 226003
Must-Haves – Chicken/Mutton Biryani, Chicken/Mutton Korma
If you want the best biryani in town with the most amazing stories about the city – come visit the Idrees ki Biryani. They will tell you their own story, the story of the street food in Lucknow and make you a delicious biryani – full of aroma and spices which makes it feel like a carnival.
Prakash Ki Kulfi
Location – Shop No 12, Prakash Kulfi Chaurah, 13, Fruit Ln, Mohan Market, Aminabad, Lucknow, Uttar Pradesh 226018
Must-Haves – Kesariya Badam Pista Kulfi with Falooda, Fresh Mix Fruit Kufi, Paan Kulfi
Finally, the dessert of the desi ice cream or Kulfi mixed with the awe-inspiring dry fruits and heavenly Falooda makes a proper ending to the world of street food in Lucknow.
---
To wrap things up
Lucknow is known for its delicious street food. In this article, we highlighted some of the best street food in Lucknow. If you are ever in the city, be sure to check out these spots for a tasty meal. Share this article with your friends, and let us know in the comments which street food spot is your favorite.
That's All Folks!