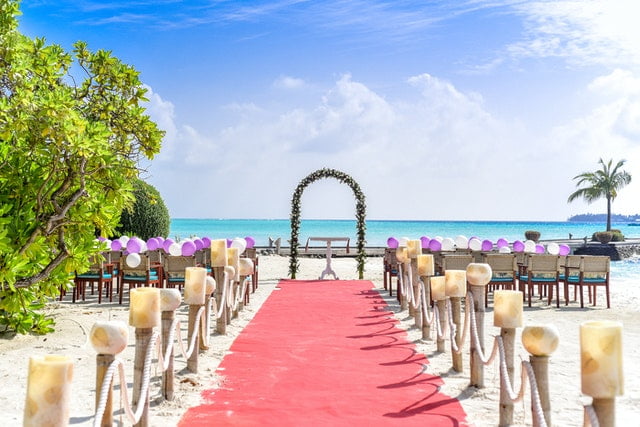 India is a land of diverse cultures and religions. A wedding in India is a grand affair, full of color and pageantry. If you're looking for an exotic destination wedding on a budget, India is the place for you.
You can have a beautiful Hindu wedding ceremony at one of the many stunning temples, or have a lavish Christian wedding at one of the many colonial-era churches. The best part is, you can have a wonderful destination wedding in India under 10 Lakhs (in INR) if you know just where to look for it!
This blog is your budget-friendly guide to choosing the most unique location and planning for a memorable and affordable destination wedding in India.
Why choose a destination wedding in India?
India is a wonderful mix of hundreds of vibrant colors, unique cultures, outstanding landscapes, and grand celebrations and a wedding over here is not merely a special event or function – but a very own festival of sorts.
Choosing India as your wedding destination can be a great choice due to several reasons, a few of them are listed down below –
Incredible Beauty
From the Great Grand Himalayan mountains filled with snow, adventurous routes, marvelous waterfalls to the enigmatic beaches, colorful vibes and thrill of partying in Goa, from the phenomenal backdrop of the holy rivers flowing through, lush valleys, mysterious ancient stories and peaceful spiritual centers in North India to the appealing architecture, outstanding pilgrimage spots and cultural aspects of South India – India has something for everyone.
The Golden Bird, as it was once recognized as has plenty of outstanding landscapes, backdrops and sceneries to inspire awe and a sense of magic to whoever gets to experience it. India is a very different destination compared to any place across the globe – it's diverse nature, colorful vibes and incredible landmarks make for the perfect place for you to tie the knot and take your vows.
Diversified Cultures & Traditions
A mesmerizing fusion of so many different cultures and so many vibrant traditions give another great option to people for choosing India as their Destination for a Wedding.
Considered to be the birthplace of several major religions in the world, namely – Hinduism, Jainism, Buddhism and Sikhism, India has always been known for accepting different cultures and traditions into her very story. Opening her arms and welcoming the other great religions like Islam and Christianity into the mix made her one of the most diverse nation of all.
A destination wedding taking place in India could be a grand opportunity for including different traditions and cultures into the best day of your lives.
Delicious Food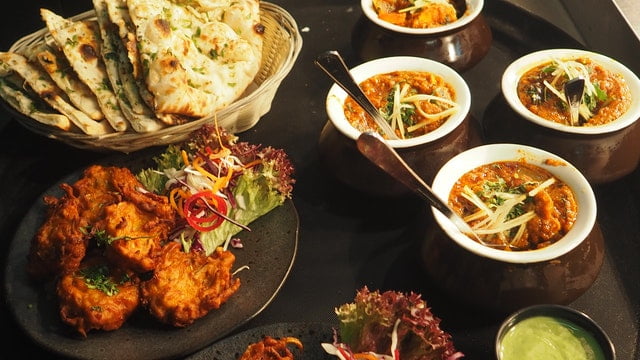 Another interesting reason for opting a destination marriage in India could be due to the mouth-watering and fantastic food delicacies it offers.
India is known for so many different and unique things worldwide and her food is one of the most talked upon! You might even had somewhere come across a Hollywood celebrity interview where they'd say that an Indian Cuisine is their favorite.
Being a diverse nature, everything in India gives out those vibes – including the food. From the Masaledar (Spicy) Punjabi Cuisine to the elegant South Indian food items and from the mouth-watering Rajasthani food to the oh-so-yummy seafood delicacies, an Indian Destination Wedding can be a great experience when it comes to the food as well.
Affordability
If you are from the nation, having a domestic destination wedding could obviously be much affordable than heading for the outer world and going through so much stuff. I mean the cost would keep on increasing as there won't be any alternatives when it comes to transportation as a major player. Also, it could turn out to be a lot more hectic and stressful.
India is much more affordable than most of the outer worlds and provides a grander experience at similar or minimal prices if you get it right. With lot's of opportunities for cutting out on costs, alternative transportation routes, to see and experience the venue and the décor as many times as one wants, and other similar stuff – India happens to be one of the best location for a destination wedding.
Grand Celebration Opportunities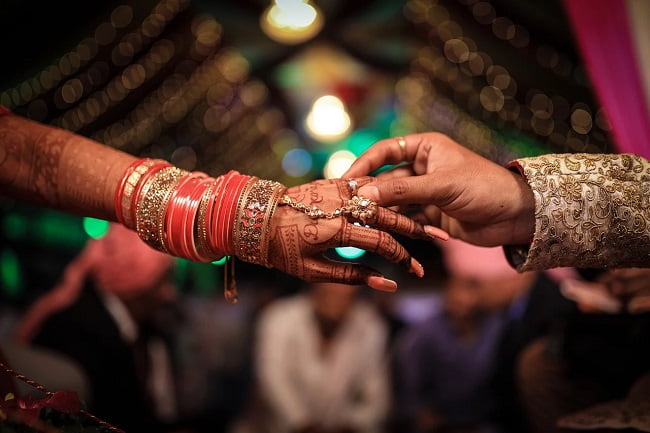 India celebrates everything – we have grand birthday parties, grander festivals and the grandest wedding functions known to the world. Indian Marriages are a trend and much more of a talked about subject than you might think of. With so many different kinds of television shows dedicated solely to the subject of an Indian wedding and the fact of the Indian Wedding Market being a $50 billion dollar industry, it is expected to be an ultimate celebration.
Choosing India for your destination wedding means you will have the most outstanding experience when it comes to the celebration of it all. Make your special day into a festival!
---
What are some of the best places to have a destination wedding in India under 10 Lakhs?
Udaipur
Udaipur, the city full of palaces and the white city of India is an incredible wedding destination for over-the-top wedding events as well as for a budget-friendly one if you look at the right places.
A destination wedding in Udaipur under 10 lakhs is pretty much possible when you look at the right places.
Udaipur is a marvelous city and one of the best choice to celebrate and experience the beginning of the best days of your lives with friends and family. With the incredible photo-ops and dreamy backdrops of the palaces, lakes and mountains it makes for a great destination for a royal wedding.
Udaipur destination wedding cost – A budget-friendly wedding package in Udaipur will be available for you under 10 lakhs to 12 lakhs.
Budget wedding venues in Udaipur – Spectrum Resort, Maharani Bagh Orchard Retreat
Jaipur
After Udaipur, Jaipur is one of the most sort out destinations in Rajasthan for a royal wedding ceremony for couples in India. Jaipur is a wonderful city filled with great structures and historic events and a marvelous vibe.
You can experience a Rajputana-style wedding with the glamorous and exquisite backdrop of the royal palace structures and the mystical king-like vibe when you stand there with your Queen.
Budget friendly wedding resorts in Jaipur can be found easily when you go through wedding planning sites and stuff online and also through a wedding planner.
Jaipur destination wedding cost – A budget-friendly wedding package in Jaipur will be available for you under 10 lakhs to 15 lakhs.
Budget wedding venues in Jaipur – Sterling Atharva Resorts, WelcomHeritage Traditional Haveli
Goa
A Goa destination wedding could be one of the most unique and memorable experiences of all the people who get to experience it. Imagine tying the knot amidst the sand and in front of the massive, everlasting sea – with the slowly setting sun and lightly rising wave levels.
Goa is an absolute favorite destination of many to have a budget-friendly and unique wedding experience and it is actually a really affordable place to get married.
If you want to have the best budget-friendly destination wedding in Goa, you shall choose a date in summer i.e. the off season of Goa. You will get much cheaper rates and packages when compared to the winter season.
Goa destination wedding cost – For around 100 guests in a budget venue for a wedding in summer, the cost could be anywhere from under 10 lakhs to 20 lakhs depending on other elements.
Budget wedding venues in Goa – Prainha Resort, Beleza By The Beach
Shimla
Shimla is one among the people's favorite snow places in India and why not – I mean it is a small town filled with incredible sceneries, magnificent landscapes, exciting toy train journey and delicious food.
If you plan on doing a destination wedding in India within a budget, Shimla can be a wonderful choice. Plus, it's so close to the many couple's most favorite honeymoon destinations in India – Manali.
With the perfect setting of the snowy Himalayan mountains, long pine trees and the cold, cozy climate – Shimla makes for a perfect wedding destination.
Shimla destination wedding cost – For a guest list of 100 to 150 people Shimla could offer a unique venue and wedding package in the price range under 10 lakhs to 15 lakhs.
Budget wedding venues in Shimla – Larisa Resort, Welcomhotel by ITC
Dehradun
Dehradun connects one to all the magical hilly destinations and places with Godly vibes here in the Land of Gods, Uttarakhand. That is one reason why it has seen a recent massive surge or trend when it comes to couples choosing a destination wedding venue in India.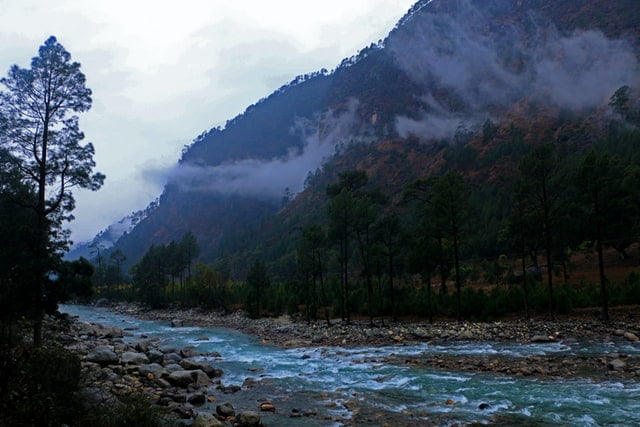 Dehradun has plenty of amazing places where you could get married in and that too without being hard on your pockets.
Dehradun destination wedding cost – A destination wedding in Dehradun for an estimated 100 guests can be arranged for even lower than 10 lakhs and can be pushed towards 15 Lakhs.
Budget wedding venues in Dehradun – Rio Resort, Nirvana River Resort
---
How much does a destination wedding in India cost?
A destination wedding in India normally starts from the price range of INR 15 Lakhs and can go up till as high end as INR 60 Lakhs or even more. The budget mostly depends on several factors like the destination, venue, number of guests which shall be kept in mind during the planning phase.
The major players that the cost is associated with when it comes to a destination wedding are –
Venue
Transport
Accommodation
Food
Decor
Photography/videography
Let's elaborate, aight!
Venue
The first and foremost thing when planning a destination wedding in India or anywhere for that matter has to be choosing the venue. The major reason beside it being the obvious first step is that most of the other elements are related to it.
A venue for a wedding could be resort, a hotel, a marriage lawn, a court house or at this time and century – almost anywhere the couple decide it to be.
So deciding on a venue is the most important and initial step when planning a destination wedding because it is also an essential part of the budget.
Transport
Another element that comes to play in a major role when calculating a budget for a destination wedding is the cost of transport. This includes the cost of transporting from your hometown to the destination and around the destination.
Now it depends on several factors as to what mode of transport you choose, these factors could be the distance, the budget, number of people, etc.
It is basically a game of time and money, right? I mean if you want to cut on time and travel the distance, you might need to spend some extra money and if you want to cut on the money, you shall be ready to deal with the time.
Best mode of transport in India is always mentioned to be the railway system – and the major reason behind that is that it's cheap and even comfortable. Some might even describe it as being cheaper than a flight and comfier than a bus.
Accommodation
Third and equally important element that comes into play for a destination wedding budget is the accommodation. Now remember I said the venue is related to other elements of the budget, well accommodation is one of them.
If you want to save somewhat on the budget when it comes to stay options or accommodating the guests and yourself for a wedding event, you shall try and join up these two essential budget factors together and try to book a venue which has plenty of available rooms for your guests. First, it is much comforting for the guests and yourself and second, it's much cheaper and less hectic.
Food
Once you have planned out your stay options, transportation elements and the venue of the destination wedding, next in line would be the MENU. I mean it's not something to hide now that most people are excited for a wedding for the buffet of food items they get, right?
So you need to take care of the food. Food items or the menu plays an important role in curating your budget for the wedding.
Decor
So the next and one of the major elements for a wedding – be it a local or a destination event, is the decoration. As per this post from indianretailer.com, the Indian wedding pandal and venue market is approximately worth INR 10,000 crores.
Everyone likes to celebrate their wedding day with lots of interesting and unique decoration styles – from lights to flowers to backdrops to the pandal to main stage – everything needs to look a certain way and burst out the magnificent vibe of the celebration. I mean it's the best day of your life, so it's fine to make it OTT and let the world know something's happening, right? <smirk>
Photography/Videography
Wedding photographers and videographers' industry is HUGE and I can't put it in small cap because the number keeps getting higher and higher. It has been becoming one of the most interesting and well established industry in the whole world and many students are getting down to join it someway or the other. I mean before this time there weren't so many wedding photography studios and courses that can be seen now and not many people were doing it.
Also, the techniques have been updated and many other elements have been added to it which makes it an even bigger player in the wedding market. These elements include – a pre and post wedding shoot, drone shots, an entire movie being created for a destination wedding in India and so many other stuff.
Recommendation – You can check out Garry Photography if you happen to look for a wedding photographer from around Dehradun. It is a tried and tested and quite affordable one for the job.
---
How to plan a destination wedding in India under 10 Lakhs?
Can we do a destination wedding in India under 10 Lakhs?
Yes! You can have a beautiful destination wedding in India for under 10 lakhs. There are many amazing locations to choose from, all with their own unique charms. You'll need to do some research to find the right spot for you, but it will be well worth it.
Planning a destination wedding in India under 10 Lakhs
There are a few things to keep in mind when planning a destination wedding in India.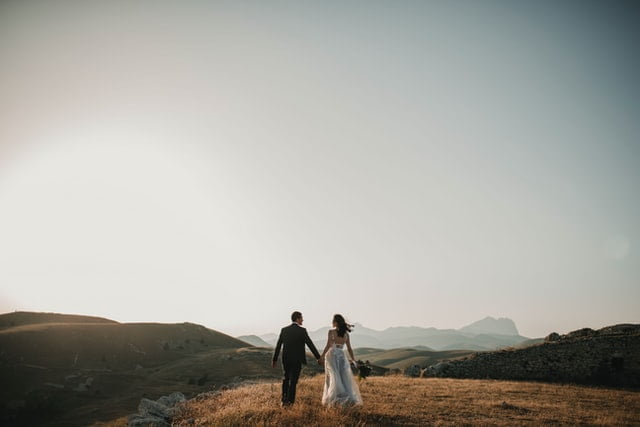 Choose an offseason wedding date
An offseason date means you will be saving a certain amount on the venue, the accommodation and the local transfers around your destination.
Look out for offbeat locations
Offbeat locations can turn out to be much beautiful and even more budget-friendly when it comes to a destination wedding. Celebrate these days of your life with family and friends in a place away from the city into the nature.
Best to book stay and venue at the same place
The best option to save both – the money and the time in a destination wedding in India under 10 lakhs is to choose a venue where there is enough rooms available for your guests. It costs much less than booking a venue for the event and another for the stay.
Short Guest List (100 to 120 people)
One of the major elements that comes into play when it comes to budgeting for a wedding function is the number of people – actually the number of plates. For a destination wedding you need to make sure that number does not go any further than a 50 to 60 people from each side.
Opt for Digital Invites
Invitation cards can cost a lot and quite honestly no one even keeps it with them when they get them. Most of them face the trash or are just lost out in house cleaning. So why not just send the invites on email or WhatsApp. With the technologies developed recently, you can even make your own wedding invitation card on apps like Canva and stuff or even get it made up by some designer won't cost you much.
Book in Bulk
Booking in bulk is a very well known and used tactic for all things travel. When you book in bulk for accommodation or a transport, it charges you much less than individual booking. That's an obvious fact.
Look for freebies whenever possible
Not many places might have those but it's still important to ask and find out if your venue provides any freebies for a new couple celebrating their huge day over at their property. These could be discounts in several stuff, or maybe even get you a free cake or extra items in your menu.
Do not stretch it out. Keep it a maximum 2 nights event.
The budget will tend to increase if you increase the number of days. Number of days is directly proportional to the increase in the prices of accommodation, food and other stuff. So keep in mind to have a maximum of 2 to 3 days event.
Minimal Decor (landscape is essential element of the decor)
Decor has a major role (as explained earlier) in a destination wedding and if you want to have a budget friendly destination wedding in India you need to cut it as much as possible. When it comes to having a destination marriage, the most interesting decor shall be the landscape of the place, right. Focus on having minimal decor and showcasing the surroundings more.
Local flower arrangement
However flowers might have a huge cut in your budget but if you still want to have those in your wedding, make sure to get those locally. It would cost you much less than ordering it from somewhere else.
Optimize Menu (Less but diverse food items)
Menu is another one of the element we talked about when it comes to planning a budget for your destination wedding. To have a destination wedding in India under 10 lakhs, you need to set a food menu with lesser items but with diversified choices. Although food is a major player in a wedding, but for a destination wedding mostly there are your loved ones or close relatives around and you shall focus on keeping the items which everyone likes rather than just spreading out the buffet with stuff no one even eats.
Choose Lunch/Brunch events (much cheaper than dinner events)
It has been established that a dinner time event costs you much more than a morning or afternoon event. And also it looks much beautiful – there's that natural light, the landscape is visible, people celebrate and are energetic and it's just a better choice to have your wedding in day light.
Source vendors locally
Last but not the least, you can cut on major costs for a destination wedding in India under 10 lakhs when you choose local vendors instead of having taken the responsibility of transporting vendors from a different place or your hometown to the destination. Choose the local wedding planners and they'll set it all up for you.
---
Important Stuff to Remember When Planning a Destination Wedding in India?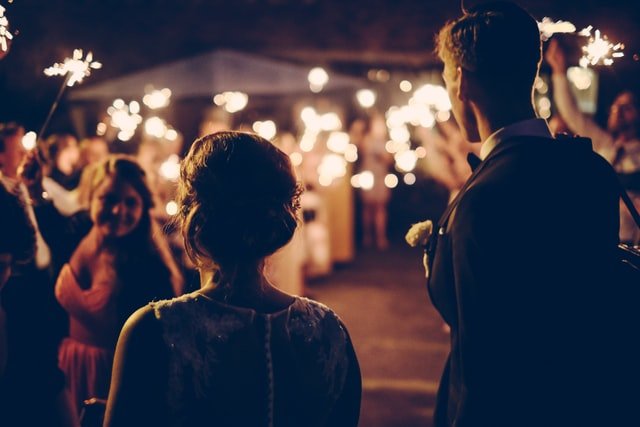 Researching through different sources, reminiscing personal experiences and going through a couple of helpful tips on planning a budget-friendly destination wedding in India, we came across the following important stuff to remember –
Know your Guest List
Guest list for a destination wedding shall be short, compact and just have your close relatives and friends.
Planning your Wedding Schedule (functions + accommodation + miscellaneous)
Planning every step of your destination wedding before hand helps you with so many things and takes the stress out of you on the special day. Keep in mind and forge a plan for the wedding functions, the timings, the numbers and other important stuff that comes your way.
Extra Gap between functions (for unforeseeable event)
Make sure to keep some extra hours in between two major events. It makes room for tackling up some issues, makes time for the guests to have a relaxing time in their rooms or stroll around the venue and stuff.
Communication is the key
One important thing to keep in mind when you hire a wedding planner is that you shall not just have contact with the wedding planner but with everyone involved – that means you shall visit the venue before the wedding day, meet the venue owner, all the vendors – the flower guy, the light team, the caterers and everyone and make sure that everyone is on the same page with the wedding plan. Everyone shall be well communicated with each other.
Plan a Morning Wedding
A destination wedding in India or any place across the world would make much more sense if you plan it as a morning wedding. A morning wedding makes a great time for the guests, for the photographers as well as for you two as well. Also, as mentioned earlier, it saves a lot in the cost.
Arrange Local Pandit Ji (Hindu Wedding)
A Hindu marriage involved many things which cannot be ignored and having a pandit ji is the most basic of those things. I mean they are the ones than makes the marriage happen here. So make sure you arrange a local pandit ji for the wedding to save on transportation as well as on some other stuff in a destination wedding in India
---
Conclusion
If you are looking for an affordable destination wedding, India is a great option. With prices starting at just 10 lakhs, it's possible to have a beautiful and memorable wedding ceremony without breaking the bank. We hope this article about planning a destination wedding in India under 10 Lakhs has been helpful.
Share this article with your friends to get them excited about planning their dream Indian wedding, and be sure to leave a comment below letting us know what you think! And don't forget to follow us.
That's All Folks!